ACP member since 1994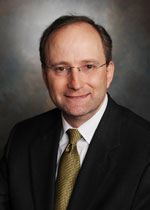 Dr. Vaughn has practiced internal medicine in Tuscaloosa since 1996. He has been an effective clinician, a valued teacher, and a consistent advocate for the timeless values of medicine. A native of Anniston, he was the first in his family to graduate from college, receiving his undergraduate education at the University of Alabama at Birmingham (UAB) with Presidential Honors. He graduated Alpha Omega Alpha from the University of Alabama School of Medicine, followed by medical residency and Chief Medical Residency at UAB, receiving awards for outstanding medical teaching. His role models have included Bob Lokey and Jack Trigg in Anniston, Alan Siegal at UAB, and John Burnum of Tuscaloosa, making his choice of internal medicine hardly a surprise.
On arriving in Tuscaloosa, Dr. Vaughn combined a demanding practice with a commitment to teaching as a member of the faculty of the College of Community Health Sciences, where he now serves as Associate Professor. He fills three months a year as ward attending in medicine and contributes regularly to the lectures and teaching conferences of the medical school. Dr. Vaughn has been a leader at DCH Regional Medical Center, where he has served on numerous committees and as Chair of the hospital's Department of Medicine. He has been active in his county medical society, serving as President on two occasions, and he has served in several capacities with the state medical association.
As an active and enthusiastic member of the College, Dr. Vaughn has made remarkable contributions. He has served as Board member and Vice President of the chapter and as Vice President and President of Alabama ACP Health Services. As chair of our state Health Policy Committee, he led the chapter's focus on the Patient Centered Medical Home, developing a statewide pilot with Blue Cross Blue Shield of Alabama. He then established an NCQA-accredited medical home in his own practice group.
He has represented the chapter in regular meetings with members of Congress and with ACP leadership. For his exceptional advocacy for internal medicine and our patients, Dr. Vaughn received the 2009 Chapter Advocacy Award. In 2012, he was awarded the National Top Advocate Award by the ACP.
Dr. Vaughn has made significant contributions to his church and community. He has been Youth Committee Chair, Deacon, and Elder of First Presbyterian Church of Tuscaloosa. In 2009 he was Volunteer of the Year of the Tuscaloosa County Preservation Society. He has been board member and capital campaign leader of Caring Days Alzheimer's Enrichment Center and a longtime board member of the DCH Foundation.
Ross and his wife Julie have been best friends since the second week of medical school. Julie, now a pediatrician, is a former six-time All-American gymnast at University of Alabama. Their 16 year-old son Bradley is an Eagle Scout and hunting partner to his dad, and 13 year-old daughter Meredith enjoys art, acting, and dance. Ross's interests include family travel, boating, gardening, the hunting of duck and upland birds, and the avid pursuit of Alabama football and gymnastics.
When describing the joy of medicine, Ross states, "I can't think of anything I enjoy more than seeing and discussing an interesting case with an enthusiastic student." As a consistent advocate for traditional physician-patient relationships, he says he believes that "no one takes better care of a patient than their own personal physician."