You are here
Branch Retinal Vein Obstruction (BRVO)
Branch Retinal Vein Obstruction (BRVO)
ILLUSTRATION: The ophthalmoscopic findings of round and striate hemorrhages, cotton wool spots, venous dilation and sheathing along with edema limited to a quadrant of the retina (inferior temporal in this case) are characteristic of BRVO. The area involved is pie shaped with the apex of the pie at an A/V crossing defect (arrow). Some of the edema encroaches on the macula resulting in decreased vision. As the edema resolves small, waxy formations of lipid and protein (hard exudates) remain.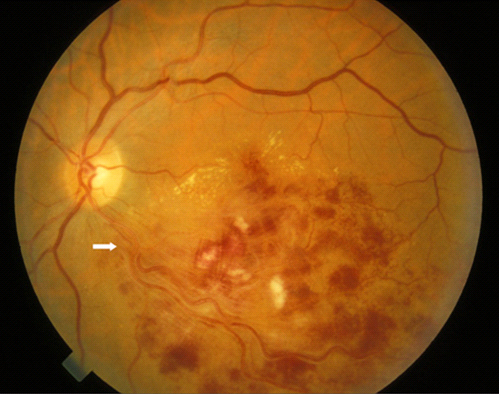 DISCUSSION: The most common systemic association with BRVO is a history of hypertension and the development of arteriolarsclerosis with its resulting A/V nicking defects. Glaucoma is also a risk factor. Vision is entirely dependent on the extent of macular involvement. Neovascularization of the retina may develop in the involved area. Photocoagulation therapy may be considered in eyes with chronic macular edema or retinal neovascularization. Overall, 50-60% of patients with all types of BRVO will maintain vision of 20/40 or better after 1 year.
---
AM Acad Ophtho Basic and Clinical Science Series. Section 12, Retina and Vitreous, 2008-2009, pp 150-154.