---
---

Bradley L. Allen, MD, FACP, ACP Governor
---
From The Governor
This newsletter combines a review of our successful Indiana Chapter Meeting in November as well as a recap of 2016 and a look forward into 2017 as it relates to the practice of Internal Medicine.
---
November – 2016 Indiana Chapter Meeting Review.
This year's Indiana Chapter Meeting was held November 10-12th at the Renaissance North Hotel in Carmel. This was our second year at the facility, which we have found to be an excellent backdrop and host for our statewide event.
Over 120 members registered for the Annual Meeting, which kicked off with the Member's Reception on Thursday night followed by the resident-student poster competition. The main scientific sessions and Awards luncheon followed on Friday and we ended on Saturday with delivery of three ABIM Self-Assessment Modules on Update in Internal Medicine, Update in Hospital Medicine, and Care for the Underserved. A workshop on Bedside Ultrasonography for the Internist ran concurrently on Saturday morning.
A huge thanks to our Program Chair, Kapil Mehta, MD, FACP, as well as our Past-Governor, Matt Neal, MD, FACP, as well as Dr. Michael Sha, Donna Seawards, our Executive Director, and Colleen Keeku from the Northern Illinois ACP Chapter. Thanks also goes to our Program Committee of Marla Current, Brandon Dickey, Kathleen Morris, Todd James, Heidi Lakanen, Randy Lee, and Michael Sha.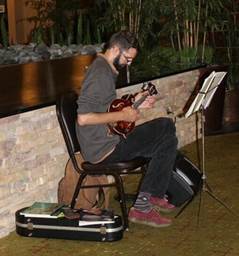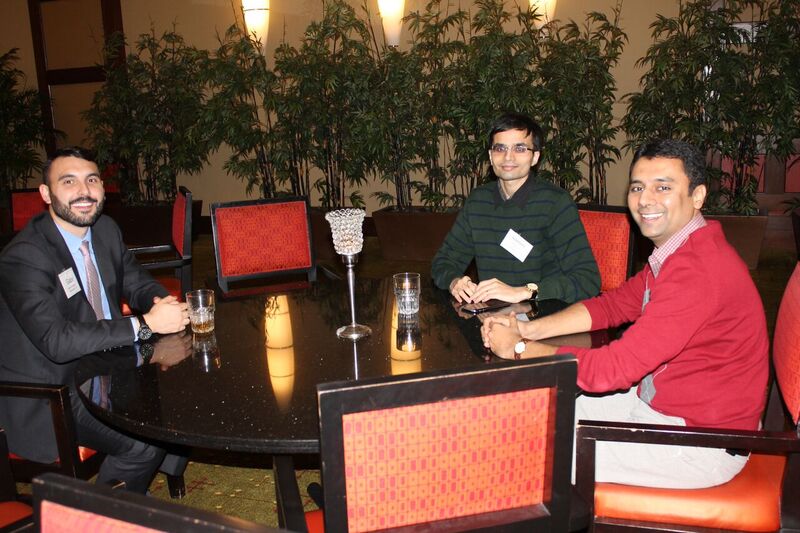 The Chapter Reception involved excellent opportunities for members to socialize with each other as well as trainees from around the state. Background music on the mandolin was provided by Christopher Burrus, a graduate student from the Jacobs School of Music at IU Bloomington.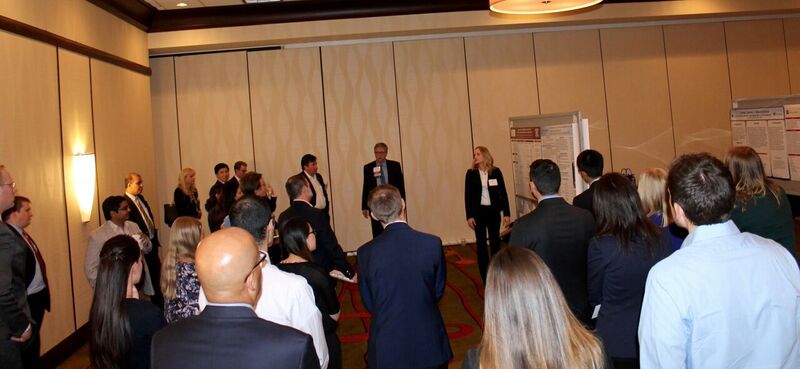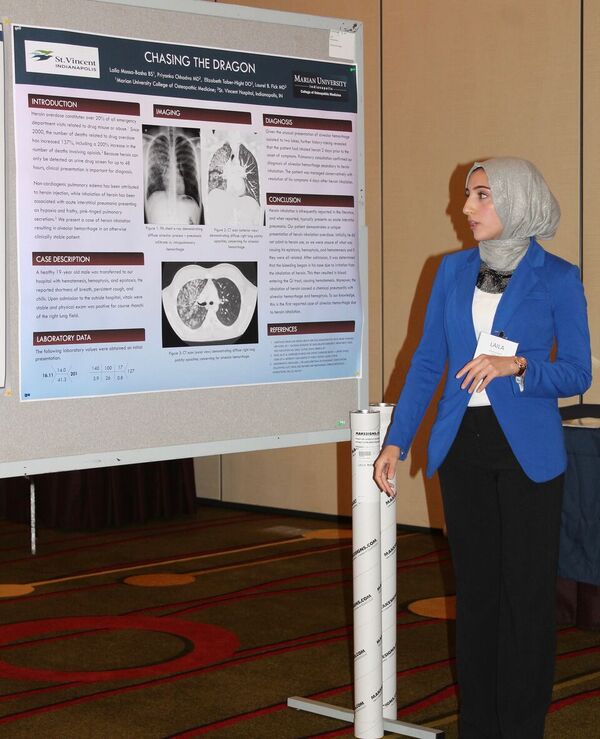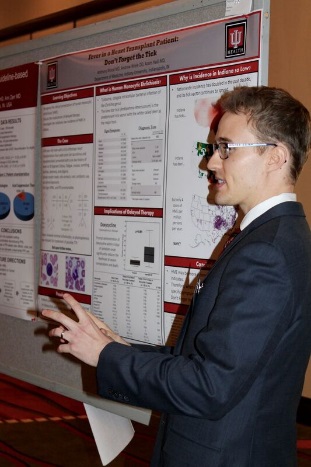 This year had a record 60 poster abstract submissions, with a new high of 20 selected for presentation. Congratulations to those who were chosen to present posters, which included: Laura Vater, Yao-Wen Cheng, Anthony Wood, Brian Smith, Mounish Karlapudi, Emma Hegwood, Audreen Singson, Benjamin Katz, Brittany Shepherd, Laila Mossa-Basha, Wyatt Wilson, Sarah Jeong, Daniel Stegelman, Samantha Armstrong, Gabriel Kousourou, Rohan Mehta, Issa KutKut, and Andrew Wiele.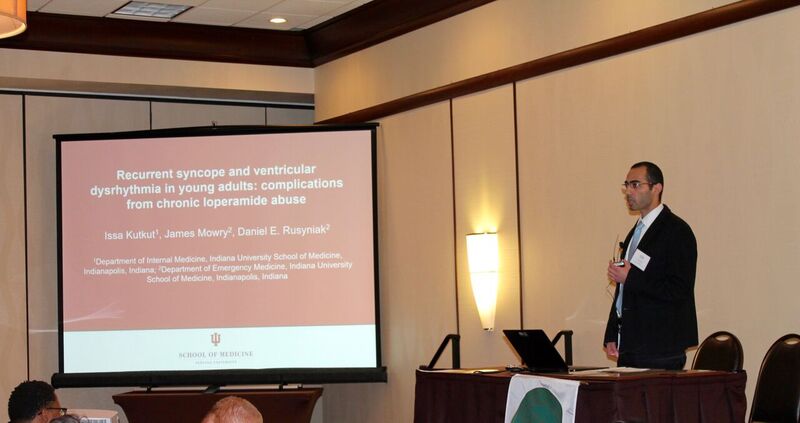 First place winner in the Clinical Vignette category was Issa KutKut with his poster "Recurrent syncope and ventricular dysrhythmia in young adults: complications from chronic loperamide abuse."
Second place in the Clinical Vignette category went to Anthony Wood for his poster "Fever in a Heart Transplant Patient: Don't Forget the Tick." The third-place winner in the Clinical Vignette category was Andrew Wiele, who presented his poster "A Rare Case of Cushing's Syndrome: Not Just a Pulmonary Nodule".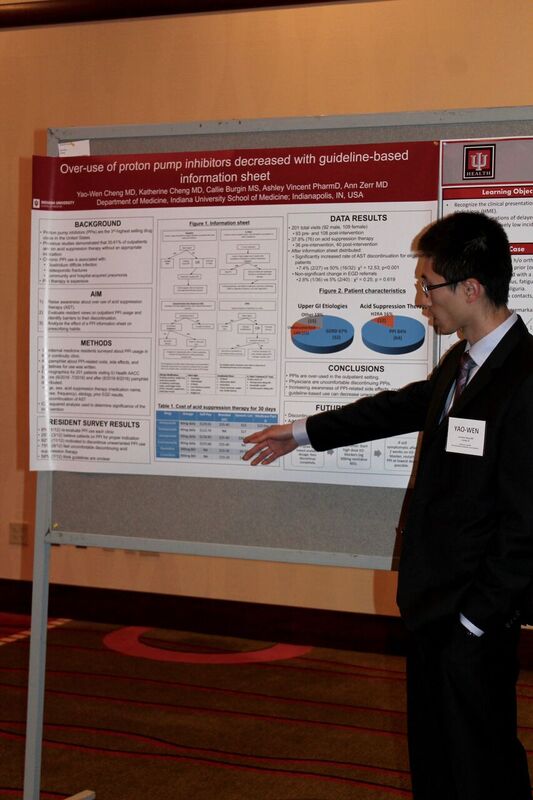 First place winner in the Research category was Yao-Wen Cheng with his poster "Over-use of proton pump inhibitors decreased with guideline-based information sheet."
Second place in the Research category went to Laura Vater for her poster "Cancer Center Advertising to the Public: Trends in Prevalence and Spending."
The third-place winner in the Research category was Emma Hegwood, who presented her poster "Orphan Drug Development: A Viable and Undervalued Research Opportunity"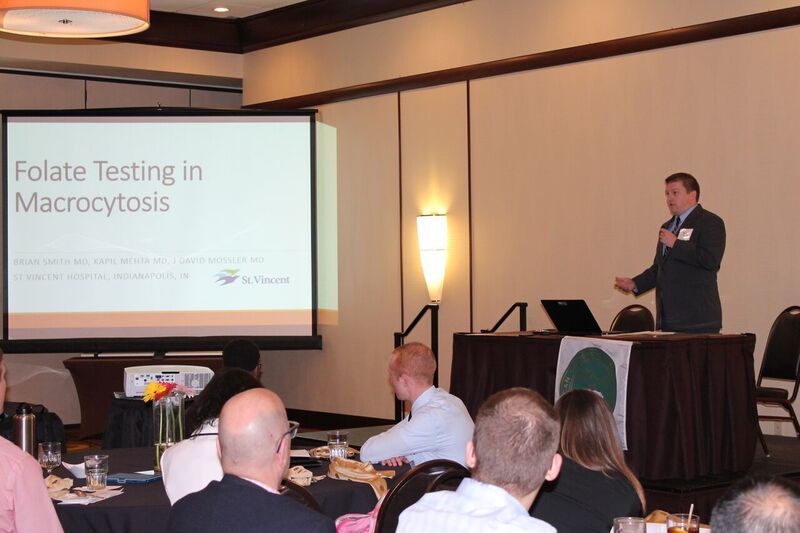 First place in the High Value Care category went to Brian Smith, for the poster "Folate Testing in Macrocytosis."
Second place in the High Value Care category went to Rohan Mehta for his poster "Eliminating Waste: Curtailing the overuse of inpatient cardiac telemetry monitoring."
The third-place winner in the High Value Care category was Audreen Singson, who presented the poster "Inpatient Compliance with Current Guidelines for Frequency of Measuring Hemoglobin A1c."
Thanks to our five poster judges! Drs. James Hotz, Areeba Kara, Brandon Dickey, Maryam Massoumi and Leny Philip.
2016 Abstract Competition Posters are found here .
Friday featured presentations by Dr. Craig Wilson, MD, FACP, chief medical officer of Suburban Health Organization, presented on "Population Health and the Accelerating Leap to Value-based Care." This was followed by Dr. Sue Hingle, MD, FACP and Chair-Elect of the ACP Board of Regents, who addressed the crowd on "High Value Care".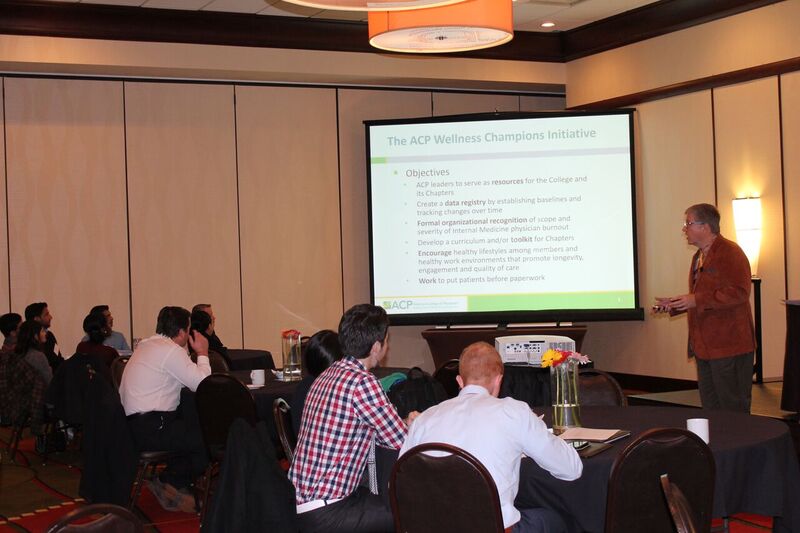 Concurrent sessions featured Dr. Matt Neal on "Physician Burnout: The ACP Wellness Champions Initiative.", Dr. Ahdy Helmy on "Type 2 Diabetes, Novel Therapies.", and Dr. Robert Vu and Dr. Julie Vannerson speaking on medical education with "My Clinical Evaluations are So Subjective!: Evaluating Learners and Writing Helpful Clinical Performance Narratives."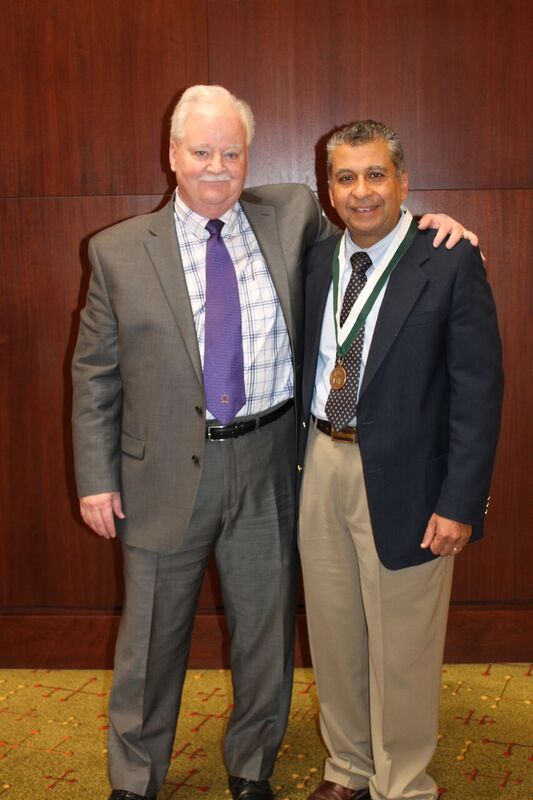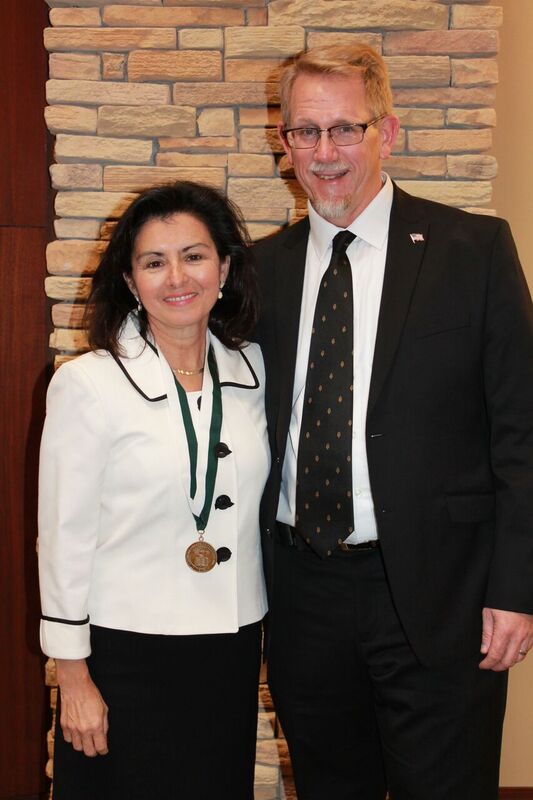 The Awards Presentation was at noon. This year's Laureate Award winners were Ahdy Helmy, MD, MACP, (presented by Dr. Michael Ryan) and Theresa Rohr-Kirchgraber, (presented by Dr. Lisa Harris).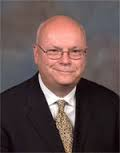 Dr. Glenn J. Bingle and Dr. Debra K. Litzelman, newly elected for Mastership in the ACP
The other awards announced during the meeting were the two chapter members selected for the status of Mastership, Glenn J. Bingle, MD, MACP, and Debra K. Litzelman, MD, MACP. Their masterships will be bestowed at the Internal Medicine 2017 meeting in San Diego.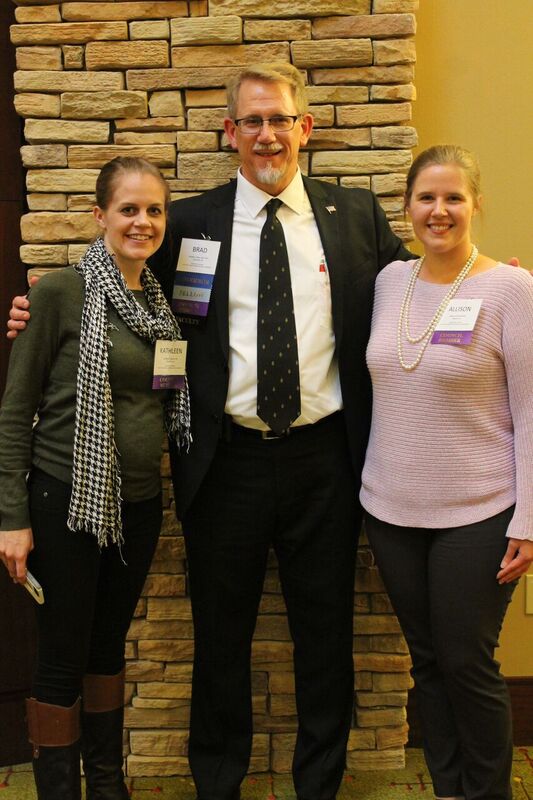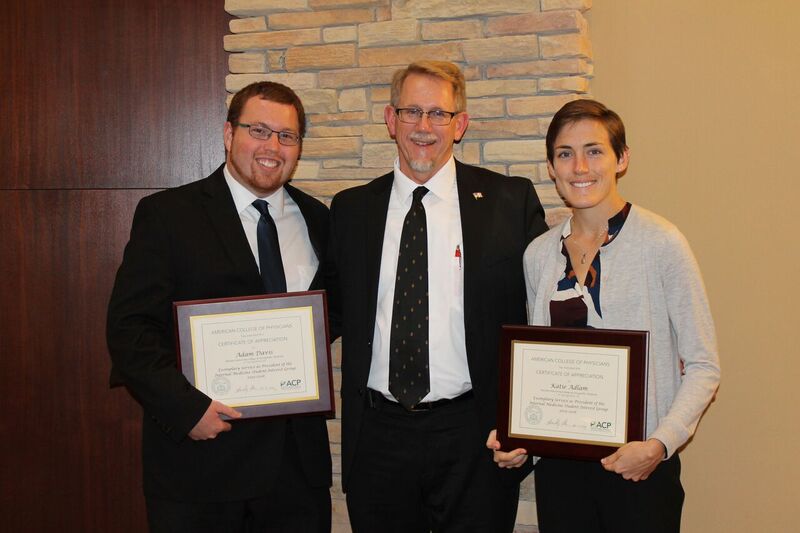 Drs. Kathleen Morris and Alison Wildin were recognized as the 2016 Resident-Fellow Member Council Chair and Vice Chair, respectively. Revathi Kollipara (not pictured) was recognized as the 2015-16 IU School of Medicine Student Interest Group Chair, while Adam Davis and Kati Adlam were recognized for their co-leadership of the Student Interest Group at Marian University College of Osteopathic Medicine.
Afternoon presentations included a Panel Discussion on Palliative Care and Advanced Care Planning by Susan Hickman PhD, Greg Sachs, MD FACP, and Shilpee Sinha MBBS FACP. Mike Rinebold, Director of Government Relations for ISMA delivered an ISMA Legislative Update. Kyle Harry, MD spoke on "Cardiac MRI in Clinical Practice", while Shari Erickson, ACP Vice President for Governmental Affairs and Medical Practice delivered "Much Ado About MACRA". Finally, Steve Palmer, MD discussed "Pre-Op Evaluation for Non-Cardiac Surgery: How Did We Get Here?" and Heidi Lakanen lead a group discussion of 5 Game Changing Articles for 2016 in outpatient medicine.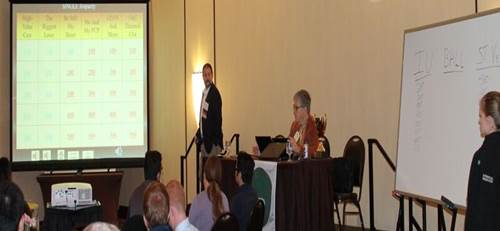 The annual Doctors' Dilemma competition (medical jeopardy), between resident teams from IU School of Medicine (the two-time defending champion), St. Vincent, and IU Health Ball Memorial, competed for the traveling trophy. After a spirited competition, IU School of Medicine prevailed with the winning team of: Faheem Beg, Cassidy Overpeck, and Antoine Saliba.
IUSM's team will represent Indiana in the National Doctor's Dilemma Competition at the National Meeting in San Diego in the spring of 2017, a competition in which they finished 2nd nationally last year! Good luck and represent Indiana well!
Handouts from all of the chapter meeting presentations can be found below:
Carmel III Ballroom
Carmel IV Ballroom
Forsyth Ballroom
The Friday meeting concluded with Dr. Allen's presentation of the annual business meeting, and Dr. Dickey's update on ACP Services.
Saturday consisted of three ABIM Self-Assessment modules. The first was the Update in Internal Medicine module presented by Brandon Dickey, Stephen Knaus, and Archana Mahankali. Next up was the hospitalist module presented by Maryam Massoumi and Lorrie Miller-Rice. The third module was the Care for the Underserved Module presented by Kenneth Klotz and Maria Robles.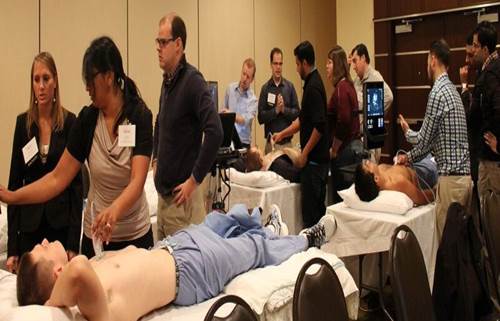 A workshop on Bedside Ultrasonography for the Internist ran concurrently on Saturday morning, with a great attendance and interest level from trainees and practitioners alike. The session was co-chaired by Dr. Emily Cochard and Dr. Zachary Fulkerson.
The date for next year's meeting has not been set yet but will likely occur in November 2017.
Thanks to all who attended the meeting this year and gave us feedback regarding topics you would like to see at future Chapter Meetings!
---
From the Resident Council of Indiana
The Resident Council has been busy planning activities for the spring, with the Second Annual Wellness Fair planned for February 4th, 2017. The sessions will be offered in Indianapolis and in Muncie to expand access to all our resident and student populations from St Vincents, IU-Ball Memorial, IUSM and Marian College of Osteopathic Medicine. The session is proposed to start with lunch at noon with an excellent program to follow. Details and registration information will come in January.
Marian College of Osteopathic Medicine will host a Resident Panel discussion for the second year on January 10th at 6:30 pm at Marian. Dinner will be provided for students interested in learning more about the residency application process, successful interviewing tips, and what to look for in a training program. If interested in assisting or attending, please contact Kathleen Morris or Allison Wildin .
---
ACP Study: Prescribing Antibiotics, Narcotics, and Opioids is Common but Little Benefit for Patients
A study by ACP's High Value Care Task Force found that overuse of antibiotics, aggressive non-palliative treatment in patients with limited life expectancy, treatment of chronic pain, and dietary supplements may be the most frequently used low value treatment interventions used by doctors. The study was published in Annals of Internal Medicine on December 6, and is based on a random survey of 5,000 ACP member physicians asking them to identify two treatments frequently used by internists, but unlikely to provide High Value Care to patients.
---
How will the recent elections impact the practice of medicine?
Post-election in November, ACP President Dr. Nitin Damle released a letter outlining the probable opportunities and challenges that we might expect with the new presidential administration and congress for healthcare and wellness related topics . The excerpts below are a few of those opportunities, but if we are to draw any conclusions from this election cycle, it is that nothing is predictable!
"Let me share with you some of the areas where we think bipartisan progress may be possible:
Implementing and funding initiatives to address the opioid epidemic, building on the bipartisan Comprehensive Addiction and Recovery Act signed into law earlier this year
Improving access to mental health services and integration of behavioral health into team-based primary care
Promoting policies to improve the prevention, treatment and management of chronic diseases
Expanding access to telehealth services particularly in underserved communities
Strengthening graduate medical education funding and primary care training programs to ensure that the U.S. is training a sufficient number of internists with the skills needed to provide the highest quality care
Supporting the successful transition to quality based payments and new physician-led alternative payment models, as authorized by the bipartisan Medicare Access and CHIP Reauthorization Act (MACRA)
Redesigning quality measurement to make it clinically relevant, actionable and meaningful for doctors and patients alike
Addressing the high cost of prescription drugs
Reforming the broken medical liability system, including innovative options like no-fault health courts and safe harbors for following evidence-based practice guidelines
Reducing administrative burdens that interfere with the patient-physician relationship
We are also aware of areas where ACP's policy objectives do not appear to be aligned with those of the new administration and Congress and may be more challenging:
We remain committed to sustaining the gains that the Affordable Care Act (ACA) has made in expanding coverage to tens of millions of people and driving down the uninsured rate to historic lows. While we will consider new approaches to help people get and keep coverage, the result should not be more Americans having to go without coverage or the loss of other key patient protections, such as removing the prohibition on health plans excluding or charging higher premiums to patients with pre-existing conditions. We will seek to address barriers to care created by high deductible plans, narrow networks, and rising premiums. We will also continue to advocate for expanding the Medicaid program to all persons up to 138% of the federal poverty level in all states.
We believe it is essential to continue the progress being made on addressing the health impacts of climate change. Climate change will have a catastrophic impact on health, both in the U.S. and globally. We must do everything possible to prevent a rollback of the commitments made by the U.S. and other countries to combat it.
We will continue to advocate for evidence-based policies to reduce injuries and deaths from firearms, included closing loopholes in the U.S. background check system, at both the federal and state levels.
Over the next few weeks, we will assess our advocacy priorities to determine how best to proceed given the election. "
Holiday greetings to all of our members and here is wishing for a happy, healthy, and productive 2017 for all of you and the patients that you care for! Please contact us with ideas you have on how we can improve our services.
---
Contact Information
Indiana Chapter Governor:
Bradley L. Allen, MD, PhD, FACP, FIDSA
Ph: 317-278-7788
Fax: 317-278-8165

Donna Seawards
Executive Director
Ph: 623-225-5527

Chapter Address:
49 Boone Village, Box 290
Zionsville, IN 46077