You are here
ACP Board Prep Curriculum for Residents
Online Slides for In-House Courses
The ACP Board Prep Curriculum is a collection of online slide sets that help residency programs prepare the next generation of internists to pass the ABIM certification exam. Developed by the American College of Physicians and reviewed by generalists and subspecialists to ensure quality, this innovative board preparation course from the ACP combines academic excellence with the flexibility of a program that is available On Demand.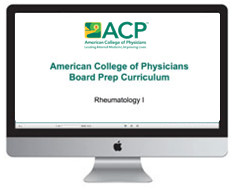 View the ACP Board Prep Curriculum
Comprehensive, Flexible Program
Updated August 1, 2017
48 interactive one-hour presentations covering the topics on the ABIM certification exam blueprint
More than 2,300 slides, requiring little preparation time by presenters
Existing presentations make recruiting local faculty a snap
High-quality information can be presented consistently by program directors, faculty, chief residents, or specialists to all residents
Highly Effective Learning Aids
More than 230 case studies with interactive questions (audience response system not included)
Key Summary of learning points
Subscription includes access to ACP IMBR Flashcards App for all of your residents
Efficient Board Preparation
Lectures can be built into your residents' weekly schedules
ACP Board Prep Curriculum provides an excellent value and extremely efficient teaching method, allowing you to present courses in your institution according to your schedule.
This product is licensed for use by programs. Read the complete Terms of Use for more information.
View a Sample Presentation: Endocrinology II
Pricing for this product is based on number of residents in your program. Pricing is $100 per resident, though discounts may be available for programs with a high percentage of ACP Resident/Fellow membership.