---
---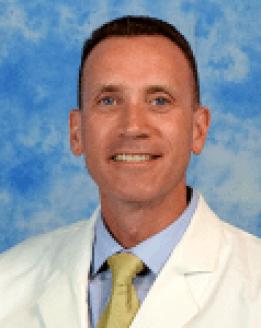 COL Matthew B. Carroll, MD, FACP, USAF, ACP Governor
---
From The Governor
Greetings from Ocean Springs, Mississippi. Looking over my last few newsletters from this time of year, I find myself commenting how it is now fall but the weather is still too warm here. Pumpkin spice latte and summertime heat really don't speak of fall. Well, consistent with much of 2020, this year has been anything but usual. On schedule with the fall equinox the weather changed. It's still warm, but for us here to have temperatures in the low 80s with low humidity is VERY unusual. This is our fall, but this weather change is the result of several extraordinary (tropical) events. First, Hurricane Sally hit just east of where I live, really slamming Pensacola, Florida, a city my family and I love to visit for the beautiful beaches and family attractions. After Hurricane Sally passed, a cold front moved through (yeah!) but this then clashed with Tropical Storm Beta. Tropical Storm Beta spent several days churning in the warm Gulf waters, send a solid week of clouds and rain. The rain wasn't heavy, but it was ever present. Here's the radar of Hurricane Sally the day or two that it threatened the Gulf Coast.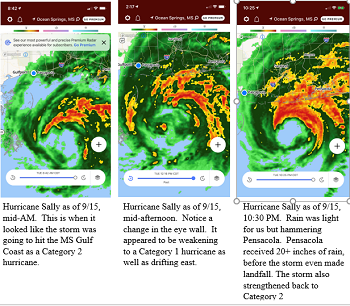 Well, I'm not a meteorologist (nor do I play one on TV), but much like most of 2020, out of adversity, hardship, and pain, our eyes have been opened to the numerous opportunities to serve our community. Volunteerism is a theme that I've touched on throughout the year, and once again I am reminded of all the opportunities that we have to help those around us. Not that we don't serve others (or our country) every day in clinic, on the wards, or when we teach, but 2020 has been hard for many around us, outside of our day to day world, and here is where ACP Volunteerism bridges our professional world with that around us. In late September 2020 my wife and I went to Orange Beach, Alabama (another beautiful beach community beaten up by Hurricane Sally) to help with the ongoing clean-up efforts.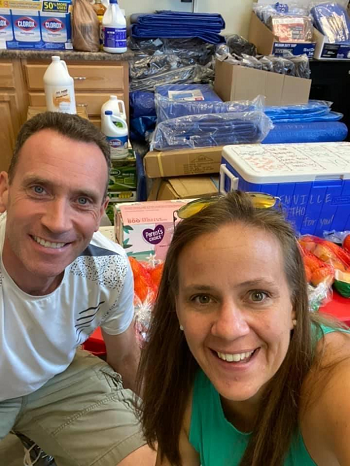 Speaking from personal experience, something very interesting happens when you volunteer. You might have had the intention to serve others, but in the end you find that the giving in the relationship is often two ways. In serving others you develop a deeper and more meaningful connection (or even friendship) with those whom you came to serve! These relationships ultimately become a greater reward than the effort that went into serving others. Take the time to see where you can serve those in your community, and I hope you will find it a rewarding experience.
---
NEWS FLASH!
I once again have some very important recent news. It is a distinct honor that I have as an ACP Governor to recognize an individual's lifetime work and achievements when I nominate them for Mastership. Our chapter is full of talented individuals and as your Governor I have done my best to recognize as many of you as I can during my term. I recently received word that Col. (ret) Dr. Arnyce Pock was selected for Mastership!!! Her lifelong dedication to providing high quality health care as an Internist, teaching medical students and residents, and as former Governor leading our chapter, she has distinguished herself as a leader in our community. Congratulations Dr. Pock for your service to our chapter, to the ACP, and to our nation!
---
TriService ACP Virtual Meeting
The TriService ACP Virtual Meeting was held from 9 – 11 September 2020. For the first time in a decade we had a TriService Meeting, welcoming our Navy colleagues to our growing Army – Air Force Combined Chapter Meeting! While it would have been great to meet in person, a strong TriService team of meeting planners, Zoom coordinators, abstract managers, and breakout coordinators made the virtual meeting not only possible but a resounding success! We had over 650 chapter members registered for the conference with an average daily attendance between 180 – 200 attendees! We were also the first domestic chapter to hold our meeting virtually. If you were unable to register or attend any of the days, we missed your virtual presence but good news, the recorded plenaries, posters, and other lectures are now available for your review on the "landing page."
CME/MOC will be available through the "landing page" for up to 6 months after the end of the conference. We value your feedback and would request that even if you do not anticipate claiming CME or testing for MOC that you send us your feedback so that we can continue make the conference better.
With the in-person meeting cancelled, the "pre-course" Army Individual Critical Task List (ICTL) and the Air Force Comprehensive Medical Readiness Program (CMRP) normally provided by the expert Pulmonary/Critical Care staff at BAMC was cancelled as well. It is currently anticipated that if the TriService Meeting occurs in person in 2021 (dates are 9 – 11 September 2021), the ITCL/CRMP pre-course will likely be held the 2 days before.
Of the many highlights that each chapter meeting provides, there is an opportunity to recognize the outstanding members that comprise our chapter as well as reflect on the diversity and expertise of IM in the AFMS. We honored two chapter members with Laureate awards this year. Please extend your congratulations to Col (ret) (Dr.) Eleanor Avery and Col (Dr.) Michael Forgione. Both have been dedicated members of our chapter who have also excelled in their service to our country and as leaders in the AFMS.
Each year we have exceptional plenary speakers and this year the Philip G. Kiel award, presented to a senior active duty of recently retired physician to commemorate that individual's leadership in a particular field, was awarded to COL (Dr.) Ramey Wilson, US Army. Dr. Wilson has dedicated his time and expertise to building he very successful Operational Medicine section of our meeting. If you missed his plenary lecture "Updates in Military Medicine" I highly recommend that you watch it online. While the Keil award has been given to Army physicians in the past, the last Army recipient of this award was in 2000!
The winner of the Arthur Grollman Award, the outstanding resident research podium presentation, was Captain Seth VanDerVeer with his presentation titled "Walk Your Way to Better Health – Introducing the WtH protocol". The winner of the Jay Sanford Award, the best research presentation by a fellow, was Captain Matthew Rendo with his presentation titled "The Effects of Chemotherapy on the Efficacy of Pneumococcal Vaccination Using Pneumococcal Vaccine Antibody Titers as Correlate".
The recipient of the Lieutenant General (Dr.) Monte Miller Award for an ECP in Research was presented to Major (Dr.) Blair DeStefano. The recipient of our chapter's Dr. George Crawford distinguished outstanding medical educator award was LtCol (Dr.) Brian Neubauer.
The Major General Archie Hoffman award for an outstanding Early Career Physician at an "academic" MTF was presented to Major (Dr.) Dana Blyth. We unfortunately did not have a nominee for the "field" MFT for the Hoffman award this year. Congratulations to Dr. Blyth for her continued excellence in academic and clinical medicine!
The TriService Meeting again hosted a variety of resident, fellow, and ECP competitions. The winners of these different events are recognized below:
Clinical Vignette Poster:
Resident – Captain Elena Segre - Diagnosis of Fibromuscular Dysplasia after Presentation with Spontaneous Coronary Artery Dissection
Early Career Physician – Captain Max Barnes - A lung stone broncholithiasis secondary to pulmonary histoplasmosis resulting in post-obstructive pneumonia
Quality Improvement:
Resident – Captain Brant Bickford - Lowering Infection Risk in Patients Treated with DMARD Medications
Early Career Physician – Major Dianne Frankel/Captain Joe Merfeld - Musculoskeletal Injuries due to Penicillin Injections
Select winners will have the opportunity to represent our chapter at National ACP IMM21.
We did not have a Doctor's Dilemma competition at the TriService ACP Virtual Meeting but we do anticipate using Zoom or a similar platform to host this competition in October or November. Once more information is available, I will send this out in a future email. Plan to watch this event as we will have the Air Force competition to find out which team will represent our chapter not only at the National ACP competition in 2021 but also who will be victorious in a "military" bowl as we play against the winners of the Army and Navy ACP chapters!
---
2020 Chapter Excellence Awards
Each year every ACP Chapter is evaluated for their activities and how they support their members. Chapters can be awarded a Bronze, Silver, or Gold Excellence Award based on their ongoing activities and new initiatives. Out of 85 chapters, there were 83 award recipients. Our chapter earned the Silver Excellence Award. We were 1 of the 18 Chapters to earn this level of recognition. Thank you for all that you do to support our Chapter and its ongoing activities!
---
Hot Topics
Council Members Call for Nominations
The Council of Early Career Physicians (CECP), the Council of Resident/Fellow Members (CRFM), and the Council of Student Members (CSM) are currently seeking candidates to fill vacant seats for 2021-20. Nominations are due by November 1, 2020 and details for submitting are included in the links below.
Typically each Council meets during the ACP Internal Medicine Meeting, once a year in Philadelphia, and several times via webinars, but with the ongoing COVID-19 pandemic the vast majority of meetings have been virtual. The Councils are responsible for responding to requests for review of programs, products and services; advising the College regarding ways to increase the value of ACP membership among their constituency group; and strengthening activities and relationships at the ACP chapter and local levels.
For more information on eligibility and nomination material requirements please see the CECP Call for Nominations, the CRFM Call for Nominations, and the CSM Call for Nominations. If you have any questions please contact ACP staff at acpgovernance@acponline.org
The ACP Releases New Policy Paper on Promoting Prescription Drug Competition
A new paper from National ACP, "Policy Recommendations to Promote Prescription Drug Competition: A Position Paper From the American College of Physicians", is the third installment of a series published in Annals of Internal Medicine.
Recommendations include supporting legislative reforms that realign incentives to support increased innovation in rare disease drug development, reducing the period of data and market exclusivity for biologic drugs from 12 years to 7 years and removing additional barriers to biosimilar market entry, such as modifications to the current patent system that would reduce excessive patenting on brand-name and biologic drugs.
The new paper follows the previously published papers "Policy Recommendations for Public Health Plans to Stem the Escalating Costs of Prescription Drugs: A Position Paper From the American College of Physicians" and "Policy Recommendations for Pharmacy Benefit Managers to Stem the Escalating Costs of Prescription Drugs: A Position Paper From the American College of Physicians" that both made recommendations about the role of Pharmacy Benefit Managers (PBMs) and how to address the issue of prescription drug costs within public health plans. Together the three papers expand on ACP's comprehensive policy on drug pricing that began with the 2016 paper, Stemming the Escalating Cost of Prescription Drugs.
ACP Supports National Physician Suicide Awareness Day September 17
ACP is an official supporter of the Council of Residency Directors in Emergency Medicine (CORD) effort to help spread awareness about the issue of physician suicide. CORD is leading a collaborative effort with ACP and other medical organizations to encourage grassroots activities around National Physician Suicide Awareness Day (NPSA) on September 17. This year's theme is One of Us in recognition that suicide can affect us, our friends, and colleagues. Follow the hashtag, #NPSAday on social media.
CORD's resources include a curriculum, podcasts, videos, and articles. CORD's Vision Zero statement calls on individuals, residency programs, health care organizations, and national groups to make a commitment to break down stigma, increase awareness, open the conversation, decrease the fear of consequences, recognize warning signs, and learn to approach colleagues who may be at risk.
Through ACP's Physician Well-being and Professional Fulfillment initiative, ACP continues to work to address the root causes that affect physician professional fulfillment and well-being and also features COVID-19 Well Being Resources.
Internists Urge Congress to Support Planned Increases in Payments for E/M Services
Internists Urge Congress to Support Planned Increases in Payments for E/M Services
On September 11, 2020 the American College of Physicians (ACP) sent a letter to every member of Congress stressing the importance that the planned increases in payments for evaluation and management (E/M) services and other changes to the Medicare Physician Fee Schedule move forward as scheduled on Jan. 1. In the 2021 MFPS, the Centers for Medicare and Medicaid Services (CMS) included historic improvements in Medicare physician payment policies for primary and comprehensive care services (evaluation and management services), vaccines and telehealth services, while streamlining and reducing documentation burdens on physicians that take time away from patients.
"These improvements are essential toward addressing the ongoing impact of the COVID-19 pandemic, providing much needed increases to physicians for their primary, cognitive and comprehensive care services at a time when practices are under severe financial stress and at risk of closing due to lost revenue from COVID-19," said Heather E. Gantzer, MD, FACP, Chair, ACP Board of Regents.
The letter was accompanied by a fact sheet outlining the benefits that the proposed Medicare changes will have and asking members of Congress to communicate to CMS their support for the improvements, and that they do not want to see any changes to them that would reduce the positive impact on patients and physicians. The fact sheet specifically outlined improvements that would be made by increasing payments for E/M services; reducing and streamlining documentation requirements; providing higher payment for complex care; increasing access to telehealth services; increasing payments for vaccine administration; and increasing payment for coordinating care of patients with complex conditions.
---
New Master, Fellows, and Members
I would again like to extend my congratulations to the newest MASTER of the ACP for our Chapter, Colonel (ret) (Dr.) Arnyce Pock.
Congratulations to our new Air Force Fellow of ACP:
MAJ David Kline, MD FACP
MAJ Joseph M Yabes Jr, MD FACP
Let's also extend a warm welcome our newest members:
ACP Members:
ACP Resident/Fellow Members:
Daniel Slack
Lusine Zakharian
Stone Frankford, MD
CAPT Justen Despain, DO
Medical Student Members:
Dylan Baker
Jeffrey Vehawn
Walker Laird
Sohyun Ahn
Colten Yahn
David Miller
Mark Linford
Ajay Saraf
Garrett Allen
Breanne Parets
Taylor Boggs
Napiera Shareef
Chance Cosgriff
Austin Parsons
---
Calendar
30 – 31 October 2020 Ohio – Air Force Combined Chapter Meeting (VIRTUAL)
29 April – 1 May 2021 ACP Internal Medicine Meeting (Orlando, FL)
Link: https://annualmeeting.acponline.org
9 - 11 September 2021 Tri-Service ACP Chapter Meeting