---
---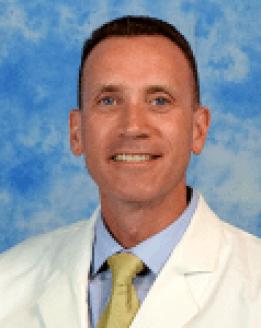 COL Matthew B. Carroll, MD, FACP, USAF, ACP Governor
---
Message from the Governor
Greetings from Ocean Springs, Mississippi. Well, it's finally Fall! It's still warm here in south Mississippi, but soon the leaves will be changing and cooler weather will arrive. I love this time of year but honestly, it goes too fast. I was shopping at Walmart in late September and they already had the Christmas trees out! I thought we had a few holidays between now and Christmas . . . needless to say, this time of year moves so quickly. I hope that you take a moment to reflect on the successes (and failures) of the year before it ends and we find ourselves in 2020.
We again had a FANTASTIC Combined Chapter meeting several weeks ago . . . outstanding speakers, amazing attendees, and an overall fabulous time! The Army ACP Governor Dr. Cristin Mount and I remain dedicated to making our Combined Chapter meeting better each year, not only addressing topics that you want to hear about but also expanding the opportunities for you to network and mentor our medical students, residents, and fellows.
At the Fall Board of Governor's meeting from which I recently returned the Navy ACP Chapter Governor LCDR Mark Tschantz spoke with Dr. Mount and myself about a Tri-Service meeting. After running through the logistics we all agreed that a Tri-Service meeting in September 2020 would be wonderful for all of our members, so look forward to hosting our Navy ACP colleagues in 2020. The Tri-Service ACP Chapter meeting is on!
With our Chapter conferences behind us, I'm already excited about seeing everyone at the combined Ohio – Air Force ACP Chapter meeting later this month and then the National meeting (IMM20) in April 2020 in Los Angeles, California. I am confident that we will once again shine on the chapter and national stage!
Before I close this section of the newsletter, I would also like to draw your attention to the information summarized in the Hot Topics section of my Newsletter. In that section you will find information about:
a leadership opportunity in the opioid use disorder realm supported by a grant given to National ACP,
a call for those interested in serving on the Council of Student Members (CSM), Council of Resident/Fellow Members (CRFM), or Council of Early Career Physicians (CECP),
a (favorable) proposed update to the Medicare Physician Fee Schedule, and
the timetable and submission instructions for medical student, resident/fellow, and early career physician research and clinical vignettes at National ACP IMM20,
---
NEWS FLASH!
I have some very important recent news. It is a distinct honor that I have as an ACP Governor to recognize an individual's lifetime work and achievements when I nominate them for Mastership. Our chapter is full of talented individuals and as your Governor I will do my best to recognize as many of you as I can during my term. I recently received word that Col (ret) Dr. Paul Hemmer was selected for Mastership!!! His lifelong dedication to providing high quality health care as an Internist and teaching medical students and residents (like myself a "few" years ago) have distinguished him as a leader in our community! Congratulations Dr. Hemmer for your service to our chapter, to the ACP, and to our nation!
---
Army – Air Force Chapter Meeting
The Army – Air Force Combined Chapter Meeting was held in San Antonio at the Gateway Club, Lackland AFB from 5 – 7 September 2019. We continue to grow and had another fantastic meeting! If you attended, thank you for your presence and support! If you were unable to attend, we missed you and hope that you will be there next year.
This year the "pre-course" was hosted by Pulmonary/Critical Care personnel at BAMC. The Army Individual Critical Task List (ICTL) and the Air Force Comprehensive Medical Readiness Program (CMRP) was held from 3 – 4 September 2019 at the BAMC Simulation Lab. About 35 people attended and the feedback was that it was an excellent course to refresh skills critical to the warfighting mission. We look forward to hosting this "pre-course" again next year before the chapter meeting because of the fantastic educational endeavor that it was!
We had great plenary speakers this year, and two were recognized with Air Force ACP Chapter awards. Dr. Jessica Servey gave the opening plenary "Women Leaders in Medicine." The chapter honored her with the Philip G. Kiel award, presented to a senior active duty of recently retired physician to commemorate that individual's leadership in a particular field: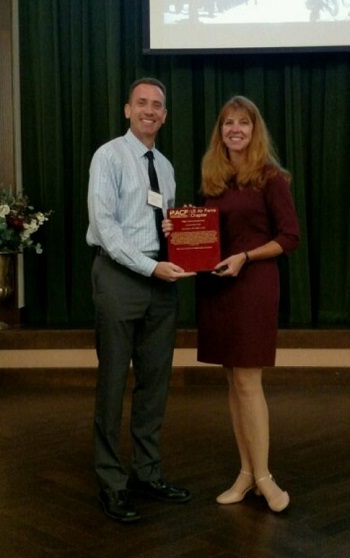 The Major General Malcolm M. Grow chapter award went to Dr. Mark Miller. This award is presented to an eminent civilian consultant who supports the chapter with his or her academic insight and expertise.
Dr. Mark Miller is the son of the late Lieutenant General Monte Miller, former Surgeon General and trailblazing Air Force physician who left behind an amazing legacy. Dr. Miller was present for the inaugural presentation of the Lieutenant General Monte Miller Award for an Early Career Physician in Research. The award recognizes an early career physician for their contributions to the Air Force Medical Service (AFMS) in clinical investigation. The award was presented to Lt Col Jason Okulisc for his accomplishments in research.
The other inaugural award presented at the meeting was the Dr. George Crawford distinguished outstanding medical educator award. Dr. Crawford was a legend during his active duty years. As a young resident I was 2,000 miles away from where he taught but still knew of his reputation as an amazing medical educator and exceptional clinician. He remains a vibrant member of the ACP and has just recently finished his term as governor for the South Texas ACP chapter. He was in person when this award was presented to Colonel Heather Yun to honor her dedication to teaching and providing exceptional clinical care.
The Major General Archie Hoffman award for an outstanding Early Career Physician at a "field" medical treatment facility was presented to Major Samuel Weiss: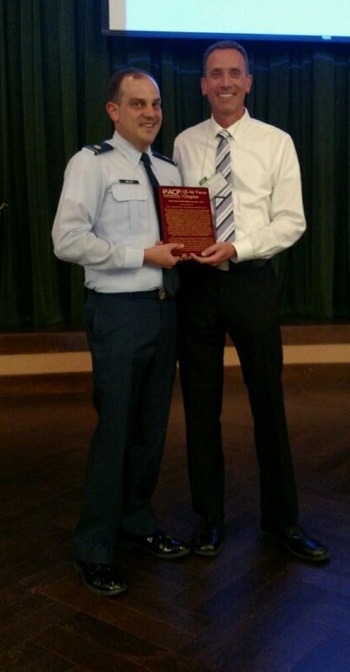 The member selected to receive the award from an "academic" medical treatment facility was Major Will de la Cruz. Congratulations to both for their excellence in clinical medicine!
In addition to the amazing plenary speakers, we recognized many outstanding members of our chapter. First, our chapter Laureate award winners this year were Colonel (ret) (Dr.) Helen Hootsman and Dr. David Gremillion. It was an honor to recognize them for their numerous achievements and ongoing support of our chapter! Dr. Hootsman was unfortunately unable to attend.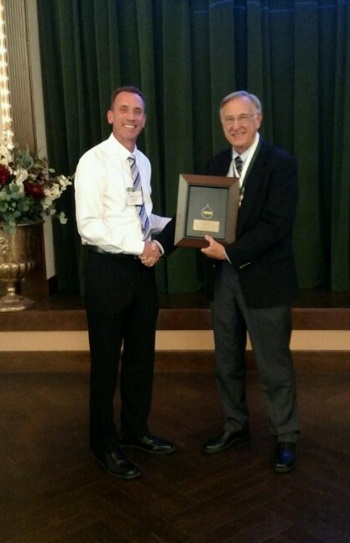 Dr. Gremillion was also the recipient of a special award of recognition from the American College of Physicians for 50 years of membership! We joked that he has paid at least $1 million in dues over the 50 years, at least when adjusted for inflation . . . such longevity in any organization is quite rare and demonstrates his dedication to his patients, fellow physicians, and making clinical practice the best that it can be for over half a century!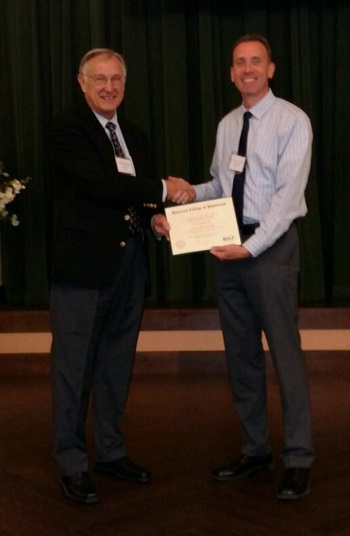 For the Doctor's Dilemma competition, the team from Keesler AFB will be representing the Air Force Chapter at IMM20 in Los Angeles in April 2020. Comprising the winning team were Francis Essien, Beau Bennett, and Austin Brokamp.
The Combined Chapter Meeting hosts a variety of resident, fellow, and ECP competitions. The winners of these different events are recognized below. I will apologize here that I do not have pictures of all the winners . . . despite trying to take pictures are various times, with all of the concomitant activities happening throughout the conference I invariably miss our winners. My apologies in advance. Our chapter research winners:
Podium Research:
Resident (Arthur Grollman award) – Captain Jamie Geringer, SAUSHEC
Fellow (Jay Sanford award) – Captain Michael Gonzales, SAUSHEC
Early Career Physician – Major Cristin DeStefano, David Grant Medical Center
Clinical Vignette Poster:
Resident – Captain Mayank Patel, SAUSHEC
Fellow – Captain Shayet Gabasha, SAUSHEC
Early Career Physician – Captain Brandon Kuiper, SAUSHEC
Quality Improvement:
Resident – Captain Zachary Eagle, Keesler Medical Center
Our winners will have the opportunity to represent our chapter at National ACP IMM20 in Los Angeles. I eagerly await their chance to shine at this national event!
---
ACP Board of Governors (BOG) Meeting
In late September 2019 the Fall BOG Meeting was held in Tucson. The BOG meets twice a year to discuss topics relevant to the management of their chapters as well as to vote on resolutions and other items of College business that drive ACP as a national and international organization. A substantial amount of time was spent on discussing the ACP position on health care reform collectively titled "Envision a Better Health Care System for All". It was also at this meeting that the Air Force ACP Chapter was presented the Silver Chapter Excellence Award for the ongoing work and achievements of the chapter. It was my honor to accept this award on behalf of our chapter! Also, as noted earlier, both Dr. Mount and I had time to talk with the Navy ACP Governor and set the foundation for what will be an exemplary Tri-Service meeting in September 2020.
---
Hot Topics
Opioid and Substance Use Disorder Resources Leadership Opportunity
The American College of Physicians has partnered with the American Academy of Addiction Psychiatry (AAAP) and a coalition of national professional organizations on two SAMHSA-funded initiatives, the Provider Clinical Support System (PCSS) and Opioid Response Network programs, to combat the opioid crisis. As a part of these programs, ACP hosted a virtual quality improvement chronic pain leadership-training program in May of 2019, due to the success of this event, we have decided to offer a second round of training, details of which are below:
A 2 hour webinar providing an overview on how to apply ACP's QI methodology to improve chronic pain management and safe opioid prescribing on November 20, 2019.
A series of 4 coaching calls with expert QI faculty to support implementation of a QI project focused on chronic pain management through January 2020.
Participants will be asked to submit a summary report of program outcomes to ACP no later than January 31, 2020.
Interested participants should apply through the following link: https://www.surveymonkey.com/r/PBMTPHP
Program Application Criteria: New participants may apply (participation in the May virtual training disqualifies you from applying again)
A $500 honorarium will be provided to selected participants
For more information about this opportunity, please contact Julia Thayer at jthayer@acponline.org
* Funding for this initiative was made possible (in part) by grant no. 6H79TI080816 from SAMHSA. The views expressed in written conference materials or publications and by speakers and moderators do not necessarily reflect the official policies of the Department of Health and Human Services; nor does mention of trade names, commercial practices, or organizations imply endorsement by the U.S. Government.
*Funding for this initiative was made possible (in part) by grant no. 5U79TI026556 from SAMHSA. The views expressed in written conference materials or publications and by speakers and moderators do not necessarily reflect the official policies of the Department of Health and Human Services, nor does mention of trade names, commercial practices, or organizations imply endorsement by the U.S. Government.
---
Council Members Call for Nominations
The Council of Early Career Physicians (CECP), the Council of Resident/Fellow Members (CRFM), and the Council of Student Members (CSM) are currently seeking candidates to fill vacant seats for 2020-21. Nominations are due by November 1, 2019 and details for submitting are included in the links below.
Each Council meets during the ACP Internal Medicine Meeting, once a year in Philadelphia, and several times via webinars. The Councils are responsible for responding to requests for review of programs, products and services; advising the College regarding ways to increase the value of ACP membership among their constituency group; and strengthening activities and relationships at the ACP chapter and local levels.
For more information on eligibility and nomination material requirements please see the CECP Call for Nominations, the CRFM Call for Nominations, and the CSM Call for Nominations. If you have any questions please contact ACP staff at acpgovernance@acponline.org
---
Proposed Medicare Physician Fee Schedule for 2020
The proposed Medicare Physician Fee Schedule for 2020 was released by CMS on July 29. The proposal includes updates to re-value the payments and improve documentation requirements for evaluation and management E/M codes. The changes will better recognize the value of cognitive services in providing quality patient care. ACP has long been seeking these changes and was a leader, along with several other health care societies, in the push to improve payments for these historically undervalued services. While the changes are still proposed, it would increase RVU credit for E/M codes 9920X on average about 5 – 10% and 9921X on average about 20 – 30%. The previous proposed CMS change to combine level 2 – 4 E/M codes under one flat rate will no longer be potentially implemented.
ACP will be analyzing the proposed fee schedule, along with the proposed rules for the 2020 Quality Payment Program and the 2020 Hospital Outpatient Prospective Payment System and providing comments to CMS. More about ACP's initial reaction is available in a press release posted on ACP's news release page.
For more information, please contact, Jacquelyn Blaser, Public Relations Senior Associate, jblaser@acponline.org
---
National ACP Abstract Competition Timeline
Here are several important dates for you to consider regarding your submission of research or a clinical vignette for presentation at National ACP IM 2020 in Los Angeles: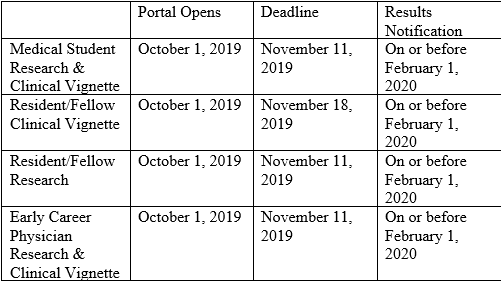 If you were a winner in any of the categories above at the Combined Chapter Meeting in September, you must still enter your abstract through the abstract portal by the deadline noted above.
National ACP invites you to volunteer to review abstracts and/or judge posters submitted by medical students, resident/fellows, and early career physicians for the 2019 National Abstract Competitions. If you are interested, please log in and complete the Abstract Review Board/Poster Judge RSVP form.
---
New Master, Fellows, and Members
I would again like to extend my congratulations to the newest MASTER of the ACP for our Chapter, Colonel (ret) (Dr.) Paul Hemmer !!
Congratulations to our new Air Force Fellow of ACP:
Laura M. Bridge, MD, FACP
Let's also extend a warm welcome our newest members:
ACP Members
Kuang S Chang, MD
John Hunninghake, MD
Gregory Buchek
MAJ Dianne Frankel, DO USAF
Janelle Gyorffy, MD
MAJ Steven T Fosmire, DO USAF
CAPT Brittaini D Bunce, MC USAF
Samuel L Weiss, MD
CAPT Matthew L Bezzant, USAF
Jonathan Andrew Aun, DO
Howard Lee
CPT Matthew J Rendo, MC USAF
CPT Parker W Woody, DO USAF
Farman Ali, MD,MBBS
CAPT Gilbert P Ancira
Ryan Collier, MD
LT COL Jason Cromar, MD
Michael Veronneau, DO
Christopher Williams, DO
Micheal Massoud, DO
Alexander Fye, MD
Morgan Gettle, DO
Kimberly Wiley, MD
CAPT Jordan R Evans, MC USAF
Huiling Wolff-Koo, MD
Sarah Schall, MD
Sean Barnett, DO
Benjamin Morrow, MD
ACP Resident/Fellow Members
CAPT Ramsey L Gardner
CAPT Emma Craig, USAF
CAPT Brian S Chapman, DO
CAPT Sonia Iqbal
Noah Y Jo
Callie Cheatham
CAPT Craig Yugawa, MD
Michael Tang
Matthew Schwartz
Brycen Wilson
Joseph Glendening
Stephen Mazurkivich
David Demasters
William Williams
Matthew Tunzi
Nicolas Ferry
Joseph Cervone, DO
Matthew Hagen, DO
Julia Timm Intili, DO
Matthew Bondaryk, MD
Harrison Fleming, DO
Krista Carlson, MD
Brian Elliott, MD
Collin Clay, USAF
Haeseung Kim, DO
Mike Kim, DO
Philip Cushman, DO
Theodore Chung, MD
Graey Wolfley, DO
Medical Student Members
Christine Persaud
Nhat Chau
Jacqueline Baude
Ryan Carfi
Katelyn Hagstrom
Michael Taylor
Lauren Spaeth
2LT Ben D Michaels
2LT Alexander N Williams
Tyler Ogden
Lauren Truax
Grant Gerstner
Aaron Salazar
Victor Hoang
Mikayla Jones
Tesserae Komarek
Victoria Umling
Ashley Barasa
Bunnarack Kuch
Lauren Sweet
Tate Vernon
Grace Smith
Jorey Cunico
Christopher Vaccaro
Boontharick Sopontammarak
Antonio Loper
2LT Alexander P Hoffman, MD USAF
Kacie Scott
Rachel Cox
Jonathan Madany
Joshua Gormley
---
Calendar
17 – 18 October 2019 Ohio – Air Force Combined Chapter Meeting
23 – 25 April 2020 ACP Internal Medicine Meeting (Los Angeles, CA)
Link: https://annualmeeting.acponline.org
10 - 12 September 2020 Tri-Service ACP Chapter Meeting