---
---

Lt Col Angelique N. Collamer, MC, USAF, FACP, ACP Governor
---
From The Governor
Greetings to everyone and I hope you are all doing well during these challenging times. Many of our members are currently working on the frontlines of healthcare or deployed in the national COVID-19 response while others remain steadfastly committed to medical education, research, and leading our medical teams. I am grateful for our all our exceptional members and colleagues as we continue to support each other, our families, friends, and teammates with grace and resiliency.
Our 2022 Tri-Service Planning Committee is in full swing, and we are all looking forward to bringing our military chapters together for the first in-person Tri-Service meeting in a decade! This is a long-awaited reunion and a necessary educational pause for all of us in our professional home; please block 7 to 9 September in your schedules for the Wednesday through Friday meeting in San Antonio, TX. A big thank you and congratulations to Maj John Hunninghake will be taking the lead as our Air Force Chapter Meeting Planner! Please feel free to reach out to either of us with questions.
We continue to have a lot of activity going on in the Chapter! It was wonderful to see many of our members at the virtual Ohio/ACP 2021 meeting in October. Col Eddie Davenport delivered a fantastic lecture on Exercise as Medicine at that meeting. Dr. Joseph Yabes and Dr. Lacy Lowry have been working with our Early Career Physician group including programing for the upcoming Tri-Service meeting, if you are interested in participating, please contact Joe and Lacy. Dr. Alexandra Smith has started training through national ACP as our physician wellness champion; if you are interested in joining her as co-champion for wellness, let me know!
I remain grateful for the privilege of serving all of you as Governor of our chapter. I hope 2022 brings new opportunities for each of you. If there is anything I can do to support you, do not hesitate to reach out. I look forward to hearing from you!
Sincerely,
Angie
---
Highlights from the 2021 Ohio / Air Force Annual Meeting
It was great to see some of you virtually in October at the joint Ohio/Air Force annual chapter meeting! For those who attended, you can now access the virtual sessions and earn CME here. . Don't miss the great lecture on Exercise as Medicine given by our own Col Eddie D. Davenport, MD!
---
Wrap Up from the 2021 Tri-Service Annual Meeting
If you missed any lectures or would like to review parts of the meeting, the recorded sessions are now available on the meeting hub following a delay due to technical difficulties. Additionally, don't forget to claim your CME and MOC points.
---
Member Spotlight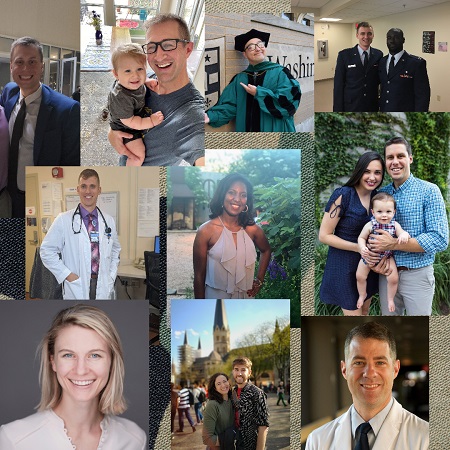 It has been great to get to know so many of our accomplished members during the past few months! I hope you are enjoying receiving the member spotlight too! If you would like to see your mentor, student, trainee, colleague, or even you featured, please let me know! I am looking forward to showcasing a wide range of our members in all stages of their careers.
Thanks to everyone who has participated so far!
---
Our Newest Master of the ACP!
It is an honor to be recognized for Mastership in the ACP, a distinction that recognized an individual's lifetime work and achievements. Congratulations to our newest MACP, Dr. Steven Durning, MD, PhD. Dr. Durning is a professor of medicine and pathology at the Uniformed Services University (USU) and is the Director of Graduate Programs in Health Professions Education. Congratulations Dr. Durning!
Our chapter is full of talented individuals and as your Governor I hope to recognize as many of you as possible. Please contact me with your ideas and nominations for the distinctions of Master of the ACP and for Laurette awards for our chapter.
---
Internal Medicine Meeting 2022
Internal Medicine Meeting 2022 returns to in-person this April in Chicago! There's never been a better time to reconnect with your colleagues and experience the three days of valuable, timely content you rely on to stay current in internal medicine. I'm looking forward to seeing many of you in Chicago and cheering on our Air Force Doctor's Dilemma team!
Internal Medicine Meeting 2022 will introduce a refreshed schedule and two plenary gatherings featuring must-see speakers. You will also not want to miss our own Dr. Cristin DeStefano presenting on Oral Anticoagulation: Patience and Wisdom on Friday, April 29, 2022!
Register to gain access to:
Over 200 scientific and practice-related sessions
Expert faculty with live Q&A and real-time polling
Livestream access to over 100 hours of sessions during the event
Can't attend in Chicago? A virtual option is also available. Livestream 100 hours of sessions during the event and engage with faculty through live Q&A and real-time polling.
---
Well-Being Corner: Resources
I.M. Thriving is ACP's new effort to support clinician well-being with resources that help bridge to actionable next steps to make our voices heard. Consider checking out these resources:
ACP and YouTube have released two new video series focused on COVID-19 and vaccine education: "Ask Your Internist, " featuring physicians who answer the public's top vaccine-related questions, and "Physician to Physician Conversations, " which shares practical strategies for physicians to address vaccine and health misinformation with patients. Several of the episodes will also be offered in Spanish.
Episodes of each of these series can be viewed on the ACP YouTube channel, and new videos will be uploaded throughout the next few months.
As part of ACP's I.M. Emotional Support campaign, ACP and your fellow members have developed a series of brief videos that offer practical strategies to cope with daily burdens.
---
DEI Corner
We have been invited to participate in a multi-chapter Grand Rounds event on 9 March 2022 at 6:30pm (pst) / 8:30pm (cst) / 9:30pm (est) on the timely and important topic of Race and Kidney Function. Register here.
Looking for DEI resources? Our DEI champion Dr. Craig Yugawa recommends the WashU Medical Library for some great DEI in medicine resources.
---
New Chapter Members
Let's extend a warm welcome our newest members:
Our New Master of the ACP:
Dr. Steven Durning—a big congratulations!
Our Newest Fellows:
Christina Awad
Nicole Bane
Jason Brownell
Asha De
Christin Blair
Shane Patterson
Our Newest Members:
Bradley Beeler
Douglas Katein-Taylor
Finianne Umali
Our newest Resident/Fellow Members:
| | |
| --- | --- |
| David Batistig | Dominic Bracero |
| Jacob Burlew | Jason Corless |
| Alicia Latta | Raymond Mrozek |
| Riley Pickett | Danielle Presley |
| Berish Wetstein | Christopher Yard |
Our newest Medical Student Members:
| | | |
| --- | --- | --- |
| Tom Argana | Robert Buntyn | Samuel Gallo |
| Galen Gist | Yoo Joung | Elizabeth Kim |
| Christine Kwak | Michael Larkins | Benjamin Lewis |
| Madelyn McGuffey | Lindi Moore | Darwin Nelson |
| Mackenzie Nelson | Nikoli Nickson | Taylor Nolff |
| Phoebe Otchere | Soyoun Pak | Cyrena Peterson |
| Jack Power | Oscar Rodriguez | Noah Smith |
| Daniel Song | Isaac Swartzman | Aleksandar Toshich |
| Michael Wells | Eshaan Zaveri | |
---
Mark Your Calendar!
28-30 April 2022 - ACP Internal Medicine Meeting, Chicago, IL
7-9 September 2022 – Tri-Service Annual Meeting, San Antonio, TX
20-21 October 2022 – Ohio/Air Force Annual Meeting, Columbus, OH