You are here
GOVERNOR'S NEWSLETTERJuly 2014

---
---
From the Governor
Mark E. Pasanen, MD, FACP, ACP Governor
Greetings from the VT Chapter of the ACP. Over the last year, which has been a truly exciting one, the VT Chapter of the ACP enjoyed a wonderful combined meeting with the NH Chapter, elected an outstanding Governor-Elect, showcased our Associates at Internal Medicine 2014 and sent a contingent of Vermonters to Washington DC as part of Leadership Day. Every day our members help shape the health landscape in Vermont, not only through their dedication to patient care, but as advocates for positive change at so many levels.
On a personal note, it's been a very rewarding year. In April, I was appointed Chair of the Chapters Subcommittee, which is charged with overseeing and supporting the individual Chapters. In this role, I also serve as a member of the Executive Council of the Board of Governors, which represents all the national and international Governors. This has given me the opportunity to voice the opinions of Vermont at a national level. I hope you all have had a chance to enjoy the beautiful summer we've had so far this year, and hope to see many of you at the fall VT ACP Chapter meeting.
---
Save the Dates
VT ACP Chapter Meeting
Date: Friday, October 17, 2014
Location: Trapp Family Lodge, Stowe, VT
Featured speaker: Darilyn Moyer, MD, FACP, Chair Board of Governors
Please note that there will be sessions on both End-of-Life Care and Safe Opioid Prescribing - meeting current mandatory Vermont CME requirements.
Internal Medicine 2015
Dates: April 30 - May 2, 2015
Location: Boston, MA
Special events: At this meeting, we will be celebrating the 100th anniversary of the American College of Physicians - and there will be a number of special events/sessions. It'll definitely be a meeting you don't want to miss.
---
Gatherings
Back in October, we enjoyed a wonderful combined meeting with the NH Chapter, featuring Steve Weinberger, the executive vice-president and CEO of ACP, who provided a stimulating talk on providing high value care and the significant role the ACP has had in supporting the Choosing Wisely campaign. Showcasing the work of our Associates is one of my favorite parts of the meeting, and this year was no exception. Among the 16 fantastic posters, the following two were identified as truly exceptional.
Deva Sharma: Platelet Agonists and Antagonists Selectively Regulate Release of Platelet-Derived TGFß1 (with Jamie E. Levis, M.S, Inder Lal, MD and Chris E. Holmes, MD, PhD)
Sam Merrill: Unwanted Party Favors: Serotonin Syndrome and Amnesia (with Benjamin Keveson, MD)
As regional winners, both were invited to Internal Medicine 2014 in Orlando FL where their work was displayed. Congrats to all of our Associates!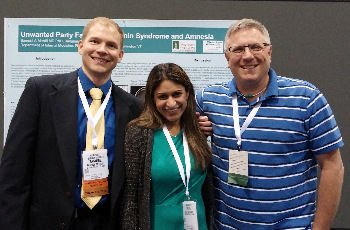 ---
ACP New Logo and Tagline
At the Internal Medicine 2014 meeting, ACP unveiled a new logo and tagline. - "Leading Internal Medicine, Improving Lives." Steven Weinberger, MD, FACP introduced the new logo and tagline. "ACP's new logo presents us in a contemporary, vibrant style while maintaining a link to our rich history by incorporating the traditional element of the lamp of knowledge. Our new tagline speaks to the accomplishments of our members as well as to ACP's role in the field of internal medicine." The video really captures what the ACP is all about, and I encourage you to spend a few minutes enjoying it.
---
Leadership Day 2014
On May 21, 2014, members of the VT Chapter of the ACP headed to Washington, DC for the annual ACP Leadership Day. This event includes briefings on the major healthcare issues by ACP staff, members of Congress, congressional staff and independent policy analysts. On May 22, 2014, our VT members then headed to the hill to meet with our elected officials and staff. This year our contingent had a broad representation including our immediate-past Governor, Mark Levine, FACP, a graduating Internal Medicine resident, David Rand, DO and fourth-year medical student at UVM, Vishal Shah. There were joined by Justin McMaster, from Ontario, who is doing medical school rotations in Maryland. Priorities for the group included the continuing efforts to repeal the Medicare SGR formula, encouraging alternate medical liability systems, preventing cuts to Medicaid and ensuring funding for workforce and graduate medical education programs to address the shortage of internal medicine physicians. One of the highlights of the trip was a face-to-face meeting with Senator Bernie Sanders, along with meeting with the current President of the ACP, David Fleming MD, MA, FACP and the Chair of the Board of Regents, Robert Centor, MD, FACP.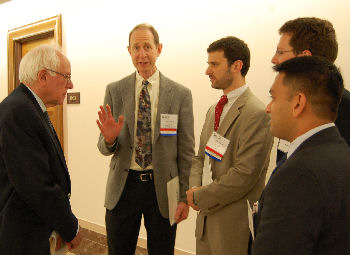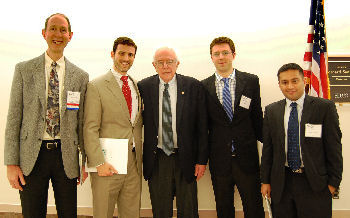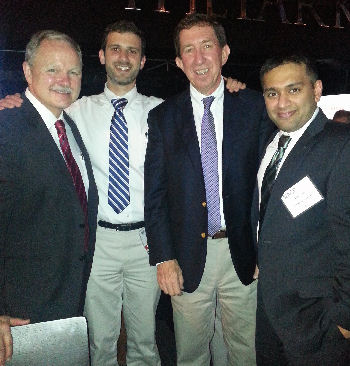 ---
Resolutions: Get Involved!
Are you concerned about a practice or clinical issue or have an idea you'd like to suggest? If so, you might consider submitting a resolution to your Governor or chapter council.
Initiating a resolution provides ACP members an opportunity to focus attention at the ACP national level on a particular issue or topic that concerns them. Participating in the Board of Governors resolutions process provides the ACP grassroots member a voice and allows you to shape College policy that impacts the practice of internal medicine. When drafting a resolution, don't forget to consider how well it fits within ACP's Mission and Goals. In addition, be sure to use the College's 2014-2015 Priority Initiatives to guide you when proposing a resolution topic.
If effecting change interests you, the deadline for submitting new resolutions to be heard at the Spring 2015 Board of Governors Meeting is September 24, 2014. Members must submit resolutions to their Governor and/or chapter council. A resolution becomes a resolution of the chapter once the chapter council approves it.
Not sure how to begin drafting a resolution? Researching the College's position on an issue can give you a start. Visit the ACP Online homepage and click the "Advocacy" link in the right-hand, top margin to access ACP policy positions, read about recent ACP advocacy activities, or search ACP's library of policies and recommendations. Visit your chapter website, too, and click the link under "Advocacy" to access Electronic Resolutions System (ERS) where you can search past or proposed resolutions. A copy of the resolutions process is available on the ERS which furnishes more details on formatting resolutions, as well the process for submission, review, and approval.
Share your good idea with us. Draft a resolution.
---
Introducing our Governor-Elect

Jan Carney, MD, MPH, FACP
It is with great enthusiasm that I present the next Governor of the VT Chapter of the American College of Physicians, Jan Carney, MD, MPH, FACP. Dr Carney is well-known to many of you, given her long-standing commitment to the health of Vermonters. After attending Middlebury College as an undergraduate, she went on to obtain her MD at the University of Cincinnati, followed by residency in Internal Medicine here at the University of Vermont. Given her interest in health policy, she then went off to the Harvard School of Public Health, where she received her MPH. Shortly thereafter, she returned to Vermont as the Commissioner of Health, a position she held for 14 years. Currently, she is a Professor of Medicine at UVM, where she also serves as Associate Dean for Public Health.
Needless to say, our VT ACP Chapter is incredibly lucky to have such a gifted physician represent us on the national level. At this time, with the shifting local and national healthcare scene, it will be wonderful to have such a thoughtful and dedicated advocate at our helm.
Dr. Carney will serve as Governor-Elect until April 2015, at which time she will move into the Governor role. Please join me in extending our congratulations, as well our appreciation for taking on this important role. Here is Dr. Carney's bio information which is available on the VT ACP Chapter site.
---
Social Media
For those of you interested in following the VT Chapter via social media, I have started a Twitter account and will be starting to tweet information that will be relevant to both local and national healthcare.
Please follow us at @VTACP