You are here
GOVERNOR'S NEWSLETTERJanuary 2015
GOVERNOR'S NEWSLETTERJanuary 2015

---
---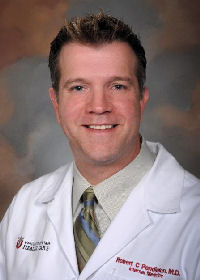 Robert C. Pendleton, MD, FACP, ACP Governor
---
Greetings from the Governor
Greetings to all members of the Utah Chapter of the American College of Physicians:
I hope that you and your families had a wonderful and safe Holiday Season. It is hard to believe that 2015 is already well underway- a year that holds great promises to be an incredible one! I wanted to provide an update of activities already well underway:
Our annual Scientific Meeting will be February 27-28 and a detailed summary can be found below. I encourage all of you to attend. This meeting is an opportunity to connect with each other, to earn MOC and/or CME credit and to celebrate two of our distinguished colleagues- Dr. Thomas Caine and Dr. Corwin Edwards. I hope that you will join us for this exciting meeting and celebration.
ACP Internal Medicine 2015 meeting will be in Boston from April 28-May 2nd. This year is the centennial celebration for ACP and will be an incredible program. Please register. We hope to see you there.
ACP continues to represent you and your concerns related to MOC to ABIM. This has been an important national topic and I am confident that there will be meaningful reform to the MOC process over the coming months and years.
Lastly, your Utah ACP leadership council is committed to making 2015 a banner year in how ACP can help to enrich your professional practice. We welcome your thoughts, comments, and interest.
Warmest Regards,
---
Register Today - Utah Chapter Annual Scientific Meeting
February 27 - 28, 2015 | Salt Lake City, UT | University of Utah Guest House
Many enhancements have been made to the Utah Chapter Annual Scientific Meeting thanks to your suggestions. In addition to the usual multitude of great talks, this two day event will feature:
Guest Keynote Speaker: Molly Cooke, MD, MACP, Immediate Past ACP President

Social Event and Community Awards Ceremony - Guests are welcome! (must register guests)
Honoring two new Utah ACP Masters!

ABIM Maintenance of Certification (MOC) modules
ABIM MOC Practice Assessment Workshop
Hands-on Workshops:

Practical Ultrasound
Joint Injections
You won't want to miss this - Click here to register or view the full conference agenda.
---
Resolutions
Fall 2014 - Results
Thank you for taking time out of your busy schedule to provide comments regarding the fall resolutions. By providing your feedback on the Board of Governors resolutions, you have helped to shape College policy that impacts the practice of internal medicine. You can see how our chapter voted and the results of the resolutions.
Spring 2015 - Feedback Request
We will request your feedback regarding the resolutions that will be heard at the spring 2015 Board of Governors Meeting. An email will be sent separately with a link to a survey where you can cast your votes as soon as available.
---
Residents and Fellows Poster Competition
October 8, 2014 | Salt Lake City, UT | University of Utah Health Sciences Education Building
The Residents and Fellows Committee has put together another wonderful event. There were tremendous accomplishments achieved by our housestaff and medical students this year. A total of 8 posters highlighting fascinating cases seen at all 3 institutions, with 1 original research submission.
Sudden Onset Altered Mental Status | Anees Daud, MD
Takotsubo Cardiomyopathy: A Case Report | Ashley R. Donaldson, MD
Downhill Esophageal Varices in a Patient with SVC Stenosis | Kristin M. Hueftle, MD
Causes of UGIB: An Uncommon Presentation | Mark Kaeppler, MD
Right Ventricular Papillary Fibroelastoma | Adam Kilian, MD
U.S. Resident Physician Use of Smartphone in Clinical Care | Sonja Raaum, MD
Jaundice & Abdominal Distention in Alcoholic Patient | Tara D. Rachakonda, MD
Multi-Drug Resistant Cellulitis with Diarrhea? | Devin West, MD
You can view all the posters here.
First place winners were Anees Daud, MD (clinical) and Sonja Raaum, MD (research). The runner-up for clinical was Devin West, MD. After much debate by our judges it was decided that Sonja Raaum would be the grand prize winner; Sonja will be joining Craig Robison, MD and our leaders to present their cases at the 2015 ACP National Meeting to be held in Boston, Massachusetts.
Thank you to all who entered and a special thanks to Hannah Bell, MD; Joshua Labrin, MD; and Karli Edholm, MD for taking time out of their busy schedules to judge this event. Last but not least this event couldn't be done without the time and leadership devoted each year by Scott Woller, MD; Kencee Graves, MD, and Juliana Desmarais, MD Utah Chapter ACP Resident & Fellow Committee - thank you!
Submissions for the spring clinical vignette competition will be opening in the coming months. Stay tuned for more information.
---
Recruit-a-Colleague
Through March 15, 2015
We invite you to recommend ACP membership to your colleagues and earn a significant discount on your membership dues or even free membership!
If you recruit a new member between now and March 15, 2015 you will receive the following credit toward your 2015-16 dues:
$100 credit when you recruit one new member
$200 credit when you recruit two new members
$300 credit when you recruit three new members
Free membership when you recruit four or more new members.
Bonus - For every member recruited within the promotional period you will also be entered into the grand-prize drawing for a trip to Internal Medicine 2016 in Washington, DC. That includes registration, airfare (up to $500), and four days of hotel accommodations.
Send a recruitment e-mail to a colleague today, or download and print an application to personally deliver.