You are here
Tennessee Governor's Newsletter May 2017
Tennessee Governor's Newsletter May 2017

---
---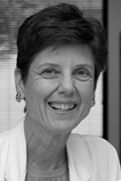 Tracey E. Doering, MD, FACP, ACP Governor
---
Governor's Message
Hi from your new Governor. I am busy familiarizing myself with our chapter and appreciate the strong leadership from Dr. Lane in this regard. He strengthened the chapter with his leadership and we are grateful for his leadership. I want our chapter to provide all it can for its members. I would like to increase our membership to give us a stronger voice and I want to be sure all internists (general internists, subspecialists, and hospitalists) are aware of all that the local and national ACP has to offer.
Please remember the Recruit a Colleague incentive from ACP.
---
Board of Governor's Update
I have just returned from the Board of Governor's meeting and national ACP meeting. Topics included an update on MOC, a white paper on Patients Before Paperwork and a leadership workshop on physician wellness.
MOC: The ACP is pleased to have been asked to work with the ABIM to develop a society MOC pathway. The proposed new ACP society pathway would be an alternative to other MOC pathways offered by ABIM, including the current 10 year exam, and the 2 year ABIM plan that is being developed. The new society pathway would include self-assessment and use of MKSAP. ACP would attest to ABIM that a member has satisfied the ACP pathway to satisfy ABIM requirements for maintaining certification.
Patients Before Paperwork: Reducing administrative complexities and burdens is a priority of the college. The ACP position paper, "Putting Patients First by Reducing Administrative Tasks in Health Care: A Position Paper of the ACP", published March 28, 2017, reports policy recommendations to address these issues. I would encourage you to read this paper as it offers a framework to assess specific effects of specific tasks on physician time, practice, cost and patient care.
Putting Patients First by Reducing Administrative Tasks in Health Care: A Position Paper of the ACP
-Physician Wellness: The leadership workshop focused on this important topic. Physician burnout is on the rise and our specialty of internal medicine has a high rate of burnout. Your chapter has established a Wellness Committee, led by Dr. Mukta Panda (recent master award recipient of the College) and PGY3 resident, Dr. Ben Maddox (Chair of Wellness in his IM program). Look for a survey coming to you soon to assess our membership on this important area. Please fill it out when it comes. We are making it as short as possible with validated questions and demographics so we can reach out to help.
---
National Meeting in San Diego
The national meeting was again spectacular and had offerings for all. If you have not attended one in a while, I would strongly urge you to consider it for next year in New Orleans. The updates are awesome, and there are tracks for all interest-ambulatory, hospitalists, subspecialists, geriatrics.
We were pleased to have Internal Medicine residents from the UT-Chattanooga program participate in the Doctor's Dilemma Competition. Drs. Aashish Verma, Dinesh Poudyal, and Amr Marwan participated.
Residents presented posters and these included Dr. Reem Hussein from UT Knoxville, Dr. Jaime Morris from UT Knoxville, and Dr. Sagal Mohamed from UT Nashville.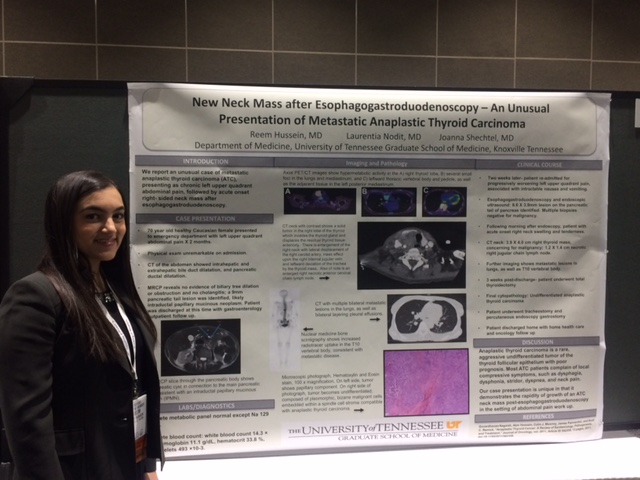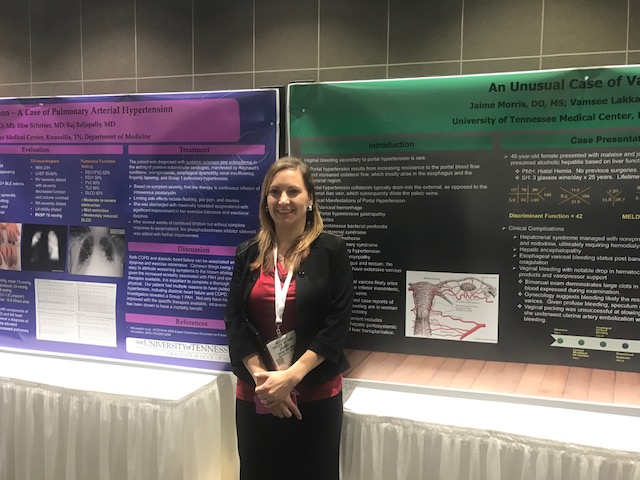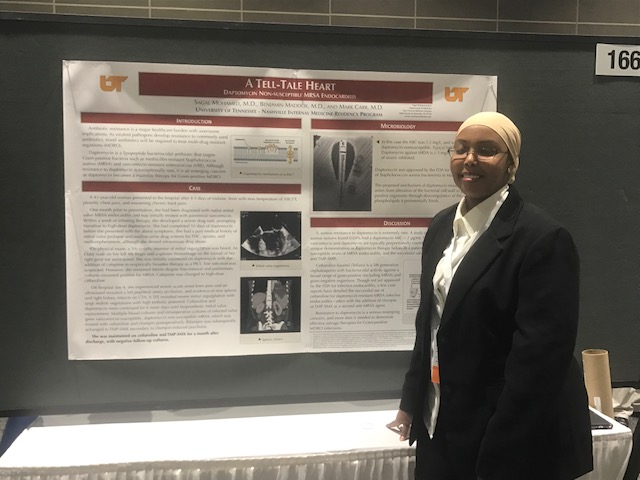 ---
New Fellows
We welcome new Fellows: Dr. Paul Goyal (Brentwood), Dr. Sapna Kripalani (Nashville), Dr. Louis Lambiase (Chattanooga), Dr. MD S Rahman (Paris), Dr. George F Torres-Cuesta (Knoxville), Dr. Idowa Uzzi (Murfreesboro), Dr. Paul Gentuso (Nashville) and Dr. Michael May (Nashville).
Dr. Lane and I had the privilege of marching in with those that could attend in the Convocation ceremony.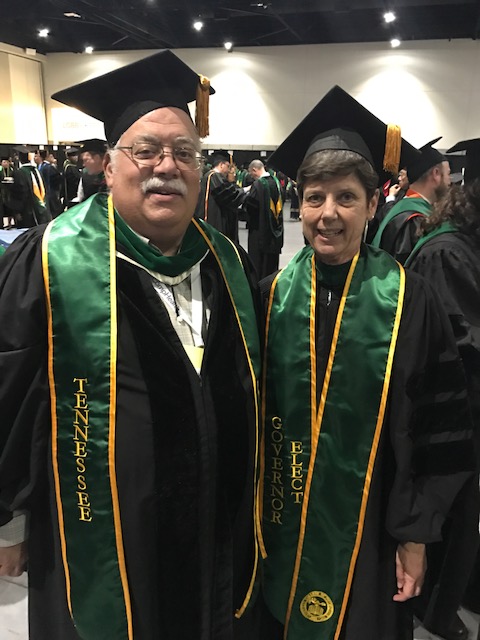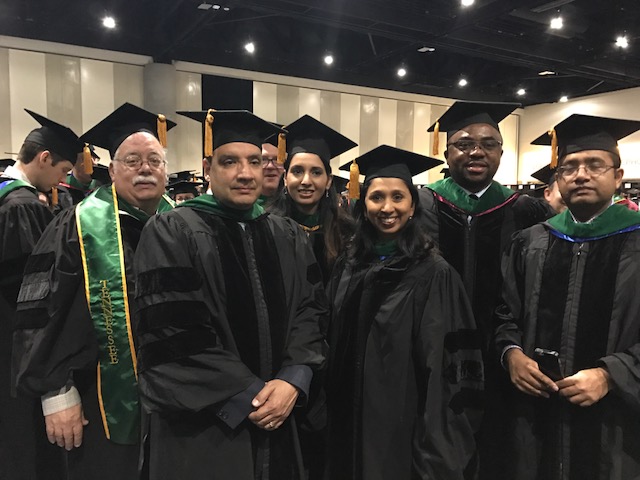 I would encourage you to identify early career physicians and others for Advancement to Fellowship .
---
Advocacy
In light of the election results, staying apprised for changes in health care legislation is crucial. Many of us attended the Day on the Hill in Nashville.
Members of TNACP will go to Washington, DC in May for Leadership Day. I encourage you to consider joining us one year for this event.
We have been appointed 7 delegates in the TMA to represent ACP. We attended the most recent House of Delegate Meeting on April 29, and Dr. Bob Vegors presented 2 resolutions on behalf of the TN ACP and they are noted below. Our delegates were Dr. Fred Ralston, Dr. Richard Lane, Dr. Ed Palmer, Dr. Bob Vegors, Dr. John Fowler and I. Let me know if you are interested in serving as a delegate for next year's meeting on April 21st at the Airport Marriott in Nashville. This falls on the same day as the national meeting and many of us will not be able to attend both.
Our resolutions involved cost of prescription drugs and emergency funding for vital patient care services in the event of repeal and replacement of the ACA.
26-17: That the TMA urge the Governor and the Tennessee Legislature to create an emergency funding mechanism to provide an appropriate reimbursement to physicians, hospitals, and other providers for vital patient care services that would no longer be covered by the Federal government.
27-17: That TMA urge legislation requiring that the patient cop-ay of tier level of a particular drug listed in the insurance sign up period by the pharmacy benefits management is fixed at that co-pay or tier level for the remaining 12 months.
The TMA and ACP offer excellent leadership programs and we want to encourage the early career physicians to look into these opportunities. The links are below:
---
Educational Meetings
The Tennessee ACP Chapter Meeting/Scientific Session will be held on Oct. 27-28th in Franklin, TN. To register, you may access this link.
We will have points for MOC available at this meeting for those attending with a link provided to a short quiz after the meeting. We will also present 2 modules for MOC on Saturday afternoon.
TN ACP will provide 4 hours of CME education at the first annual TMA Trimed educational session to be held in Nashville on Sept8-9. Dr. Panda will present on wellness and I will do a MOC module on geriatrics.
---
Reading Retreat
Click to see the TNACP Literature in Medicine Reading Retreat
---
Call for Award Nominations
We want to honor members of our chapter for both the Laureate award and the Volunteerism and Community Service award. The criteria follow here. Please contact myself at tracey.doering@gmail.com or Renee Arnott (renee.arnott@tnmed.org) with nominations for us to pass on to the chair of our Awards Committee. It is not too late for 2017 nominations.
Laureate Award - Criteria:
Fellow or Master
Senior physician
Demonstrated excellence to medical care, education, or research
Excellence and peer approval in the field of internal medicine
Service to community, chapter, and the ACP Nominations must document attributes and accomplishments which fulfill the above criteria.
Volunteerism and Community Service - Criteria
Member, Fellow, or Master
Distinguished volunteer work done as a physician and medically related.
Activity does not represent service performed as part of training or job
Nominations should document:
The range and scope of the volunteer and community services
Whether the nominee been a leader in initiating, developing, or implementing volunteer programs.
Whether the nominee's contributions been sustained over time.
How have the characteristics of the nominee that have made him/her a role model inspired other physicians or medical trainees to participate in volunteer and community service.
---
Council Activities and Committees
I am fortunate to have a great council who do a lot of work. Committees include Health and Public Policy with Chair Dr. Bob Vegors, Membership Committee with Chair Dr. Steve Hegedus, Finance Committee with Dr. Kevin Smith as Chair, Nominations and Awards Committee with Dr. Ken Olive as Chair, Early Career Physicians with Dr. Mihir Patel as Chair, Program Planning Committee with Dr. Maria Tudor as Chair and our latest committee, and Wellness Committee chaired by Dr. Mukta Panda.
We want to thank Dr. Ryan Mire for his years of service as Treasurer and remains on the council. He is now a member of the Board of Regents.
We also thank Dr. Ken Olive for his service as Chair of Nominations and Awards Committee.
Please contact me if you have interest in becoming more involved at some level.
---
Save the Dates
TN Chapter Meeting Oct. 27-28, 2017 Franklin, TN
2018 Reading Retreat, Fall Creek Falls, March 2-4
2018 National ACP meeting, New Orleans, April 19-April 21