You are here
Greetings from Your Governor Southeastern February 2014

| | |
| --- | --- |
| February 2014 | Darilyn V. Moyer, MD, FACP, Governor |
---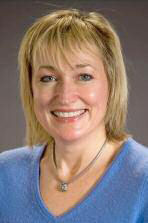 Putting Joy Back into the Alphabet Soup of Practice
ABIM MOC, CME, PQRS, HEDIS, CME, RVU, RUC, IBX, HMO, HEDIS, HCAHPS, MU…where does it all end? Hopefully not with all of us frustrated and disillusioned with medicine! I want to assure everyone that the ACP is leading the charge in this arena to allow our varied constituencies of members to work smarter. Let me share some of this exciting information with you.
Make It Count Twice, And Possibly Thrice
ACP is working closely with ABIM to ensure that the Maintenance of Certification (MOC) process is more relevant to practice, streamlined and integrated into activities you perform every day. Here is more on the MOC process and the practice timeline.
Hot off the press is that ACP recently petitioned ABIM to allow MOC credit for the ACP High Value Clinical Care on line cases! These cases are truly relevant and fun to do and I encourage you to review them with your colleagues, students, and trainees.
Working Smarter, Not Necessarily Harder
ACP has an amazing array of new tools to complement Annals. Have you tried Smart Medicine. It is a great, point of care tool that you can also get CME credit with. The array of tools for your smart device is ever evolving. I currently have MKSAP 16, ACP Clinical Guidelines, ACP Journal Wise, Annals and ACP Doctor's Dilemma on mine! Great for doing a few MKSAP questions while waiting for an elevator (I should probably be using the stairs).
Leading the Way in Health Policy and Advocacy
The ACP DC Advocacy folks (see the link to Bob Doherty's blog) have been working overtime to ensure that the ACP continues to be one of organized medicine's leaders to recognize the quality, not just volume, of care you bring to your patient every day. New topics being tackled by the Health and Public Policy Committee are safe harbors for physicians who are practicing evidence-based medicine with proposed alternatives to the current medico legal atmosphere and another major topic of gun safety.
Remembering To Put Patients First
Through the multitasking, intense days of practice, let's all take a few moments to reflect on the calling we felt towards medicine and wanting to make a difference for our patients. We do make a difference, little by little every day, and create a mountain of contributions to people's lives during our careers. We must never forget this. That is what will keep us forging ahead in the name of the big house of Internal Medicine! In all of this, the ACP will be putting patients first…
Final Words
As my term as your Governor ends, I want to say what an honor and privilege it has been to get to know so many of you and to see the great work all of you are providing to our patients every day and how you are working to improve healthcare delivery. During my tenure, I met scores of Internists and Internal Medicine Specialists from all over the Southeastern Pennsylvania region and I am impressed by their commitment to their patients and their desire to improve the system of care for today and tomorrow. Therefore, I take solace in my departure knowing that Gregory Kane, our Governor-Elect, will work with all of you to take our chapter to the next level in professional development, education and health and public policy activities.
Darilyn Moyer, MD, FACP
---
Have You Heard?
The Pennsylvania Chapter is now on FACEBOOK. Learn more about Chapter activities as well as the accomplishments of friends and colleagues. Most important: Please remember to "like" our page!
The ACP is offering another FREE membership benefit. JournalWise is a mobile-optimized service that screens over 120 internal medicine journals for the highest-quality, clinically relevant and newsworthy articles with custom criteria that you determine so that only the articles you want are delivered. For more information and to sign-up, log in.
The PA-ACP and the Temple University School of Medicine will co-sponsor the third annual Health and Public Policy Forum on Saturday, March 8, 2014. This year's program is titled Reforming Health Care: Present Challenges and Visions for the Future. The focus will be on how health care professionals of all levels can become involved in shaping health policy and taking an in depth look at the implementation of the Affordable Care Act (ACA) and promising alternatives.
We proudly announce that two chapter members will receive national ACP Awards during ACP-IM in Orlando. They are: Charles P. O'Brien, MD, PhD and Steven J. Peitzman, MD, FACP. Check out their outstanding achievements.
Congratulations to two of our PA-ACP leaders! Jaan Sidorov, MD, FACP was elected by the Pennsylvania Medical Society's House of Delegates to the Board of Trustees to represent primary care and internal medicine for a four year term and Evan Pollack, MD, FACP was elected as an Alternate Delegate to the AMA House of Delegates for 2014-2015. More can be read on Facebook
Congratulations, Charles Cutler, MD FACP, Arnold R. Eiser, MD FACP and Ezekiel J. Emanuel, MD FACP who were selected to become Masters of the College (MACP).
We were proud to present three Laureates this year. Congratulations to Herb Reynolds (East), Rick Eisenstaedt (SE), and Paul Bialas (West) who were recognized at the Chapter's Annual Awards Dinner in December. Here are photos of the 2013 chapter awardees from the Awards Dinner and read about this outstanding group of physicians. Other honorees were: Anuradha Paranjape (SE) and Melissa McNeil (West), for Clinical Practice Awards; Peg Atwell (East) and Evan Pollack (SE), for the Pressman award; and Special Recognition was given to Renee Cassidy (SE), Deepak Pahuja (SE), Ted Bollard (East) and Marc Shalaby (SE).
Arnold M. Eiser, MD, FACP, Vice President Medical Education, Mercy Health Systems, Associate Dean, Mercy Programs, and Professor of Medicine at Drexel University College of Medicine has a new book, "Ethos in Medicine in Postmodern America: Philosophical, Cultural, and Social Considerations," published by Lexington Books. The book is available through Lexington Books and in eBook form. More can be learned by visiting our Facebook page.
A fellow Southeast member, Gary Dorshimer, MD, FACP, was featured in an article in the January 2013 issue of Impact.
There are two sessions left of the Leadership Webinars for Early Career Physicians. The Illinois Downstate and Pennsylvania Chapters host these webinars. You may download the flyer with all webinar listings.
ACP Leadership Day 2014 is set for May 21 - 22, 2014. This event presents the opportunity for our voices to be heard on Capitol Hill. Last year we visited with all 18 Pennsylvania Congressional offices and both Senators.
New from ACP: High Value Care Cases - These are quite good, and will help you with patient care plus you can get CME and MOC.
ACP Partners With the Agency for Healthcare Research and Quality - helping to raise awareness and encourage use of AHRQ's evidence-based resources designed to help clinicians and patients make informed treatment decisions.
The Southeast Region's 2014 Abstract Competition is Planned for October Albert Einstein Medical Center will again host this year's Poster and Medical Jeopardy Competition. The Pennsylvania Chapter sponsors THREE regional abstract competitions. In collaboration with the program directors, residents and medical students may write an abstract on research, case study, or quality improvement based on their experience. The abstracts are evaluated and the best are selected to present a poster at the annual Residents Day. Residents and students who want to submit an abstract must be a member of the ACP. All residents who have provided the ACP with an email address will receive emails about the 2014 abstract competition.
The Southeast Region again will honor outstanding residents with the Chapter's "Exemplar of Professional Award".
---
Capitol Update by John Nikoloff
John Nikoloff, ERG Partners

Election Year
The General Assembly is hoping to make headway on several major issue and policy areas this year. But from now until November 4, state government officials will have one eye on policies and the other on the politics of the state's general election. Governor Corbett is running for re-election, and at least eight Democrats are competing in the primary to oppose him this fall. One half of all State Senate seats will be decided, and all 203 State House and 18 Congressional districts will be on the ballot.
Five State Senators have announced they will not seek re-election, and twelve state House members have announced the same to date. Another eight House members find themselves pitted against colleagues as a result of legislative reapportionment and more find themselves opposed in the primary election.
The state legislative schedule reflects the election calendar. The legislature is in recess for Appropriations hearings on the budget from early February to early March, when candidates can circulate nominating petitions. The Primary Election is scheduled for May 20, and the legislature is in recess from May 7 through June 1.
The single largest issue facing the state is finding a way to fill the $1.4 billion budget gap in crafting a state budget. With the formal presentation of the Governor's budget proposal on February 4, getting an on-time balanced budget should dominate all other legislative activities through June. Funding for Medicaid is a major piece of that puzzle, as is solving the state's pension funds deficit.
Healthy Pennsylvania/MA Expansion and Innovation
PA-ACP continues to push for Medicaid expansion in the state under the Affordable Care Act, working with all four legislative caucuses, the Insurance Department, DPW and Governor's Office. According to DPW, an additional 643,000 Pennsylvania adults would qualify for Medicaid under expansion. In addition, the Governor's Healthy Pennsylvania initiative has been a focus of policy discussions, with the Chapter meeting repeatedly with legislative and Administration officials to insure that internists' and patients' needs are recognized with any prospective changes
The Chapter participated in stakeholder meetings which led to a series of proposals under an innovation grant from CMMI that includes shifting state payment systems to one that rewards efficiency and quality, with a strong commitment to the medical home concept. Other changes which the Chapter worked on were advances in information technology, workforce development, additional GME support and expansion of public health programs.
The Commonwealth continues to seek waivers from the Department of Health and Human Services over issues with Medicaid expansion and its costs. PA-ACP has provided input and comments to the Corbett Administration on these issues and will continue to work with other health care organizations as advocates for patients as the state Medicaid program develops.
Legislation
The state budget will be very important to internists, with issues including Graduate Medical Education, primary care physician loan programs, Medicaid funding, MCare and Tobacco Settlement funds, and public health issues all impacted directly. PA-ACP will be working with the General Assembly to maintain or increase funding for these items.
The legislature is considering many other health related bills, several the result of ACA implementation, and others that are state specific. The PA-ACP is engaged on those impacting your practices and hospitals, with policies established through our chapter's Health and Public Policy Committee and our statewide Governing Council.
One priority bill is HB 1655, which would establish a Patient Centered Medical Home Advisory Committee to work with the state in developing payment and patient care reforms under state funded programs. PA-ACP has supported the bill since it was in planning stages.
We are supporting legislation that would require prompt credentialing by payers, and mandate that credentialing decisions be made within 60 days of application. We also support legislation that would allow a tax credit for physicians for their MCARE assessments.
PA-ACP is working for passage of legislation (HB 777) that would allow seniors who would be bumped from eligibility by Social Security COLAs to stay on the PACE and PACENET programs, and removes Medicare Part B premiums as income to increase eligibility for PACE and PACENET. The bill would allow nearly 40,000 Pennsylvania senior citizens to maintain access and allow 10,000 seniors access to affordable prescription medications through the PACE and PACENET programs.
Sometimes we must oppose bills that we feel do not protect patients or ensure quality health care. PA-ACP currently opposes several bills that would significantly increase the scope of practice, without adequate physician supervision or collaborative agreements pharmacists and Advanced Practice Nurses
The contract battle between UPMC and Highmark in the Pittsburgh area has spilled over into legislation being introduced that would impact providers, insurers and hospitals across the state. Legislators are concerned about protecting constituents' access to care and hospitals. At the same time, the very public confrontation, along with the Affordable Care Act implementation, has some legislators reevaluating the hospital systems and Blues' nonprofit status. Our Chapter will continue monitoring these issues, and will work to prevent unintended consequences for physicians and patients from occurring.
---
Southeast Region's 2013 Poster Competition
The 2013 Poster Competition held at Einstein Medical Center was another great event. We congratulate the poster winners and thank all who participated. Here are the winning SE posters.
A special thank you to our 2013 Co-Chairs Janani Rangaswami, Matt Behme, Nina Mingioni and our many abstract reviewers and judges. They did a fantastic job! We could not hold the annual poster competition without the spirit of volunteerism that exists in the southeast region. Visit our facebook page to see photos from our fall activities.
---
They Did it Again!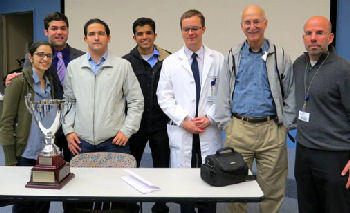 Einstein's Team Wins PA Medical Jeopardy Championship
Congratulations to the Einstein Medical Jeopardy Team, for winning the 2013 Southeast competition and the Pennsylvania State Championship. They will defend their National Title at IM 2014 in Orlando. Will this be another national win for Einstein!
We also congratulate the teams from Abington, Christiana, Crozer-Chester, Drexel, Jefferson, Lankenau, Pennsylvania Hospital, Temple, and Penn who competed in the Southeast tournament. They are all champions in our eyes and we look forward to seeing them at the 2014 competition this fall.
---
Congratulations New SE Fellows!

The following members were elected to Fellowship in the College during the past six months.
Rexford S. Ahima, MD, PhD, FACP
Jaya Aysola, MD, FACP
Martin R. Bohnenkamp, MD, FACP
Andres Botero, MD, FACP
Moshe C. Chasky, MD, FACP
Daranee Chewaproug, DO, FACP
Serban Constantinescu, MD, FACP
John M. Davidyock, MD, FACP
Crystal S. Denlinger, MD, FACP
Jason T. Estrin, MD, FACP
David E. Kaplan, MD, FACP
Frank T. Leone, MD, FACP
Arturo Loaiza-Bonilla, MD, FACP
Gregory Mokrynski, MD, FACP
Rushang Patel, MD PhD, FACP
Ajaykumar D. Rao, MD, FACP
Gina M. Simoncini, MD, FACP
Erik Soiferman, DO, FACP
Emily L. Wong, MD, PhD, FACP
---
"Examplar of Professionalism" Award
Seven residents were nominated by their program directors to receive the Southeast Region's first "Examplar of Professionalism" Award based on their exemplary leadership and professionalism.
The 2013 recipients are: Abhishek Bhardwaj, MD, Mercy Health Systems; Ian Sheffer, MD, Temple University Hospital; John Clark, DO, Lankenau Medical Center; Lindsay Wilde, MD, Thomas Jefferson University Hospital; Maneerat Chayanupatkul, MD, Albert Einstein Medical Center; Paul O'Rourke, MD, University of Pennsylvania Health Systems; and Ravi Sunderkrishnan, MD, Crozer Chester Medical Center.
Crozer-Chester Medical Center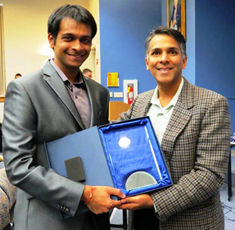 Dr. Ravi Sunderkrishnam (L) & Dr. Ash Rana (R)
Mercy Health Systems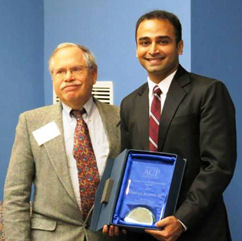 Dr. Arnold Eiser (L) & Dr. Abhishek Bhardway
Temple University Hospital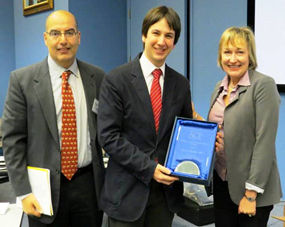 Dr. Rafik Samuel (L), Dr. Ian Sheffer (C) & Dr. Darilyn Moyer, (R)
---
Welcome Aboard!
The Southeast Region welcomes 52 new Members! We look forward to meeting you and we extend an invitation to join us at our various activities planned for the year.
Agustina D. Saenz, MD, Philadelphia
Alia Chisty, MD, Philadelphia
Amy E. Iwamaye, MD, Philadelphia
Avinash Chandra, MBBS, Philadelphia
Barry G. Fields, MD, Philadelphia
Beatriz A. Cepeda Valery, MD, Philadelphia
Benjason Rodrigo Nunez, DO, Philadelphia
Bradley Fetzer, MD, Philadelphia
Carly Lam, MD, Philadelphia
Chadwick R. Johr, MD, Philadelphia
Chinyu Su, MD, Philadelphia
Dan Fabius, DO, Philadelphia
Esme Singer, MD, Philadelphia
Guillermo A. Garrido Rosa, MD, Wyncote
Haimavathi Bhat, DO, Lansdowne
Hannah R. Margoles, DO, Philadelphia
Jesse Wenger, MD, Philadelphia
Jose F. Condado, MD, Philadelphia
Karla Testa, MD, Philadelphia
Karthik Gournani, MD, Philadelphia
Kirstin Knox, MD, PhD, Philadelphia
Kisha Vanterpool, MD, Philadelphia
Kristina Casadei;MD, Philadelphia
Majid A. Khan, MD, Secane
Marcus A. Bachhuber, MD, Philadelphia
Maria E. Escorcia, MD, Philadelphia
Mark Joseph DeCaro, Philadelphia
Maureen Clarke Miller, MD, Media
Michael Foleng Ngu, MD, Wyncote
Mildred Garcia Rodriguez, MD, Wyncote
Molly Collins, MD, Philadelphia
Nancy L. Corcoran, Yardley
Nasreen Alfaris, MD, Philadelphia
Niluk B. Peiris, MD, Philadelphia
Ohenewaa Larbi Ahima, MD, Bryn Mawr
Prerna Ganjoo, MD, Philadelphia
Rejy Joseph, MD, Wallingford
Roi Altit, MD, Philadelphia
Ryan Arthur McConnell, MD, Philadelphia
Sean Christopher Flynn, Newtown Sq.
Sherilyn Alvaran Tuazon, MD, Philadelphia
Shiv Sehra, MBBS, Philadelphia
Susan M. Gerber, MD, Philadelphia
Swomya P. Bal, MD, Yardley
Tania Calzada, MD, Langhorne
Tasha Kouvatsos, MD, Philadelphia
Thais Moldovan, Philadelphia
William Schweickert, MD, Merion Station
Wissam Zaeeter, MDChB, Philadelphia
Yaa Oppong, MD, Philadelphia
Yu-Chen Shih, MD, Lafayette Hill
---
PA Chapter Calendar of Events
| Date | Event | Location |
| --- | --- | --- |
| Feb 1 | SEP/MOC at Jefferson | Philadelphia |
| Feb 27 | WPMS dinner | Philadelphia |
| Mar 6 | Temple-PCOM IMIG Dinner | Philadelphia |
| Mar 12 | Jefferson Dinner | Philadelphia |
| Mar 15 | SEP/MOC at Penn State | Hershey |
| Mar 29 | Council Meeting | Harrisburg |
| Apr 1 | Council of Residents and Fellows Dinner | Philadelphia |
| Apr 11 | Pennsylvania Reception | Orlando |
| May 21-22 | Leadership Day | Washington, DC |
| June 16 | Council Webinar Internet | n/a |