You are here
Greetings from Your Governor February 2014

| | |
| --- | --- |
| February 2014 | G. Alan Yeasted, MD, FACP, Governor |
---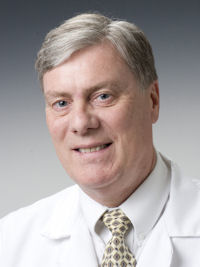 Greetings Colleagues.
I hope this message finds all of you well and surviving the changes of 2014. It is difficult to imagine that during any of our medical careers we have encountered as many revolutionary changes as are facing each of us at this time. From the Affordable Care Act to Insurance Exchanges, the "Two Midnight Rule", ACO formations, and the ever present annual SGR "fix", we have never experienced the rapidity of change we are now experiencing. During these challenging times, it is ever more important that Internal Medicine and IM subspecialty physicians speak clearly and with one voice to protect our patients and ensure the quality medical care for which we are so well known. The American College of Physicians, as an organization, has represented us very ably in Harrisburg and Washington DC. Nevertheless, the ACP is truly all of us working daily to provide medical care to those in need. It can be an effective advocate for patients and physicians, but only with our support. Please continue to monitor the information on the ACP website and be involved.
Speaking of the many ways the ACP represents us; it has been tirelessly working with representatives of the American Board of Internal Medicine (ABIM) regarding the new Maintenance of Certification (MOC) requirements. All of you should have received from the ABIM a notification in January 2014 delineating the new designation of "Board Certified" and "Meeting MOC Requirements". If you are not familiar with the changes implemented at the ABIM, please take time to visit the ABIM website and learn of the new information regarding board certification. Remember, these are new ABIM requirements. The ACP is working for all of us to make these new requirements user-friendly and meaningful.
In closing, I again confirm my commitment to all of you to represent Western Pennsylvania in all of the ACP's endeavors. I again encourage each of you to get involved. There has never been, in our careers, a more crucial time for a grass roots effort of physicians to ensure that we will continue to be able to deliver quality care to our patients and maintain a practice environment which is both rewarding and successful.
Alan Yeasted
Governor, Western Region, PA-ACP
---
Have You Heard?
The Pennsylvania Chapter is now on FACEBOOK. Learn more about Chapter activities as well as the accomplishments of friends and colleagues. Most importantly, please remember to "like" our page!
You can now connect by region on Linked-In. The Chapter has created a LinkedIn page for each of the three regions. These are private groups that are only open to ACP members of each specific region. This will allow members to more fully engage in a variety of discussions. When on www.linkedin.com, search for your region - PA ACP East, West or Southeast - and submit a request to join. If you do not know your region, click here to review regional assignments by zip code.
The ACP is offering another FREE membership benefit. JournalWise is a mobile-optimized service that screens over 120 internal medicine journals for the highest-quality, clinically relevant and newsworthy articles with custom criteria that you determine so that only the articles you want are delivered. Go to the website for more information and to sign-up.
Annals and ACP recently launched an array of new teaching tools, including new Annals for Educators e-newsletter featuring tips from the editors on ways to use the articles from each issue to help you in your teaching activities.
The PA-ACP and the Temple University School of Medicine will co-sponsor the third annual Health and Public Policy Forum on Saturday, March 8, 2014. This year's program is titled Reforming Health Care: Present Challenges and Visions for the Future. The focus will be on how health care professionals of all levels can become involved in shaping health policy and taking an in depth look at the implementation of the Affordable Care Act (ACA) and some promising alternatives. Here is more information.
Congratulations to two of our PA-ACP leaders! Jaan Sidorov, MD, FACP was elected by the Pennsylvania Medical Society's House of Delegates to the Board of Trustees to represent primary care and internal medicine for a four year term and Evan Pollack, MD, FACP was elected as an Alternate Delegate to the AMA House of Delegates for 2014-2015. More can be read on Facebook.
Congratulations, Charles Cutler, MD FACP, Arnold R. Eiser, MD FACP and Ezekiel J. Emanuel, MD FACP who were selected to become Masters of the College (MACP).
We were proud to present three Laureates this year. Congratulations to Paul Bialas (West), Herb Reynolds (East), and Rick Eisenstaedt (SE), who were recognized at the Chapter's Annual Awards Dinner in December. Here are photos of the 2013 chapter awardees from the Awards Dinner and read about this outstanding group of physicians. Other honorees were: Melissa McNeil (West) and Anuradha Paranjape (SE) for Clinical Practice Awards; Peg Atwell (East) and Evan Pollack (SE), for the Pressman award; and Special Recognition was given to Deepak Pahuja (West) and Renee Cassidy (SE), Ted Bollard (East) and Marc Shalaby (SE).
Arnold M. Eiser, MD, FACP, Vice President Medical Education, Mercy Health Systems, Associate Dean, Mercy Programs, and Professor of Medicine at Drexel University College of Medicine has a new book, "Ethos in Medicine in Postmodern America: Philosophical, Cultural, and Social Considerations," published by Lexington Books. The book is available through Lexington Books and in eBook form. More can be learned by visiting our Facebook page.
We proudly announce that two chapter members will receive national ACP Awards during IM 2014 in Orlando. They are: Charles P. O'Brien, MD, PhD and Steven J. Peitzman, MD, FACP. Read about their outstanding achievements.
There are two sessions left of the Leadership Webinars for Early Career Physicians. The Illinois Downstate and Pennsylvania Chapters host these webinars. You may download the flyer with all webinar listings.
ACP Leadership Day 2014 is set for May 21 - 22, 2014. This event presents the opportunity for our voices to be heard on Capitol Hill. Last year we visited with all 18 Pennsylvania Congressional offices and both Senators.
The Western Region's 2014 Abstract Competition is Set for November 1. Details will be emailed regarding the Poster and Medical Jeopardy Competition. The Pennsylvania Chapter sponsors three regional abstract competitions. In collaboration with the program directors, residents and medical students may write an abstract on research, case study, or quality improvement based on their experience. The abstracts are evaluated and the best are selected to present a poster at the annual Residents Day. Residents and students who want to submit an abstract must be a member of the ACP. All residents who have provided the ACP with an email address will receive emails about the 2014 abstract competition.
---
Capitol Update by John Nikoloff
John Nikoloff, ERG Partners

Election Year
The General Assembly is hoping to make headway on several major issue and policy areas this year. But from now until November 4, state government officials will have one eye on policies and the other on the politics of the state's general election. Governor Corbett is running for re-election, and at least eight Democrats are competing in the primary to oppose him this fall. One half of all State Senate seats will be decided, and all 203 State House and 18 Congressional districts will be on the ballot.
Five State Senators have announced they will not seek re-election, and twelve state House members have announced the same to date. Another eight House members find themselves pitted against colleagues as a result of legislative reapportionment and more find themselves opposed in the primary election.
The state legislative schedule reflects the election calendar. The legislature is in recess for Appropriations hearings on the budget from early February to early March, when candidates can circulate nominating petitions. The Primary Election is scheduled for May 20, and the legislature is in recess from May 7 through June 1.
The single largest issue facing the state is finding a way to fill the $1.4 billion budget gap in crafting a state budget. With the formal presentation of the Governor's budget proposal on February 4, getting an on-time balanced budget should dominate all other legislative activities through June. Funding for Medicaid is a major piece of that puzzle, as is solving the state's pension funds deficit.
Healthy Pennsylvania/MA Expansion and Innovation
PA-ACP continues to push for Medicaid expansion in the state under the Affordable Care Act, working with all four legislative caucuses, the Insurance Department, DPW and Governor's Office. According to DPW, an additional 643,000 Pennsylvania adults would qualify for Medicaid under expansion. In addition, the Governor's Healthy Pennsylvania initiative has been a focus of policy discussions, with the Chapter meeting repeatedly with legislative and Administration officials to insure that internists' and patients' needs are recognized with any prospective changes
The Chapter participated in stakeholder meetings which led to a series of proposals under an innovation grant from CMMI that includes shifting state payment systems to one that rewards efficiency and quality, with a strong commitment to the medical home concept. Other changes which the Chapter worked on were advances in information technology, workforce development, additional GME support and expansion of public health programs.
The Commonwealth continues to seek waivers from the Department of Health and Human Services over issues with Medicaid expansion and its costs. PA-ACP has provided input and comments to the Corbett Administration on these issues and will continue to work with other health care organizations as advocates for patients as the state Medicaid program develops.
Legislation
The state budget will be very important to internists, with issues including Graduate Medical Education, primary care physician loan programs, Medicaid funding, MCare and Tobacco Settlement funds, and public health issues all impacted directly. PA-ACP will be working with the General Assembly to maintain or increase funding for these items.
The legislature is considering many other health related bills, several the result of ACA implementation, and others that are state specific. The PA-ACP is engaged on those impacting your practices and hospitals, with policies established through our chapter's Health and Public Policy Committee and our statewide Governing Council.
One priority bill is HB 1655, which would establish a Patient Centered Medical Home Advisory Committee to work with the state in developing payment and patient care reforms under state funded programs. PA-ACP has supported the bill since it was in planning stages.
We are supporting legislation that would require prompt credentialing by payers, and mandate that credentialing decisions be made within 60 days of application. We also support legislation that would allow a tax credit for physicians for their MCARE assessments.
PA-ACP is working for passage of legislation (HB 777) that would allow seniors who would be bumped from eligibility by Social Security COLAs to stay on the PACE and PACENET programs, and removes Medicare Part B premiums as income to increase eligibility for PACE and PACENET. The bill would allow nearly 40,000 Pennsylvania senior citizens to maintain access and allow 10,000 seniors access to affordable prescription medications through the PACE and PACENET programs.
Sometimes we must oppose bills that we feel do not protect patients or ensure quality health care. PA-ACP currently opposes several bills that would significantly increase the scope of practice, without adequate physician supervision or collaborative agreements pharmacists and Advanced Practice Nurses
The contract battle between UPMC and Highmark in the Pittsburgh area has spilled over into legislation being introduced that would impact providers, insurers and hospitals across the state. Legislators are concerned about protecting constituents' access to care and hospitals. At the same time, the very public confrontation, along with the Affordable Care Act implementation, has some legislators reevaluating the hospital systems and Blues' nonprofit status. Our Chapter will continue monitoring these issues, and will work to prevent unintended consequences for physicians and patients from occurring.
---
Western Region's 2013 Poster Competition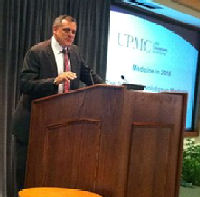 Dr. Steven D. Shapiro, Executive Vice President, UPMC, spoke at PAW's Poster and Medical Jeopardy competition at UPMC Shadyside.
The West's 2013 Poster Competition was another great event. We congratulate the poster winners and thank all who participated. Check out the West's winning posters.
A special thank you to our 2013 Co-Chairs, judges and reviewers. They did a fantastic job! We could not hold the annual competitions without the spirit of volunteerism that exists in the Western Region. Visit our Facebook page to see photos from our fall activities.
---
Governor Hosts Dinner Meeting in Meadville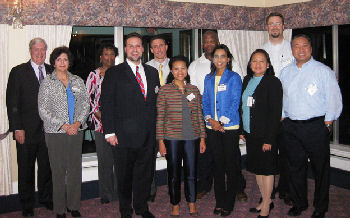 Alan Yeasted, MD, FACP is the PA-ACP's Governor for our Western Region. He hosted a dinner in Meadville to meet our members. Above photo was taken at the Iroquois Club. Pictured in back row, from left are Alan Yeasted, MD, Yetta Young, Paul Oyler, MD, Thomas Young, MD, Ryan Landefeld, DO. Front row from left are Joel DiAngi, Yumi Taylor DiAngi, MD, Archana Anand, MD, Carol Encarnacion, MD, and Calvin Han.
---
They Did It Again!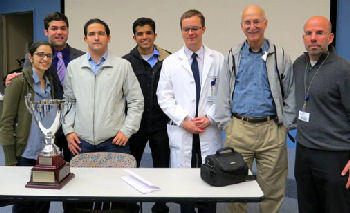 Einstein's Team Wins PA Medical Jeopardy Championship
Congratulations to the Einstein Medical Jeopardy Team, for winning the 2013 Southeast competition and the Pennsylvania State Championship. They will defend their National Title at IM 2014 in Orlando. Will this be another national win for Einstein!
We also congratulate Allegheny Health Network, UPMC McKeesport, UPMC-Mercy and UPMC Shadyside for representing the Western Region in the 2013 tournament. They are all champions in our eyes and we look forward to seeing them at the 2014 competition in the fall.
---
Congratulations New Fellows!
We proudly congratulate six Pittsburgh physicians for their election to Fellowship.

Adele L. Towers, MD, FACP
Harish Jasti, MD, FACP
Janet D. Vlha, MD, FACP
Kristian Feterick, MD, FACP
Mamta Bhatnagar, MBBS, FACP
Mehrshid Kiazand, MD, FACP
Fellowship is an honor achieved by those recognized by their peers for personal integrity, superior competence in internal medicine, professional accomplishment, and demonstrated scholarship.
---
Welcome Aboard!
The Western Region welcomes all new Members! We look forward to meeting you and we extend an invitation to join us at our various activities planned for the year.
Aamir Hussain, MBBS
Aaron V. Mares, MD
Abid A. Fakhri, MD
Adeel Pervez, MD
Amy Kim, DO
Aneel Kumar Bole, MD
Anna-Binney McCague, MD
Catherine M. O'Hara, MD
Curt G. Senita, DO
David Lobur, MD
David Seastone, PhD DO
Deepthi Jaligama
Ena Saini, MD
Faisal M. Arif, MBBS
Francesco Santucci, MD
Giridhar A. Santebennur, MD
Han Na Kim, MD
Hilary Fridman, MD
J. Alexander Viehman, MD
Janelle V. Violago, MD
Jawad Vaid, MD
Jocelyn T. De Yao, MD
Jules Aljammal, MD
Kalpana Chennareddy, MBBS
Karine Karapetyan, MD
Kristi Lynn Rain-Jaras, MD
Lyn Weinberg, MD
Marappa Gownder Nalle, MD
Matthew A. Joseph, MD,PharmD
Medha Joshi, MD
Megan L. Murphree, MD
Michelle C. Freeman, MD
Muhammad Hamza Habib, MD
Nangalya T. Sirisha Tirthala, MD
Oksana Karpov, DO
Pete L. Zervos, MD
Prashan Thiagarajah, MD
Radhalakshmi D. Aluru
Ram Sankar Lingamgunta, MBBS
Riyaj Kasekar, MD,MBBS
Robin Aldaba Panlilio, MD
Rohit Das, MD
Samuel Urick, III DO
Santosh Bhusal, MD
Shari V. Montandon, DO
Shasank Rijal, MD
Sunday Abiodun Agboola, MBBS
Tarkeshwar Tiwary, MD
Vineet Gupta, MD
Vinod K. Nookala, MBBS
Ximena D. Ruiz, MD
Zulfiqar Hussain, MBBS
---
PA Chapter Calendar of Events
| Date | Event | Location |
| --- | --- | --- |
| Feb 1 | SEP/MOC at Jefferson | Philadelphia |
| Feb 27 | WPMS dinner | Philadelphia |
| Mar 4 | IMIG Dinner | Hershey |
| Mar 6 | Temple-PCOM IMIG Dinner | Philadelphia |
| Mar 11 | FACP Orientation Dinner | King of Prussia |
| Mar 12 | Jefferson Dinner | Philadelphia |
| Mar 15 | SEP/MOC at Penn State | Hershey |
| Mar 29 | Council Meeting - Dr. Jaan Sidorov, Guest | Harrisburg |
| April 1 | CECP Dinner | Philadelphia |
| TBD | Council of Residents and Fellows Dinner | Philadelphia |
| Apr 11 | Pennsylvania Reception | Orlando |
| May 21-22 | Leadership Day | Washington, DC |
| June 16 | Council Webinar - Dr. Christine Laine | Internet |
For the latest PA Chapter information and activities, visit us on social media.
Facebook
Linked-In