---
---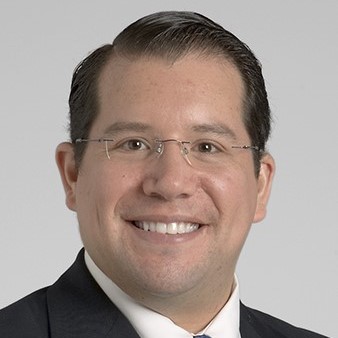 Moises Auron, MD, FAAP, FACP, SFHM, ACP Governor
---
Governor's Message
Dear ACP Ohio colleagues,
It is a true privilege to write this first message as the new Governor for the ACP Ohio Chapter. Even more, because I have been preceded by outstanding leaders and mentors in Internal Medicine, especially, our immediate past-Governor, Dr. Craig Nielsen who has helped our chapter to sustain its growth as well as activities during the COVID pandemic. I can't stop expressing how humbling it is to follow Dr. Nielsen, and how grateful I am for his kind mentoring and guidance. I hope I can not only follow up on his steps, but to build upon from his legacy. I also want to express my sincere gratitude to each one of the ACP Ohio members who gave me their trust and are allowing me to serve.
We are experiencing interesting times in medicine as well as in society in general both nationally and worldwide. We continue to work tirelessly to enhance access to care for our patients, as well as to preserve and grow our primary care workforce; however, we are encountering new challenges that were not present in the past decade or couple decades like how the patient-physician relationship as well as patient's autonomy are being situated in a vulnerable state. In addition, we are experiencing consequences from global warming, as well as environmental tragedies with an impact that transcends statewide, nationally, and globally.
In the past 2 months I have witnessed a tremendous activity and advocacy from our younger members, demonstrating unparalleled quality and showcasing true passion for medicine and patient care – one is the outstanding webinar we had about the train derailment in East Palestine in which we had one of the most eloquent discussions from an outstanding panel of physicians working in the area, highlighting the challenges that both patients as well as primary care providers continue to experience. Second but not least, we just came back from Washington, DC, and had a robust Ohio delegation to ACP Leadership Day and our young colleagues (medical students, residents) were eloquent and provided a strong voice representing our 160,000 ACP members nationally. It is clear, that we need to remain active and leverage our voice to speak up for our patients as well as our colleagues.
We also are experiencing the post-pandemic challenges in which the workforce suffered tremendous changes that impact how we deliver care. Some changes are very positive and welcomed like telemedicine, in which access to care became a reality for remote regions; or when specialized care can be provided, allowing to close gaps and enhance healthcare equity. However, this also created situations which have jeopardized the quality of healthcare delivery given the lack of healthcare personnel and allow to reflect on how not a single member of the healthcare workforce should be ever taken for granted.
Artificial Intelligence has soared in the past year, and multiple tools have come out to light; this is simply fascinating – it can help to identify the best candidates for specific treatments like cancer, heart failure, etc., as well as enhance the best match for organ transplants, etc. Nonetheless, I have a healthy skepticism that AI will take over physicians. As internal medicine physicians, we offer things that AI can't. We know the patients. We understand and provide empathy and compassion. Our medical knowledge is vast yet is also blended with the clinical reasoning and diagnostic finesse that we develop through the years. I do welcome AI, to help me refine the best diagnostic strategies within a focus of evidence based, yet cost-conscious and high value care approach.
Lastly, we just had our ACP Ohio Chapter Governor's Advisory Council Retreat. I can't tell you how energizing and empowering this meeting was; we have a terrific group of colleagues who are not only passionate about patient care, but who understand the needs of our physician colleagues in the frontlines, and who are already creating a tremendous longitudinal program for personal and professional development of our ACP members in Ohio and nationally.
I want once again, to express my sincere gratitude for your trust, but also for your individual engagement and stewardship for excellence as Internal Medicine physicians, always providing evidence-based and high-value care to our patients.
With sincere appreciation and profound respect,
Moises Auron, MD, FAAP, FACP, SFHM
Cleveland, OH. June 14, 2023.
---
Ohio/Air Force Combined Scientific Meeting
The 2023 Ohio/Air Force Chapters Scientific Meeting is scheduled for Thursday and Friday, October 19th, and 20th at The Greater Columbus Convention Center. We will be holding Ultrasound Sessions on Thursday as well as Drs. Dilemma and the medical student poster competition. Friday will be a full day of sessions along with the Resident/Fellow poster competition.
---
Inaugural Story Slam at the Ohio ACP Meeting
For the first time ever, the Ohio ACP Annual meeting will be hosting a Story Slam Event as part of myriad of engagement opportunities offered at the meeting. This event in narrative medicine is related to other similarly themed story-telling activities, are a fantastic way to share the humanity of our profession with one another in a unique and engaging venue.
Recognized for several years by the ACP and other chapters, many of these stories have been collected and published on the college website. We are excited to offer a similar opportunity for sharing and are thrilled to invite our chapter members to participate as story tellers and audience members!
Some example stories:
Clerks, Codes, and Culture, or We Weren't Even Supposed to Be Here
The Chapter Meeting Planning Committee cordially invite members to speak, submit their story ideas and participate in this special event on Thursday October 19th at 7 PM. The parameters as a storyteller are simple. Speakers have 5 minutes (6 max) to tell their story about ANYTHING related to their professional life / identity or how their professional life has shaped their personal life or etc. No slides or other tech visuals are allowed although props or costumes are permitted. A strict 6-minute cutoff is about the only rule. Following the conclusion of the session, audience voting will determine the "best story."
If you are interested, please send your story idea or the name of someone that you know may do an excellent job / want to speak to Richard Wardrop , Chair of the ACP Ohio Wellbeing and Professional Satisfaction Committee. Feel free to forward this request as well.
---
2023 Ohio Abstract Competition
The abstract submissions portal is now closed, and the preliminary judging is underway. We expect those results to be announced in mid-late July. Stay tuned.
---
Call For 2023 Chapter Award Nominations
Do you have a colleague who deserves recognition?
Time is running out to nominate someone for a 2023 Chapter Award. We are currently accepting nominations for Master Teacher, Internal Medicine physician of the Year and Volunteerism/Community Involvement Awards. A list of requirements is posted on the Ohio Chapter website along with the past award winners. Please send any nominations to Debra Leizman, Awards Chair or Jan Wrassman.
Winners will be celebrated at the Awards Reception on October 19th in Columbus.
---
Members Welcome, Ohio ACP Wellbeing and Professional Satisfaction Committee
The Ohio Chapter ACP Wellbeing and Professional Satisfaction Committee is looking for members from around the state to join our exciting committee for engagement opportunities. Committee members need no experience in wellbeing leadership! We welcome all interested in fostering a satisfying and healthy culture of practice in our community. All interested students, residents, clinical fellows, early career physicians and all other stages are welcome to join us. Our committee will be planning a series of activities over the next several years to align and dovetail with other chapter committees and groups, with groups outside of the chapter and across the College. This will include multiple chapter webinars, activities and events at the annual meeting and other programming as interest, experiences, and member engagement guides our work.
For more information on our efforts or to join the committee, please reach out to Dr. Richard Wardrop or other chapter leadership.
Please do visit the plethora of resources at the ACP website in this area:
Physician Well-being and Professional Fulfillment Program | ACP (acponline.org)
Recently the ACP Introduced two new Wellbeing products for use by members.
The Power of Connectivity Initiative that explores the power of connectivity to counteract the effects of loneliness and isolation that have been described by the US Surgeon General's recent report on the healing effects of social connection and community.
A second resource is a collection of 2 resources in one to foster positive learning and culture in Medicine. These include a Resident Microlearning module and as well as Mini but Mighty Skills for Wellbeing.
Advocacy and Wellbeing Opportunities
An emerging theme in Medicine as it relates to Physician mental health has been the recondition of the importance of destigmatized access to mental health resources. Historically, state medical boards and other credentialling bodies have served as recognized obstacles for Physicians seeking mental health care and for care of substance misuse due to the stigmatization and in some cases scrutiny and punishment for such disclosures.
A recently published narrative exploring this topic can be found here:
Reducing Mental Health Care Barriers for Hospitalists - The Hospitalist (the-hospitalist.org)
Recently, the Institute for Health Care Improvement Helping Health Care Heal Coalition was formed to help standardize and modernize state licensing applications and hospital credentialing process to meet standards recommended by the Federation of State Medical Boards (FSMB), the Joint Commission, and the AMA (American Medical Association). The ACP has done tremendous work in this area and has developed a toolkit for members to be active in this advocacy space.
Members of Ohio ACP Chapter will be operating in a joint effort between the Wellbeing and Professional Satisfaction and Advocacy Committee to explore this space in Ohio with the OSMB (Ohio State Medical Board) and area / regional hospitals and health care systems.
For more information or if you are interested in participating in this advocacy, please contact Dr. Richard Wardrop or the chapter. We are seeking all membership types from students through chapter leaders!
For more information on this topic, please see the IHI and ACP toolkits:
ACP:
Advocacy Toolkit: Modernizing License and Credentialing Applications to Not Stigmatize Mental Health | ACP Online
IHI:
IHI Leadership Alliance Help Health Care Heal Coalition | IHI - Institute for Healthcare Improvement
---
Don't lose access to your amazing ACP benefits valued at over $3,300
Time to renew your membership now! Continue your complimentary access to JournalWise, DynaMedex, and enjoy exclusively deep member discounts for MKSAP, Resolve (Physician Compensation services), Group insurance plans through AGIA, and so much more. Did you know your dues are also tax deductible? So do not delay! The deadline to renew your membership is June 30, 2023. Otherwise, you'll lose access beginning July 1 to these and many more valuable member resources. Renew today so you won't miss out
---
Thanks to our Council of Resident/Fellow Members!
The ACP Ohio Chapter - Council of Residents and Fellows hosted a webinar to analyze the East Palestine Train Derailment. Across Ohio, we have been asked by our patients how this catastrophic event will affect their health and the health of their loved ones. Our panelists addressed the observed acute health effects and potential chronic health effects, the environmental impact, the safety response, the implications for residents of the area, and more. We were joined by five incredible panelists from a variety of backgrounds who provided a rich discussion, including what we can do to prevent disasters like this in the future.
---
Diversity, Equity, and Inclusion Webinar
The DEI Committee held a webinar on May 30th entitled "Enhancing Equity in Clinical Presentations: Recognizing Diversity in Clinical Care." The panel presented several clinical cases and discussed aspects of recognizing bias and a variety of ways to improve communication with patients.
STAY TUNED FOR MORE WEBINARS IN THE NEAR FUTURE
---
Important Information from ACP National
New Ethics Case Study Examines Implications of Resuscitation Approaches
A new ethics case study hat examines the ethical implications of "slow" or "show" codes is now available for CME/MOC credit. Physicians and care teams should not knowingly perform resuscitation in ways that are slower, less aggressive, or without certain parts of standard resuscitation procedures in anticipation of unsuccessful resuscitation of patients—known as a "slow" or "show" code--because families want "everything done." The study highlights the importance of communicating with the patients and their families about what is in their best interest and the importance of advance care planning. The case addresses the ethical issues associated with "slow" or "show codes:" patient autonomy, the patient-physician relationship, and professional integrity.
This ethics case study was developed by ACP's Ethics, Professionalism, and Human Rights Committee and the Center for Ethics and Professionalism. To learn more about ethics and professionalism activities at ACP, visit here
---
ACP's New Firearms Resources Include an Online Hub and Video Content
As part of our ongoing commitment to addressing the public health issue of firearms-related deaths and injuries, ACP has released new resources for members. Our new online hub , Preventing Firearm-Related Deaths and Injuries, features Annals of Internal Medicine articles and content; ACP policies and recommendations, information on collaborations; and multimedia resources including:
A new Physician to Physician Conversations video from Dr. Sue Bornstein, immediate past Chair of ACP's Board of Regents, providing practical tips and strategies on talking to patients about firearm safety.
Videos from the ACP and Annals of Internal Medicine Story Slam, Gun Injury: Stories of Hurt, Hope, and Resilience featuring storytellers sharing moving stories of their firsthand experiences related to firearm injury.
A summary and recording of ACP and Annals of Internal Medicine virtual forum discussing the firearm health crisis.
The hub also includes ACP's recent advocacy efforts which include joining the Healthcare Coalition for Firearm Injury Prevention to advance firearm injury prevention and supporting the passage of the Bipartisan Communities Act, the first new law in decades designed to reduce firearm violence. To help members advocate for policy changes within their state, ACP has developed a Toolkit: Reducing Firearm-Related Injuries and Deaths.