You are here
Ohio Governor's Newsletter July 2019
Ohio Governor's Newsletter July 2019
---
---
Craig D Nielsen, MD, FACP, ACP Governor
---
Governor's Message
Summer is upon us. Although the days are growing longer, time seems to be going by quicker. Fall is right around the corner and with Fall comes our Annual Ohio ACP meeting. The registration for the meeting is now open and I look forward to seeing many of you there.
Our July newsletter highlights the recent successful "Hill Visit" to Washington DC. Our medical student lead, Stefany Hernandez, nicely outlines this experience. Dr. Kim Mc Bennett, one of our OH ACP wellness champions, also has some words of wisdom for us to ponder this summer season. We also highlight some news from the national ACP including comments around the new proposed CMS primary care models, which have the potential to change how we practice.
And so may you enjoy the summer season (and hopefully more sunshine as the often destructive heavy spring and early summer rains subside - -Our thoughts go out to those who have experienced flooding these past couple of months.)
Craig Nielsen
---
Membership Update
Membership remains steady with 5,610 members. The Ohio Chapter currently has 13 Masters and 932 Fellows. Please be sure to tell your colleagues about the member benefits available to them for joining ACP.
---
SAVE THE DATE!
Ohio/Air Force Scientific Meeting – October 17-18, 2019
This year's meeting, "Changing How We Care," will begin with two SEP sessions on Thursday, October 17th at 7:45 a.m. We will offer both a Hospitalist Update and a General Internal Medicine Update.
The meeting will open at 10:00 a.m. with a full schedule of events including Medical Student and Resident Poster Sessions, Resident Drs. Dilemma competition and the ever popular Ultrasound Workshops.
Dr. Tan will once again be heading up the 4th annual 5K fun run bright and early on Friday morning beginning at 6:00 a.m. If you are looking for a gentler way to wake up, be sure to sign up for our Yoga class also beginning at 6:00 a.m. The meeting picks up again with breakfast at 7:30 and Dr. Nielsen delivering his morning comments at 7:50 a.m.
Our Chapter Awards reception will be held Thursday, October 17th beginning at 5:30 p.m. Please join us at this fun event to celebrate your colleagues. Awards will be given in the following categories: Laureate Award, Master Teacher Award, Internist of the Year Award and Volunteerism/Community Service.
As always, if you are interested in helping to judge posters, please contact Jan at jwrassman.acpohio@gmail.com as soon as possible.
Watch your mail for our complete brochure and be sure to register early!
---
LEADERSHIP DAY 2019
Leadership Day was held May 14th and 15th. We had 24 members in attendance including 8 medical students, 8 residents and 8 Big M members. Leadership Day is an opportunity for members of ACP to meet with their legislators to discuss ACP priorities and issues that affect their patients and their practices. Check back for dates for next year!
Stefany Hernandez, medical student from the University of Cincinnati and co-chair of the Medical Student Council for the Ohio Chapter has shared her experience of Leadership Day:
Leadership Day has been an overwhelmingly positive experience in which I have been given the opportunity to speak with multiple members of Congress addressing issues ranging from gun control, pharmaceutical availability to patients, and graduate program regulations. The initial sessions are focused on informing all ACP members in attendance of the current political climate on the respective issues and speak on future bills that could be passed for the betterment of our patients. I have found that not only am I able to advocate for my future patients to members of Congress but am also able to further develop myself as a future physician and mentor to my patients and colleagues through this educational seminar. Leadership Day has allowed me to bring back knowledge on pressing issues that can present as barriers to provide patients with the best medical treatment. The patient focused atmosphere has been inspirational to my future career as physicians and political personnel work together to provide a better healthcare system for all Americans.
---
Wellness Champions:
Patients Before Paperwork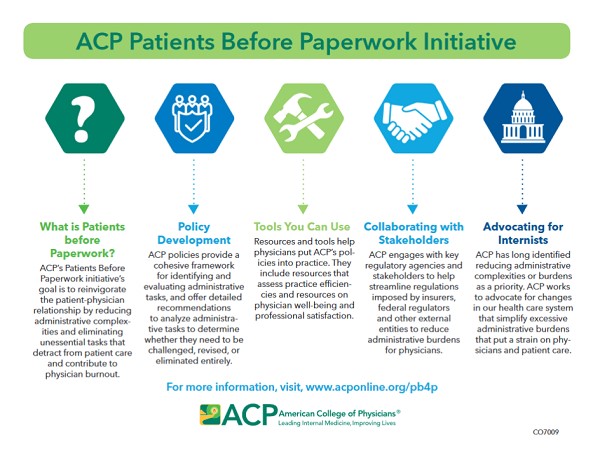 ACP Patients Before Paperwork Initiative is an initiative designed to reinvigorate the patient–physician relationship by challenging unnecessary practice burdens.
What ACP Is Doing
Since the launch of ACP's Patients Before Paperwork initiative in 2015, the College has worked to identify and prioritize the most burdensome administrative tasks faced by ACP members and their patients; develop significant policy recommendations for how to address these administrative tasks; and engage in ongoing outreach and stakeholder engagement efforts with external sources of administrative and regulatory burden.
• Policy Development and Education
• Tools and Services Offered by ACP
What You Can Do to Help
To help the Patients Before Paperwork initiative, you can provide your feedback with our new online data collection tool. This tool is a means for physicians to communicate administrative pain points with ACP staff, share best practices and innovative ideas with each other, and help inform the creation of additional tools and services. Entries will be added to the Administrative Tasks and Best Practices Library.
Tell us about your ideas to address administrative tasks.
Send in specific examples or vignettes explaining how these tasks have had an impact on your ability to care for a patient.
Let us know how can ACP best serve you to address these issues
Share Your Experiences and Tips
---
News from the National ACP Office
ACP issues ethical guidance on professional duties and principles for responding to physician impairment.
Physicians should be rehabilitated and reintegrated into medical practice whenever possible without compromising patient safety.
Philadelphia, June 4, 2019 – The American College of Physicians (ACP) has released a position paper published in Annals of Internal Medicine that examines the professional duties and principles that should guide the response of colleagues and the profession to physician impairment.
"Physician impairment, the inability to carry out patient care responsibilities safely and effectively, is a problem of professional functioning that has implications for both patients and impaired physicians," said ACP President Robert M. McLean, MD, FACP. "However, it is important to remember that just because a person has an illness or other condition, it does not necessarily mean that he or she is impaired."
Impairment can have many causes, including substance use disorders, a medical or mental health condition, profound fatigue, or a decline in cognitive or motor skills due to age or disease.
ACP's paper, "Physician Impairment and Rehabilitation: Reintegration Into Medical Practice While Ensuring Patient Safety," has five position statements covering the professional duties of competence and self-regulation, the distinction between functional impairment and potentially impairing illness, physician health programs (PHPs), and physician wellness and well-being. The paper's appendix includes a rationale for each position and suggestions for implementation.
Physicians share a commitment to care for ill persons, including each other. When physicians become impaired and are unable to practice competently, they have a duty to seek medical help and assistance in caring for their patients. When they cannot or do not do so, the profession and individual physicians have a responsibility to safeguard the welfare of patients and assist colleagues in obtaining help by identifying and reporting colleagues who might be impaired. Colleagues should take a stepwise approach, starting with a sensitive but direct discussion with the person if patient harm is unlikely and progressing to a report to licensing boards or clinical supervisors if patient harm is imminent or suspected.
In keeping with the focus on functional impact, ACP recommends that questions about impairment address a physician's current status rather than past history, not distinguish between mental and physical health, and elicit objective information about functional status.
Most states have PHPs, many of which have demonstrated success in assisting impaired physicians and trainees, especially those with substance use disorders. PHPs should be committed to evidence-based best practices and should meet the goals of physician rehabilitation and reintegration in the context of established standards of ethics and with safeguards for both patient safety and physician rights.
Health care institutions and the profession should support practice environments in which patient safety is prioritized and physician wellness and well-being are addressed. ACP has a Physician Well-being and Professional Satisfaction initiative designed to foster a culture of wellness, reduce administrative burdens on physicians, improve practice efficiency and enhance individual physician well-being.
In an accompanying editorial Jeffrey H. Samet, MD, MA, MPH, writes: "These guidelines recognize the enormous investment required to develop well-trained physicians and that the community at large benefits when, instead of being asked to 'heal thyself' in periods of impairment, this talented resource is supported and treated as needed."
---
New ACP Fact Sheets on Recently Announced CMS Primary Care Models
On April 22, 2019, CMS announced its Primary Cares Initiative, which includes two new risk-bearing primary care models. ACP developed new fact sheets on each of the models, available below. Many details relating to risk adjustment, patient assignment, and performance benchmark setting are still forthcoming. As this information becomes available, ACP will evaluate and update these fact sheets and develop other educational materials accordingly to help educate ACP members on what to expect. Notices of Intent to Apply (NOIA) for the Direct Contracting Model are due August 2. The application timeline for the Primary Care First Model has not yet been released.
Primary Care First (PCF) Model