You are here
Nevada Chapter Governor's Letter March 2013
Nevada Chapter Governor's Letter March 2013

| | |
| --- | --- |
| March 2013 | Warren H. Evins, MD, PhD, FACP, Governor |
---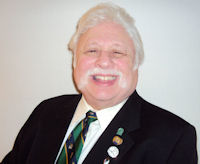 It has been a while since the last Nevada Governor's Newsletter and a fair amount has occurred.
We had several new Fellows get hooded at the Convocation at the New Orleans Internal Medicine Meeting in April 2012. We had the Fall Board of Governors Meeting in Vancouver, British Columbia, CANADA , in September 2012.
On October 31st, the Northern Nevada Regional Poster Competition was held in Reno, with six Associate clinical vignette presentation and three medical student clinical vignette presentations. There was one medical student research presentation. I was delighted to be a Judge at both of the Regional competitions.
On November 2, 2012, the Southern Nevada Regional Poster Competition was held at the Las Vegas Simulation Center in Las Vegas, with seventeen associate and six medical student clinical vignette presentations and three associate research and six medical student research presentations.
The top three presenters in each of the four categories (research or clinical vignette, associate or medical student) was advanced to the state-wide competition (if there were enough entrants in the category).
At the state-wide Poster Competition there were seven associate clinical vignette presentations (as there was a tie for third place in Reno), five medical student clinical vignette presentations, three associate research and four medical student research presentations. This competition was held at the Chapter's Annual Meeting in Las Vegas, January 12, 2013.
My Term
I was elected in November 2009 as Governor-Elect Designee and served six months in that position. After the 2010 ACP Internal Medicine Meeting in April, 2010, I became the Governor-Elect and advanced to Governor at the end of the 2011 ACP IM Meeting in April, 2011.
My term as Governor is four years, running from 2011-2015. I am now in my second year as Governor of Nevada. I was able to attend two Board of Governors meetings as the Nevada Governor's voting representative, when the Governor was unable to attend.
The American College of Physicians was founded in 1915, and the end of my term will be the Spring ACP IM Meeting in April 2015, ACP's Centennial celebration. I am a member of the Governor's Class of 2015, the Centennial Class.
This year the ACP Internal Medicine Meeting and Spring BOG (Board of Governors) meeting will be in San Francisco. They will be held in Orlando, Florida in 2014 and Boston, Massachusetts in 2015.
---
Governor-Elect Election
In every Chapter's Governor's second year, there is an election for the new Governor-Elect designee. This Fellow will become the next Nevada Chapter Governor after the 2015 Boston ACP Internal Medicine Meeting. All physicians active in ACP Chapters are non-paid volunteers, including the Governor. Later this month or next, ACP will send out a notice to all Chapter members announcing that nominations for Governor-Elect are open. In order to run for the Governor-Elect position, a Chapter member must be a Fellow or Master; however, Nevada has no ACP Masterships and never had any.
An election will be held this summer for the Governor-Elect position. The winner will be announced in October or November 2013. The Nevada Chapter's Nominations Committee will select two candidates, who have agreed to serve, from all of the nominees. Our Nominations Committee is chaired by Eugene L. Speck, MD, PhD, FACP, Immediate Past Governor of Nevada. The other two members are Northern Nevada District President T. Brian Callister, MD, FACP, FHM, and Sandhya Wahi-Gururaj, MD, MPH, FACP, UNSOM-Las Vegas Internal Medicine Residency Program Director.
The Governor-Elect will attend online education classes and webinars hosted by ACP and work with the current Governor until his'her installation as Nevada Chapter Governor after the 2015 Boston ACP IM meeting in April, 2015.
Just to guide potential candidate's insight into the Governor's job, Dr. Speck spent most evenings after work (on average about 25 hours a week) on his ACP duties. I also spend, on average, some more time than that. I am retired and have somewhat more time to spend, but I also have a lot of other unpaid volunteer activities. The Governor is expected to attend the two Board of Governors meeting every year, which last six to seven days with travel for the Spring meeting and three to four days for the Fall meeting.
---
ACP National Committees
After speaking with some of the other Nevada Chapter Governors, I think that I may be the first Nevada Governor to serve on an ACP national committee. However, I am not the first Nevada Governor to apply for a committee position, which is very competitive. I was appointed to the ACP Credentials committee for 2012, and re-appointed for 2013. I initially applied to serve on three committees.
In February, 2013, Mitchell D. Forman, DO, FACR, FACOI, FACP, founding Dean of the Touro University-Nevada College of Osteopathic Medicine in Henderson, Nevada, and Nevada Chapter Treasurer was appointed to the Postgraduate/Chapter Education Committee for the 2013-14 term to begin in April 2013. I believe that Dr. Forman is only the second Nevadan to serve on an ACP National Committee. Congratulations, Dr. Forman!
---
American Society of Hypertension, San Francisco Meeting
Michael J. Bloch, MD, FACP, FASH, FVM, from Reno will be a featured speaker at the May 2013 Annual Scientific Meeting of the American Society of Hypertension in San Francisco. If you are interested in learning more about new innovations and updates in hypertension, please attend.
American Society of Hypertension 2013 Annual Scientific Meeting
May 15 - 18, 2013
San Francisco Marriott Marquis
San Francisco, California
Please Register
Free Registration for Trainees!
Come network with experts in the field of hypertension and hear keythought-leaders discuss the latest in:
Resistant Hypertension
Device Treatment of Hypertension
Non-Invasive Treatment of Hypertension
Innovations in Diagnosis and Treatment
Within Class Differences in Antihypertensive Therapies
The Scientific Sessions feature several innovative components designed to enhance the translation of basic and applied research into effective hypertension prevention and treatment strategies.
Highlights of the program include:
Hypertension for the Primary Care Clinician
This program will address the day-to-day care of hypertension management(i.e. special populations, home and ambulatory blood pressure monitoring, and application of guidelines.)
Hypertension Highlights 2013
Hypertension Highlights is a full-day program dedicated to educating clinicians and scientists about some of the most interesting, controversial and evolving topics in the field. The program will include state-of-the-art presentations on Hypertension and the Brain, Obesity and Cardiometabolic Diseases and Modulators of Blood Pressure and Vascular Function. It is an ideal update for Hypertension Specialists and those wishing to become specialists in the field.
Please Join us in San Francisco.
Michael J. Bloch, MD, FACP, FASH, FVM
Certified Hypertension Specialist
Associate Professor, University of Nevada School of Medicine
---
ACP Nevada Governor's Advisory Council
The Board of Directors of the Nevada Chapter is named the Governor's Advisory Council (GAC). The last three meeting of the GAC were March 4, 2013, November 1, 2012, and June 26, 2012. The current members of the GAC are the last three GAC meeting Agendas are below.
Warren H. Evins, MD, PhD, FACP Governor-Chair
T. Brian Callister, MD, FHM, FACP Northern District President, Vice Chair
Eugene L. Speck, MD, PhD, FIDSA, FACP Immediate Past Governor
Mitchell D. Forman, DO, FACR, FACOI, FACP Treasurer, Dean Touro, Assistant Vice-Chair
Sandhya Wahi-Gururaj, MD, MPH Chair Program Committee, UNSOM-Las Vegas IM Residency Program Director
Jennifer M. Hagen, MD, FACP, UNSOM-Reno IM Program Director, until December 2012
Daniel S. Shapiro, MD, FACP Chair of UNR Reno IM Dept
Naveen Gopal, MD Las Vegas. Chair, Chief Residents' Council-Associate
Elizabeth Hight Medical Student Touro. Chair, Medical Students' Council
Aditi Singh, MD, FACP Co-Chair Young Physicians' Council
Nadeem Tariq, MD Chair Hospitalists' Council, Chair International Medical Graduates' Council
Kalpana K. Reddy, MD, FACP Membership Committee Chair
Lindsay Sanders, MD PGY-2 Reno. Chair, Associates' Council
Nagesh Gullapalli, MD, FACP Reno IM Program Director, from December 2012
***************************************
ACP Nevada Chapter
Governor's Advisory Council (GAC)
Monday, March 4, 2013, 6:00 pm
AGENDA
Introduction of GAC members and attendees
Financial report- Mitchell D. Forman, DO, FACR, FACOI, FACP, Treasurer
IM 2013 - San Francisco, April 11-13, 2013

Convocation Thursday, April 11
Nevada Chapter Reception - Friday eve with Colorado
Poster & Abstract competition - meeting registration fees for associates and students
Doctor's Dilemma™ meeting registration fees for Associates

Newsletters (upcoming), any articles?
Membership
Board of Governors Spring Meeting
Chapter Leadership Network
Governor-Elect election; Nominations committee: Eugene L. Speck, MD, PHD, FACP (Immediate Nevada Past Governor), T. Brian Caallister, MD, FACP, FHM, President Northern Nevada District, Sandhya Wahi-Gururaj, MD, MPH, FACP Internal Medicine Residency Program Director, UNSOM-LV
Open positions: membership committee, mentors, committees, editor
Advancement to Fellowship
Spring 2013 Board of Governors resolutions
Chapter 2013 Annual Meeting reports

SEP-MOC
Doctor's Dilemma™
Poster competitions

Northern Nevada Regional Competition-Wednesday, October 31, 2012
Southern Nevada Regional Competition-Friday, November 2, 2012

Workshops- clinical skills: cardiac heart sound simulators
Food
Exhibitors - only ONE
Program

Old Business
Annual Meeting 2014-Reno probably on a Saturday morning, Las Vegas-probably on a Sunday morning
New Business
Next Meeting
***************************************
ACP Nevada Chapter
Governor's Advisory Council (GAC)
Tuesday, June 26, 2012
AGENDA
Introduction of GAC members and attendees
Financial report- Mitchell D. Forman, DO, FACR, FACOI, FACP, Treasurer
IM 2013 - San Francisco, April 11-13, 2013

Convocation Thursday, April 11
Nevada Chapter Reception (usually Friday eve with Colorado)
Poster & Abstract competition -$50 submission fee + meeting registration fees for associates
Doctor's Dilemma™ meeting registration fees for associates

Newsletters (October, possibly summer 2012), Do you have any suggestions for or have written any articles for the Governor's Newsletter?
Membership
Board of Governors Fall Meeting
Chapter Leadership Network
Chapter Awards
Open positions: membership committee, mentors, committees, editor
Advancement to Fellowship
2012-2013 Chief Residents and addresses, emails, phone numbers
Fall 2012 BOG (Board of Governors) meeting resolutions
Chapter 2013 Annual Meeting planning

SEP-MOC
Doctor's Dilemma™
Poster competitions

Northern Nevada Regional Competition-Wednesday, October 31, 2012
Southern Nevada Regional Competition-Friday, November 2, 2012

Workshops- clinical skills
Food
Exhibitors-Grants-Support-Cosponsors-Location

Old Business
New Business
Next Meeting
***************************************
ACP Nevada Chapter
Governor's Advisory Council (GAC)
Thursday, November 1, 2012
AGENDA
Introduction of GAC members and attendees
Financial report- Mitchell D. Forman, DO, FACR, FACOI, FACP, Treasurer
IM 2013 - San Francisco, April 11-13, 2013

Convocation Thursday, April 11
Nevada Chapter Reception (usually Friday eve with Colorado)
Poster & Abstract competition - meeting registration fees for associates and students
Doctor's Dilemma™ meeting registration fees for associates

Newsletters (Do you have any suggestions for or have written any articles for the Governor's Newsletter?)
Membership
Board of Governors Fall Meeting

Nevada initiative for Medicaid expansion

Chapter Leadership Network
Chapter Awards: Laureate-Nicholas J. Vogelzang, MD, FACP; Volunteerism & Community Service-Sohail U. Anjum, MD, FACC, FACP
Open positions: membership committee, mentors, committees, editor
Advancement to Fellowship
2012-2013 Chief Residents and addresses, emails, phone numbers (Reno)
Fall 2012 BOG (Board of Governors) meeting resolutions
Spring 2013 Board of Governors suggested resolutions
Chapter 2013 Annual Meeting planning

SEP-MOC
Doctor's Dilemma™
Poster competitions

Northern Nevada Regional Competition-Wednesday, October 31, 2012
Southern Nevada Regional Competition-Friday, November 2, 2012

Workshops- clinical skills: cardiac heart sound simulators
Food
Exhibitors-Grants-Support-Cosponsors-Location
Speaker's Dinner
Program

Old Business
IRS 990
New Business
Next Meeting