You are here
GOVERNOR'S NEWSLETTERJuly 2014
GOVERNOR'S NEWSLETTERJuly 2014

---
---
Message From the Governor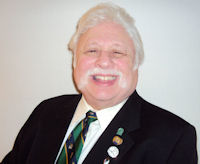 Warren H. Evins, MD, PhD, FACP, Governor
Dear ACP Nevada Chapter Members,
This Newsletter has eight articles about the Nevada Chapter, our 2013 to 2014 Chapter Annual Meeting Poster Competition Winners, the Doctor's Dilemma™ team, and a short article about Medicare's meaningful use payment adjustments' possible avoidance, courtesy of Susan Lynch and the Nevada State Medical Association. In addition, I am providing information detailing how to strengthen our Chapter by participating in the ACP Recruit - a - Colleague program. There are also three articles about the ACP listing the ACP's 2014 Advocacy Priorities, the Top 10 Things ACP Advocacy did in 2013, and how to get free CME from ACP via the Annals of Internal Medicine.
Please remember to SAVE THE DATE of January 10 or 11, 2015, in Las Vegas, for the 2015 ACP Nevada Chapter Annual Meeting, my last Annual Meeting as your Governor. Governor - Elect Evan Klass will become Governor for the 2016 ACP Nevada Chapter Annual Meeting.
---
2013 - 2014 Nevada Chapter Poster Competition Winners
The ACP Nevada Chapter held its Poster Competition for medical students and resident physicians in October and November 2013. The Northern Regional Poster Competition was held in Reno, Nevada and the Southern Regional Poster Competition was held in Las Vegas. All of the medical students competed in the Southern Regional Poster Competition, so that counted as the statewide finals. The top three resident physician Poster Competition Winners from the Regional Poster Competitions competed at the statewide ACP Nevada Chapter Annual Meeting in Reno. There were two categories for all the competitors: Clinical Vignette and Basic and Clinical Research and Quality Improvement (Research).
Dr. Bjorn Flora was the First Place winner of the Resident Clinical Vignette category and Dr. Faisal Siddiqui was the First Place winner of the Resident Research (clinical research) category. Both residents were from the University of Nevada School of Medicine (UNSOM). Medical student Joshua Gable from UNSOM won First Place in the medical student Clinical Vignette category and Rees Adomako from Touro University -Nevada College of Osteopathic Medicine won First Place in the medical student Research category.
We congratulate all our First Place winners who have won an automatic entry to the National Internal Medicine 2014 Poster Competition in Orlando Florida in April 2014. The Chapter provides up to $1000.00 for travel, registration, and meeting expenses for the first-place winners. First, Second, and Third Place Winners at the statewide Poster Competition of the Nevada Chapter also received a complimentary medical book.
We congratulate all the First Place Winners who participated in the National Poster Competition. We also congratulate the statewide Second and Third Place winners. And to every resident physician and medical student who submitted a poster or slide presentation we also offer our congratulations.
---
Doctor's Dilemma™ Team Competes at ACP Internal Medicine 2014 Meeting in Orlando Florida
Having won the playoffs competition at the ACP Nevada Chapter Annual Meeting in January, 2014, a team from the VA Hospital and the University of Nevada School of Medicine in Reno participated in the Doctor's Dilemma™ Competition at the ACP Internal Medicine Meeting in Orlando, Florida. The three members of the team were 1) Faisal Siddiqui MD, 2) Raheel Islam MD, and 3) Sunayana Reddy, MD.
This team progressed the furthest in the competition of all previous Nevada competitors, winning the quarterfinals round. The Nevada team finished in second place, but lost in the semifinal round to the competition overall winner (three years in a row).
We congratulate them on their success representing the Nevada Chapter.
---
Avoid the 2015 Medicare Meaningful Use Payment Adjustments - Act Now
Are you a Medicare provider who was unable to successfully demonstrate meaningful use for 2013? CMS is accepting applications for hardship exceptions to avoid the upcoming Medicare payment adjustment for the 2015 reporting year. Payment adjustments for the Medicare EHR Incentive Program will begin on January 1, 2105 for eligible professionals.
However, you can avoid the adjustment by completing a hardship exception application and providing supporting documentation that proves demonstrating meaningful use would be a significant hardship for you. CMS will review applications to determine whether or not you are granted a hardship exception. CMS has posted hardship exception applications on the EHR website on CMS' website. Applications for the 2015 payment adjustments are due July 1, 2014 for eligible professionals. If approved, the exception is valid for one year.
New Hardship Exception Tipsheets:
You can also avoid payment adjustments by successfully demonstrating meaningful use prior to the payment adjustment. Tipsheets are available on the CMS website that outline when eligible professionals must demonstrate meaningful use in order to avoid the payment adjustments.
Source: CMS
Courtesy of the Nevada State Medical Association, written by Susan Lynch, MBA, CPC-A, Practice Management/Education Specialist
---
Strengthen Our Chapter: Participate in ACP's Recruit-a-Colleague Chapter Rewards Program!
The American College of Physicians and the Nevada Chapter encourages all members to help strengthen our chapter by recommending ACP membership to colleagues. By joining the College, your colleagues will enrich their clinical knowledge and skills and have access to all of the ACP member benefits that you enjoy.
To thank you for your dedication to our organization, ACP offers incentives to members and their chapters that recruit new members through the Recruit-a-Colleague Chapter (RACC) Rewards Program.
As with the national Recruit-a-Colleague Program, the RACC Program rewards successful individual recruiters with dues credits for each new full Member or Physician Affiliate member recruited and a chance to win a trip to the annual Internal Medicine meeting. In addition, the RACC Program also provides rewards to the recruiters' chapters, including funding for chapter activities and complimentary registrations to the annual Internal Medicine meeting.
The Recruit-a-Colleague Chapter Rewards Program runs annually from April 1 through March 15.
To participate, simply forward to your colleagues a membership application. To qualify for the program, your name must be listed on the recruiter line of the application, and the form must include the code RACC.
Thank you for your help in strengthening our chapter!
---
2014: A Look Ahead in Advocacy Permanent Repeal of the Sustainable Growth Rate (SGR)
ACP will be working to advance its priorities with the three committees having jurisdiction over Medicare payment policy as they develop what will be a final reconciled SGR-repeal bill. The intent is to have a comprehensive SGR-repeal bill enacted into law as soon as possible in 2014, though no later than March 31, 2014, when the current SGR-patch expires.
Extending Medicaid Pay Parity
Current law states that physician payments for primary care services under Medicaid must be equal to those under Medicare in 2013 and 2014. With this provision of law expiring at the end of 2014, ACP will advocate for an extension of at least two years.
Ensuring Successful Implementation of Key Components of the Affordable Care Act (ACA)
Implementation of the ACA will continue in 2014, including insurance coverage under the health care exchanges that began on January 1 and, on the state level, more states choosing to expand their Medicaid programs to cover more of the poor and near-poor. ACP will continue to advocate for successful implementation of these and other key provisions in the law, as well as address "nuts-and-bolts" implementation issues that directly affect physicians and their patients-such as narrow provider networks and restrictive drug formularies in some of the marketplace plans.
Supporting Vital Health Programs through Appropriations
Across-the-board sequester cuts in 2013 had a devastating impact on federal healthcare programs, including federal health workforce programs, medical research and public health programs. The bipartisan budget agreement, as enacted in December 2013, provides some much-needed respite from sequestration. Going forward, ACP will urge congressional appropriators to prioritize funding for the nation's health care workforce in the Title VII Health Professions program, medical research at the National Institutes of Health, public health at the Centers for Disease Control and Prevention, among others.
Advancing Medical Liability Reforms
ACP will continue working with key policymakers to advance meaningful medical liability reforms, including introduction of legislation based on ACP's framework which would authorize a national pilot of health courts.
Addressing Administrative Complexities
ACP has long identified reducing administrative hassles and complexities as an important objective and while some incremental progress has been made in providing relief, administrative burden continues to be a significant challenge for practices. ACP's campaign, which is expected to launch in the Spring of 2014, will educate policy makers, as well as ACP members, other physicians, and consumer advocates, on what makes up administrative challenges and why they are not all created equal-and will involve an advocacy effort to help mitigate or eliminate the top priority challenges that are identified.
Extending the Primary Care Incentive Program
Current law provides a 10 percent bonus payment, in addition to the usual Medicare fee schedule amount, for designated primary care services provided by internists, family physicians, geriatricians and pediatricians for calendar years 2011 through 2015. In order to qualify for the bonus, at least 60 percent of Medicare allowed charges of these physicians must consist of the designated primary care services: office, nursing facility, domiciliary, and home services. This important provision of law begins to address disparities in payments that are major barriers to physicians entering and remaining in primary care specialties. ACP will take necessary steps this year to ensure that lawmakers are fully aware of the importance of extending this program beyond its 2015 expiration date.
---
Top 10 Things ACP Advocacy and Policy Development Did in 2013 to Improve Your Practice Environment and Enable You to Provide High Quality Care
Check out the top 10 things on the list
---
New, Free CME is available from Annals of Internal Medicine!
Introducing The Consult Guys! A unique and entertaining way to earn FREE CME from Annals of Internal Medicine!
The Consult Guys make learning a pleasure!
Hosted by Geno Merli & Howard Weitz, two, seasoned clinicians, educators, and comedians who answer questions from preoperative evaluations to clinical puzzlers. Each episode reviews topics essential for anyone practicing internal medicine or its subspecialties.
Enjoy, learn, and laugh while Geno and Howard entertain and teach you on their medical consult talk show:
Watch the videos and then take the companion CME quizzes
ACP Members and Annals subscribers can earn .5 CME credit per quiz. Nonmembers can purchase tokens for CME.
2 premier episodes are available now.
Episode 1: Cleared for Surgery? Perioperative Risk Assessment
Episode 2: Stumper: A 23 year old with a myocardial infarction - will you get the right diagnosis?
Tune into a new episode each month.