You are here
Nebraska Governor's Newsletter August 2017
Nebraska Governor's Newsletter August 2017

---
---

Marvin J. Bittner, MD, FACP, ACP Governor
---
From Your Governor
Dear Colleagues:
Why "College"?
Why are we the American "College" of Physicians? Why haven't we changed our name to the American Association of Physicians? Or the American Society of Physicians? Or the American Organization of Physicians?
Tradition, I suppose, is part of the answer. "College" aligns us with distinguished organizations abroad like the Royal College of Physicians of London. In addition, keeping the word "College" does hint at an atmosphere of collegiality, of bringing colleagues together.
However, my opinion about why we've kept "College," which does sound like an archaic term for an organization, is a differing opinion. What's the first thing that comes to mind when you think about the word "college"? I bet it is education.
ACP is, without a doubt, an organization for which education is central. It makes sense for us to keep a word associated with education literally at the center of our identity. We publish MKSAP, a longstanding program for continuing education. We have national and state meetings designed around educational experiences. Our policies, built on an evidence base, go hand in hand with a commitment to education.
Earlier this year I was struck again by the pervasiveness of the ACP's commitment to education. I was at an ACP event where, frankly, I didn't expect to learn much. Despite my expectation, I learned a lot.
I had joined five of our Nebraska ACP colleagues in Washington, DC in May. We were attending "Leadership Day." The heart of Leadership Day is lobbying. We had appointments to meet legislators and staffers in the Nebraska congressional delegation. Our goal was to present them with ACP policy positions. With that kind of goal, I expected that we physicians would be educating our congressional delegation. I had not expected that I would be learning much myself.
I was wrong.
The day before our visits, we sat in a hotel ballroom, and we learned about the legislative background we would encounter. After all I'd read and heard about the political environment and ACP's policies, I didn't expect I'd learn much new that day.
I was wrong.
One event in the hotel ballroom was a panel discussion. The panel included staffers working for legislators across the political spectrum. A staffer for Washington Senator Patty Murray gave me a lot of insight into various health reform proposals. She pointed out that, in general, there are three ways to pay for illness. The first is insurance: The insurance premiums paid by healthy people wind up paying for much of what the sick need. The second is taxes: The cost of illness is spread across the taxpaying public. The third is uncovered expenses: The ill pay for their own illnesses. The staffer offered that framework for looking at various health insurance reform proposals.
The next day I learned a lot from talking with one of the congressional staffers. He's the Chief of Staff for Jeff Fortenberry—and something more. He's also a physician. Reyn Archer explained his perspective on health, particularly the key role of social determinants. He provided an explanation of why many public health programs fail. He talked about what is needed for Americans to be healthier. It's not a perspective that everyone shares, but it seems to me that it does reflect the views of many people. Dr. Archer is concerned about those who grow up in a stressful environment and eventually turn to unhealthy approaches to cope with stress—too much eating, too much drinking, too much smoking. On the positive side, he sees better health ultimately springing from growing up in families and social networks that are supportive, not enmeshed in stress. Wait until adulthood to try to fix health problems—and you're not likely to have much success.
All of us in the ACP have demonstrated our personal enthusiasm for education. How else could we have gotten into medical school? Or gotten through medical school . . . and residency?
My trip to Washington for Leadership Day reminded me, once again, of the pervasiveness of education in the ACP. No wonder it is our "College"!
---
2017 NE ACP Annual Meeting Info
Top 5 Reasons Not to Procrastinate – Kris Rahm
Hello NE ACP Member!
Even though our annual scientific meeting is 65 days away, here are some reasons you shouldn't procrastinate...but should register TODAY:
On September 27, hotel rooms being held under NE ACP will be released. If you're going to reserve a hotel room anyway, you might as well register for the meeting now and check both things off your "to do list". That always feels good.
If you don't register by October 15th, you'll be charged a late fee. Who doesn't love getting something at a lower price.
If you don't attend, you'll have to listen to your colleagues talk about what a great time they had, how much they learned about current hot topics, and how engaging the speakers were. Jealousy is not pretty.
You won't be able to get 7.5 CME and MOC hours to fulfill those pesky requirements from your employer. This is that whole two birds/one stone thing.
And finally, you won't be able to network with your ACP family/peers….perhaps the ONLY people in your life who truly understand what you are going through and can laugh, or cry, with you. Everyone needs a support group! In addition, I am so looking forward to seeing each and every one of you there. Please don't disappoint me.
Brochure and registration form can be found at this handy dandy link.
---
½ Price Registration for You and Your Non-Member Colleague
In our effort to continue to recruit colleagues to be a part of ACP, we are offering 1/2 price registration to ACP members that bring a nonmember! This is an offer you can't pass up!!
This offers non-members an opportunity to see the value of ACP in their professional career and in their practice. If you are interested in taking advantage of this offer, please contact Kris Rahmprior to registration in order to provide her the name of the non-member, so each of you can be provided with a coupon code to register.
---
Want to Volunteer at a VA Medical Center?
The Department of Veterans Affairs is reaching out to physicians:
"Are you interested in serving America's heroes? Help reach Veterans in your community and bring your unique skills to serve those in need by becoming a volunteer Physician Ambassador."
Key points:
This is an opportunity to serve as a volunteer without compensation.
You will need to meet requirements for appointment to the medical staff.
Want to learn more? Get in touch with the Chief of Staff office at the Omaha VA Medical Center.
---
Early Career Physicians
It has been a busy summer in healthcare policy, and ECP has helped to keep local chapter members up-to-date on recent changes. In conjunction with the College World Series in June, the Council of Early Career Physicians hosted Bob Doherty, ACP Senior Vice President on Government Affairs and Public Policy, at Midtown Crossing. The timing could not have been more perfect, as he was able to break down the reveal of the initial health care bill on the day it was released. There was good information, good company, and good beer all around.
Look out for more educational, fun events this fall, and I hope to see everyone at the chapter meeting.
If you want to be involved, or have any ideas for ECP, please email Lauren Nelson, .
---
NE ACP Chapter Receives John Tooker Evergreen Award
The South Dakota, Kansas and Nebraska Chapters recently won the John Tooker Evergreen Award for Multi-State Strategic Planning. The John Tooker Evergreen Awards Program provides visibility and recognition to those chapters that have been successful in implementing programs that increase membership, improve communication, increase member involvement, enhance diversity, foster careers in internal medicine, and improve management of the chapter.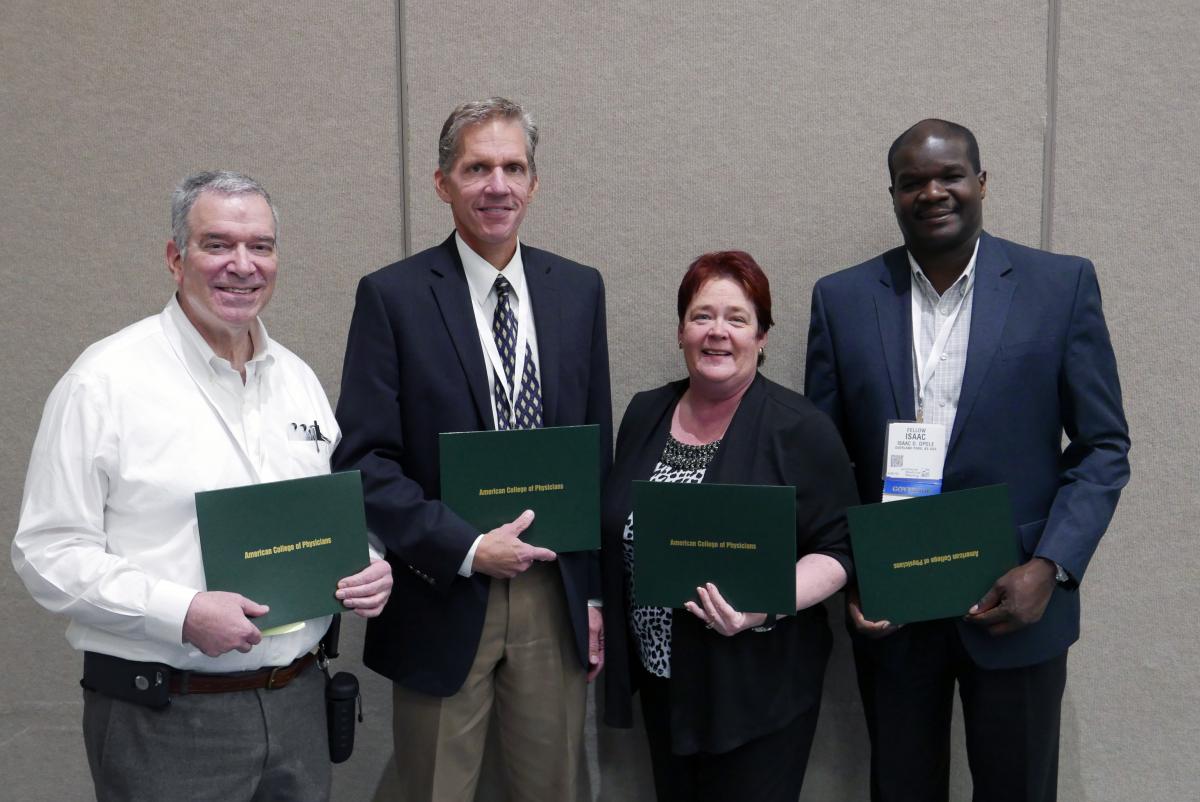 (Caption: L-R Marvin Bittner, Nebraska Governor; Matt Bien, South Dakota Governor; Kris Rahm, Executive Director; and Isaac Opole, Kansas Governor)
---
Highlights from 2017 Annual Meeting in San Diego
A highlight of this spring's San Diego internal medicine meeting was the academic convocation. This event marked the formal advancement to Fellowship in the American College of Physicians for several members of our Nebraska chapter. The new Nebraska Fellows were accompanied in the academic procession by chapter Governor Marvin Bittner and are shown in this photo with former Governor and former Chair of the ACP Board of Regents Tom Tape.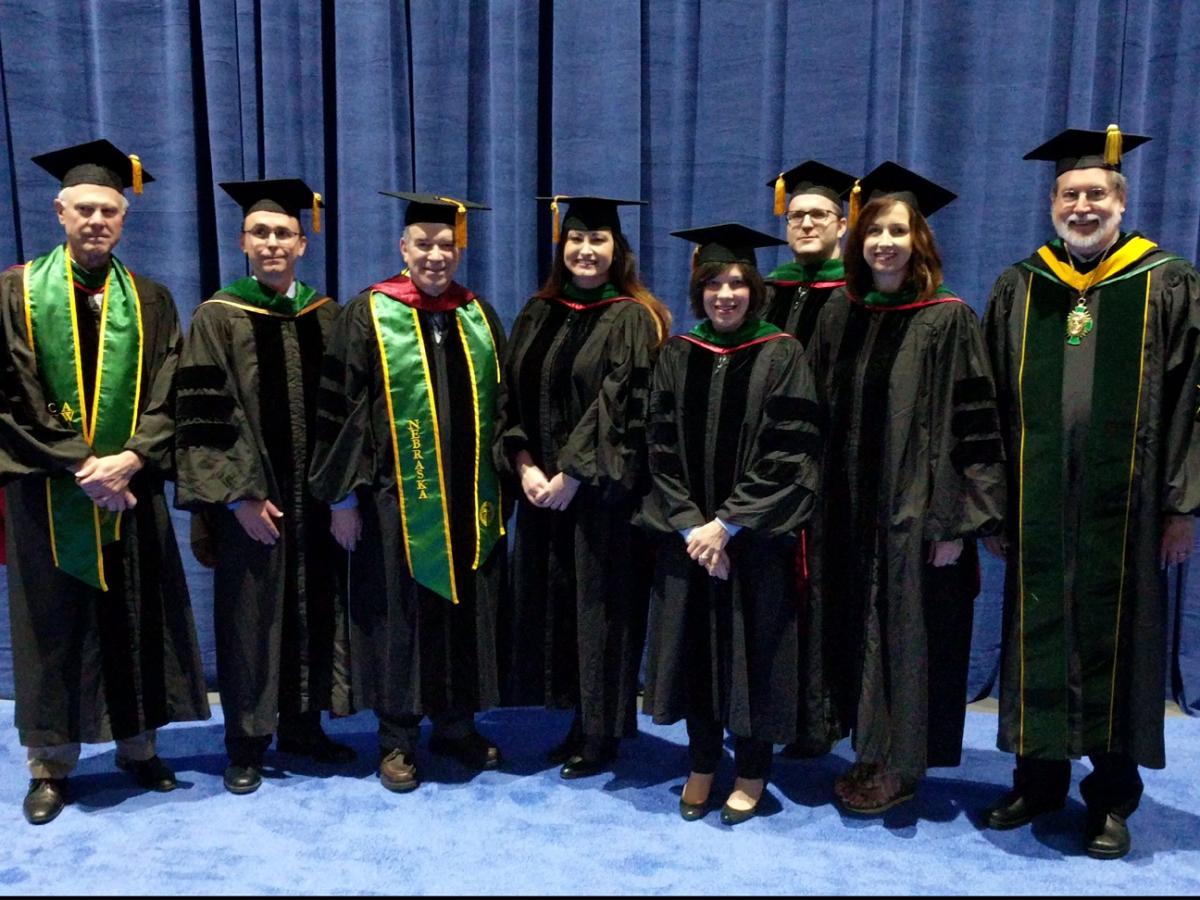 (L/R – Bill Shiffermiller, Michael Ash, Marvin Bittner, Lindsay Northam, Abby Shiffermiller, Joel Armitage, Tamara Doehner, Tom Tape.
Some 50 teams of internal medicine residents competed in Doctor's Dilemma at the San Diego internal medicine meeting this spring. This is a Jeopardy-style competition testing the competitors' knowledge of medical topics. Nebraska's team, consisting of three UNMC residents, advanced through two preliminary rounds to the final round, where they came in second place.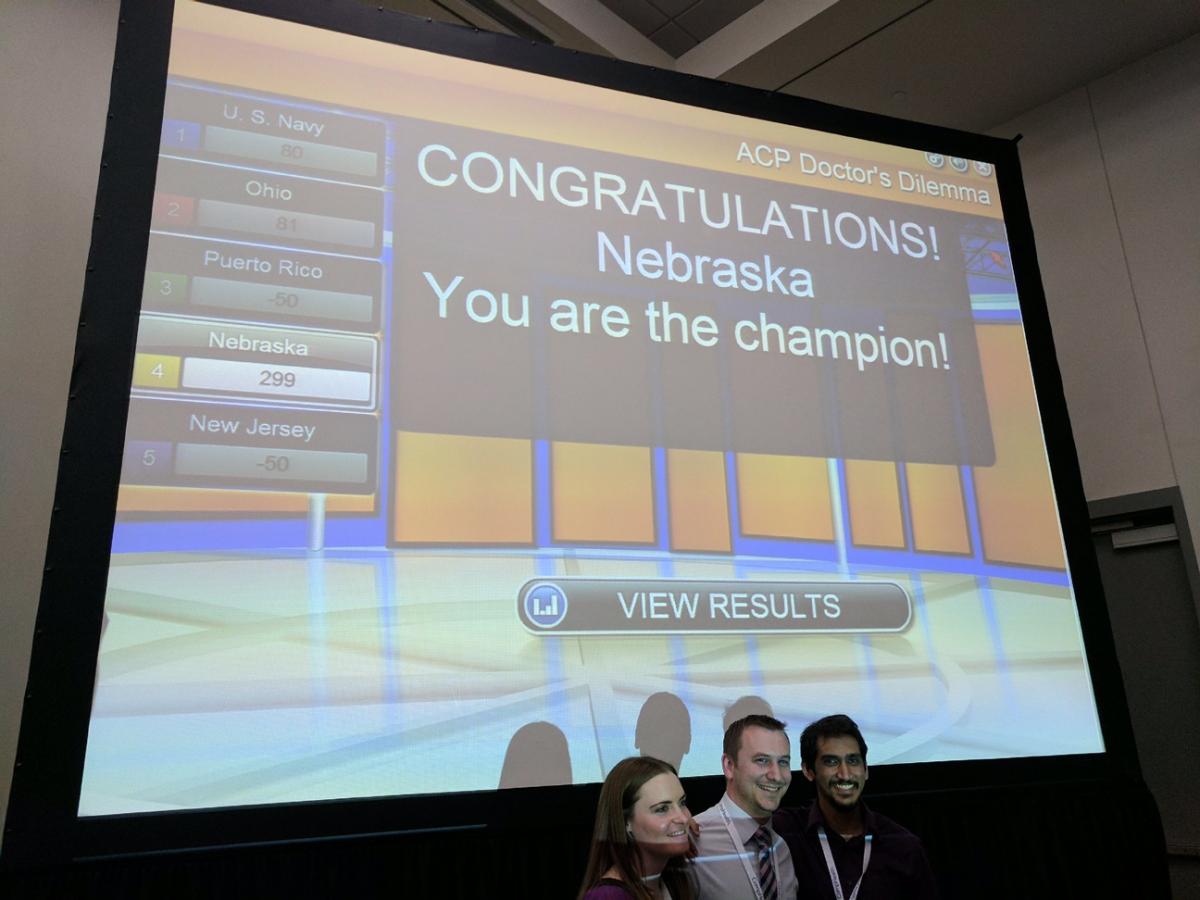 (L/R - Alica Mizner, Jason Shuda and Arun Mahabir)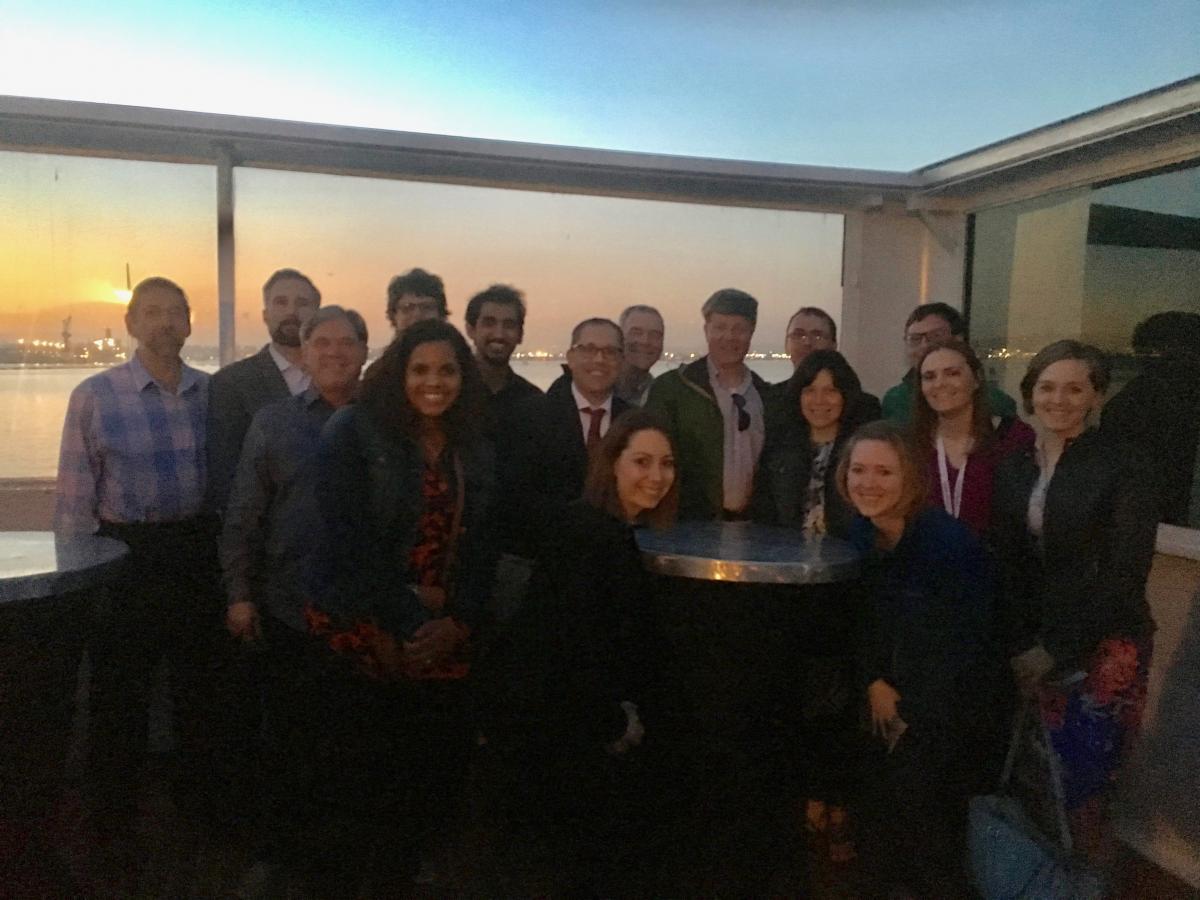 (NE ACP Members enjoyed a cruise of the San Diego Bay)
---
Health & Public Policy
Our Nebraska ACP Chapter had an excellent turnout for ACP Leadership Day in May of 2017. Our delegation included Governor, Dr. Marvin Bittner, Residents, Dr. Cherry Onaiwu and Dr. Luay Sarsam, internists, Dr. Richard Seitz, Dr. Joel Armitage and Dr. Jason Lambrecht. Over the last few years, we have discussed SGR, the Affordable Care Act and many other issues.
This year MACRA was the buzz word. The energy level of our group was high. We initially met at the Nebraska Breakfast, now in its sixth decade. The Nebraska Breakfast is a 70-year tradition that is the oldest and only ongoing state gathering for constituents on Capitol Hill. Our meetings with Congressmen Fortenberry, Bacon, and Smith and Senators Fischer and Sasse went well.
This year, we focused on continuing to improve access to care, reducing the administrative burden on patients and physicians and work to bring greater value for the dollars spent on health care. ACP Leadership Day was an excellent opportunity for us to demonstrate to our national leaders that we want to be a part of the future of medicine. I am looking forward to our delegation's next meeting and would like to personally invite any of you who are interested in federal healthcare policy to attend Leadership Day in 2018.
– Jason Lambrecht, MD FACP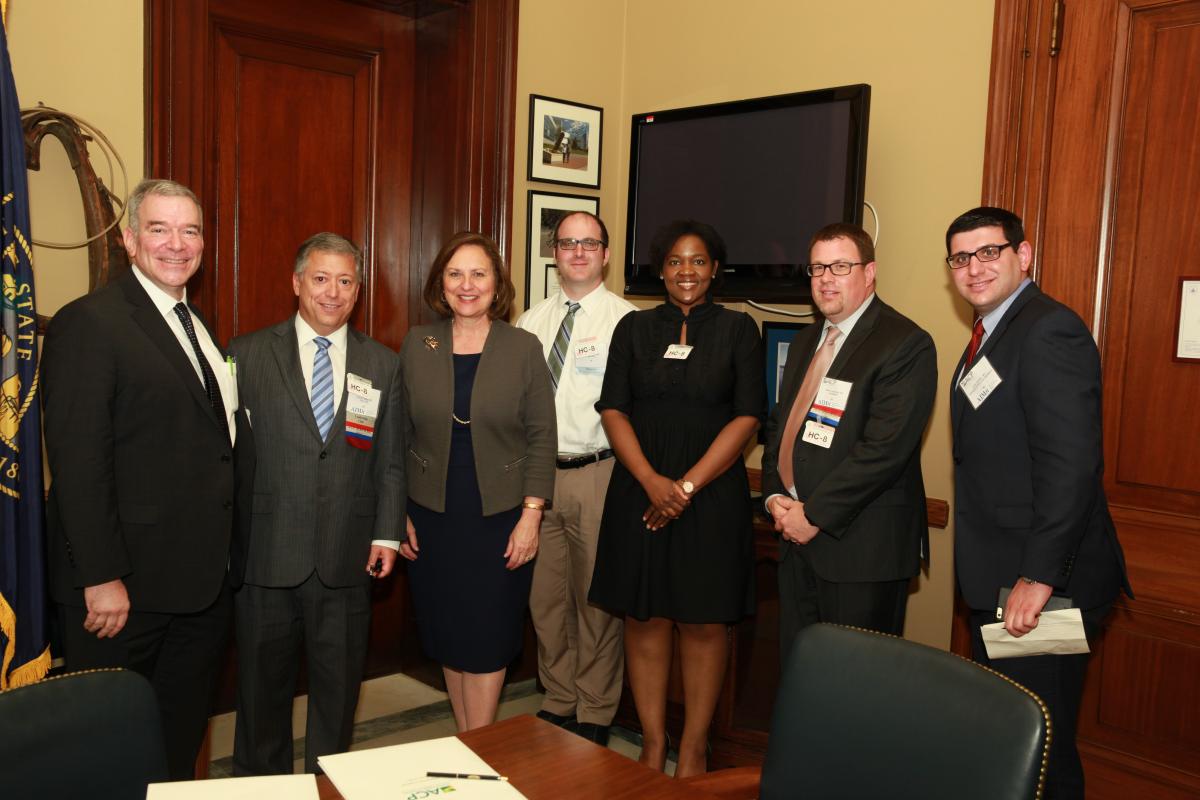 (Caption L/R – Marvin Bittner, Rich Seitz, Senator Deb Fisher, Joel Armitage, Cherry Onaiwu, Jason Lambrecht and Luay Sarsam).
---
You Can Attend Leadership Day in May 2018
If you are looking for a chance to influence policy and speak directly to our state's senators and representative, then Leadership Day is just for you! There are many benefits to attending this two-day Washington, DC, event:
Updates and orientation on the latest ACP legislative priorities
Training on advocacy skills
Networking with NE colleagues, internists from across the nation, and ACP leadership
Contact Kris Rahm for more information and join us in DC in 2018.
---
But, I'm not Getting any ACP Emails
As our fall meeting is fast approaching, I am receiving many phone calls and emails saying "I know our meeting is coming up soon, but I haven't received any information about it". Trust me…regular emails...and reminders…are continually being sent. The most likely reason you aren't seeing them is that you are using a clinic, hospital, or academic email address, and the mass emails are being routed to your spam/junk folders or blocked.
There are two solutions to this dilemma. Approach your organization's IT department and ask them to "white-list" ACP, and/or consider using a personal email address for ACP business. If you choose to change your email, please contact ACP Customer Service at 215-351-2600.
---
Mark Your Calendar
October 27, 2017 (12:00 pm) Council Meeting Harper Center, Omaha, NE
October 27-28, 2017 Annual Scientific Meeting Harper Center, Omaha, NE
April 19-21, 2018 National ACP Meeting New Orleans, LA
October 25-27, 2018 Annual Scientific Meeting TBD
---
Infectious Diseases Critical Care Physicians Needed
(Paid Advertisement)
Creighton is developing a stand-alone one-year Critical Care fellowship. Combining our Infectious Diseases fellowship with a subsequent Critical Care fellowship might be very attractive if you are considering a career in Infectious Diseases Critical Care.
Our ID fellowship in Omaha offers a collegial learning environment and the high quality of living in the Midwest. Our fellows' experiences include clinics (continuity, HIV, travel), inpatient rotations (including compromised host), antimicrobial stewardship, hospital epidemiology, research, quality improvement, telemedicine, and teaching. Program has 30 years of accreditation. Former fellows' careers include private practice, academia, public health, and ID Critical Care.
Applicants must have completed an ACGME-accredited IM residency before start date (7/1/18). We require a J-1 visa for international applicants. Apply with ERAS through the medical specialties Match. For more details contact Michelle Connors.
---
New Members
Last Six Months:
Bryant R England, MD
Jasmine R Marcelin, MD
Amarinder Singh Garcha, MBBS
Rorak Hooten, MD
Shana Peper, MD
Purva Gumaste, MBBS
Rae A Rohlfsen, MD
Jason Shuda, MD
Jonathon DeMuth, MD
Jessie Jenkins, MD
Aron Merchen, MD
Abbey L Reed, MD
Laura Heuermann, MD
Jeffrey C Macaraeg, MD
Rajeev F Anchan, MD
Muhammad Ebrahim Khan, MBBS
Muhamed Baljevic, MD
Jeffrey J Murray, MD
Javen R Wunschel, DO
Kelly J Aarsvold, MD
Kilie J Donovan, MD
Benjamin Bumgarner, DO
Clayton W Jordan, DO
Sarah W Kesterson, MD
Apurva D Patel, MBBS
Heidi Hausmann, MD
Joseph J Hejkal, MD
John Anderson, DO
Katrina Chavez, MD
Jason Dinsmoor, MD
Richard Hankins, MD
Chetaj Mahabir, MBBS
Alicia Mizner, MD
Anum Abbas, MBBS
Yazeid A Alshebani, MBBCh
Vishisht Mehta, MBBS
Paul G Millner, MD
Brennan Mosch, MD
Karishma Bhatia, MBBS
Jessica Novotny, MD
Karen J Stacey, MD
Htet Htet Win, MBBS
Jeffrey Marple, MD
Ariana Bauer, MD
Eyad Skaf, MD
Jocelyn Taylor, MD
Chetaj Mahabir, MBBS
---
New Fellows
Last Six Months:
Mahmoud A Abu Hazeem, MBBS FACP