You are here
Maine Governor's Newsletter July 2016
Maine Governor's Newsletter July 2016

---
---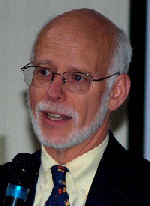 John Erickson, MD, FACP, MD, FACP, ACP Governor
---
A Message from the Governor
This past Tuesday I had the opportunity to travel to ACP Headquarters in Philadelphia for a meeting of the Chapters Subcommittee, the group of Governors and staff that is primarily responsible for disseminating "best practices", funding and support for chapters. Like all other ACP gatherings, I left Philly energized and enthusiastic, proud to be a Fellow of the College and marveling at the mental horsepower and problem-solving capacity of internists. The challenges that today's internists face, regardless of whether one is subspecialist or generalist, hospitalist or ambulist, are considerable but by no means insurmountable, and we together are best situated and trained to lead the change. The College continues to be the best advocate for internists as well as an unparalleled resource for life-long education. Here at 43.6615° N, 70.2553° W your Maine Chapter is alive and well, continuing to work hard at improving life and work for Maine internists and their patients. John Erickson, MD FACP
---
Internal Medicine 2016 ACP Annual Meeting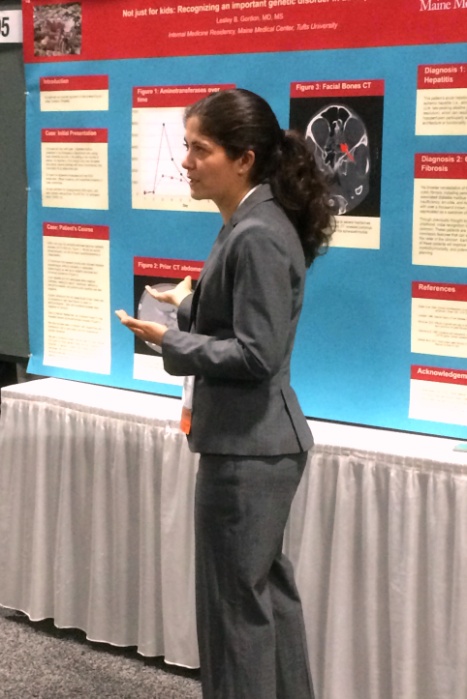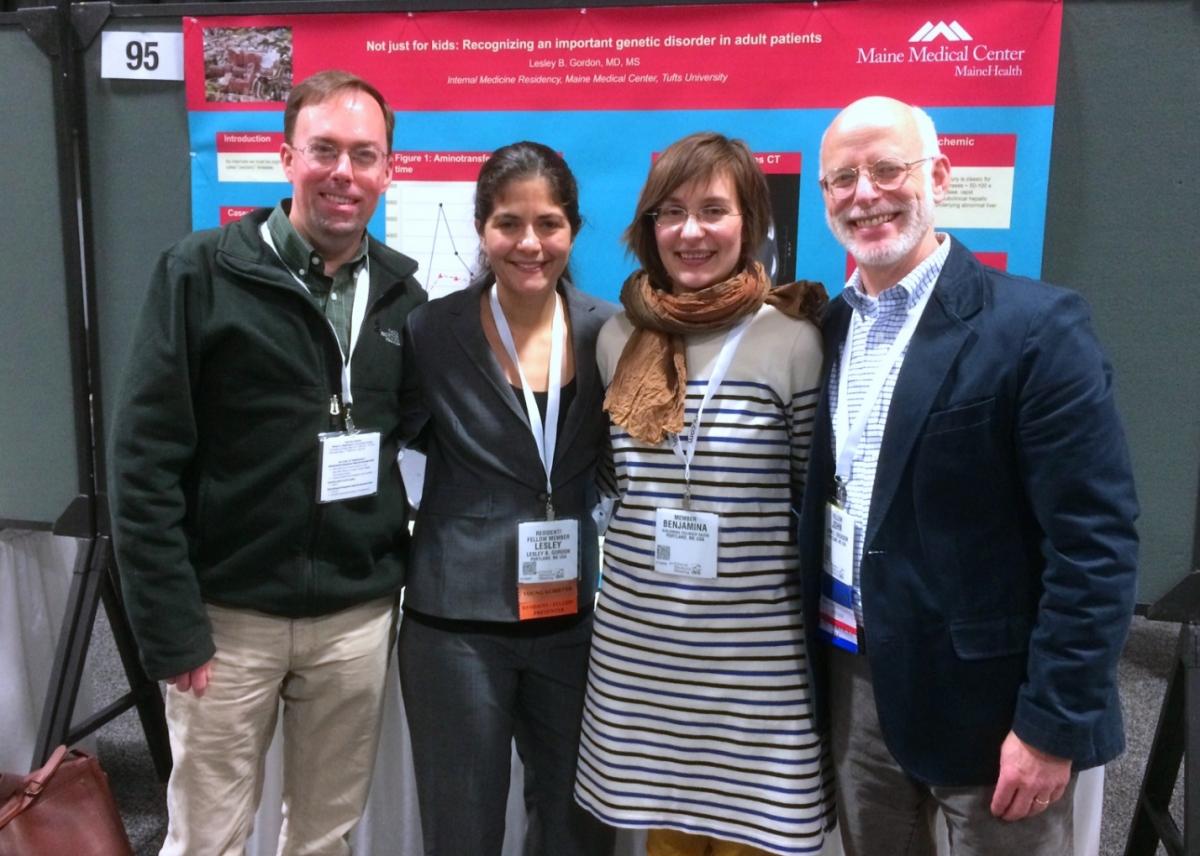 More than 8000 attended the ACP's Annual Meeting in Washington DC last month and among them over 70 registrants from Maine. Presentations from world renowned experts and opportunities for hands on learning abounded. The Maine Chapter was well represented academically by the 2015 Clinical Vignette winner, Lesley Gordon, MD, who presented her poster on the diagnostic challenge of a patient with adult presentation of cystic fibrosis.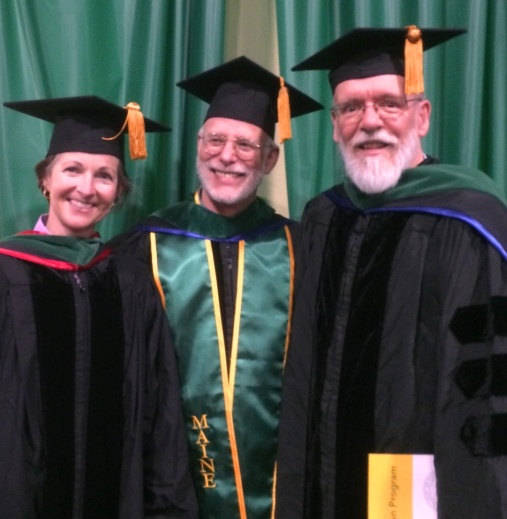 Highlights of the Convocation included the presentation of two new Maine Fellows who marched in full academic regalia. We were proud to honor Lisa Almeder, MD FACP, hospitalist at MMC and John Dodge, MD FACP, Senior Medical Officer at UNUM representing the Great State of Maine. For those that have been contemplating advancing to fellowship, there is no time like the present! Go to the ACP Online website and click on the membership tab. If you're not sure how to proceed or who to ask for a letter of proposal shoot us an email and we can help.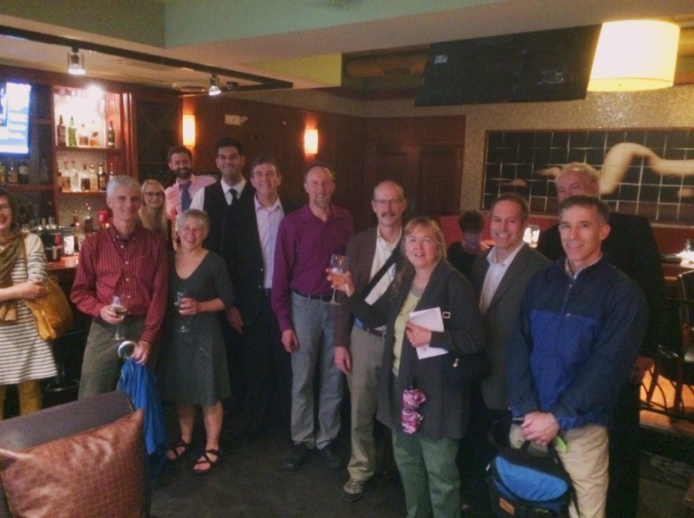 More than 20 Maine Chapter members and friends gathered for conversation, food and libations at Bar Louie in Washington on Thursday evening and we were joined by former Maine Chapter Governor and ACP CEO John Tooker, MD MACP as well. Thanks as always to our tireless and amazing Warene Eldridge who along with Hani Jarawan, MD was responsible for arranging this fun gathering.
---
Leadership Day
May 3 and 4th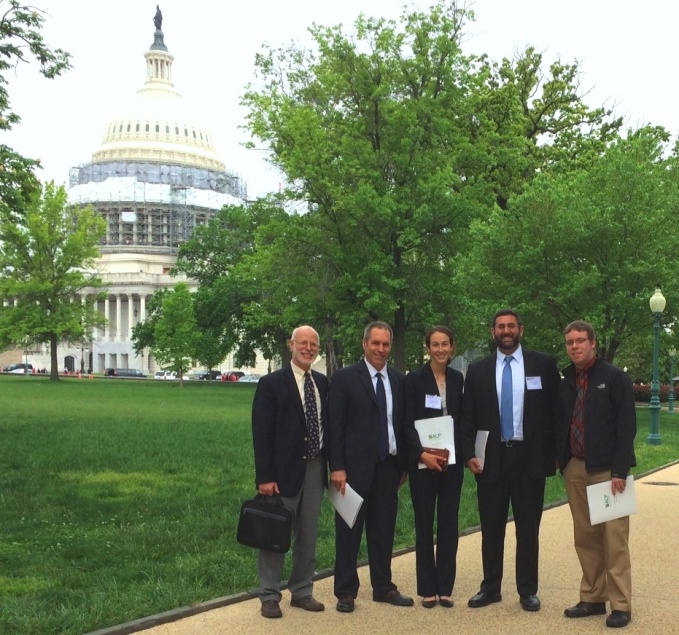 Dr. Hani Jarawan of the Maine Chapter HPPC was joined by GAC member Dr. Brian Nolan, Third Year MMC Resident, Dr. Christina Kapala, Second Year UNECOM student and GAC member Mike Madaio and Governor Dr. John Erickson in Washington DC for the 24th annual Leadership Day hosted by the ACP. Although Congress was on break, the delegation met with health policy staff for Maine's Senators and Representatives on Capitol Hill to discuss legislation and issues important to Maine physicians and patients. On the agenda this year was graduate medical education financing, improving telemedicine, addressing rising prescription drug costs, integrating behavioral health into primary care, chronic care management reimbursement, health information technology reform and stemming the increase in opioid abuse. Although staffers were attentive and interested, the political climate and a budget neutral policy mean that realizing reform on these issues will take a sustained lobbying effort from physicians. Please visit the ACP advocacy page, click on advocacy tab, for more about these issues and information on how you can contact your representatives.
---
Internal Medicine Interest Group – UNECOM and Tufts Maine Track Chapter
This past year, thanks to collaboration between members of the Maine ACP and various students from UNE's College of Osteopathic Medicine and Tufts' School of Medicine Maine Track, an Internal Medicine Interest Group (IMIG) was established. The group has met roughly once every two months to bring together internists, residents, and medical students interested in internal medicine for panel discussions, meet and greets, outings at the regional ACP meeting in Bar Harbor, and a trip to the national ACP meeting in Washington, DC. We've all been very pleased with how successful this venture has been, reaching over 50 medical students over the course of the year. The IMIG has been instrumental in organizing the ACP/UNE/MMC Residency "Morning Report" session for second year students held most recently in April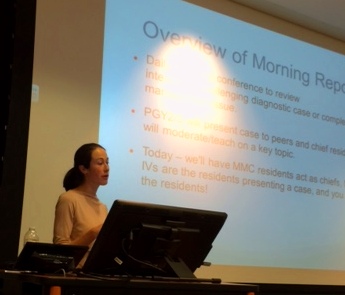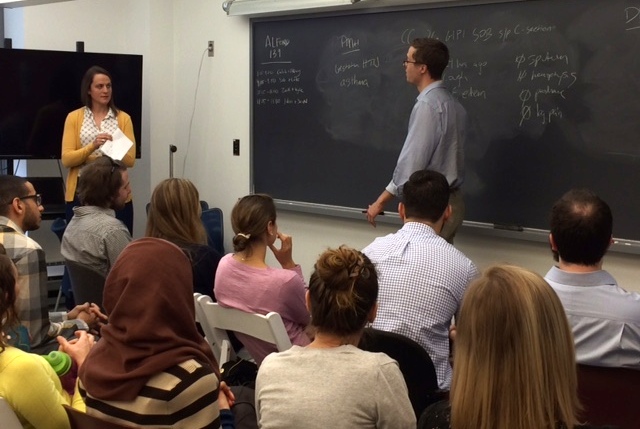 As we move into the 2016-2017 academic year, the IMIG is continuing to look for local physicians to host a meeting of the IMIG at their house for an informal dinner and discussion about internal medicine. Topics in the past for these meetings have included how to match into IM, what residency is like, and what do individual internists see as the pros and cons of the profession today. If you are interested in participating in this program, please reach out to Cashel O'Brien, MS-II , Tyler Haddad, MS-II , Michael Tozier, MS-IV , or Conor Walsh, MS-IV, at .
---
News from the MMC Residency
Tom Gearan, MD FACP, Program Director for the MMC Internal Medicine Residency Program and member of the GAC is pleased to report that the program graduated 12 newly minted internists this month, and thrilled that 11 choose to remain in Maine! The breakdown of career choice includes 2 in Primary Care, 5 in Hospital Medicine, 3 in Subspecialty Fellowship and 2 as MMC Chief Residents. Our incoming class of interns includes 5 Mainers / or trained in Maine. The proposed Rural Medicine Residency Track, a joint effort of MMC and Steven's Memorial / Oxford Hills Internal Medicine, is moving along very well and is expected to be online for next year's class of incoming applicants!
---
Annual Maine Chapter Educational Meeting – September 30-Oct 2, 2016 Atlantic Oceanside, Bar Harbor
Watch your email for registration information and be sure to reserve your ocean view room early for a meeting that promises to be the educational, professional and social event of your year (7389 lodging group number by 8/28 to receive special rates). Our Educational Planning Committee of Drs Lemay, Trask, Hermann with Chair Doug Couper, MD MACP at the helm, has put together a great meeting replete with fascinating resident vignettes, resident and student posters, as well as presentations on strategies for acute and chronic pain management, identifying and treating substance abuse, current approaches to cancer screening. Our Len Keilson honoree and speaker for Saturday evening's banquet will be ACP Regent Dr. Carrie Horwitch, MD MACP who has a wonderful presentation on laughter in medicine. We plan to offer a special Friday evening event for Early Career Physicians (viz food, drink and camaraderie!) We've already ordered great weather, food and an unsurpassed location; all we need now is YOU!
To register:
Lodging Reservations: You may call the reservation office of Atlantic Oceanside Hotel and Conference Center directly to make your reservation (800 336 2463). You must identify the Maine Chapter-American College of Physicians & Group Number: 7389 to receive the lodging discount. Rates cannot be changed upon check-in or check-out. To receive the special lodging fee reservations must be made by August 28, 2016 (800-336-2463), reservations may also be made on-line: www.aobarharbor.com/
See you at the Annual Educational Meeting on September 30th!
---
Anti-Gun Violence Event
On September 29th at the Maine School of Law in Portland the Maine Chapter will co-sponsor a collaborative seminar on the Public Health Approach to Reducing Gun Violence alongside the Maine Bar Association and the Maine Police Association and others. The keynote speaker will be David Hemenway from Harvard and our own Dan Meyers, MD will join the panel as a representative from the ACP. Dan has a special interest in reducing gun violence and has presented at MMC Grand Rounds as well as written an op ed for the Portland Press Herald on this timely subject. This will mirror the joint presentation with past ACP president, Wayne Riley, MD MACP and the ABA held in Charleston SC after the fatal shootings at the Emmanuel African Methodist Episcopal Church just one year ago. We'll make sure that further details are available as planning proceeds.
---
ACP Governor-elect Election
The ACP national office will conduct an election for our chapter in September 2016. The Maine Chapter candidates are Catherine M. Cadigan, MD, FACP and Rebecca B. Hemphill, MD, FACP. The candidate elected will assume the office of Governor in 2018. Keep a watch in your email box for all information for this election.