You are here
Indiana Governor's Newsletter June 2016
Indiana Governor's Newsletter June 2016

---
---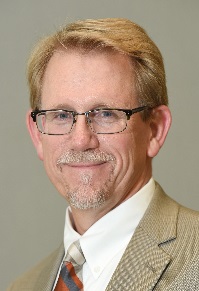 Bradley Allen, MD, PhD, FACP, FIDSA, ACP Governor
---
From The Governor
Greetings to All Indiana Chapter Members and a Tribute to Former Governor J. Matthew Neal!
It is with great pride and humility that I address you as the new Indiana ACP Chapter Governor. At the close of the Internal Medicine 2016 meeting in Washington DC in May, I moved from my position as Governor-Elect to replace the venerable Dr. Matthew Neal as his four-year term ended.
First, I would like to thank Dr. Neal for his outstanding dedication and service to the practicing internists, internal medicine residents, medical students, and patients within the Indiana Chapter region. Matt is a very respected and active ACP figure at a national level and will continue to be a strong advocate for our Chapter in discussions with leadership of the Board of Governors and Board of Regents. Dr. Neal has been a fantastic mentor for me over the last two years, sharing his expertise and experience during the transition period. The Chapter will benefit by his continued involvement with the ACP.
Brandon Dickey, MD, FACP, from Muncie, who served as Treasurer with Dr. Neal and kept us in an excellent financial position, will also be stepping down. I am happy to announce that Kevin Tolliver, MD, FACP, of Indianapolis will be taking on the role of Treasurer from Dr. Dickey. They have been communicating to ensure a smooth transition. Heidi Lakanen, MD, FACP, from Upland will fill out our leadership team in the important role of Secretary.
The Indiana ACP Chapter continues to benefit from experienced organizational leadership at the Executive Director level, where Donna Seawards has worked on the transition process for all officers.
I look forward to working with each ACP member during the next four years to take our Indiana Chapter to even higher levels. I will focus on the goals of 1) increasing our membership among the 4200 internists, including subspecialists, around the state; 2) work with residents and students to build more active Resident and Fellow Council activities and Internal Medicine Student Interest Groups in our statewide Graduate and Undergraduate Medical Education programs; 3) work to build an Early Career Physician network around the state to enhance interaction and mentoring options for those practitioners who have recently began practice in ambulatory and inpatient venues around Indiana, and 4) foster the progression of Indiana Chapter members, at all membership levels, to engage in leadership activities locally, regionally, and nationally through education and advocacy efforts that relate to the field of internal medicine.
I look forward to working for you over the next four years!
Brad
---
Former Governor Neal Takes on Important New Role with IU School of Medicine
J. Matthew Neal, MD, MBA, who serves as the Executive Medical Director, Academic Affairs and Chairman, Department of Medicine, at IU Health Ball Memorial Hospital has been appointed to a newly created assistant dean position for statewide faculty development. The four new positions will work with the Office of Faculty and Professional Development and the IUSM Medical Student Education group to assist in the statewide recruitment and preparation of faculty to implement the revised curriculum. In his new role Dr. Neal will work with IUSM course and clerkship directors, IUSM Departmental leadership, and all nine IUSM Regional Campus Directors to recruit, retain, and reward faculty preceptors from all practices, clinics, and facilities across the state. Obviously Dr. Neal brings extensive leadership skills to this position and we wish him great success in expanding medical education opportunities around Indiana in all clinical disciplines.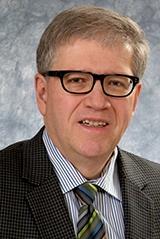 J. Matthew Neal, MD, MBA, CPE, FACP, FACE, FACPE
---
Resident/Fellow Council Updates: New officers are announced and highlights of the recent social event for new internal medicine residents.
Building on strong leadership and growth of the group over the last two years, Kathleen Morris was elected Chair and Allison Wildin was elected Secretary. Dr. Morris serves as the IU Chief Resident at IUH University Hospital in Indianapolis while Dr. Wildin is Chief Resident at IUH Ball Memorial in Muncie.
An ACP Social was held on June 18th at the Triton Brewery with members of the new intern classes at St. Vincent's, Ball Memorial, and Indiana University programs. Those attending were able to interact with the officers and senior residents about the benefits and opportunities provided by ACP membership.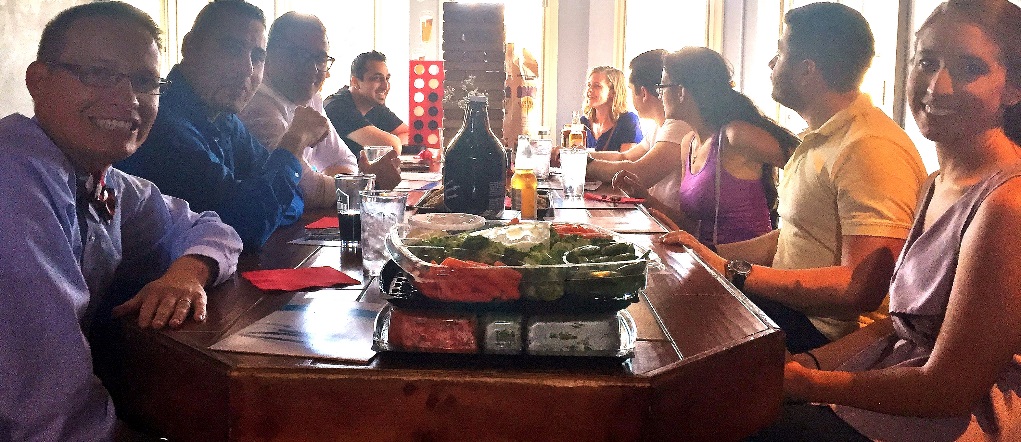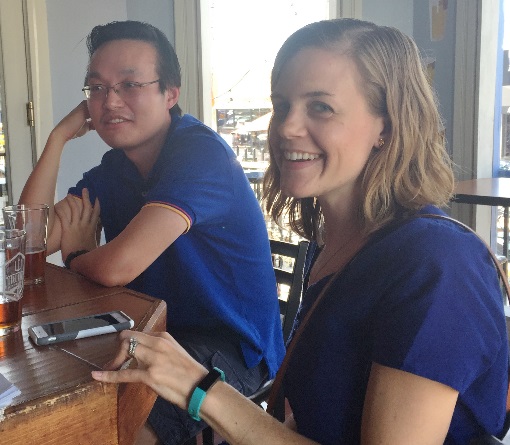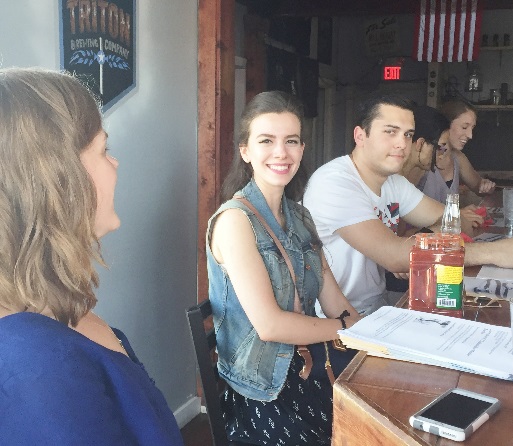 Resident members of the Indiana Chapter at the June social event, including Chair Kathleen Morris in the lower left. Photos courtesy of Dr. Allison Wildin.
---
Hold the Date – Indiana Chapter Meeting 2016!
The Indiana Chapter Meeting will be held again at the Renaissance Marriott Hotel in Carmel on November 10-12, 2016. Thursday (11/10) will consist of a Chapter reception and poster judging while the main scientific meeting will take place on Friday (11/11). The agenda is coming along nicely and will offer something for everyone, including Population Health, High Value Care, Wellness, Diabetes Management, Palliative Care, Cardiac MRI, and Pre-Op Evaluation.
Saturday (11/12) will consist of ABIM Self-Assessment (SEP) modules.
We hope to see you there!
---
Contact information:
Indiana Chapter Governor:
Bradley L. Allen, MD, PhD, FACP, FIDSA
Email: bradalle@iupui.edu
Ph: 317-278-7788
Fax: 317-278-8165
Donna Seawards
Executive Director
Email: donnaseawards@gmail.com
Ph: 623-225-5527
Chapter Address:
49 Boone Village, Box 290
Zionsville, IN 46077