You are here
GOVERNOR'S NEWSLETTER May 2015
GOVERNOR'S NEWSLETTER May 2015

---
---
Message From the Governor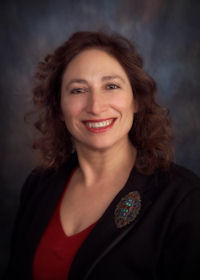 Banu E. Symington, MD, FACP, ACP Governor
---
Internal Medicine Meeting 2015
ACP celebrated its centennial this month at the Internal Medicine meeting in Boston, Massachusetts. Boston was the perfect place for this celebration as it is rich in history itself. It was a little cooler than Idaho this time of year, but not a lot and the scenery in Boston made the trip worthwhile and enjoyable. The keynote speaker was Former U.S. Senator and Democratic Senate Majority Leader, Tom Daschle of South Dakota. Daschle has been an outspoken advocate for President Obama's healthcare policies and also co-authored a book in 2008 titled, "Critical: What We Can Do About the Health-Care Crisis". Daschle spoke about how we are now seeing the greatest transformation of healthcare our nation has ever seen, healthcare costs, Medicaid expansion, the Affordable Care Act, and keeping people healthy instead of waiting until they're sick to help them.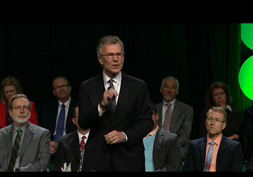 Democratic Senate Majority Leader, Tom Daschle
A video was presented at the Board of Governors meeting exploring ACP's 100 year history. Please watch the video.
Steve Weinberger, MD FACP, CEO and Executive Vice President of the college presented ACP's strategic priorities for 2015-16. Priorities include increasing member engagement, helping ACP members experience greater fulfillment, value-based payment and sound performance measures, and advocating for MOC reform. Presentations during the BOG meeting included introductions of new Regents and Governors as well as the new Governor-elects.
Allison Ewing and Steven Spadt presented an update on the redesign and rebuild of ACP online, and Margaret Wells held a presentation on MKSAP. Wells also introduced MKSAP 17 with its new offerings such as Virtual Dx2, CME-offering product containing 400+ updated image-based MCQs teaching interpretive skills and MKSAP flashcards.
Also happening at the Internal Medicine meeting, ACP's Quality Improvement Network and Quality Connect held a reception to celebrate accomplishments and to recognize ACP QI leaders from around the country. Our Governor, Banu Symington, MD, FACP received an award for her passionate advocacy for HPV eradication.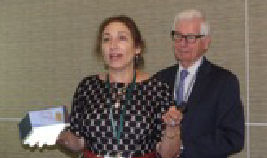 Our Governor, Banu Symington, MD, FACP, receiving award
---
Einstein Medical Center Wins Doctor's Dilemma - Again
They did it again! The Pennsylvania residents have won the competition seven times now and this one makes the fourth year in a row. The top four teams were the Albert Einstein Medical Center, Walter Reed National Military Medical Center, the Cleveland Clinic, and the University of Washington. The team won by one point by answering this final question, "Migraines that occur with every menstrual period"; the answer was: catamenial migraine. Congratulations again to the Pennsylvania Chapter and the Einstein docs, clearly a well-deserved name.
---
Idaho Chapter Dinner at IM2015
We held our second annual chapter dinner meeting in Boston with special guest Sue Hingle, Immediate past Chair of the Board of Governors, Regent, and Chair of the Education and Publications Committee. Thank you to Sue for joining us! While our first meeting in Florida was paid for through an ACP grant, this meeting was paid for through increased chapter revenues. Members from different parts of the state networked, discussed our recently passed resolution, and discussed how to improve patient care. Kelly Hess, the chapter Executive Director briefly discussed our new Healthcare Improvement Committee in hopes of soliciting member participation in this committee. If reader members are interested in membership in this committee, please contact Dr. Banu Symington or Kelly Hess.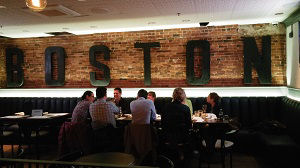 Boston dinner
---
Stopping Unnecessary Distracted Driving Deaths - Especially Newly Licensed Youth (SUDDDENLY)
The Idaho Chapter sponsored Resolution 03-S15, a resolution that asked the BOR to encourage member physicians to educate patients and their teen aged relatives on the risks of distracted driving using already available educational resources. Educational materials are available from a number of places for download; try the following links - Distracted driving resources and Take action against distraction. A video is also available showing how fast an accident can happen.
This resolution was entirely in keeping with the ACPs positions on improving patient's health through responsible use of seat belts, bicycle and motorcycle helmets, smoking cessation, and gun safety. According to the CDC, more than 9 people are killed every day and more than one-thousand are injured from texting and driving and other distractions. You can read more about these statistics. The resolution should give physicians access to tools to address this issue with patients in hopes of decreasing the number of injuries and deaths.
Our initial intent with this resolution was to educate the parents and grandparents of teens. Later we wanted to recruit the parents and grandparents of newly licensed drivers who are part of an internists practice to have them help educate the young drivers. However, as the resolution was circulating and being discussed, several publications suggested the adults might be worse offenders than the teens. More information about this is available at: Adults more likely to text and use phones while driving than teens and Middle-aged worse at texting while driving.
We are pleased to announce that this Idaho resolution met with overwhelming support and was passed. This is now the second Idaho resolution that has made its way through the BOG and BOR of the ACP. We are well on our way to writing a third and will be asking for your comments. To get more involved with the resolutions process, contact Kelly Hess.
---
Congratulations, New Fellows!
The Idaho Chapter had six physicians progress to fellowship this year. Congratulations to our new fellows:
Tina Esther Bronner - Boise
Judith E. Csanky - Filer
Dan S. Fairman - Ketchum
Erich W. Garland - Idaho Falls
Katherine A. Matthews - Boise
Elizabeth B. Olberding - Boise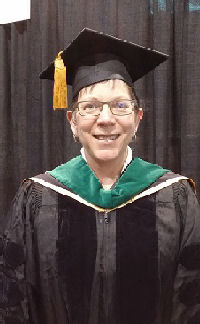 Elizabeth Olberding, MD, FACP walked in Convocation
---
Welcome New Members!
Amy D. Echelberger - Post Falls
Shanda L. Grooms - Boise
---
Congrats, Dr. Symington!
Congratulations to Banu Symington for becoming part of the Executive Committee of the Board of Governors as Class Representative for the Class of 2016. The 2016 class of Governors enjoyed a dinner cruise on the Boston Harbor for their class get together.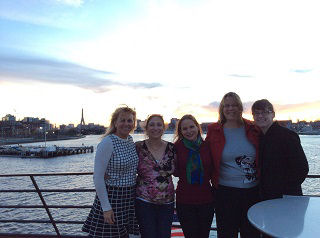 Class dinner cruise
---
I Raise the Rates: The Why and the How to Increase Adult Immunizations
The ACP CENTER FOR QUALITY headed by Laura Lee Hall, PhD partnered with the ACP Idaho Chapter, ACMEC, and St. Luke's Idaho Health System to support a breakfast grand rounds on March 4, 2015 at St. Luke's in Boise. The speaker for the Grand Rounds was national expert, Dr. Robert Hopkins. Dr. Hopkins is a Professor of Internal Medicine and Pediatrics at University of Arkansas for Medical Services College of Medicine. He is the Director of the Division of General Internal Medicine, and is the Director of the Med-Peds Residency Program. He is a member of the National Quality Forum Immunization Measurement group, former member of ACP Immunization Technical Advisory Committee, and is the program director of ACP's immunization programs. He is also the immediate past Governor for the Arkansas Chapter of ACP.
The grand rounds provided an update on recommended adult immunizations and discussed strategies for patient education and outreach within your practices. The program was approved by ABIM for 20 MOC practice assessment (part IV) points. In addition, participants gained CME and access to a host of online tools and expert support for implementing immunizations into their practice. This program was made possible by resources from a cooperative agreement from the Centers for Disease Control and Prevention.
Idaho Chapter members also got together the night before grand rounds for dinner and a presentation by Dr. Hopkins. This was a wonderful opportunity for members to directly converse with Hopkins and each other regarding vaccination issues. Hopkins discussed egg allergies, different vaccinations, and how physicians claim to speak to their patients about vaccinations but few patients agree.
Hopkins' PowerPoint slides on human papillomavirus (HPV) were titled, "HPV: I have good kids - they would never" indicating an issue faced with parents when discussing the vaccine. Hopkins stated physicians should never link the HPV vaccine and sex in initial conversations but to refer to the vaccine as a cancer prevention vaccine. For those of you who missed the talk and would like to view the slides, email Kelly Hess and I will forward them to you.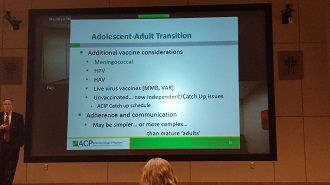 Hopkins Grand Rounds
---
New Chapter Activity - Healthcare Improvement Committee - Need Volunteers
The Idaho chapter has an exciting new committee underway. We applied for chapter development funding and were approved for the full amount to develop a "Healthcare Improvement Committee". This novel concept can break new ground at ACP, improve national healthcare, and improve the day-to-day work environment for physicians.
The Healthcare Improvement Committee will collaborate on challenges facing the national healthcare system and develop programs, specific for Idaho, to address those issues. The committee will develop "pilot programs" for their own areas or practices, addressing problems and working together to measure their success. The ultimate goal of these pilot programs is to develop solutions that can be used on a national level (by starting small at the state level) to improve the physician and patient experience and deliver quality care. Because physicians know the everyday problems, physicians should be able to determine solutions to healthcare system issues.
We would like to find a committee chair and ten to fifteen members to collaborate and begin working on how to coordinate solutions. An example could be how to establish better communication between PCP and specialist for sucessful referrals and subsequent development of tools to address the issue such as referral and response checklists or other resources deemed appropriate. Another example could be Dr. Symington's project to improve the health of the state of Idaho by increasing HPV immunizations or even health care system waste reduction.
Once a group has been established, we plan to have a speaker familiar with healthcare issues to get the meeting going and a dinner in the Boise area. Future communications of the committee should include general feedback from participants, program maintenance issues, associated costs (if any), and viability. Ideally, the committee should appoint one or two project coordinators for reports of the programs success. A Skype account for the Idaho Chapter will be available for periodic progress meetings and email communication to project coordinators are needed to ensure successful progression of committee goals.
Our chapter meetings have proven there are many ideas out there, we need to put them into practice! Members have shown high interest in this so please step forward. If you are interested in this new chapter opportunity, please contact Kelly Hess.
---
Overkill
Just a short mention of a May 11, 2015 article in the New Yorker titled, "Overkill". H. Gilbert Welch, MD is mentioned in this article and his thought-provoking comparisons to cancer, turtles, birds, and rabbits. Gilbert Welch is the Dartmouth Medical School professor who presented a very entertaining and engaging talk at our meeting earlier this year in McCall. The article is about unnecessary medical care and the impact on patients.
---
SGR is History
Another notable accomplishment since our last newsletter is the repeal of the SGR. The U.S. Senate voted 92-8 to pass the Medicare Access and CHIP Reauthorization Act (MACRA). This is a great accomplishment for ACP and for Congress to finally end (instead of patching again) Medicare SGR. MACRA introduces more predictable annual payment updates and establishes a performance-based payment structure, known as the Merit-based Incentive Payment System or MIPS. To read more about this transition, go to: SGR Law Creates Merit-based Incentive Payment System and Incentives for Alternative Payment Model Participation
---
New ACP Physician & Practice Timeline Text Alerts
We are excited to announce a new texting tool to help practices' stay up-to-date on important regulatory requirements and opportunities. Physicians and practice managers can subscribe to time-sensitive updates via their text messaging-enabled cell phone and receive brief reminders about important deadlines and details related to a variety of regulatory, payment, and delivery system changes and requirements. Text alerts may also contain links to both ACP-created and trusted external information and resources that will help you to stay prepared. Access the full Physician & Practice Timeline.
The Timeline includes: Physician Quality Reporting Program (PQRS), Medicare and Medicaid EHR Incentive Programs (Meaningful Use), Medicare Value-Based Payment (VBP) program, ICD-10, Open Payments - the National Physician Payment Transparency Program (Physician Payment Sunshine Act), Transitional Care Management (TCM) codes, and New Chronic Care Management (CCM) code.
Get Started Now! To subscribe, just text ACPtimeline (no spaces) to 313131 on your mobile phone. Text alerts are expected to be sent about 1-2 times a month. Regular text message charges will apply, cancel at any time. If you have questions about this new texting tool, contact Sam Benton.
Stay tuned! Our next newsletter will have key medical highlights from the Internal Medicine Meeting. Also, don't forget to visit the Idaho Chapter Facebook page.