You are here
GOVERNOR'S NEWSLETTER December 2014
GOVERNOR'S NEWSLETTER December 2014

---
---
Letter from the Governor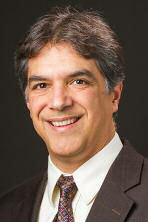 Robert (Rob) J. Nardino, MD, FACP, ACP Governor
As 2014 comes to a close, I want to thank the Governor's Council for all of their efforts during the year. Below, you will read about the work of many of the chapter committees and in particular our highly successful Annual Chapter Meeting. We welcome any members who would like to get more involved - just let me know your interests!
The College continues to present members' concerns to the ABIM regarding Maintenance of Certification. In case you missed it, in an email to membership in October EVP/CEO Steven Weinberger stated ACP's position opposing ABIM's current MOC process "as a necessary or sole criterion to identify and recognize competence and quality of care". To quote again from his announcement, "Both ACP and ABIM are advocating to the American Board of Medical Specialties (ABMS) that the ABIM and ABMS websites should state whether a physician is "Participating in MOC" rather than "Meeting MOC requirements." This would eliminate the potential confusion of someone who has a time-unlimited certificate but is not participating in MOC being reported as 'not meeting requirements,' when MOC was not actually required."
At the same time, voluntary participation in MOC is encouraged. ACP continues its efforts to help members maneuver through the process of recertification. If you haven't yet explored the MOC Navigator, do so now! ACP has created an incredibly useful tool for educating members about MOC and guiding them through the steps. The MOC Navigator explains each requirement and points you to specific modules or tools that are best suited to your current practice situation.
We hope to see you at Internal Medicine 2015, which will be held in Boston April 30-May 2. It is a special year, as ACP will be celebrating its centennial. As always, there will be over 200 scientific sessions presented by premier faculty. Come celebrate with the Connecticut Chapter on Friday May 1 at a special New England Regional Reception, including members from the Massachusetts, Maine, New Hampshire, Rhode Island and Vermont chapters.
---
Annual Chapter Meeting
Naseema Merchant, MD, FACP
The annual meeting of the ACP CT Chapter took place on October 31, 2014 at the Aqua Turf in Plantsville, CT. It was another successful and a very well attended meeting with over 300 attendees and more than 200 resident posters reviewed by over 80 faculty judges.
The day started with the resident poster competition. Congratulations to our winners:
Clinical Vignette Category:
1st Place - Danbury Hospital - Birinder Singh
2nd Place - UConn Primary Care - Jessica Abrantes-Figueiredo
3rd Place - David Edasery - St. Vincent's Medical Center
Research Category:
1st Place - Stamford Hospital - Theo Borgovan
2nd Place - St. Vincent's Medical Center - Suraj Tandon
3rd Place - Norwalk Hospital - Ashley Losier
The winners will have the opportunity to present at the national ACP meeting, Internal Medicine 2015, in Boston at the end of April.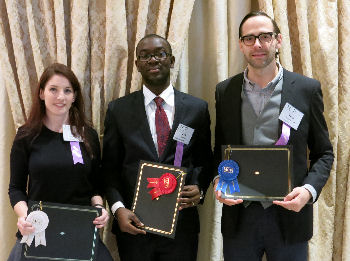 Research Abstract Winners - Ashley Losier, Kofi Osei(accepting for Suraj Tandon), Theo Borgovan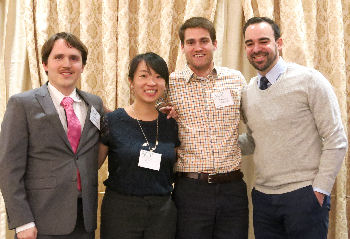 MedChallenge Winners - from the Yale Traditional Program, Joshua Bilsborrow, Jin Xu, Gregory Madden and Ben Cherry
The morning didactic sessions included simultaneous inpatient and outpatient tracks. On the inpatient side, Dr. David Feinbloom from Beth Israel Deaconess Medical Center presented perioperative management of antithrombotic therapy, followed by a talk on update in health care associated pneumonia by Dr. Mark Metersky from University of Connecticut. The outpatient track featured a talk on the new lipid management guidelines by Dr. Paul Thompson from Hartford Hospital, followed by Dermatology for the Internist presented by Dr. Dan Federman from Yale School of Medicine.
During the lunch break, Drs. Eric Mazur and Ernie Moritz shared findings from their review of the resident posters "Hot Topics in Posters" calling attention to the breadth of illness we are encountering in the state and the global nature of medicine.
The afternoon sessions were based on the Choosing Wisely/High Value Care theme. The didactics included a panel discussion with presentations on low value tests and wasteful practices in the inpatient and outpatient settings. Dr. Robert Fogerty discussed low value intervention/practices for inpatients and Dr. Peter Ellis discussed low value interventions for outpatients. In addition to the panel discussion, there was an interactive workshop designed for attendings and trainees on high value care. These two workshops for the attendings and trainees (medical students, interns and residents) were moderated by Dr. Sumair Akhtar and Dr. Alexandra Norcott, a PGY2 from the Yale Traditional Program. The workshops were based on the Yale "Razor Case Conference". The term and the actual conference format were developed to teach students and residents about resource utilization. During the workshop, the attending physicians and trainees competed against one another to create a complete and unifying diagnosis for a patient presented during the session. Both groups reached the diagnosis of relapsing polychondritis. The residents spent $544.41 and the attendings spent $602.41 to reach the diagnosis. The learning objective of this exercise was to teach appropriate resource utilization and to share this as a teaching tool, which can be adapted at other training programs.
The last two sessions of the day were the ABIM SEP module on Geriatric Medicine moderated by Drs. Stephen Atlas and Barry Wu and the Med Challenge competition moderated by Drs. Andrews and Nardino. Members attending the ABIM SEP module are able to get MOC credit; the details of the process were shared with them and are also available on the chapter website. Teams from UConn, UConn Primary Care, Yale Traditional and St. Vincent's competed in the final round of Med Challenge 2014. The Yale Traditional program took the prize, breaking a 10-year winning streak held by UConn. The Yale team of Gregory Madden, Joshua Bilsborrow, Jin Xu and Ben Cherry will have the chance to participate in Doctor's Dilemma at Internal Medicine 2015.
On behalf of the CT Chapter, we thank all the members of the planning committee, our speakers, moderators, participants and many other individuals who supported the chapter to put together a wonderful, highly education and a very well attended program.
---
2014 Chapter Awards
Award winners were announced at the Annual Chapter Meeting on October 31. The Laureate Award for excellent service to the ACP was presented to Drs. Rebecca Andrews and Jason Ouellette. The Thornton Award for medical education went to Drs. Lynn Kosowicz and Rosemarie Fisher. The Henry C. Gift Distinguished Internist Award was presented to Dr. Joseph F. Andrews, and the Volunteerism and Community Service Award was presented to Dr. Saud Anwar. You can see their biographies on the chapter website.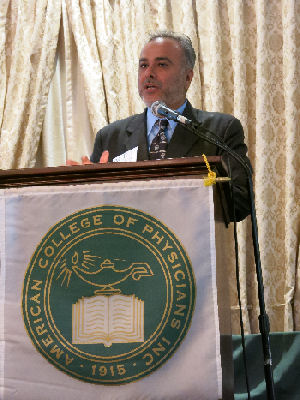 Saud Anwar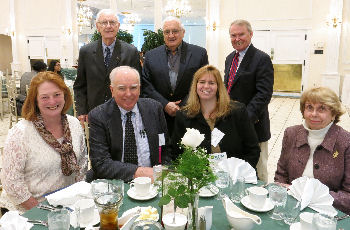 Joseph Andrews, seated second from left, front row, pictured with colleagues from CT Hospice
---
Early Career Physicians Update
Marilyn Katz, MD, FACP and Douglas Olson, MD
Did you graduate from medical school after 1998?
Then congratulations! You are an ECP [Early Career Physician].
ACP defines an early career physician as anyone who has graduated from medical school in the last 16 years!
The Early Career Physician committee has been active and busy throughout these past few months. After two networking happy hours in New Haven and Hartford earlier this fall, we had a leadership dinner in Middletown on November 12th.
The dinner was a two-part event that began with an excellent webinar on leadership hosted by the ACP Leadership Academy featuring Molly Cooke, MD, MACP, Immediate Past President, American College of Physicians and Steven E. Weinberger, MD, FACP, Executive Vice President and Chief Executive Officer, American College of Physicians.
[If you missed it: all the resources of the ACP Leadership Academy are a benefit of being an ACP member and available here.]
At the dinner, we discussed the webinar, how it applied to the CT ECP members' leadership styles and trajectories, and got to hear from the successes and challenges of four local ACP leaders:
Robert Nardino, MD, Governor, CT Chapter, American College of Physicians
James Cox-Chapman, MD, Chief Medical Officer - Pro Health Physicians
Janice Oliveri, MD, Medical Director - Hartford Healthcare, Wethersfield
Cheryl Oncken, MD, Professor of Medicine, University of Connecticut School of Medicine
We will be having additional networking events in 2015 and are considering additional organized events dealing with maintenance of certification, healthcare reform and financial planning. If you have a special interest, let us know!
Doug Olson, MD and Marilyn Katz, MD, Co-chairs, Early Career Physicians
---
ACP-CT Resident and Fellows Council
By Rebecca Andrews, MD, FACP
Fall is always a busy time for the Resident-Fellows Council because we have so many activities. This year we added to the fall schedule with an initiative to reach all new residents and a mentorship event. If you think back to match day, not long after we reached out to those CT medical students staying in the state as well as asking medical schools to pass our information on as a council to the incoming students that would be here as internal medicine residents. This was followed with a recent event in October on careers in internal medicine. We had just shy of a dozen attending physicians discuss their unique work in internal medicine over dinner with residents at a restaurant in Middletown. Featured were a Dean, medical educators, work in the department of corrections, how to transition to administration, community health centers and care for vulnerable populations, research, and private practice. Most intriguing were the discussions of how career paths are rarely a straight line and how to take advantage of opportunities that come your way. The event was such a success, I have already asked the attendings to plan on a repeat session next year.
We continue our Educational Toolbox series at the Connecticut Institute for Primary Care Innovation (CIPCI) centered at St Francis Hospital in Hartford. The next upcoming talk will be on disability basics, assessment, cost to the patient and society in November. The event is open to attendings and residents alike and can be found on the CIPCI website for registration.
Our annual meeting continues to grow with over 200 resident abstracts representing clinical vignettes and research topics. The competition was very tough this year and I encourage residents to submit their work nationally before the 12/1/14 deadline. The annual scientific meeting is the centennial and close to home in Boston, MA.
Lastly, I would be remiss in discussing the Doctor's Dilemma/Medical Jeopardy contest. We had such a committed group of individuals writing questions and pushing to have the quality and type of question mirror the national competition. This year, St Vincent's, Yale Traditional, UConn Traditional, and Uconn Primary Care programs were the contenders in the final. Congratulations to the Yale Traditional Program for their win and good luck at the national competition in May!!
---
Medical Student Update
By Ellen Nestler, MD, FACP, Tamar Stokelman, MS II, Yao Wang, MS II
Our medical student liaison groups have been hard at work trying to recruit new members. The University of Connecticut School of Medicine recently surpassed their goal of 30%, with 31% (121/386) of students enrolled as ACP members. As of November 1, 2014, the Yale University School of Medicine had 26% ACP participation with 136 out of 519 students enrolled for ACP Medical Student Membership. Quinnipiac University's Frank H. Netter MD School of Medicine has formed an Internal Medicine Interest Group (IMIG) earlier this year in 2014. They have a total enrollment list of 54 students, from which eight students make up the officer committee. We hope to increase all of these numbers further by December 31, 2014 when the ACP's Internal Medicine Interest Group program recruitment period ends.
Each of the groups has been discussing ACP opportunities and membership incentives at each Internal Medicine Interest Group meeting to raise awareness and increase membership. Upcoming events include UConn's "Lunch and Learn" series where students discuss ACP's core values and mission; Quinnipiac's meeting with IM subspecialists and procedure clinics; and Yale's Careers Seminar. Representatives of the three schools are actively working to create a community service and/or mixer event in early March to increase interest in ACP and internal medicine in general.
---
2014 Chapter Excellence Award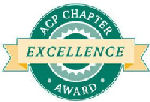 I am pleased to announce that our chapter is in receipt of the 2014 Chapter Excellence Award! The award recognizes chapters which successfully meet the standards for managing a chapter. In order to achieve the Chapter Excellence Award, chapters must meet all basic criteria and seven optional criteria. Criteria include such activities as formulating an effective Governor's Council and committees, communicating frequently with membership, providing educational opportunities, recruiting and advancing members and celebrating membership through local awards. I would like to extend a special thanks to those chapter members who assisted me in all of these endeavors! For their hard work and dedication, we received this award.
---
ACP Course Helps Prescribers Safely Prescribe Opioids, Meeting FDA Requirements
In April 2011, the U.S. Food & Drug Administration's (FDA) Risk Evaluation and Mitigation Strategy (REMS) issued a mandate to ensure that the benefits of a drug outweigh its risks (in patients whose clinicians have determined ER/LA opioid analgesics to be an appropriate treatment option).
The FDA has determined that a single, shared REMS is required for all brand and generic extended-release (ER) and long-acting (LA) opioid (narcotic) pain medicines. Under this REMS, the companies producing ER/LA opioid analgesics are required to make independent, accredited education/training available to all ER/LA opioid analgesic prescribers. The FDA required manufacturers of ER/LA opioid analgesics, known as the REMS Program Companies (RPC), comprised of 11 pharmaceutical companies, to support education for prescribers of these medications. RPC-supported REMS education is to be provided through accredited continuing education (CE) activities supported by independent educational grants from these ER/LA opioid analgesic companies.
To assist in this effort, the FDA has developed a Blueprint for Prescriber Education for Extended-Release and Long-Acting Opioid Analgesics ("FDA Blueprint") that is posted on the website. More than 30 CME and CE providers-including ACP and its curriculum partner Pri-Med-have been approved by the RPC to deliver the FDA's REMS-compliant curriculum.
ACP and other CME and CE providers are required to deliver the curriculum as provided by the FDA and created by their experts with no deviation, including the use of brand names. The FDA's intent was to standardize the curriculum and have the exact same message and content delivered regardless of the CME or CE provider. It is the provider's responsibility to ensure that their program maintains compliance with Blueprint requirements. The ACP course launched on June 15, 2013. It offers CME credit and is available through www.acponline.org and www.pri-med.com/SAFEopioidprescribing.
---
ACP Leadership Academy
The ACP Leadership Academy provides early career internists with the skills and knowledge necessary to become leaders in medicine.
The program includes formal live and online courses offered in partnership with the American College of Physician Executives (ACPE), the nation's largest leadership training organization for physician leaders. Online courses are offered as self-study or faculty led and includes topics such as strategic thinking, financial decision-making, managing physician performance, marketing, ethics, quality management and more.
All courses are eligible for CME credit through the ACPE. They were selected to provide episodic leadership training for members who want to brush up on a specific content area or to earn credits toward the Certified Physician Executive (CPE), a nationally recognized leadership certificate from the ACPE. Credits may also roll into an advanced degree program from selected accredited universities. ACP members receive a 15% discount on approved courses.
In addition, the ACP Leadership Academy is currently accepting registrations for a series of FREE (non-CME) webinars on a variety of leadership topics. Topics currently scheduled include:
December 2, 2014 - Topics in Hospital Medicine: Team-Based Leadership
January 20, 2015 - Topics in Hospital Medicine: Developing Effective C-suite Partnerships
March 17, 2015 - Personal Financial Planning for Physicians
May 19, 2015 - Population Health
All webinars start at 6:30 p.m. ET.
To learn more about the ACP Leadership Academy and to register for the free webinars visit the Lead website. If you have questions, please email.
---
Congratulations to Our New Fellows!
Nana Adwoa Andoh, MD, FACP
Steven Angelo, MD, FACP
Michael A. Ayepah, MD, FACP
Lucile Burgo-Black, MD, FACP
Pia Dogbey, MBChB FACP
Vasanth S. Kainkaryam, MD, FACP
Ebenezer A. Kolade, MD, FACP
Maricar F. Malinis, MD, FACP
John P. Moriarty, MD, FACP
Elizabeth A. Ofori-Mante, MBchB, FACP
Douglas P. Olson, MD, FACP
Kim-Thu C. Pham, MD, FACP
Jason J. Sico, MD, FACP
Neil D. Stein, MD, FACP
Yelena Titko, MD, FACP
Alfred A. Vichot, MD, FACP
---
Welcome to Our New Members!
Check out the Connecticut Chapter new Members.