You are here
Connecticut Governor's Newsletter June 2016
Connecticut Governor's Newsletter June 2016

---
---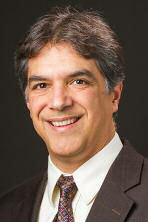 Robert J. Nardino, MD, FACP, ACP Governor
---
From the Governor
In case you missed the December newsletter, I want to introduce our Governor-Elect, Rebecca Andrews, MD, FACP. She has just completed her term as chair of the national Early Career Physicians Council. You can see her bio on our chapter webpage.
The most important immediate issue facing practicing physicians is MACRA, the Medicare Access and CHIP Reauthorization Act of 2015. Getting the SGR repealed was a big win. However, what came in its place is MACRA and there is a lot you need to know about it. Starting in 2019 physicians will begin participating in either the Merit-Based Incentive Payment System (MIPS) or an Alternative Payment Model (APM) to earn additional increases in their Medicare payments. Details continue to evolve; however, it is fully expected that the measurement/reporting periods for MIPS and APMs will take place starting in 2017. Most practices as currently designed will qualify for MIPS. MIPS adjusts fee-for-service payments up or down based on performance in a new reporting system. This new reporting system will combine several existing Medicare reporting programs; the Physician Quality Reporting System (PQRS), the Medicare EHR Incentive Program, and the Value-Based Payment Modifier Program—and also adds in a new component, Clinical Practice Improvement Activities. APMs, on the other hand, will approach payment differently based on value and quality. At the outset, enrollment in APM will be limited to those qualifying based on participation in CMS Innovation Center models, the Medicare Shared Savings Program, demonstrations under the Health Quality Demonstration Program, and other demonstrations initiated by Federal law. However, this will continue to evolve over time. A full explanation of MACRA is well beyond the scope of this article. I urge you to review the ACP page on MACRA. Some of the information is summarized in "MACRA explained in two pages. " If you are new to the topic, though, check out Questions and Answers about MACRA from ACP and Top 10 Things You Need to do for MACRA.
Below, you will read updates from many of our committee leaders. The chapter is thriving and I am indebted to the hard work and dedication of these colleagues.
---
Call for Spring 2017 Board of Governors Resolutions
Are you concerned about a practice or clinical issue or have an idea you'd like to suggest? If so, you might consider submitting a resolution to your Governor or chapter council.
Initiating a resolution provides ACP members an opportunity to focus attention at the ACP national level on a particular issue or topic that concerns them. Participating in the Board of Governors resolutions process provides the ACP grassroots member a voice and allows you to shape College policy that impacts the practice of internal medicine. When drafting a resolution, don't forget to consider how well it fits within ACP's Mission and Goals. In addition, be sure to use the College's 2016-2017 Priority Initiatives to guide you when proposing a resolution topic.
Not sure how to begin drafting a resolution? Researching the College's position on an issue can give you a start. Visit the ACP Online homepage and click the "Advocacy" link in the right-hand, top margin to access ACP policy positions, read about recent ACP advocacy activities, or search ACP's library of policies and recommendations. Visit your chapter website, too, and click the link under "Advocacy" to access Electronic Resolutions System (ERS) where you can search past or proposed resolutions. A copy of the resolutions process is available on the ERS which furnishes more details on formatting resolutions, as well the process for submission, review, and approval.
Members must submit resolutions to their Governor and/or chapter council. A resolution becomes a resolution of the chapter once the chapter council approves it. If effecting change interests you, the deadline for submitting new resolutions to be heard at the Spring 2017 Board of Governors Meeting is September 28, 2016.
Share your good idea with us. Draft a resolution.
---
Health and Public Policy Committee Update
By Keith vom Eigen, MD, FACP
The Connecticut Chapter had a larger than usual representation at ACP's Leadership Day in Washington DC (May 4), due to coordination of the annual advocacy event with this year's Internal Medicine Meeting. This year we mustered a group of 13 attendings, residents and students to meet with our legislators in the House and Senate to promote ACP's health policy agenda. With elimination of the SGR last year, we were able to tackle a variety of other issues on which ACP has been active in developing and promoting policy solutions. Some of these focus on changes in the financing system and practice environment to enable physicians to make better use of Health Information Systems and other technological innovations such as Telemedicine. Physicians facing the challenges of incentive systems under MACRA will need to be able to leverage these tools to maximize their efficiency in meeting targets for clinical outcomes and high value care. ACP also supports policies that pay physicians fairly for the time and effort required to incorporate Chronic Disease Management, Behavioral Health and Population Health into their practices. These innovative approaches to patient care show great promise in improving patient outcomes while controlling costs, but are unlikely to be taken up without payment systems that support their adoption.
Another issue we discussed with legislators is the threat that rising prescription drug prices poses to the health care system in terms of higher costs and reduced access to care. ACP supports improvements in the FDA drug approval process to streamline and reduce the cost of drug development, while increasing the transparency of drug pricing. It also supports giving CMS the authority to negotiate drug prices with pharmaceutical companies, as the VA is already able to do.
We also discussed reforms that ACP supports in Graduate Medical Education to increase the number of residency training positions and adjust specialty distribution to meet national workforce needs. ACP would like to see payment for GME expand beyond Medicare to include other payers who also benefit from the availability of highly trained physicians. It also supports a more transparent and simplified GME system to ensure that funding allocated for training goes to educational programs.
ACP has also responded to concerns about the growing problem of opioid abuse that we have seen in Connecticut as well as other parts of the US. ACP supports legislation to expand educational programs to reduce the abuse of opioids and other substances, and to increase the availability of treatment for those suffering from addiction. It also supports creation of a Task Force to develop and disseminate best practices for pain management.
Participation in Leadership Day is a great way to get a better understanding of the policy issues that affect us on a daily basis. Although health policy can be intimidating, it is critical that we stay engaged to ensure we have a say in how our health care system evolves. It is also eye-opening to see how "the sausage is made" in Washington, and to realize that our legislators depend on us to keep them informed about what is happening with our patients "on the ground." If you are interested in learning more about ACP policy priorities, the Leadership Day website as summaries of these, along with information about the legislative process and the current legislative environment.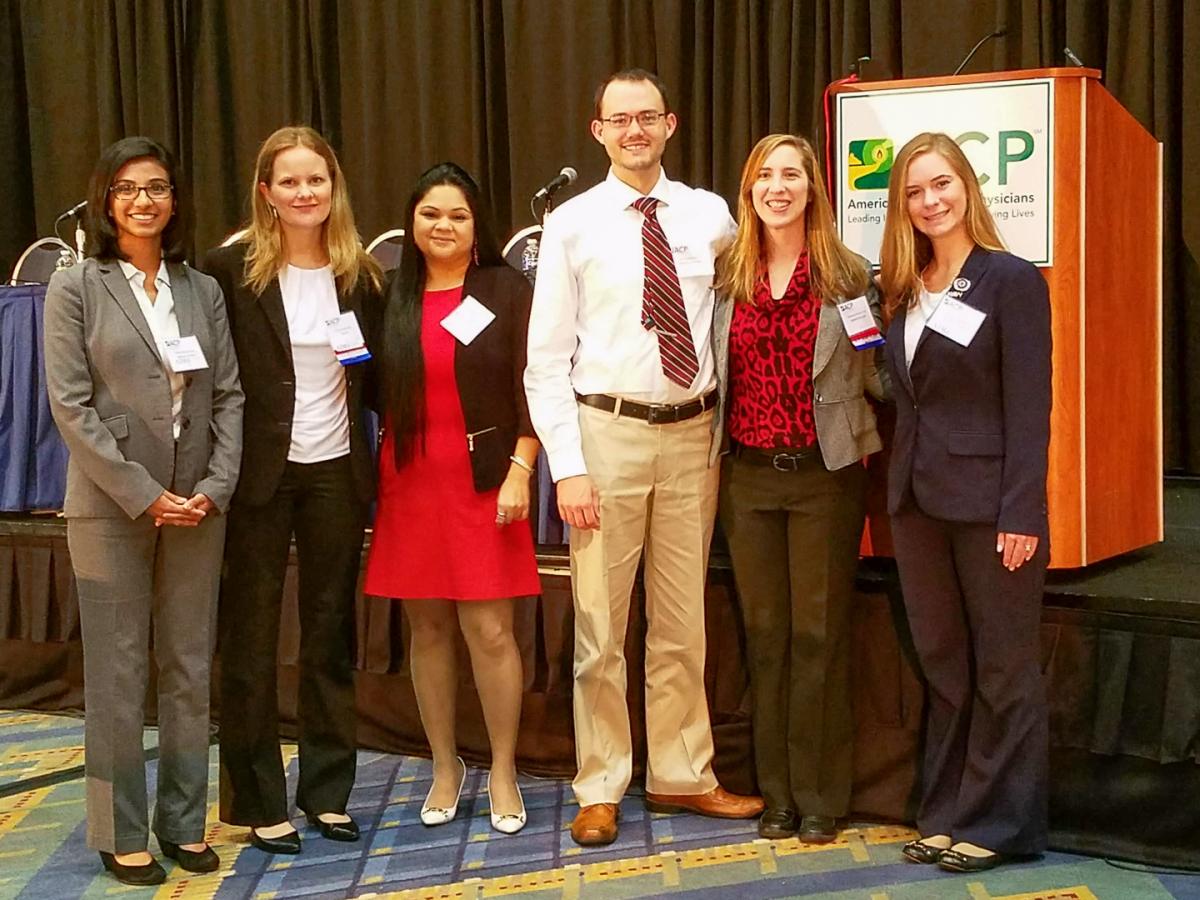 Future of ACP: ECP, RFM and student members at the Leadership Day Advocacy Workshop. From left, Isabel Balachandran, Diana Sewell, Varidhi Nauriyal, Eric Wiglama, Alex Norcott, and Jackie Olson.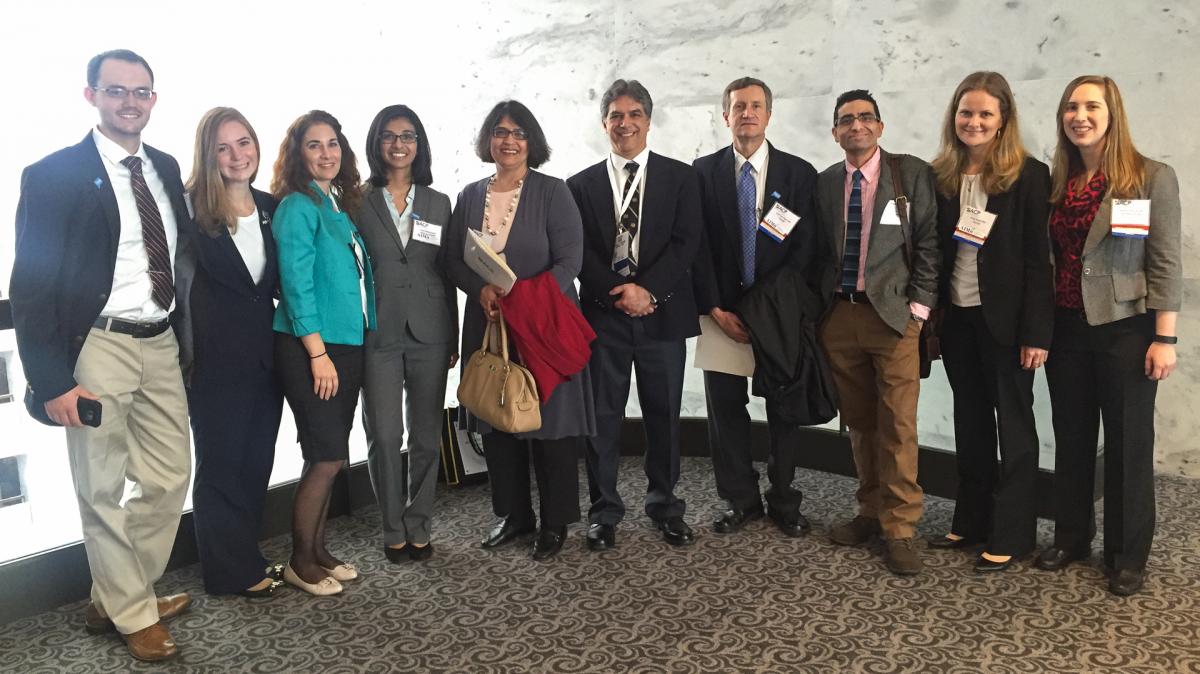 The Connecticut ACP delegation at the Hart Senate Office Building. From left, Eric Wiglama, Jackie Olson, Rebecca Andrews, Isabel Balachandran, Naseema Merchant, Rob Nardino, Keith vom Eigen, Imran Ali, Diana Sewell, and Alex Norcott.
---
Diversity Committee Notes
By Varidhi Nauriyal, MD, FACP and Naseema B. Merchant, MD, FACP
The Diversity Committee was busy this spring organizing the first ever "VISA FAQ" event in collaboration with our Early Career Physicians and Resident-fellows Council committees. We invited Ms. Lauren M. Hopwood – Attorney at Law at LeClair Ryan in New Haven who graciously agreed to serve as the expert guest speaker for the dinner event. A total of 18 residents/fellows/hospitalists attended the dinner and we had a very interactive session. Questions were brought up not just about Visa and green card process about also about licensure and job search. Our chapter will be working towards making this an annual event and promoting it at a national level. We will explore the possibility of organizing other similar events for example licensure and post residency job search FAQ based on suggestions made by the participants at this event.
We are now focusing our attention on organizing our next Women in Medicine breakfast event at the annual Chapter meeting on October 28, 2016. Stay tuned for details for this event!
We are happy to announce that the Diversity Committee has increased by two additional members: Cristina Hung-Kropas and Kristine Lisi, who joined this past January. If you have suggestions or ideas on how this committee can serve your needs and interests, please email Varidhi Nauriyal and/or Naseema B. Merchant.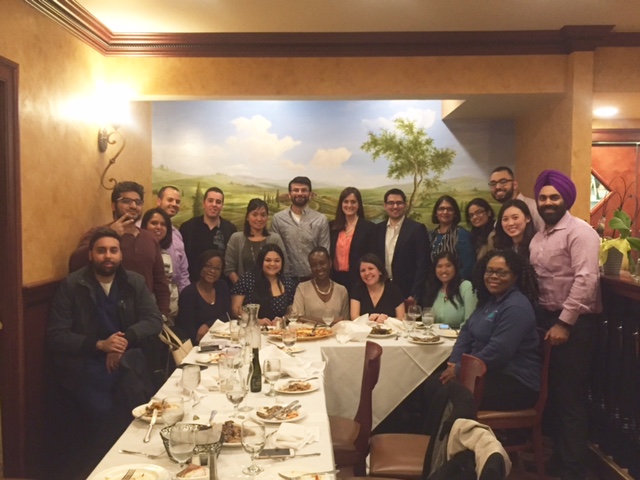 Visa FAQ Dinner Event
---
Council of Early Career Physicians Update
By Marilyn Katz, MD, FACP
The CT Council of Early Career Physicians (ECP) has been busy with both collaboration and events!
As a reminder, ACP's definition of an ECP is anyone within 16 years of graduating from medical school….so if you graduated from medical school in or after 2000, we would love for you to join our events!
In February the ECP Council along with the Residents and Fellows Council hosted An Update on Healthcare Reform in Middletown. A discussion among a dozen attendees, led by Dr. Robert McLean, identified ACP initiatives and progress and highlighted ways that physicians can get involved locally and nationally in advocating for health reform.
Along with the Diversity Committee, the ECP Council sponsored a very successful event on the unique workforce issues encountered by foreign medical graduates, and how to successfully navigate the process of beginning a career in medicine, ideally here in CT! Many thanks especially to the Co-Chair of the Diversity Committee Dr. Varidhi Nauriyal (also an ECP member!) for making this a wonderful event.
The summer and fall will feature another volunteer event and planning for other events of interest to ECPs. If interested or if you have ideas for programming, please contact Marilyn Katz or Maria Franco Vega, Co-Chairs, Early Career Physician Council, with suggestions.
---
Council of Resident-Fellow Members Update
By Rebecca Andrews, MD, FACP
Every year, the chapter reviews possible candidates for state and national awards. If you know any faculty members at your institution that are excellent scholars and teachers, please forward their names to the Governor's Council. While the awards to be announced at the annual chapter meeting are usually decided in June and national awards have a July 1 deadline, it is never too early to begin consideration for the following year.
Please be on the lookout for open positions on national councils and committees as well. We had several residents apply last year and I would like to continue that trend. The notices are posted on the main ACP website in October and the deadline is always late October or early November.
I did not get a chance to view the full list of posters at Internal Medicine 2016, but I did see the winning clinical vignette abstract from our annual scientific meeting at the national meeting in Washington D.C. and was granted a personal presentation by the author, Dr. Ana Onuchik from the UCONN Categorical program. A reminder for this year: start looking for cases early! Abstracts to the chapter meeting should be based on cases you actively took part in or research that you were involved in. Keep the wording of the poster clear, with contrasting colors, and spell-check twice.
I would also like to engage the faculty and private physicians in the state. Those of you interested in judging posters at our Annual Scientific Meeting or contributing MedChallenge (medical jeopardy) questions, please reach out to Dr. Nardino as well.
Recent RFM Council Events:
Joint programs with the Early Career Physicians: day of service 11/21 and how to get involved with advocacy and an update on healthcare reform in February
A program involving the diversity committee, early career physicians council, and our council reviewed licensure, visa, and other "practice-ready" questions in April.
There will be one last event this academic year in June. An announcement will go out with a few weeks' notice.
---
Medical Student Committee Update
By Barry Wu, MD, FACP; Ellen Nestler, MD, FACP; Ilene Rosenberg, MD, FACP
This year we are thrilled that 24 out of 84 graduating students or 29% of the class from Yale School of Medicine and 18 out of 79 graduating students or 23% from University of Connecticut are entering internal medicine or primary care. For over the past decade, the Connecticut Chapter of the ACP has given an award at graduation to a student for outstanding academic achievement and service who is entering internal medicine or primary care residency in Connecticut. This year the Connecticut Chapter ACP Internal Medicine award was bestowed upon Aaron Vassell from Yale School of Medicine and Jonathan Stock from the University of Connecticut. Both are joining the Yale Traditional Internal Medicine Residency program. We look ahead to next year and a student from the first graduating class from the Frank H. Netter, MD School of Medicine at Quinnipiac University also receiving this honor.
From the University of Connecticut: Three-year CT ACP student council representative, David Oveisi, is off to UCLA for residency in Internal Medicine. David was the recipient of the Carl F. Hinz, Jr. Award for Excellence in Scholars in Medicine (the Internal Medicine Interest Group) presented at the Senior Awards Luncheon on May 6th. Along with Erin Gombos (our rising 3nd year student rep), David organized a panel of generalists and specialists to speak about career options in IM. The group included Drs. Jason Ryan (Cardiology); Laurie Caines and Ellen Nestler (Primary Care), Karen Hook (Heme/Onc), Pooja Luthra (Endocrinology); Ray Foley (Pulmonary/Critical Care) and Lalarukh Haider (Nephrology). It was well attended and noted to be quite helpful for the attendees; ample discussion was generated.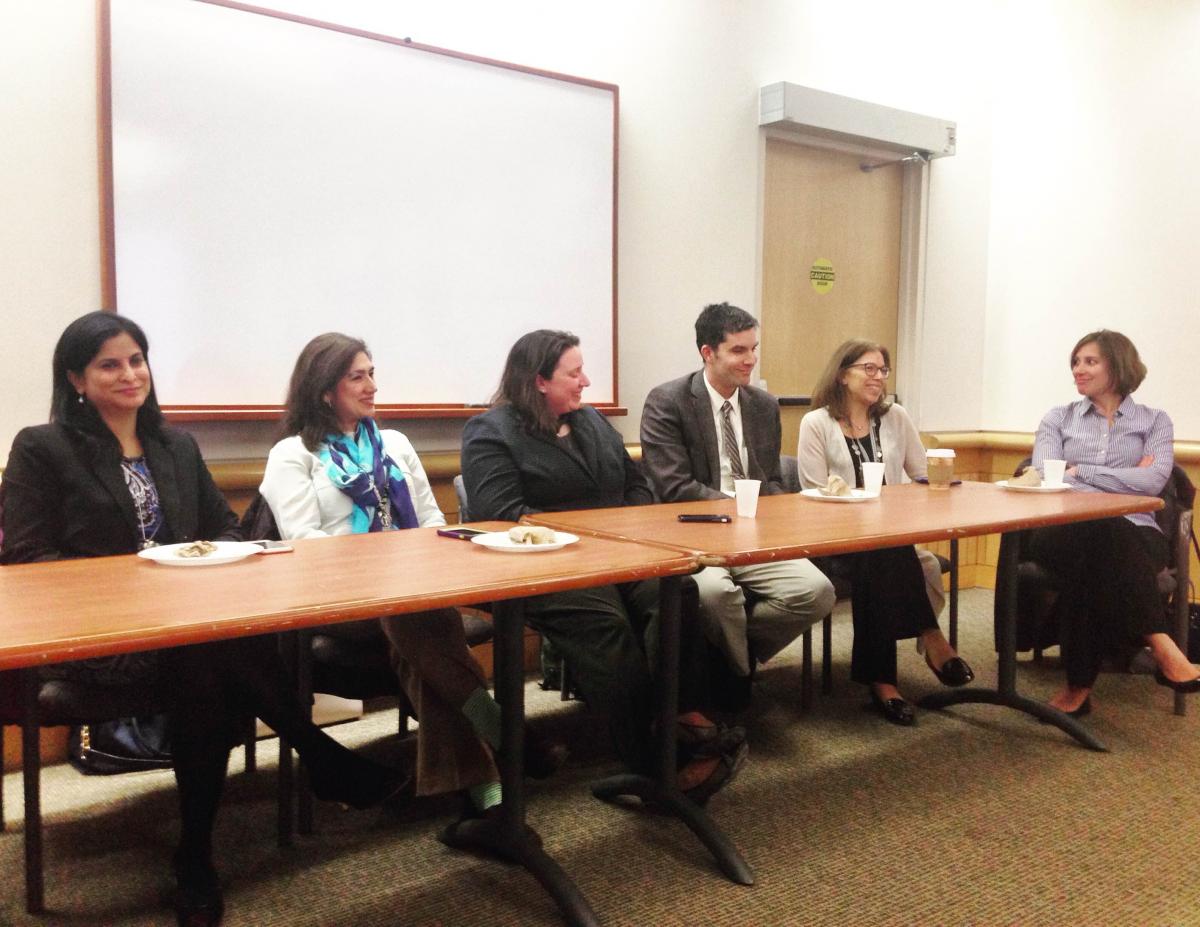 UConn Faculty Panel Speaks about Career Option in Internal Medicine
From the Frank H. Netter MD School of Medicine, Quinnipiac University: The Quinnipiac Internal Medicine Interest Group has started a series entitled "Find out What Internal Medicine is All About". The group hosted private practice physicians from Internal Medicine (Dr. Andrea Radebold), Gastroenterology (Dr. Renu Umashanker), Hematology Oncology (Dr. Johanna LaSala) and Rheumatology (Dr. Elise Carlson). The IMIG hopes to continue this series next year to represent all the subspecialties. In another event, Dr. Jason Ouellette, Chair of Medicine and Director of the Internal Medicine Residency Program at Saint Mary's Hospital, gave a wonderful discussion about the residency selection process. The IMIG also started a Peer-to-Peer Coaching Subgroup in which the students go through a process to ensure proficiency in the Physical Exam and then coach fellow classmates to perfect their skills. Rachel King has been elected student President of IMIG for the coming year.
---
Annual Chapter Scientific Meeting Update
By Diana Sewell, MD, FACP and Naseema B. Merchant, MD, FACP
The countdown to the annual meeting has started! We have less than less than 5 months to go until the annual meeting on October 28, 2016 at the Aqua Turf Club in Plantsville, CT. The meeting gets bigger and even more exciting with lots of learning and networking opportunities for everyone. The chapter strives to meet the needs of all of its diverse members including medical students, residents and practicing physicians from academic and practice backgrounds. Our planning committee has worked hard to make sure we have something for everyone.
The morning will start as usual with the poster exhibit and competition by our internal medicine residents from various training programs across the state. Based on the overwhelmingly positive response from the Women in Medicine networking breakfast event last fall, we are looking forward to host it again this year. New highlights this year for the morning events include a physical diagnosis and peripheral smear interpretation workshop for medical students (but open to all), physician wellness stations and an informational session on the new important developments pertaining to physician payment and other regulatory updates relevant to physicians (MACRA).
Poster judging will be followed by the main program, which will start at 10:00 a.m. with two separate parallel tracks for inpatient and outpatient care. The outpatient track will feature current updates on the rational use of diabetes drugs and functional GI disorders. We are excited to feature the ABIM SEP module, 2016 Update in Hospital Medicine in the inpatient track. This will be a great opportunity for hospitalists to brush up on their knowledge on inpatient care and also obtain MOC.
Lunchtime will feature a keynote address on Restoring the Narrative to clinical documentation, the awards ceremony and the annual business meeting led by the chapter governor Rob Nardino. The session following lunch is guaranteed to keep everyone excited and engaged in their seats. This new interactive session is the "Thieves Market." In this unique interactive session, a seasoned clinician presents unusual cases and members of the audience are asked to participate – the winner being the person who ultimately shouts out the correct diagnosis. Those of you who have attended the Thieves Market session at the national ACP can vouch that this is a great and fun way of learning together.
We are happy to offer our popular "Razor Case" session once again this year to run parallel with the "Thieves Market". This is an interactive workshop focusing on appropriate resource utilization for inpatient and outpatient care as part of promoting ABIM's "Choosing Wisely" Campaign. This case based interactive workshop is run by Yale chief residents and involves students, house staff and attending physicians, all working in separate locations to reach the diagnosis using as little money on diagnostic tests as possible. The idea is to promote clinical thinking and offer a health competition between trainees and attending physicians to see which group can come up with the diagnosis with the least amount of money spent.
Our day will end with two of our longtime favorite sessions – the MedChallenge competition and a review of an ABIM SEP module (2016 Internal Medicine Update – this is distinct from the Hospital Medicine module presented in the morning).
This day is jam-packed with multiple and simultaneous opportunities for learning, networking, and relaxation. You do not want to miss this day! Please mark your calendars and request your time off now. If you are interested in being a judge for resident posters that day, please contact our chapter administrator Nancy Sullivan. Keep an eye out for more information about how to register for the meeting and sign up for sessions and workshops. Hope to see you all there.
---
MOC Update
The big news about MOC at Internal Medicine 2016 last month was the ABIM's announcement that they are planning to offer an option instead of the 10-year secure exam. The new option will be comprised of shorter assessments that doctors can choose to take on their personal or office computer—with appropriate identity verification and security—more frequently than every 10 years but no more than annually. These assessments would provide feedback on important knowledge gap areas so physicians can better plan their learning to stay current in knowledge and practice; and if successful on these shorter assessments, physicians can "test out" of the current assessment taken every 10 years but still remain certified. The target date for availability is January 2018. There will be a public comment period after the details are announced later this year, so stay tuned!
If you were present for Internal Medicine 2016 in Washington, you are eligible to obtain MOC credit. Visit the MOC Points page to answer the question modules. Sign in with your ACPonline username (restricted to registered attendees). Complete the questions, check your answers, enter your ABIM MOC candidate number, and click to submit to ABIM. Successful completion of a module – a score of 60% or higher – qualifies for 10 ABIM MOC points. Earn up to a total of 30 MOC points. Modules must be completed by April 30, 2017. Each module spans a broad range of clinically-relevant topics, contains 30 multiple-choice questions and is available online at no cost to all Internal Medicine Meeting 2016 attendees.
At our upcoming chapter meeting at the Aqua Turf Club, October 28, we will be offering two different SEP modules for MOC credit: 2016 Update in Internal Medicine, and 2016 Update in Hospital Medicine.
---
New Online Opioid Education Modules, Video Now Available
ACP developed online training modules, with Pri-Med, to educate clinicians about best practices when prescribing opioids to patients and to help prescribers manage risk for abuse and inappropriate use. With approximately 100 million adults in the U.S. suffering from chronic pain, the nonmedical use of prescription opioids has become a public health issue, and prompted the U.S. Food and Drug Administration to establish the Risk Evaluation and Mitigation Strategy (REMS) mandate. A total of 26 Continuing Medical Education (CME) and Continuing Education providers, including ACP, have created educational initiatives to help prescribers ensures that the benefits of a drug outweigh the risks for patients receiving extended release and long acting opioids.
The REMS training modules provide comprehensive educational information for primary care clinicians, and can be completed for CME credit. Access the online modules for additional information.
A brief video from Steven Weinberger, MD, FACP, executive vice president and CEO of ACP, highlights the initiative's goal of reducing misuse, abuse and overdose deaths associated with prescription opioids.
---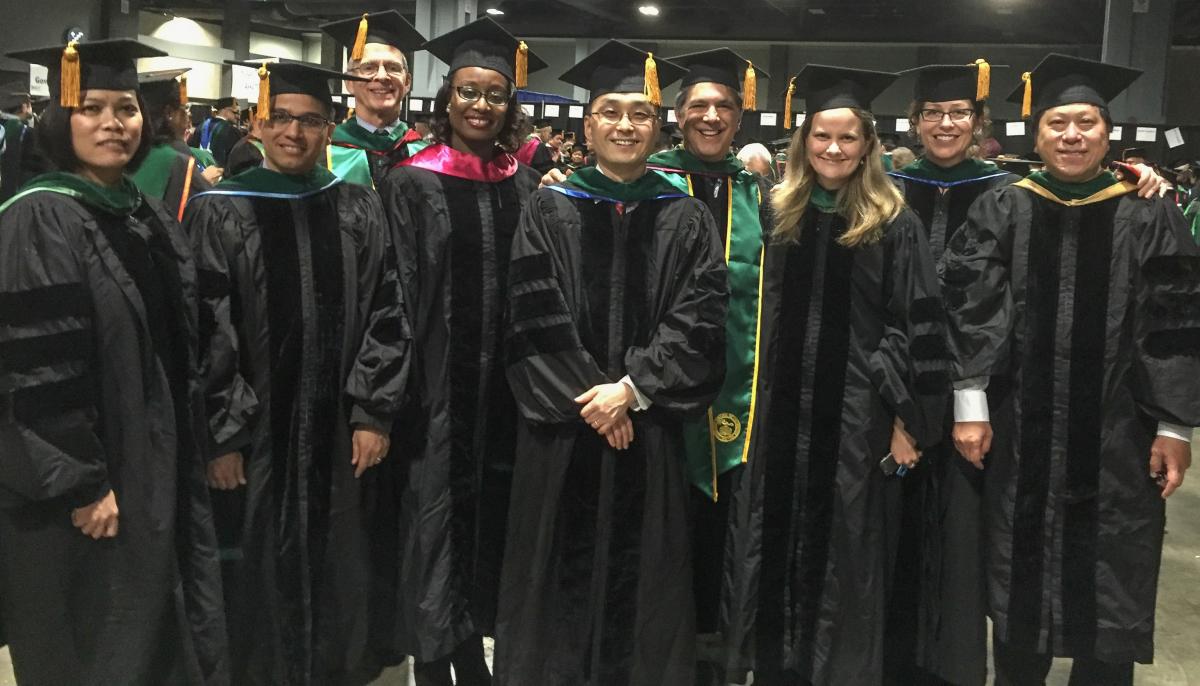 Connecticut Chapter Delegation; Convocation, Internal Medicine 2016
Congratulations to New Fellows!
Olukemi T. Akande, MBBS FACP
Kolawole O. Atandeyi, MD FACP
Todd Cassese, MD FACP
Jaclyn Cox, DO FACP
Bidur Dhakal, MD FACP
Mark E. Goldin, MD FACP
Amy Hopkins, MD FACP
Shihab Masrur, MBBS FACP
Diana L. Sewell, MD FACP
Elizabeth A. Tillman, MD FACP
Donna M. Windish, MD FACP
---
Welcome New Members!
Richard F. Desouza, MD
Lydia S. Dugdale, MD
Olatokunbo Famakinwa, MD
Skerdi Fotjadhi, MD
Venkata C. Gourineni, MBBS
Lasha Jaiani, MD
Marie Kieras, MD
Monica Lockwood, MD
Mark L. Metersky, MD
Naomi Nomizu, MD
Nnenna C. Ogundipe, MD
Cheryl A. Oncken, MD
Bhooshan Manuja Perera, MBBS
Jack W. Ross, MD
Natalee Sansone, MD
Jennifer Taylor, ANP-C
Vasudha Vallabhaneni, MD
Sandeep Varma, MBBS
Jason XU, MD
Jin Xu, MD