You are here
Connecticut Governor's Newsletter January 2018
Connecticut Governor's Newsletter January 2018

---
---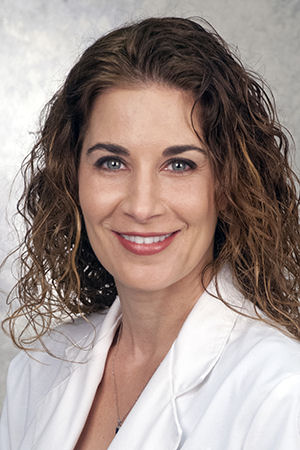 Rebecca A. Andrews, MD, FACP, ACP Governor
---
From the Governor
The news has once again been consumed with the ACA, DACA, tax reform, and budgetary concerns. In the midst of this political tennis match, hopefully you will find pleasant distraction with this "fall" newsletter just as we enter the New Year here in CT. We have had an extremely successful year with awards highlighting our phenomenal physicians, changes and growth within our programs, and expansion of our committees. In a bittersweet moment, we say goodbye to Nancy Sullivan, our longtime Executive Director. She holds the tile for the longest reigning director and has served through five governors and 20 years. We welcome our new management group Lutine Management Associates and are developing a permanent email and website for improved contact with our council and the CT ACP. We realize that many of you may get your information from varied platforms. Any ideas or comments can be sent to the Governor's Council via the following ways: email, responding to these newsletters, our Facebook page, and moving forward we will have more information regarding phone access.
Any nominees for national and local awards (described below) would be welcome. Let's keep up our trend for success. Think of colleagues who the council may not hear about personally and send in their names with a brief blub. Feedback or ideas for the annual meeting are also timely as our program planning committee will start the task of planning 2018 this month.
Below are all the superb physicians from the Connecticut Chapter who have been recognized locally and nationally this year as well as an update with pictures from the annual meeting. I hope you relaxed for the holidays and my very best wishes for a happy and healthy 2018!
---
National Notoriety
Eric M. Mazur, MD, MACP
Our very own Naseema Merchant was recognized in the ACP Hospitalist's 10th annual Top Hospitalist issue. You can read more about Naseema and the other awardees here.
Connecticut has had a very successful year in obtaining recognition for its State internal medicine community from the national American College of Physicians (ACP). National level awardees will be officially recognized at the annual ACP Meeting in New Orleans, LA, April 19-21, 2018. Three Connecticut physicians will be named new Masters of the College:
"ACP Bylaws state that Masters shall be Fellows who have been selected because of "integrity, positions of honor, eminence in practice or in medical research, or other attainments in science or in the art of medicine." Masters must be highly accomplished persons demonstrating eminence in practice, leadership, or in medical research. Evidence of their achievements can come from many types of endeavors such as notoriety within their field and/or ACP chapter, research, education, health care initiatives, volunteerism, and administrative positions. The Master must be distinguished by the excellence and significance of his or her contributions to the field of medicine."
Nancy D. Adams, MD, FACP,
O. Joseph Bizzozero, MD, FACP, and
August H. Fortin VI, MD, MPH, FACP
Dr. August Fortin was awarded Mastership in addition to and as a component of the Jane F. Desforges Distinguished Teacher Award from the national ACP. The ACP states that "the award is bestowed upon a Fellow or Master of the College who has demonstrated the ennobling qualities of a great teacher as judged by the acclaim and accomplishments of former students who have been inspired and have achieved positions of leadership in the field of medical education, primarily as teachers."
Finally, Dr. Silvio E. Inzucchi was selected for the Samuel Eichold II Memorial Award for Contributions in Diabetes. The ACP describes this award as "given to a member of the American College of Physician (who) has made important health care delivery innovations for diabetic patients resulting in improved clinical or economic outcomes; or … has conducted research that significantly improves quality of care or clinical management of diabetes."
---
Connecticut Chapter Award Winners
Eric M. Mazur, MD, MACP
Ruth Weissberger, MD and Rosemarie Fisher, MD both received Laureate Awards from the Chapter. The Laureate Award is the most prestigious honor bestowed at the local level and recognizes Fellows and Masters of the College who have demonstrated by their example and conduct an abiding commitment to excellence in medical care, education or research, and in service to their community, the Chapter, and the American College of Physicians.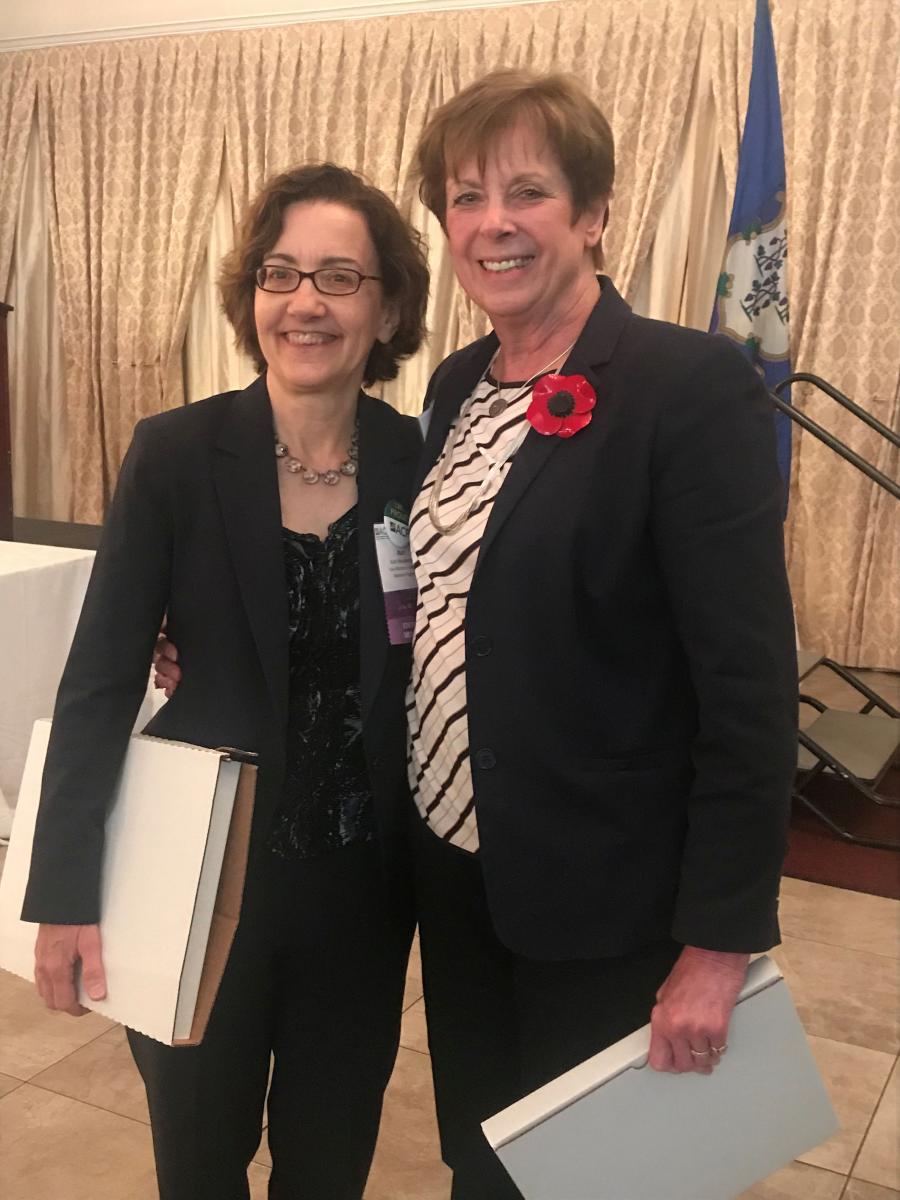 Two Connecticut physicians received the George F. Thornton Teaching Award, Dr. Robert Nardino and Dr. Aldo Peixoto.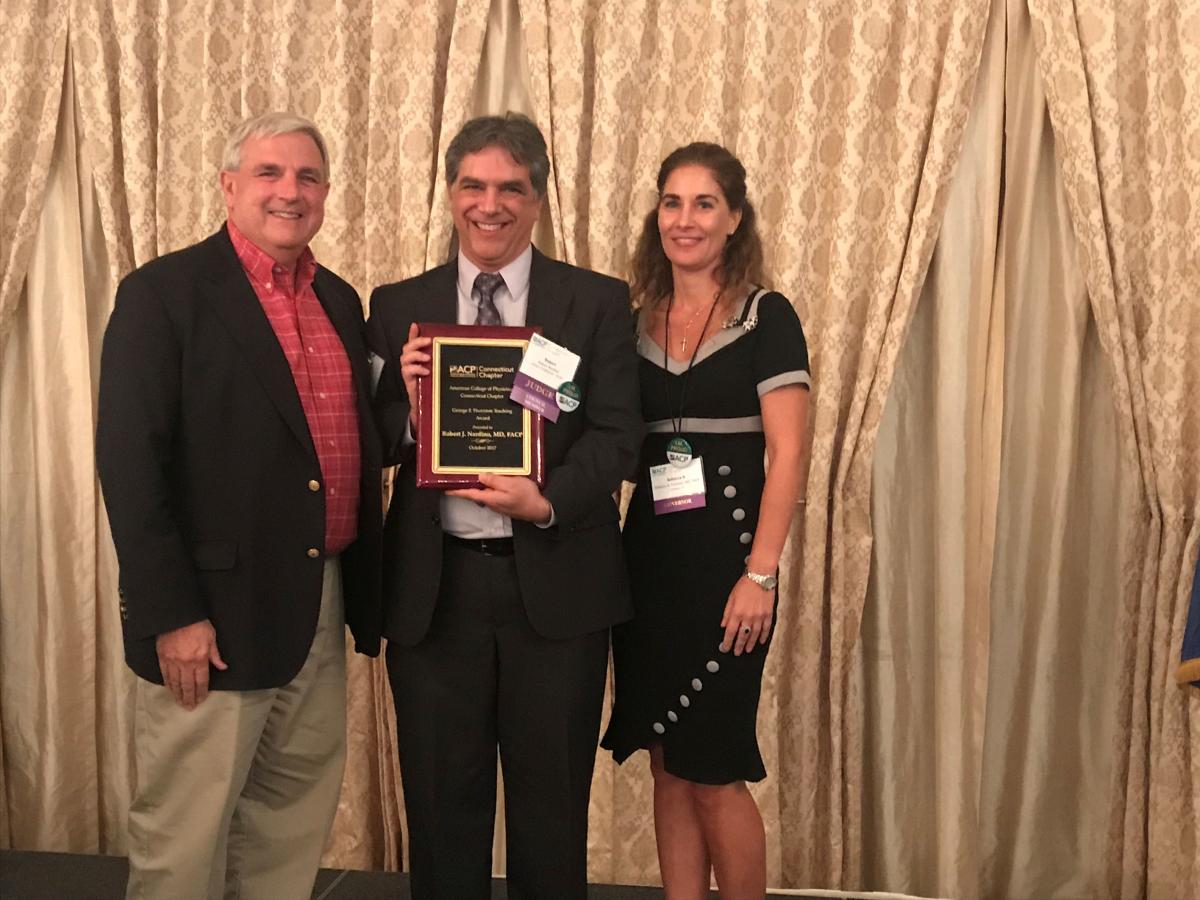 The CT Chapter's Volunteerism Award was given to Luis F. Diez-Morales for his outstanding work with Malta House of CT. Volunteerism awards apply to physicians who go beyond their formal paid positions to give back in a variety of ways to their community.
The Henry Gift Award honors a Connecticut internist, often in private or non-academic practice, who has distinguished him/herself by a lifetime of service to the care of patients and active participation in the local medical community. This year's awardee was Dr. James Sarfeh, an internist in Cheshire, CT in solo practice since 1983. We had the pleasure of hosting Dr. Sarfeh at dinner with the council and hope to continue the tradition in the future.
---
Annual Meeting Update
Naseema B. Merchant, MD FCCP, FACP, FHM and Diana Sewell, MD, FACP
The CT ACP chapter annual meeting took place on October 27, 2017 at the Aqua Turf in Southington, CT. It was another successful meeting with 350 attendees with trainees (Residents and Medical Students) making almost 60% of the participants. Below are some highlights of the annual meeting. Please also refer to relevant sections in this newsletter for additional details on specific sessions.
The day started out with poster presentations by our Internal Medicine residents from various residency programs around the state. We had volunteer judges from academic programs, private practices, sub-specialty and primary care, and all regions of the state.
The third Annual Women in Medicine networking breakfast followed shortly after the start of the poster presentation. This event was attended by 68 women in practice and in training around the state. It has been a popular event every year, during which women trainees and attending physicians from diverse backgrounds have an opportunity to interact and exchange ideas on topics of mutual interest. The feedback from this event remains positive.
The formal didactic sessions started at 10:00 am with three parallel sessions. ABIM's Update in Internal Medicine was the main didactic session, and ran in parallel with clinical skills workshops. The ABIM Update in Internal medicine was conducted by Drs. Barry Wu and Steven Atlas. They have become both presented this fun and interactive session for years.
The chapter has a long-standing culture of involving medical students in all its events. Erin Gombos, a medical student from the University of Connecticut who served on the planning committee for the second-year in a row, organized the clinical skills workshops with the assistance of the other students and residents on the planning committee. This year the workshops focused on the shoulder exam and cardiac auscultation.
There were two separate lunch sessions this year – one for trainees and one for attendings. The attending physician session was on sexually transmitted diseases, presented by Dr. Horwitch, a recent member of the ACP's national Board of Regents. The trainees were offered an interactive panel discussion during lunch with physician panelists who hold various leadership positions outside their work. These physician leaders represented the national ACP (Dr. Robert Mclean), the CT state legislature (Dr. Prasad Srinivasan), and the Connecticut State Medical Society (Dr. Jeffrey Gordon). The objective of this session was to provide the trainees with an opportunity to understand physician advocacy at various levels within our state.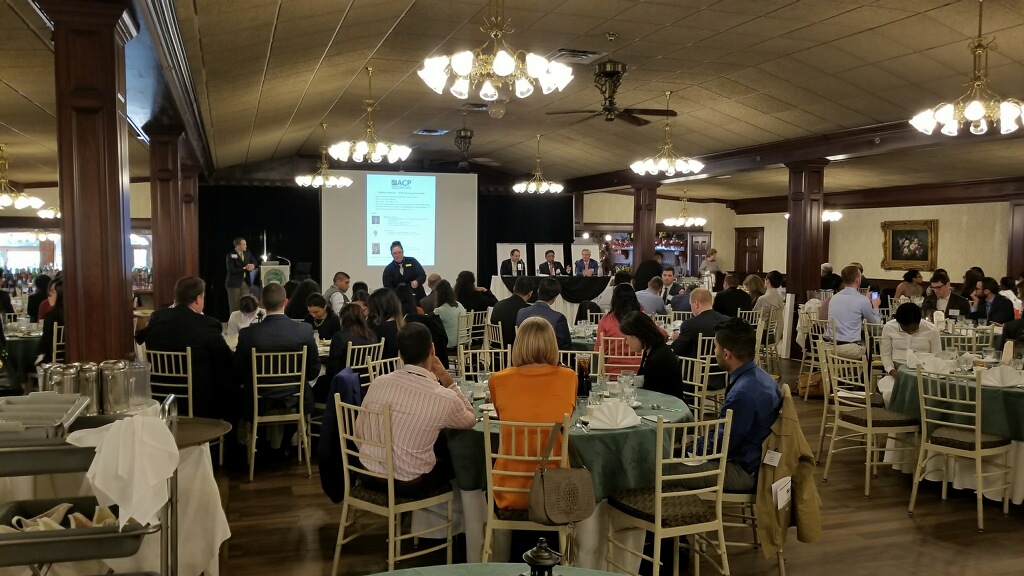 With physician wellness in mind, lunch was followed by a session entitled "Laughter in Medicine" presented by Dr. Carrie Horwitch from the national ACP. She delivered who delivered a fun, engaging and interactive session concentrating on developing physician resiliency through laughter.
The midafternoon program featured three concurrent sessions including our popular High Value Care (The Razor Case) workshop, a talk on depression in primary care, and the Doctors' Dilemma. The Doctors' Dilemma is a medical quiz in jeopardy format which is an exciting contest between resident teams representing residency programs across the state. The winning team this year was from UConn. They will have the opportunity to compete nationally at the 2018 national ACP meeting.
The High Value Care workshop focuses on appropriate resource utilization for inpatient and outpatient care as part of promoting ABIM's "Choosing Wisely" Campaign. This case based interactive workshop involves trainees (students and residents) and attending physicians working in two separate locations to reach the correct diagnosis using as little money on diagnostic tests as possible. Dr. Jacob Knox Quinton conducted the trainee workshop while Dr. Naseema Merchant conducted the attending workshop.
The day concluded with the annual address by our chapter governor, Dr. Rebecca Andrews, and an awards ceremony for winning posters as well as the individuals recognized by the chapter mentioned above.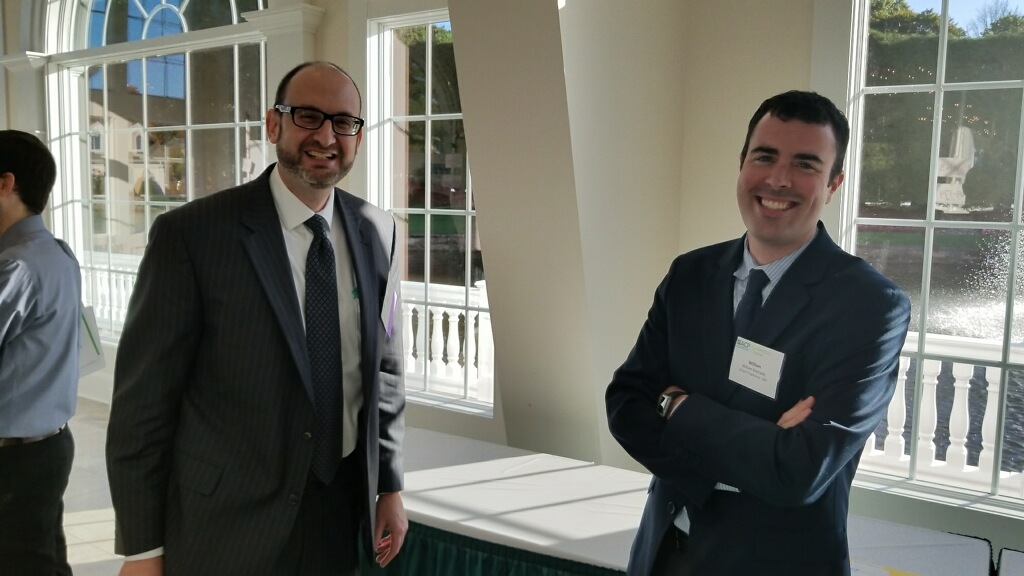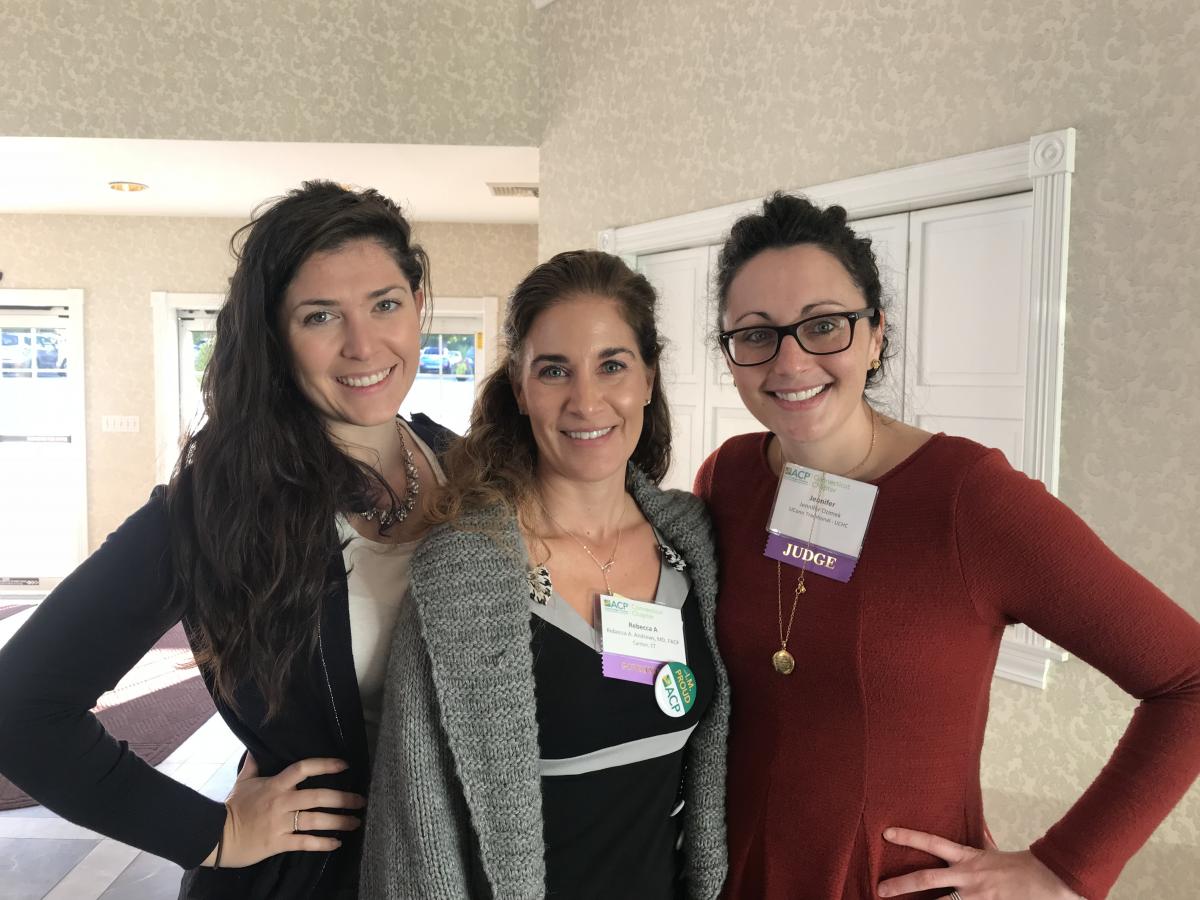 On behalf of the CT Chapter, we thank the members of the planning committee, our speakers, moderators, and everyone else involved in the planning and execution of this successful educational event for their tremendous contributions. The planning committee would like to recognize and thank Nancy Sullivan, our long-time chapter administrator for her service to the planning committee and the chapter. Nancy retired earlier this year. We all would like to wish Nancy the best of luck in her future endeavors.
---
Resident and Fellow Members Council
Marilyn Katz, MD, FACP
The CT ACP had an outstanding year for abstracts, with a total of 244 abstracts presented at this year's chapter meeting! In order to accommodate this unprecedented number of posters, we had nearly 100 judges volunteer their time to listen to oral presentations and score the abstracts. There were 221 clinical vignettes and 23 original research abstracts – so both categories had competitive fields.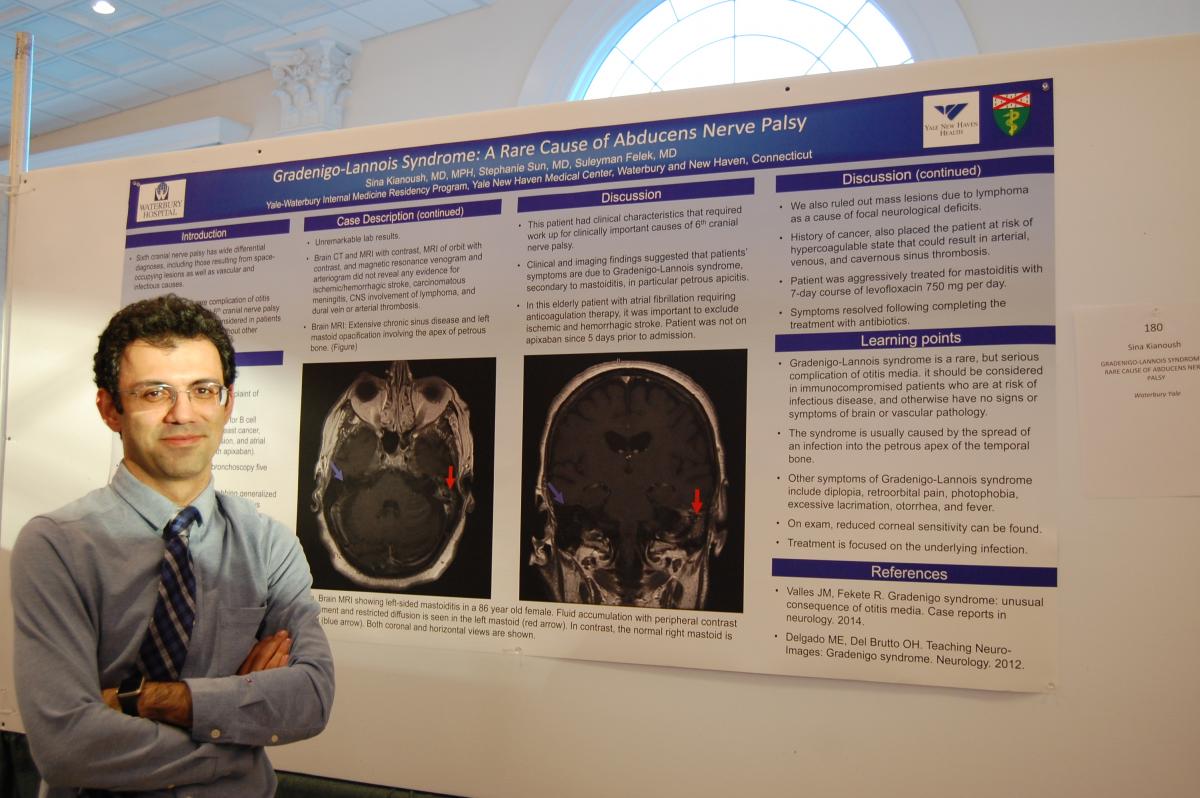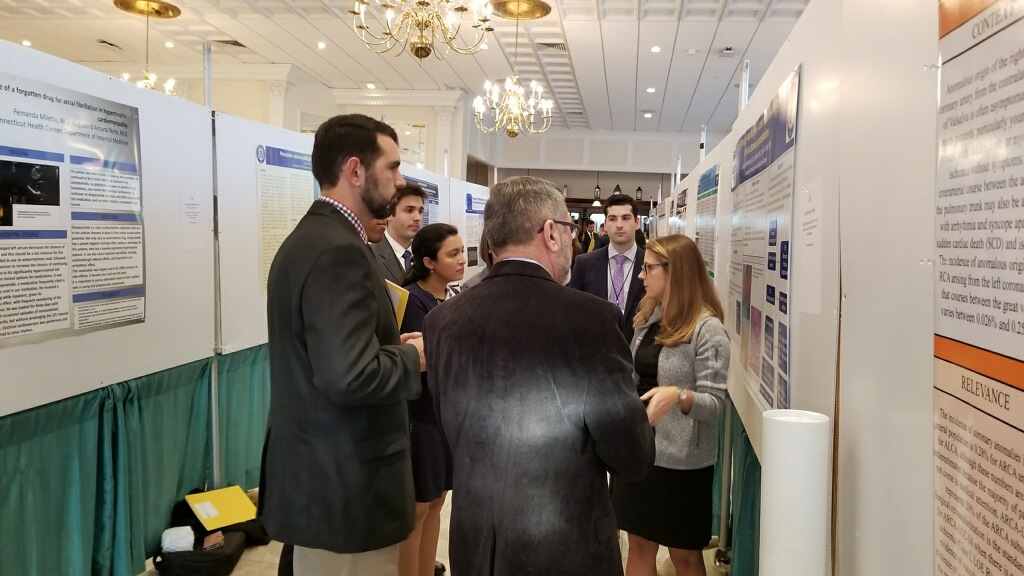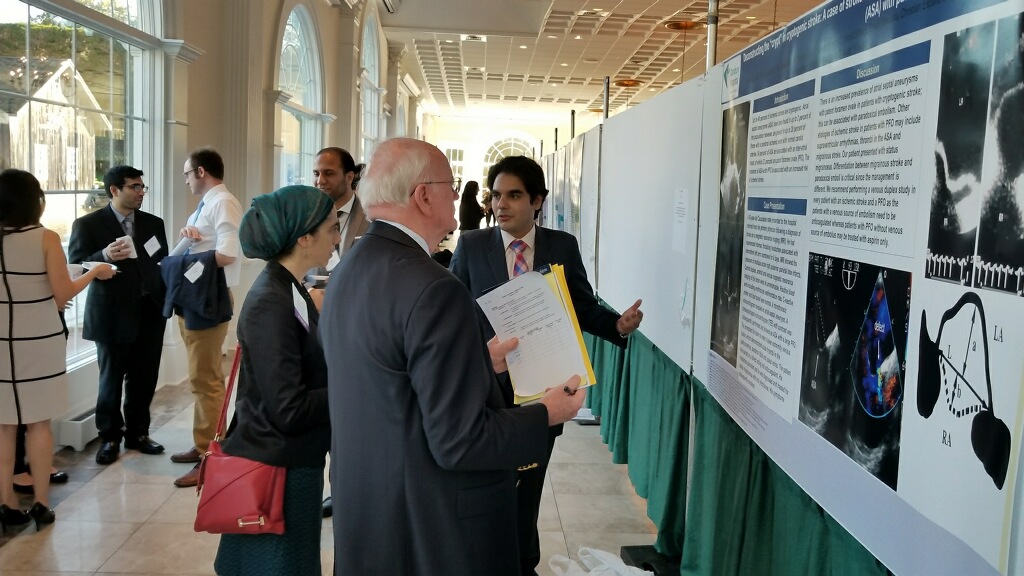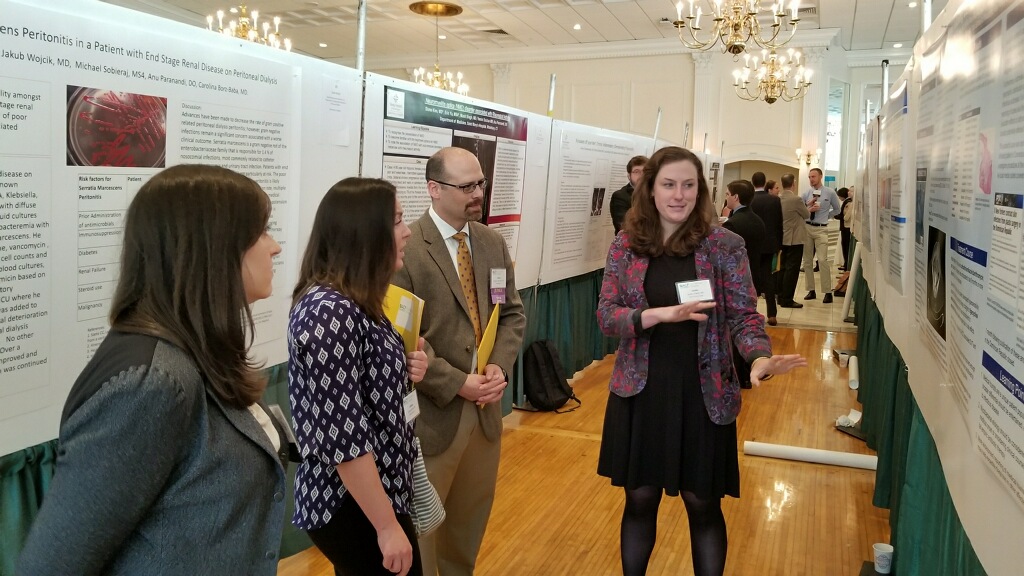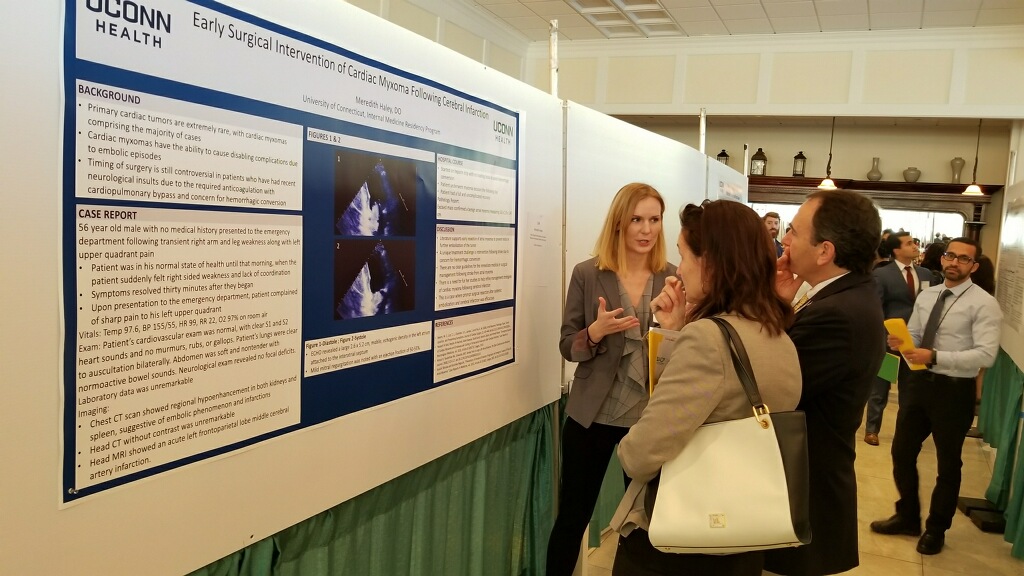 The winners are:
Original Research:
First place: Dr. Abhay Singh – Griffin Hospital. Effectiveness of a Cancer Survivorship Clinic: An Evaluation Project
Second place: Dr. Bryan Brown – Yale Primary Care. Assessing Utility of Routine Urinalysis Screening in the Refugee Health Examination
Third place: Dr. Priya Duggal – Center of Excellence in Primary Care. Advance Directives in Primary Care
Clinical Vignette:
First place: Dr. Deborah Akaya – St. Vincent's. LINES from Lines – Levamisole induced Necrotizing Syndrome from Intranasal Cocaine Use.
Second Case: Dr. Nasheena Jiwa – St. Mary's. A Case of Eosinophilic PNA Associated with Heroin Inhalation.
Third Case: Dr. Somera Chaudhry – Stamford. A Case of Atrial Esophageal Fistula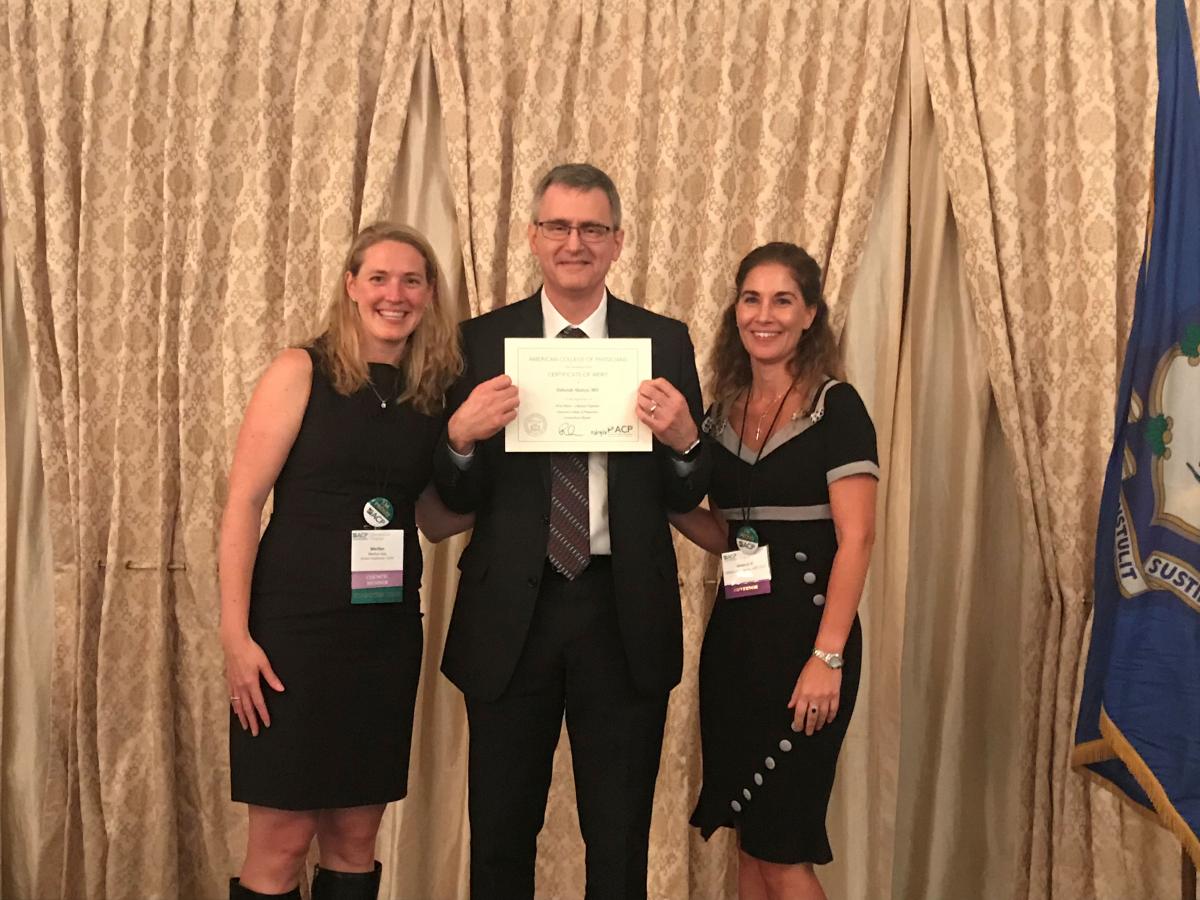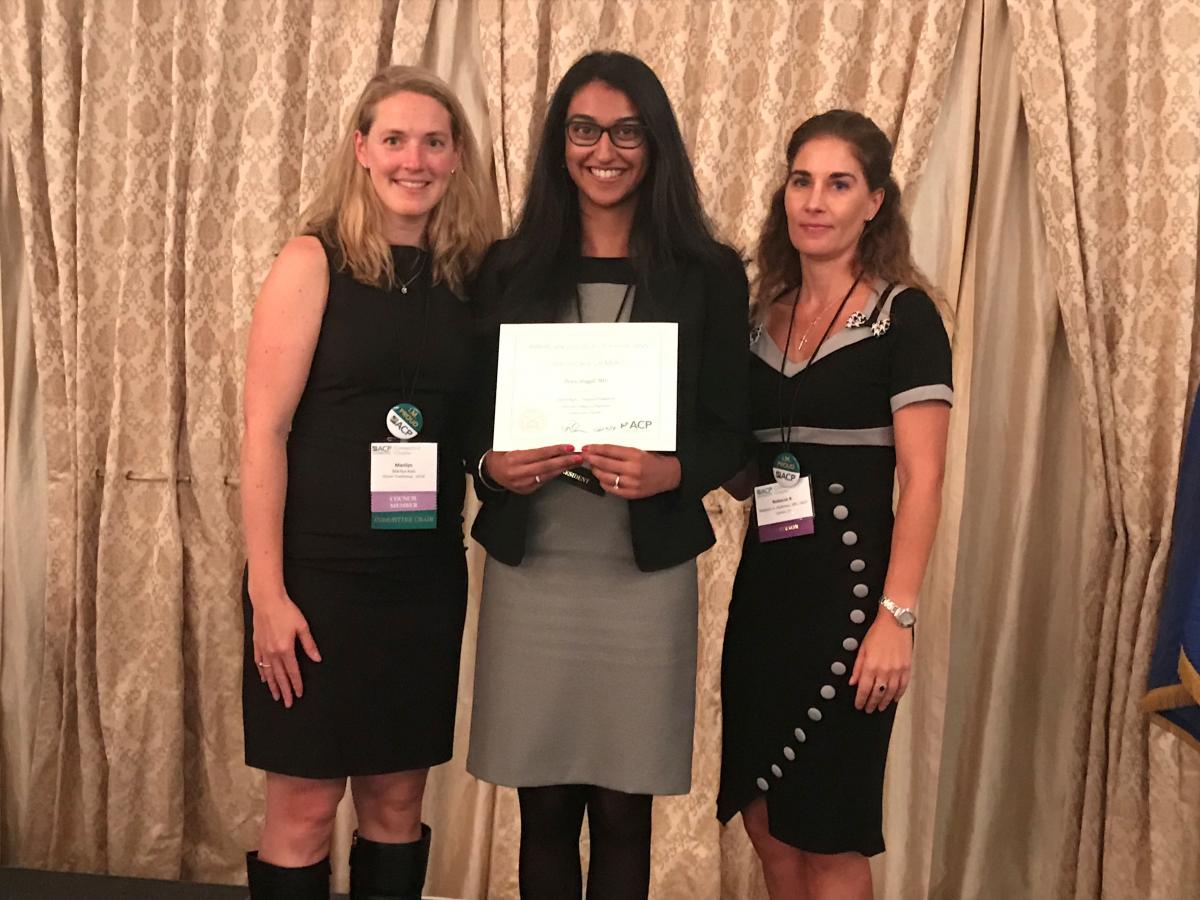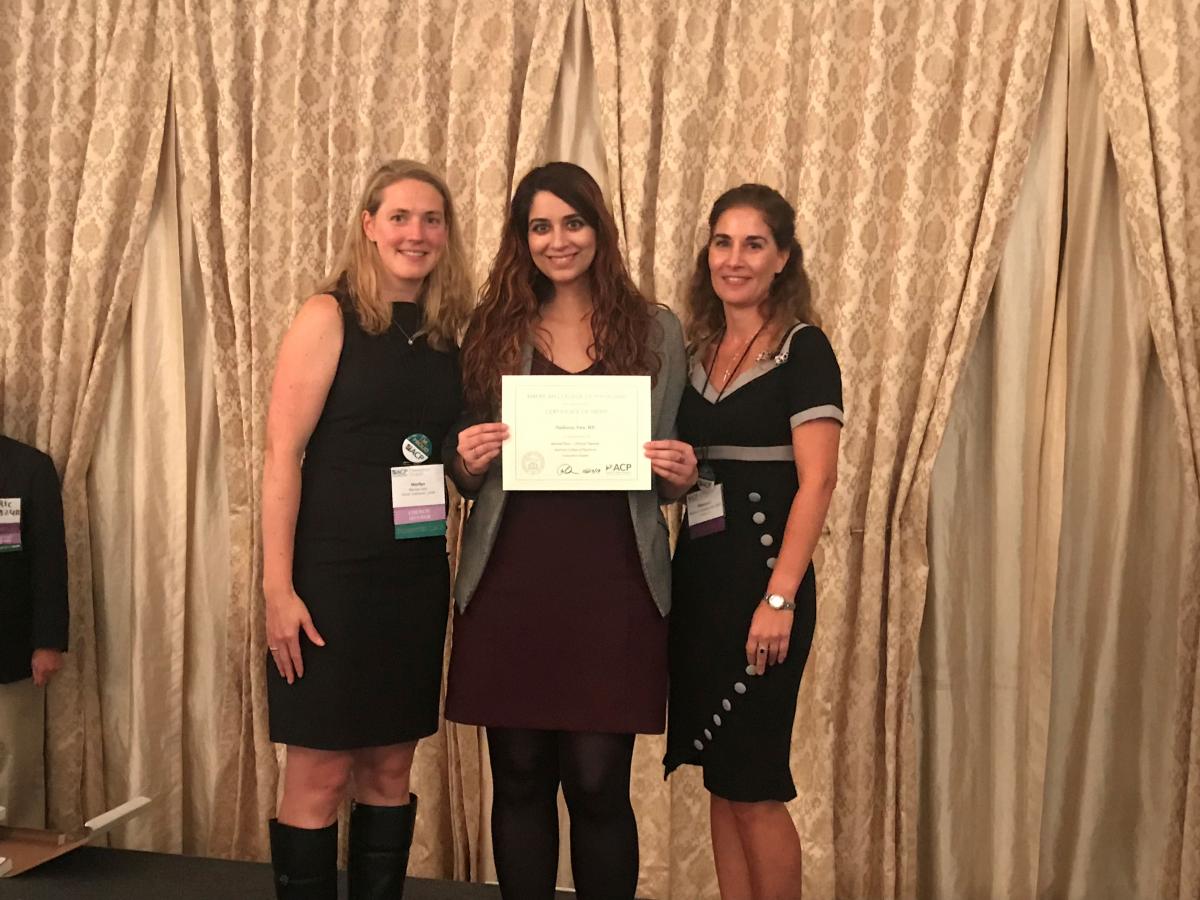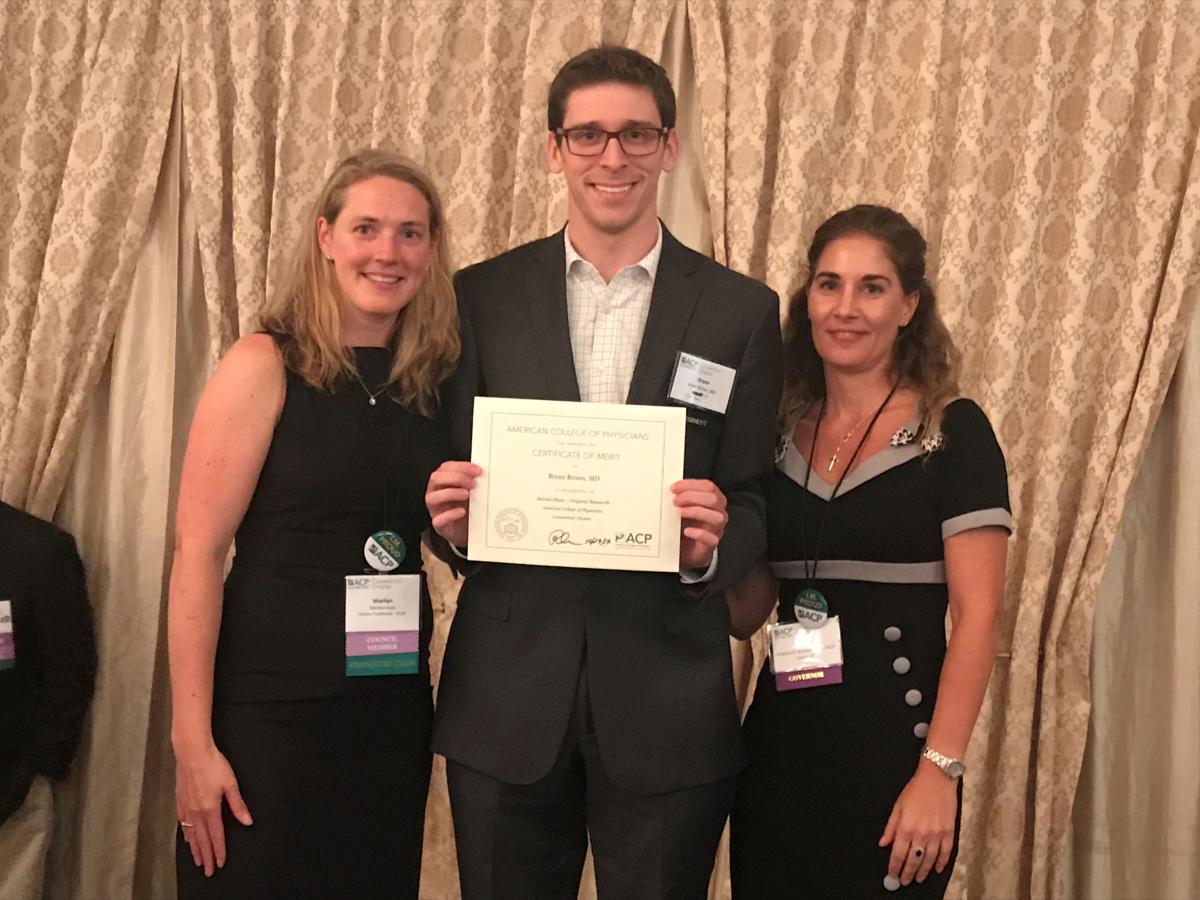 ---
Doctor's Dilemma® Results
Bridgeport, Stamford, UConn Categorical and Yale Traditional competed in the finals on Oct 27, 2017 after stellar performances in the preliminary rounds held in September at Waterbury Hospital. The session was moderated by Dr. Rebecca Andrews (Chapter Governor) and Dr. Marilyn Katz (Chapter Chair, Residents and Fellow's Council). Dr. Eric Mazur, Dr. Joseph Cleary and Dr. Robert McLean served as fearless judges in the case of any questionable answers. The match proved to be one of the closest in chapter history. After the first round, UConn led with 4400, followed by Yale and Bridgeport with 800 and then by Stamford. However, during the second round, with double points and Halloween-themed categories, the scores evened out to UConn with 6600, Yale with 4400, Bridgeport with 2600 and Stamford with 2200 headed into the final question. Teams were not deterred by the final jeopardy category – Biostatistics – and all four teams answered the correct Number Needed to Treat for the mysterious case of "Candyosis". Ultimately UConn proved the winner – squeaking by Yale by only one point – to finish with a score of 8801. UConn's team will advance to the national ACP Doctor's Dilemma® in New Orleans in April 2018!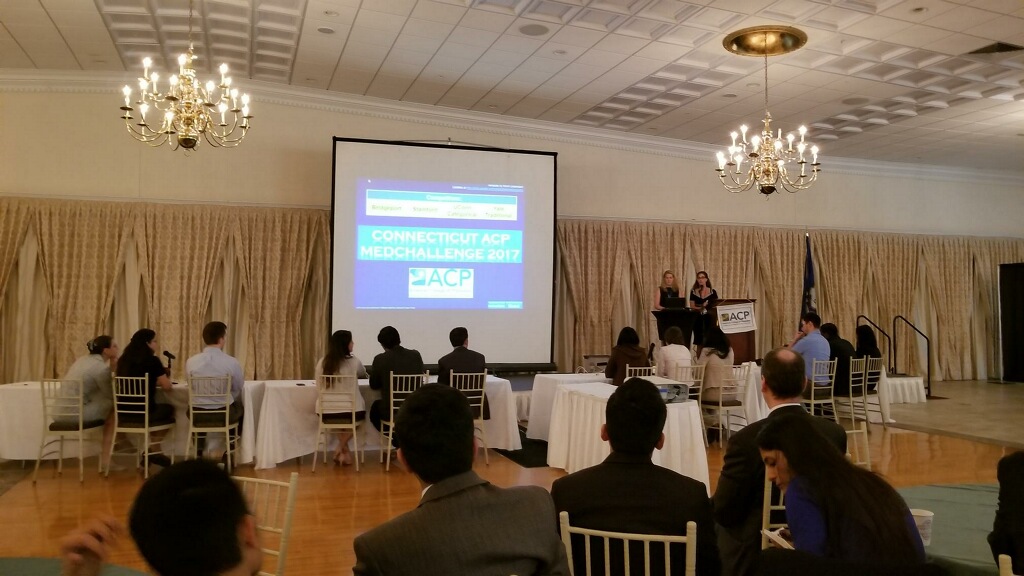 For all of you who were intrigued by the questions and would be interested in writing questions for next year's competition, please contact Marilyn Katz for information on how to get started!
---
Medical Student Activities
Joshua Bia
On Saturday November 11th, 2017 medical students from Quinnipiac, UConn and Yale took a break from their textbooks to get together for an evening of bowling and pizza at Colony Lanes in Wallingford. The event was organized by Joshua Bia (Quinnipiac), Lisa Chan (Quinnipiac), Erin Gombos (UConn), Robert Romano (UConn) and Charles Hsu (Yale), each being the student leader(s) of the Internal Medicine interest groups at their respective schools. The event was a great opportunity for students to compete with one another over something other than residency positions. Students had a great time meeting and talking with each other while spending a couple hours bowling strikes and spares, or at least trying not to roll gutter balls. We hope this will event will continue as an annual tradition of having a social event involving the IM groups at each of the three schools.
---
Diversity Committee
Naseema B. Merchant, MD, FACP
The Diversity committee would like to thank Dr. Varidhi Nauriyal for her services as the co-chair of the chapter's Diversity committee. Under her leadership, the committee has organized many new events including the now annual women in medicine networking breakfast, visa event for physicians on a visa status and a career event for early career physicians. Dr. Nauriyal is moving to Michigan to pursue her fellowship training. On behalf of the CT ACP chapter, we would like to sincerely thank her for her amazing contributions towards diversity and various other chapter activities and wish her the best in her future endeavors.
The diversity committee organized the third annual women in medicine networking breakfast at the chapter meeting in October 2017. We were pleased to welcome around 68 participants to what followed was an invigorating discussion. Our participants were divided into small groups. The groups consisted of a mix of students, residents and practicing physicians. Some key themes that generated great opinions were "individualized" work life balance, challenges faced in the path to leadership; establishing an effective relationship as a mentor, keeping the channels of communication open and the art of negotiating & delegating. The participants also reported that they would like to see this event organized every year at the chapter's annual meeting and that they are likely to attend events sponsored by chapter outside of the annual meeting if the topics align with interests of women members.
The committee plans to partner again with the early career physicians and organize another visa event. In addition, the committee would like to plan additional events catering to the women membership to address some of the topics of interest suggested at the last annual networking event.
The committee would like to welcome Dr. Amir Mohammad, a board-certified Internist and Occupational Medicine Physician who joins the committee as the co-chair. He is a full-time VA based faculty and has been co-directing the national VHA Occupational Medicine Tele Consult program. Welcome aboard Dr. Mohammad. In addition, the committee is looking for additional members. If you have ideas on how this committee could meet the needs of its membership or would like to join the committee, please reach out to Naseema Merchant, MD.
---
2017 Chapter Excellence Award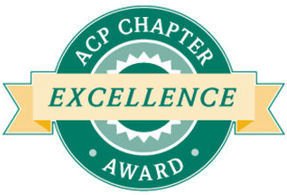 I am pleased to announce that our chapter is in receipt of the 2017 Chapter Excellence Award! The award recognizes chapters which successfully meet the standards for managing a chapter. In order to achieve the Chapter Excellence Award, chapters must meet all basic criteria and ten optional criteria. Criteria include such activities as formulating an effective Governor's Council and committees, communicating frequently with membership, providing educational opportunities, recruiting and advancing members and celebrating membership through local awards. I would like to extend a special thanks to those chapter members who assisted in these endeavors! For their hard work and dedication, we received this award.
---
New Fellows in the Past Six Months
Antonie J. Auguste, MD, FACP
Jennifer D. Baldwin, MD, FACP
Andrew O. Chow, MD, FACP
Inginia Genao, MD, FACP
Lavanya Jitendranath, MBBS, FACP
Donald J. Leone, MD, FACP
Katherine McKenzie, MD, FACP
Daniel Miller, DO, FACP
Shaheena Shan, MBBS, FACP
George Sunny Pazhayattil, MD, FACP
Priya Tandon, MD, FACP
---
New Members in the Past Six Months
Salah Alsalahi, MBBS
Siloe Alvarado, MD
Ghassan Alzayer, MD
Jane Andrews, MD
Mohamad Firas Barbour, MD
Clifford Berg, MD
Meeta Bhalla, MD
Steven N. Bleich
Eve Block, MD
Ruth Boadu, MD
Sudha Boochi Reddy, MBBS, MD
Nicolas Cal, DO
Raquel Canete, MD
Brittany P. Cavanaugh, DO
Corey Cavanaugh, DO
Sankar Chinnugounder, MD
Bryden T. Considine, DO
Kwasi Kyei Dakwa, MD
Katherine Davoren, MD
Lori de la Portilla, DO
Muhammad Umer Farooq, MD
Christofer J. Fort, MD
Urvi Gandhi, MD
Cory Guenette, DO
Lamia Haque, MD
William Hindle-Katel
Michael W. Holliday Jr, MD
Tara E. Humphrey, MD
Faisal Ikram, MD
Hendy B. Jean, MD
Sean Kandel, DO
Gina Kang, MD
Fakhar J. Khan, MD
Sana Khan, MD
Jin W. Kim, MD
Ravi Kodali, MBBS
Elena S. Kopeikin, MD
Catherine Nithya Kumaradhas, MD
Lillian E. Kun, MD
Albert Langou, MD
Walter Lehnhoff, DO
John W. Lindsay, DO
Nadia Lomakina, MD
Suzannah Luft, MD
Dhruti Mankodi, MD
Luke A. Mantle, MD
Susan Maya
John A. McDougall, MD
Despoina Michailidou, MD
Amir Mohammad, MD
Dennis Moledina, MBBS
Ermal Molla, MD
Joshua Mosdale, MD
Usonwanne U. Nwosu, MD
Aba A. Osseo-Asare, MD
James R. Pallett, MBChB
Sandeep Pandey, MBBS
Danielle Phillip, MD
Rekha Reddy, MD
Elizabeth Richey
Syed F. Rizvi, MBBS
Rabia Rizwan, MD
Alison M. Romegialli, MD
Rishabh Sachdev
Stephanie Saucier, MD
Jacqueline Savage, MD
Ghanshyambhai T. Savani, MD
Vittal Ramesh Setru, MBBS
Reham S. Shaaban, DO
Jatan Shah, MD
Rizwan Shahid, MD
Himanshu Sharma, MBBS
Junghee J. Shin, MD, PhD
Steven D. Smith, MD
Mary Snayd, MD
Jessica R. Socha, DO
Stephanie Sun, MD
Lee Tantral, DO
Graham M. Taylor, MD
Monica Thim, DO
Ashanee Thompson, MD
Henry D. Todd, MD
John Toksoy, MD
Jalaluddin Umar, MBBS
Isha Verma, MD
Gabriel A. Vilchez, MD
Ruibo Wang, MD
Danwen Yang, MD
---
Every accomplishment starts with the decision to try.
Respectfully,
Rebecca Andrews