You are here
Arkansas Governor's Newsletter April 2015
Arkansas Governor's Newsletter April 2015

---
---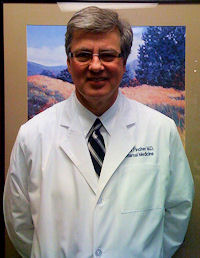 S. Clark Fincher, MD, FACP, ACP Governor
Farewell Newsletter
Today, as I prepare to attend the Spring Board of Governors Meeting in Boston and IM 2015, it is time for me to say "farewell" as your Governor. On May 2nd, Dr. Omar Atiq will take the reins and begin his four-year term. Dr. Atiq is both well-qualified and well-suited for this role, and I have no doubt he will do a superb job in leading our chapter.
Since my last newsletter, a lot has happened. Our annual AR Chapter Meeting was held in Jonesboro at the NEA-Baptist Hospital. We all enjoyed the excellent accommodations, wonderful presentations, seeing old friends and making new ones. The meeting was well-attended and successful in every way.
I appreciate all those who made it good, including program chairs Adam Woodruff , Steve Woodruff, and Ray Hall.
In addition to our usual residents' case presentations, won by Dr. Jorge Jo Kamimoto, we were treated to a poster competition by students and residents. This was won by Daniel Hubbs. Winners were selected by our members and cash awards given as prizes. In addition, a stipend will be provided by the chapter for the poster winners to attend IM' 15.
We are grateful to three members who contributed funds to offset the cost of the prizes. They are Dr. Allison Moss Johnson, Dr. Stacy Zimmerman and Dr. Todd Stewart (for Mercy Health Systems). These financial donations are much-appreciated!!
The Awards Banquet was held on Friday night and Dr. David C. Covey was presented with the Robert Shields Abernathy Laureate Award. Our warmest congratulations to Dr. Covey. The Volunteerism Award went to Dr. John S. Holston for his involvement with overseas medical missions. The Chapter Excellence Award was again achieved by our chapter and I accepted on behalf of our members.
Membership is up a bit, mostly due to our excellent participation in the medical student group. Thanks to Dr. Toby Vancil for leading that effort.
Resident participation is good and we appreciate the efforts of Drs. Keyur Vyas and Ryan Bariola who lead that effort.
Finances are in good shape, per the treasurer's report of Dr. John Holston at the meeting.
The annual George Ackerman Reading Retreat was held last weekend and we await a report from Dr. Taylor Prewitt, who has been leading this meeting for several years. Sadly, Taylor has decided to give up the lead role in this meeting, but Dr. Eric Del Giacco has graciously agreed to take on the task for next year! Thanks Taylor and Eric.
Just a few days ago, as I'm sure you all know, one of ACP's long-fought battles was finally won: the SGR was permanently repealed by the US Congress!!! Although all of medicine was opposed to this flawed formula for reimbursement, our national organization was a leader in providing alternatives for funding which ultimately led to this result. ACP lobbied hard and several from our chapter went to Washington every year to lobby our delegation to repeal this atrocity. Finally the hard work paid off! It is moments like this that make us realize the benefits of our membership dues.
You may also have heard that changes have been made at ABIM. In fact, after hearing from rank and file members and the Board of Governors for months, the College Regents engaged ABIM in serious talks that resulted in positive changes to Maintenance of Certification (MOC) requirements going forward. Requirements will henceforth be less difficult, more relevant to practice, and less expensive. Thanks again to ACP acting for the benefit of us all.
In another piece of good news, our chapter was chosen as one of two states, Louisiana being the other, to participate in an ACP pilot project which will attempt to increase the rates of adult immunization in our state. Adult immunization rates are poor nation-wide and we will be embarking on a coordinated effort to improve that in the coming months. The effort will be called "I Raise the Rates".
Working with other organizations including the Arkansas Pharmacists Association, AR Department of Health, UAMS, Arkansas Immunization Coalition, Arkansas Medicaid, and Arkansas Aging Initiative, we will be training several members as "Champions" who will then spread their knowledge and techniques throughout the state in an effort to educate and inform both the public and doctors why and how to improve our rates for adult immunization. Our chapter received a $10,000 grant for participation in this effort. I hope you will all be open to participating in the success of this effort.
One of the best things that we did during my term was to hire a permanent Executive Director. Donna Seawards has been with us for the past 2½ years and has proved such a blessing to me, the council and the administration of the business of our chapter. With her continued input and assistance, I see great things ahead. Thanks, Donna.
Thanks to all the council members for all you did during this term. We have a great group. It was a lot of fun and I can't thank you enough for all your contributions.
Well, it has been quite an interesting five years. I've had experiences I never dreamed of having due to my position as your Governor. I thank you for giving me this opportunity and for your confidence in me.
I plan to continue working for ACP and advocating for our patients and members in other ways.
Our chapter is in good hands and in good shape; poised to achieve greater things in the next four years as Omar leads us forward.
Sincerely,
---
Arkansas Chapter Welcomes New Fellows
March 2014
Latha M. Achanta, MD, FACP
John S Holston, MD, FACP
Leslie G. Landrum, MD, FACP
July 2014
Alice A Alexander, MD, FACP
Mohit Girotra, MD FACP
November 2014
Rtika R. Abraham, MD, FACP Ahmad Kaako, MD FACP
January 2015
Chaitanya K. Musham, MBBS, FACP
March 2015
Ahmed Y. M. Abuabdou, MBBS, FACP
---
Arkansas Chapter Welcomes New Members
Amjad M. Abualsuod, MD, Little Rock
Mohammed A. Alhajji, MBBS, Jonesboro
Amy L. Brunt, MD, Little Rock
Thalia Noella Casimire, MD, Hot Springs
Michael Church, MD, North Little Rock
David W. Clay, Fayetteville
Lynn M. Davis, MD, Lowell
Andres Duarte-Rojo, MD,PhD, Little Rock
Peter A. Goulden, MD, Little Rock
Matthew M. Haustein, MD, Jonesboro
Sarah W. Jewell, Little Rock
Sruthi Kanuru, MBBS, Little Rock
Tyler A. King, MD, Jonesboro
Abdel Rahman M Lataifeh, MD, Little Rock
Juan I. Lombeida, MD, Rogers
Pankaj Mathur, MD, Little Rock
Nathanael David McLeod, MD, Springdale
Teresa A. Nimmo, MD, Little Rock
Amanda J. Novack, MD, Little Rock
Anupam S. Pande, MBBS, Little Rock
Christopher Pease, DO, Fort Smith
Indeevar Peram, MD, Fort Smith
Naga Venkata K. Pothineni, MBBS, Little Rock
Girindra Raval, MD, Pine Bluff
David Rainosek, MD, Little Rock
Roy Rajan, MD MPH, Fort Smith
Mukesh K. Sharma, MD, Hot Springs
CPT Tiffany M. Shelton, MC USAF, Little Rock
Robin M. Singh, MD, Little Rock
Luke H. Smith, MD, Rogers
Shannon S. Swift, MD, Batesville
Beena Syed, MBBS, Fort Smith
John Robert Tisdale, MD, Little Rock
Pragya P. Tripathi, MD, Bentonville
Roland Crisologo Vizconde, MD, Fort Smith
Kendall D. Wagner, MD, Fort Smith
Ella Cathrine E Whaley, MD, Little Rock