You are here
GOVERNOR'S NEWSLETTER Manitoba Saskatchewan Chapter April 2015
GOVERNOR'S NEWSLETTER Manitoba Saskatchewan Chapter April 2015

---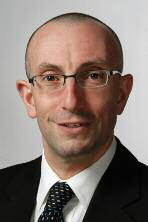 John M. Embil, MD, FRCPC, FACP, ACP Governor, Manitoba/Saskatchewan Chapter
---
Dear Colleagues,
Since my last communication, the major event that has occurred in the Manitoba/Saskatchewan Chapter is the Undergraduate Medical Students Internal Medicine Interest Group "Speed Dating an Internist." The event was held on February 3, 2015 and attracted approximately 150 medical students from first and second year undergraduate medical classes.
Approximately 15 members of the teaching clinical faculty supported the event by serving as mentors and providing insights into the life and times of an internist. A mix of general internists and subspecialists were present. The overwhelming feedback from the students was positive and the Manitoba/Saskatchewan Chapter looks forward to supporting this event in 2016.
Once again, please join me in welcoming Dr. Glen Drobot, General Internist, St. Boniface General Hospital and University of Manitoba, as he transitions into the position of Governor, Manitoba/Saskatchewan Chapter. Dr. Drobot brings many years of experience as a General Internist and is well recognized by local faculty and students as an exceptional teacher and clinician.
Join us in Boston! The ACP's 2015 Internal Medicine Meeting will be held in Boston with the pre-courses on April 28-29 and April 30-May 2 will host the Scientific Programming, Clinical Skills Centre and Exhibit Hall.
---
Events Taking Place at IM Boston 2015
Plan to attend the Canadian Chapter Reception Friday, May 1st for a fun-filled evening with delicious food and networking with your colleagues! The Empire Restaurant is located in the must-see Seaport District and was voted a 2014 Diner's Choice Award for the Top 100 Hot Spot Restaurants in America.
Support the teams from Quebec, Ontario and Alberta who will be competing in the ACP Doctor's Dilemma! Click here for the Elimination Round schedule. On April 30th, 47 teams will compete among 10 games. The 20 winners and runners up from these games will advance to Friday's competition.
The match-ups for the semi-final Battle Round will be selected at random on Thursday evening and announced via social media and on signage throughout the convention center. The winners of each of these four games will advance to the "Final Four" championship game, which will be held following the ACP Internal Medicine 2015 Highlights Session on Saturday evening.
Canadian Faculty participating at IM Boston:
R. Brian Haynes, MD, PhD, MACP
WSO 002 - Evidence-Based Medicine from Bench to Bedside: How to Apply What You Read to Your Patients
Friday, May 01, 2015, 9:30 AM-10:30 AM
Marge Lovell, RN, CCRC, M.Ed
Waxman Clinical Skills Center: Ankle Brachial Index by Doppler
Workshops scheduled on Thursday, April 30, 2015 and Friday, May 01, 2015
Hassan Mir, MD, Resident/Fellow
WSO 002 - Evidence-Based Medicine from Bench to Bedside: How to Apply What You Read to Your Patients
Friday, May 01, 2015, 9:30 AM-10:30 AM
T. Jock Murray, MD, MACP
PN 039 - Defining Internal Medicine: The History of the ACP
Friday, May 01, 2015, 2:15 PM-3:45 PM
---
Calendar of Upcoming Events
ACP Internal Medicine Meeting
April 30-May 2, 2015
Boston Convention & Exhibition Centre
Boston, MA
Canadian Chapter Reception
Friday, May 1, 2015
6:00pm-9:00pm
Empire Restaurant
One Marina Park Drive
Boston, MA
Quebec Chapter Annual Meeting with the ASMIQ
Saturday, May 29-30, 2015
Hyatt Regency Hotel
Montreal, QC
Information: Contact Ms. Lucie Terriault
Atlantic Provinces and the Canadian Society of Internal Medicine Annual Meeting
October 14-17, 2015
Delta Prince Edward, Charlottetown
For More Information
Ontario Chapter Annual Meeting
November 6-7, 2015
Toronto, ON
Watch the website for more information and for the Call for Abstracts
Rocky Mountain Internal Medicine Conference
November 12-15, 2015
Organized by: Rocky Mountain/ACP/Alberta Medical Association
Visit the website for more information.
---
Welcome to our newest Members and Resident/Fellow Members (Last 6 months)
Members
Mike Sochocki, MD - Winnipeg
Alastair R. Wall - Saskatoon
Resident/Fellow members
Terry Colbourne, MD - Winnipeg
Jonathan Dean, MD - Saskatoon
Jason D. Denis, MD - Saskatoon
Graham Duff, MD - Winnipeg
Colin T. Ellis, MD - Saskatoon
Kristine Kim, MBBS - Saskatoon
Mai Nguyen, MD - Winnipeg
Matthew C. Nicholson, MD - Saskatoon
Michael W. Pascas, MD - Saskatoon
Dominique J. Pytlewski, MD -Saskatoon
Richard Tse, MD - Saskatoon
Su Yuan, MD - Saskatoon