You are here
The Genesis Registry®
Helps Comply with Quality Payment Program (QPP), Meaningful Use, Physician Quality Reporting System (PQRS), and Value Based Modifier (VBM)
Approved by CMS as a Qualified Clinical Data Registry (QCDR), ACP's Genesis Registry provides seamless integration with participating EHRs to collect quality measure data and automatically submit data measures that satisfy PQRS, VBM, and MU for 2016. It can also be used for QPP reporting in 2017 and beyond.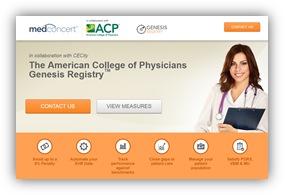 The Genesis Registry supports 64 electronic clinical quality measures, which are used in Meaningful Use, PQRS, and other value-based payment programs. It facilitates data connectivity through partnerships with EHR vendors, including Allscripts, NextGen, AthenaHealth, Aprima, Greenway, Quest Diagnostics/Care360, and STI/Chartmaker, to make ongoing quality improvement through clinical data registries.
Healthcare professionals who are using one of these vendors may already be on track to meet value based payment programs.
If you are interested in enrolling and submitting data to ACP's Genesis Registry, please visit www.medconcert.com/genesis and complete the "Contact Us" form at the top of the webpage. The annual fee for Genesis is $299-$699 per physician per year. Note that one-time integration fees may apply.
Don't see your EHR? Contact CECity for information about connecting other EHR's to the Genesis Registry.
ACP developed the Genesis Registry in partnership with CECity, a Premier Health Company and leading registry technology company.