You are here
Patients Before Paperwork
Patients Before Paperwork
Patients Before Paperwork is an ACP initiative designed to reinvigorate the patient-physician relationship by challenging unnecessary practice burdens.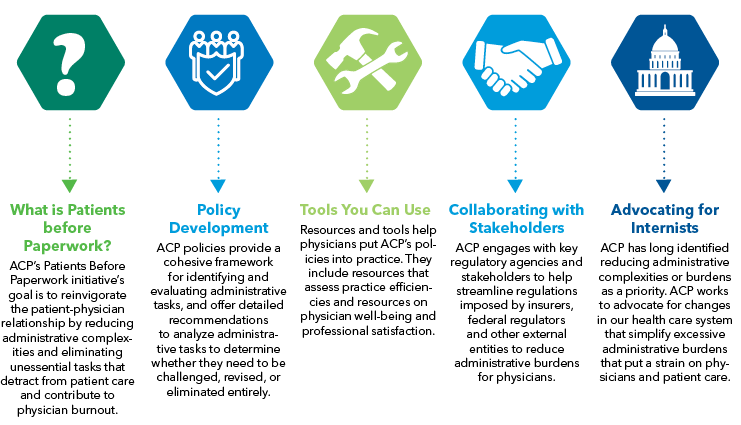 Download the Patients Before Paperwork Infographic
What You Can Do to Help
To help the Patients Before Paperwork initiative, you can provide your feedback with our new online data collection tool. This tool is a means for physicians to communicate administrative pain points with ACP staff, share best practices and innovative ideas with each other, and help inform the creation of additional tools and services. Entries will be added to the Administrative Tasks and Best Practices Library.
Tell us about your ideas to address administrative tasks.
Send in specific examples or vignettes explaining how these tasks have had an impact on your ability to care for a patient.
And finally, how can ACP best serve you to address these issues?
Share Your Experiences and Tips
You may also contact us directly at policy-regs@acponline.org or discuss these issues in the Member Forum on Promoting Physician Well-being and Professional Satisfaction (ACP Membership required).
What ACP Is Doing
Since the launch of ACP's Patients Before Paperwork initiative in 2015, the College has worked to identify and prioritize the most burdensome administrative tasks faced by ACP members and their patients; develop significant policy recommendations for how to address these administrative tasks; and engage in ongoing outreach and stakeholder engagement efforts with external sources of administrative and regulatory burden.

Policy Development and Education

Tools and Services Offered by ACP
Be a Champion! Advocacy Tips for the Busy Physician (webinar) - You can be an advocate! Brooke Rockwern, MPH, Health IT Policy Associate, Department of Health Policy and Regulatory Affairs, and Well-being Champion Eileen Barrett, MD, MPH, SFHM, FACP discuss what ACP is doing to advocate on behalf of physician well-being and steps you can take to advocate in your own community and chapter.
Reducing Administrative Burden Basics – slides and handouts that can be used at local ACP Chapter meetings and educational opportunities
ACP Practice Advisor® - modules can help with achieving recognition as an alternative payment model (e.g., PCMH, PCMH-specialty practice), quality improvement work, and practice management.
ACP Physician & Practice Timeline® - summary of upcoming important dates related to a variety of regulatory, payment, and delivery system changes and requirements; sign up for text alerts from the Timeline by texting ACPtimeline (no space) to 313131 from your mobile phone.
High Value Care Coordination Toolkit - provides resources to facilitate more effective and patient-centered communication between primary care and subspecialist doctors.
ACP Website - Practice Resources section - resources address:
Search the ACP Policy Library
To access everything ACP has said related to Medicare reform issues search all policy statements, copies of testimony, and letters to government and non-government officials.