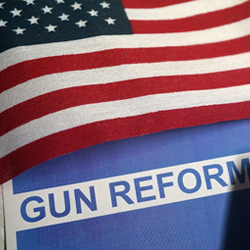 Issue: Address the epidemic of senseless firearms-related injuries and deaths through investments in research and much needed evidence-based policy reforms at all levels of government.
Why Action is Needed
In 2021, 45,222 Americans lost their lives due to firearm violence, according to the U.S. Centers for Disease Control and Prevention (CDC). There were 647 mass shootings in the U.S. in 2022 alone. ACP is greatly concerned not only about the alarming number of mass shootings in the country, but also the daily toll of firearm violence in our neighborhoods, homes, workplaces, and public and private venues.
Passage last year of the Bipartisan Safer Communities Act regarding gun-related deaths and injuries, which ACP strongly supported, serves as an important foundation for improving public safety. However, it is clear additional legislation is needed to continue making progress toward improving safety and reducing injury and death from firearms.
ACP's Position
For more than two decades, ACP has called for common-sense policies that would help reduce the number of injuries and deaths stemming from firearms. In 2019, ACP joined with 41 other leading organizations in a joint call-to-action that called for evidence-based solutions to mitigate firearms violence. We are pleased that many of the proposals included in our most recent policy paper on firearms violence prevention are also policies contained in the Bipartisan Safer Communities Act—which was enacted last year—such as closing domestic violence loopholes, increasing background checks, and providing support and funding for Extreme Risk Protection Orders (ERPOs). However, more action must be taken. ACP calls for firearm violence to be identified as a national epidemic, for a public health emergency to be declared, and for federal and state governments to take appropriate action to curb firearm violence.
Call to Action
Support the Bipartisan Background Checks Act, H.R. 715, and the Background Check Expansion Act, S. 494.
Support Ethan's Law, H.R. 660 and S. 173, requiring gun owners to safely and securely store their firearms.
Support the Keep Americans Safe Act, H.R. 625 and S. 298, which would ban the importation, sale, manufacture, transfer, or possession of high-capacity gun magazines that hold more than fifteen rounds.
Support the Extreme Risk Protection Order Expansion Act, H.R. 768 and S. 247 empowering family members and law enforcement to prevent gun violence by petitioning a court to temporarily separate an at-risk individual from firearms.
Support the FY2024 funding gun violence prevention research contained in FY24 Senate Labor-HHS-Ed appropriations bill for inclusion in any final FY24 appropriations bills.