You are here
Governor's Desk August 2013
Governor's Desk August 2013

| | |
| --- | --- |
| August 2013 | CAPT Mark L. Dick, MD, FACP |
---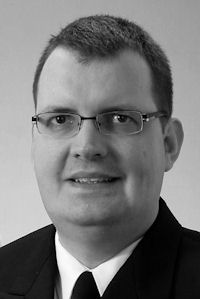 Governor's Desk
Hope everyone is surviving the summer heat. As usual this summer, a lot of us are in transition.
Just a brief newsletter to touch base about some of the College's happenings. Internal Medicine 2013 in San Francisco was a highly successful meeting, however the uniformed attendance was way down with Navy Chapter attendees down by a quarter to a third. Those in uniform continue to struggle with conference authorization and limited TAD budgets. Many of us are hoping for more predictability and stability in future fiscal years. Our typical associate presence was nearly non-existent except for the services Doctor's Dilemma team. The Navy team was well-represented by Walter Reed National Navy Medical Center. Unfortunately they were eliminated in the 2nd round. The Navy Chapter was recognized with the Chapter Excellence Award and Evergreen All-Star award. The Evergreen All-Star award recognized those few chapters who demonstrated repeated excellence over the past 20 years of the Evergreen Award. The Navy Chapter was the only military chapter recognized.
Congratulations to RDML Colin Chinn on his selection to RADM. Congratulations to the CDRs Steve Escobar, Harold Groff, and Joseph Sposato on their selection to Captain.
Congratulations to the following LCDR internists on their selection to Commander: Ryan Bell, Bill Bennett, Kimberly Broom, Jennifer Curry, Jason Daily, Mark Damiano, Sam Gao, Nelle Linz, Vinh Mai, Sean McKay, Matthew Needleman, Brett Partridge, Suneil Ramchandani, Michael Tripp, Heather Ventura, and Dylan Wessman
Congratulations to Daniel Seidensticker on his selection as Internal Medicine Specialty Leader as CAPT Mike McGinnis became the Executive Officer of US Naval Hospital Guam.
Globally the College continues to grow. This year, the ACP will establish a Southeast Asian Chapter. Earlier this year, the college announced plans to initiate educational programs in India starting in 2013.
Finally, the Surgeon General of the Navy has selected CDR Michael Keith as the next Navy Liaison to the American College of Physicians and our next chapter Governor. We will start our yearlong turn over next April with his four year term starting in April 2015. Over the next several months, the chapter will be looking for a new Chapter Treasurer.
---
Save the Date --2013 Navy Chapter Meeting October 25, 2013
Due to this past years difficulty with TAD funding and meeting authorization, the Governor's Council has decided to hold this year's meeting as a video teleconference meeting instead of a traditional face to face meeting as has been done previously. This years meeting is being coordinated by Drs. A. Brooke Hooper and Kristina Kratovil at Naval Medical Center Portsmouth with representatives from Walter Reed National Military Medical Center and Naval Medical Center San Diego. The starting time for the video conference on October 25th will be 1100 EST/0800 PST.
Hopefully each of the participating MTF will use this opportunity to highlight Internal Medicine at their commands. With this format change, it is also hoped that more of the smaller commands and junior internists will participate.
Prior to the meeting, each of the medical centers will hold poster presentation/judging with 3 clinical vignettes and 1 research poster selected for presentation at the ACP meeting. Each site will conduct a local jeopardy competition with 1 resident selected from each site to comprise an all-star Navy team for National ACP meeting. The sites will locally coordinate the CME credits.
At the video conference, there will be at least 1 standard lecture with comments by the Internal Medicine Specialty Leader and myself. Video presentation of (9) clinical vignette posters and the (3) research podium presentations will be competitively judged. The organizers have a goal of including PDF of the posters in our Meeting Program.
More details to be emailed out closer to the meeting date.
---
Chapter Awards
With the upcoming chapter meeting, it is now the time to consider nominations for the 2012 Navy Chapter ACP Sparks Award and the Navy Chapter ACP Volunteerism Award. Award descriptions/criteria are described below:
Navy Chapter ACP Sparks Award for Excellence in Internal Medicine - This award is bestowed upon a staff Internist at a non-Internal Medicine teaching hospital or other Navy Military Treatment Facility (MTF) in recognition of outstanding achievement including, but not limited to the following attributes: teaching prowess and academic acumen, displaying exemplary characteristics of care and concern for individual patients, professionalism, and serving as a role model and mentor. Nominees will be submitted by the Department Head or his/her designee. Prior awardees are not eligible.
Navy Chapter ACP Volunteerism Award - This award is bestowed upon a staff Internist recognition of consistent and extraordinary volunteerism outside of the military setting. Additional attributes for consideration include, but are not limited to the following: displaying exemplary characteristics of care and concern for individual patients, professionalism, and serving as a role model and mentor. Nominations can be submitted by all members. Additionally, one can nominate more than one physician. The recommended number of awardees per year for the Navy Chapter ACP is one Volunteerism Award per year. Prior awardees are not eligible.
Nominations with an accompanying nominating letter are due to me by Friday, August 30th. The Navy ACP Awards Committee will review all nominees and select an award recipient for each award. Nominations can be submitted to me via email.
---
Associate Updates
From Naval Medical Center San Diego
Another graduation brings with it exciting new adventures and challenges for our graduates. LCDR Thomas Baldwin will be moving Northeast to Twentynine Palms, CA to work as an internist. LT Sarah Rice will make her way to the East Coast to work as an internist in Jacksonville, NC. As for the remaining seven graduating residents, they will be staying at NMCSD. With the exception of LT Daniel Dean, who will be the Chief of Residents, they will be first year fellows here in San Diego. LT Michael Scully and LT Luke Oakley will be dedicating their lives to the heart. LT Michael Powers and LT Alexandra Perry decided on the lungs. LT Brett Chamberlin will pursue GI and LT Berjohn will fight infections. They were an exceptional group of residents.
NMCSD has experienced many exciting changes over the past year. One of these changes was the addition of medical students from the Uniformed Services University of the Health Sciences in our program. NMCSD now serves as an official rotation site for USUHS medical students. This has provided numerous opportunities for staff and residents to teach and mentor future physicians.
Another exciting change was the renovation of the Internal Medicine clinic. This project has led to a more appealing and comfortable environment in which to care for patients.
From Naval Medical Center Portsmouth
The 2012-2013 academic year has come and gone, yet more than memories remain. It is that time where we say farewell to our graduating residents, while welcoming our eager new capable interns into their home in Navy medicine.
On June 20, we graduated our third year residents, and in accordance to Portsmouth tradition presented them with Jefferson Cups and Certificates of Residency. CDR Joseph Sposato, Program Director, began the ceremony summarizing the diverse background of the graduating class, and CAPT (ret) Michael Hopkins provided the graduation address highlighting the diversity of opportunities available in the Navy, and the excellent adjunct they provide for this lifetime career of medicine. With regards to our graduating residents, LT Nikunj Bhatt will be continuing on to a pulmonary/critical care fellowship at WRNNMC; LT Alejandro Garcia Salas will be joining Naval Hospital Beaufort, SC; LT Jisun Hahn is joining Naval Hospital Pensacola, FL; LT Ola Oladipo is relieving fellow alum LT Patrick Daly at Guatanamo Bay, Cuba; LT Jonathan Sardina joins Naval Hospital Camp Lejeune, NC; LCDR Tom Stickle is remaining at Portsmouth as chief of residents; and last but not least, LCDR Van Willis joins the combined USN/VA staff at Naval Hospital Great Lakes, IL. May we wish them fair winds and following seas.
Our annual senior resident Dining Out was held again this year in May. CAPT Mike Wagner (Neurology) was presented with our departmental Teacher of the Year award. He has been the consummate professional, providing exceptional teaching in neurologic topics to all levels of learners, from medical students to staff and is an invaluable resource. LT Bhatt received the Aequanimitas Award for the graduating senior who embodies the ideal physician. His zeal for teaching and academic curiosity will only continue the finest traditions of WRNNMC. Intern of the Year was presented to LT Amie Harvey who we are fortunate enough to continue to train through her Internal Medicine residency here.
We are extremely excited about the new additions to our housestaff, as well as all the new faculty we have joining the program over the next several months. We look forward to hosting everyone this fall in our annual ACP chapter meeting, whether it be virtually or in person. If you able to make the trip and enjoy our fine fall colors, I highly recommend it and we will see you here.
---
U.S. Navy Chapter Recognized as an Evergreen All-Star

In 1993, the Evergreen Awards Program was started as a way to recognize outstanding chapter efforts and innovation. As a way to celebrate the 20th anniversary of the program, the Chapters Subcommittee and staff looked for a way to recognize chapters who have demonstrated a long-term engagement with the program. The criteria included that a chapter must have submitted at least 5 nominations, had at least 2 winners, and had a nominated program running for at least 3 years. The U.S. Navy Chapter has contributed to the growth of all chapters through their commitment to sharing successful best practices through the Evergreen program and has been recognized as an Evergreen All-Star for their achievements.
---
Physician & Practice Timeline helps physicians track key requirements and opportunities
ACP has launched Physician & Practice Timeline: Professional Requirements & Opportunities, a valuable online tool to help physicians stay on top of important dates and track deadlines for a variety of regulatory, payment, educational, and delivery system changes, requirements, and opportunities. The Physician & Practice Timeline allows you to track and find useful resources for everything from eRx and PQRS data collection periods to ICD-10 preparation and Meaningful Use reporting periods. The Timeline also provides information on new opportunities that physicians in practice can take advantage of, such as Transitional Care Management (TCM) codes.
The Timeline will be continually updated to reflect all new or revised target dates, deadlines, and incentives.
---
Photos from Internal Medicine 2013