You are here
Governor's Corner July 2014
Governor's Corner July 2014

| | |
| --- | --- |
| July 2014 | CAPT Mark L. Dick, MD, FACP, Governor |
---
---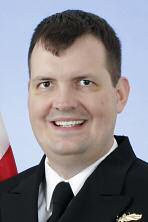 A large focus of the recent Board of Governor's meeting and of the College this year is the new changes to the ABIM Maintenance of Certification (MOC) program. The leadership of the College had clearly heard from the membership regarding the impact of cost, redundancy, and complexity of the new changes. In the May 13th issue of Annals, the leadership of the American Board of Internal Medicine authored "The American Board of Internal Medicine: Evolving Professional Self-Regulation," by Richard Baron and David Johnson. The accompanying editorial, "Maintenance of Certification - Beauty is in the Eyes of the Beholder," co-authored by the Chair of the Board of Regents, ACP President, and Chair of the Board of Governors, respectively by Robert Centor, David Fleming, and Darilyn Moyer. The College's leadership regularly meets at least monthly with the ABIM. After their May 2014 meeting, this e-mail was sent out to the membership to summarize the College's efforts to reform the MOC program.
The Governor's Council has decided that conditions are not right to host a face to face chapter meeting this year. This year's meeting will be a virtual meeting, like last year, with the teleconference meeting to occur Friday, October 17th. The Council is very much concerned about the collegiality and camaraderie of Navy internal medicine. Over the next few months, we are going to launch a few mentoring initiatives. One of the first initiatives will be a new award: Young Leader in Internal Medicine award. This award will be to recognize hard charging, board certified Lieutenants and Lieutenant Commanders from across the enterprise. We are also looking at mentoring activities for young female internists and early career internists.
Congratulations to the following Internal Medicine Captain selects: Drs. Douglas Hawk, Vince Barthel, Sally Tamayo, Scott Itzkowitz, Sam Wanko, Michael Keith, Tim Whitman, Keshav Nayak, Craig Womeldorph, Carolyn Rice, Pat Young, and Daniel Seidensticker.
Congratulations to LT James Prim, LCDR Amie Harvey, and LT Jason Weiner for their 2nd place finish in the National ACP Doctor's Dilemma™ competition. They represented the Virginia chapter in the competition. They were beaten by last year's championship team. The Navy team comprised of LT Richard Bower from Naval Medical Center San Diego, LT Ben Vipler from Walter Reed National Military Medical Center, and LT Haydar Aleid from Naval Medical Center Portsmouth competed valiantly representing the chapter well.
The chapter was the recipient of Special Recognition Award for our submission for the John Tooker Evergreen award acknowledging our efforts to foster chapter development through the planning and implementation of the "Tri-Service Meeting" initiative. Also at the annual meeting, the College launched a new tagline and updated logo. The marketing press release and video is below. You might see some very familiar faces in the video.
Finally, I will close where Navy Medicine's day begins. United States Naval Hospital Guam recently opened its new facility. Here is an article about the opening of this beautiful facility.
I look forward to see you at the Chapter's virtual meeting in October.
---
From Naval Medical Center Portsmouth
As the 2013-2014 academic year ends we face a bittersweet time at Naval Medical Center Portsmouth. We eagerly welcomed a new class of 19 interns to Navy Medicine as we reluctantly said our goodbyes to our nine graduating third year residents.
LT Jason Weiner, LCDR Amie Harvey, and LT James Prim did an outstanding job in the ACP Doctor's Dilemma™ Competition this past spring. They won our Virginia ACP chapter tournament to qualify for the national ACP meeting in Orlando, FL. There, they advanced all the way to the finals and placed second overall in the nation, losing a close match to the University of Pennsylvania.
On June 20th our residents graduated from the program at an outdoor ceremony on hospital point. CDR Michael Galitz, Chair of Medicine and CDR Joseph Sposato, Program Director, opened the ceremony and gave a summary of the classes' accomplishments and next duty stations. CAPT (ret) Jeffrey Cole gave an inspiring key note address about what it means to be an internist to the graduating residents. In Portsmouth tradition, all graduating residents received Jefferson Cups along with the certificates of residency.
Internal medicine staff positions will be held by LT Haydar Al-Eid at Fort Belvoir, VA; LT Mark Cruz and LT Caitlin Cruz at Naval Hospital Camp Pendleton, CA; LCDR Nathan Cutler at NMCP, VA; LT Sarah Godwin at the Office of the Attending Physician, US Congress, Washington DC; and LT Priti Nath at Guantanamo Bay, Cuba. LCDR Jim Ripple will begin pulmonary fellowship training at NMCSD. LT Jason Weiner will remain at NMCP for one year prior to starting his preselected out-service Rheumatology Fellowship in the 2015-2016 academic year. LT Ryan Fawley will remain at NMCP as Chief of Residents.
Additionally, our annual Dining Out was a huge success this past May with superb attendance at a new venue. There, LT Jennifer Gregory received the Internal Medicine Intern of the Year award. LT Haydar Al-Eid received the Aequanimitas Award for the graduating senior who embodies the ideal physician, and LT Ryan Fawley received the resident Teacher of the Year Award. LCDR Shauna O'Sullivan received the staff Teacher of the Year Award. The Rheumatology Department received the inaugural "Innovation and Education Award" for their novel curriculum.
We are excited to welcome our new house staff and incoming faculty over the next few months and look forward to another great year for Navy Medicine at Naval Medical Center Portsmouth.
---
From Naval Medical Center San Diego
This past year has been another successful and gratifying year as the internal medicine training program at NMCSD graduates 9 physicians. These physicians will move to various roles, from continued training to fleet medicine. Notable accolades from this last year include wide success at the ACP Navy Chapter Virtual meeting where LT Stonegarza was selected as resident of the year and was awarded first place for her research on syphilis testing, affording her the opportunity to present at the ACP National meeting in Orlando, Florida. Our house staff have published in several journals over the last year, including Journal of Cardiovascular Medicine, British Medical Journal Case Reports, and the American Journal of Gastroenterology among others. To add to this, incoming chief of residents, LT Russell, surfed the western most beach in the USA in Kauai, HI.
In keeping with the highest standards of Navy Medicine, LT Katherine Vu was recognized for her outstanding dedication to service with the Military Outstanding Volunteer Service Medal at the NMCSD resident graduation dinner. LT Vu's zeal for her chosen profession is readily apparent, as she organized numerous medical missions to provide medical and dental care for Buddhist monks in the US with limited access to care. These actions represent the best of the physician's ethos.
NMCSD Internal Medicine proudly sends its nine graduates forward to the following billets.
LT Joseph An will PCS to NH Guam as a general internist.
LT Michael Fangerow will transition to junior staff at NMCSD.
LT Marc Kajut will join MAG26 MCAS New River, NC.
LT Adam Overbey will become one of the two first year cardiology fellows at NMCSD.
LT Kim Nguyen and LT Katherine Vu will be joining the internal medicine staff at NH Okinawa.
LT Kristi Stonegarza will transition into her chosen field of study as an infectious disease fellow at NMCSD.
LT Xin Wei will join the internal medicine staff at NH Pensacola.
LT Matthew Russell is the incoming chief of residents for academic year 2014-2015 at NMCSD.
Best wishes to the graduates, fair winds and following seas.
---
Paul Florentino Centennial Memorial Fund
The Paul Florentino Centennial Memorial Fund will be dedicated to supporting the Waxman Skills Center which is at each April Internal Medicine meeting, to further the cause of medical education. The funds have initially paid for upgrades to the Harvey cardiopulmonary simulator used in the Waxman Skill Center. Tax-free donations can be contributed to the College at the below address with donation directed to the Paul Florentino Memorial Fund.
Mary Bieter
Governor and Chapter Activities Department
American College of Physicians
190 N. Independence Mall West
Philadelphia, PA 19106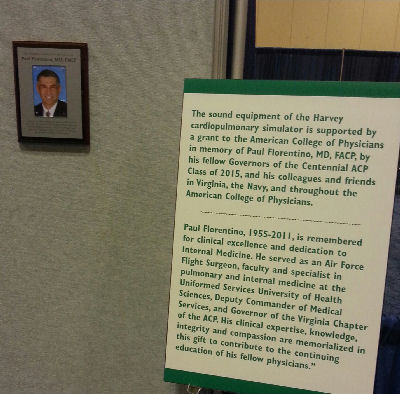 ---
Chapter Awards
With the upcoming chapter meeting, it is now the time to consider nominations for the 2014 Navy Chapter awards. Award descriptions/criteria are described below:
Navy Chapter Young Leader in Internal Medicine Award - This award is bestowed on a Lieutenant or Lieutenant Commander, board certified internist who has displayed significant leadership helping Navy internal medicine execute the mission through innovation, perseverance, creativity, and compassion, this person will have guided or supported their command through challenging times and/or to dramatic success.
Navy Chapter ACP Sparks Award for Excellence in Internal Medicine - This award is bestowed upon a staff internist at a non-internal medicine teaching hospital or other Navy Military Treatment Facility (MTF) in recognition of outstanding achievement including, but not limited to the following attributes: teaching prowess and academic acumen, displaying exemplary characteristics of care and concern for individual patients, professionalism, and serving as a role model and mentor. Nominees will be submitted by the Department Head or his/her designee. Prior awardees are not eligible.
Navy Chapter ACP Volunteerism Award - This award is bestowed upon a staff internist in recognition of consistent and extraordinary volunteerism outside of the military setting. Additional attributes for consideration include, but are not limited to the following: displaying exemplary characteristics of care and concern for individual patients, professionalism, and serving as a role model and mentor. Nominations can be submitted by all members. Additionally, one can nominate more than one physician. The recommended number of awardees per year for the Navy Chapter ACP is one Volunteerism Award per year. Prior awardees are not eligible.
Nominations with an accompanying nominating letter are due to me by Friday, August 15th. Nominations can be submitted to me via e-mail.
---
Internal Medicine 2014 Photographs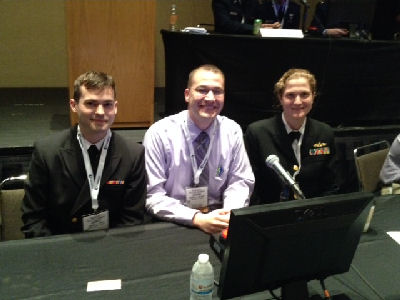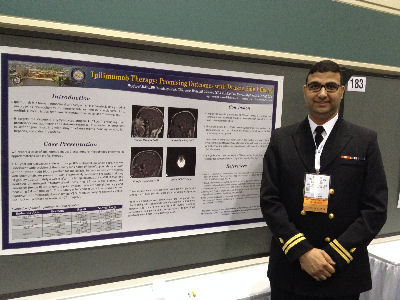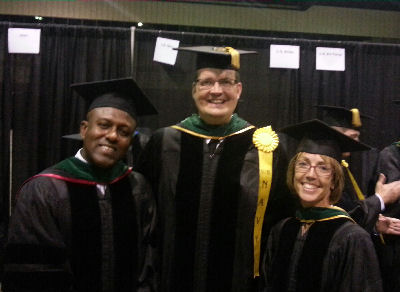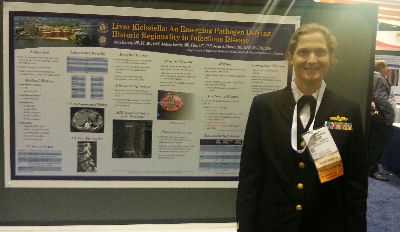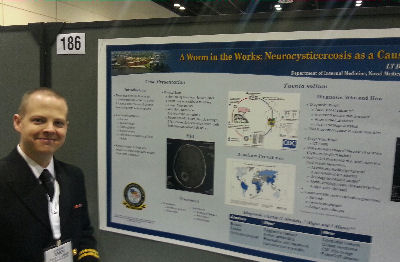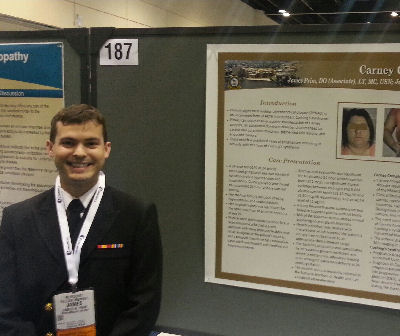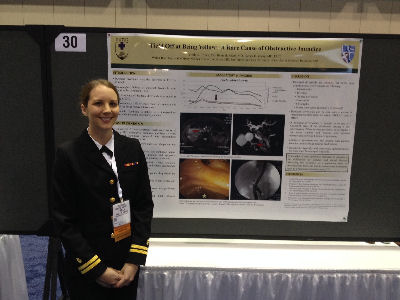 ---
American College of Physicians Unveils New Logo and Tagline: "Leading Internal Medicine, Improving Lives"
Nation's second-largest physician organization begins campaign to strengthen identity among current and prospective members
Watch video of ACP members who embody excellence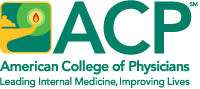 The American College of Physicians (ACP) unveiled a new logo and tagline - "Leading Internal Medicine, Improving Lives"-at Internal Medicine 2014, ACP's annual scientific meeting. "ACP's new logo presents us in a contemporary, vibrant style, while maintaining a link to our rich history by incorporating the traditional element of the lamp of knowledge," said Steven Weinberger, MD, FACP, executive vice president and CEO, ACP. "Our new tagline speaks to the accomplishments of our members as well as to ACP's role in the field of internal medicine."
The new logo and tagline mark the start of a campaign to strengthen and reinvigorate ACP's identity among current and prospective members that will carry over into the organization's centennial celebration in 2015. Individual product logos also will be updated to reflect the new branding approach, unifying design elements across ACP's family of products. ACP's multifaceted initiative will include videos, social media outreach, profiles of members highlighting their accomplishments, and a redesigned Web site.
"Medicine in the 21st century can achieve things that weren't even dreamed of one hundred years ago, but the profession's commitment to the fundamental values of excellence, compassion, and dedication to our patients endures," said Molly Cooke, MD, FACP, president, ACP. "The new logo represents ACP's support of our members as they master the knowledge and skills demanded by a changing world of health care while holding fast to the foundational values of internal medicine."
ACP's new logo and tagline also connect to the organization's initiative in 2013 to fortify the identity of internists and reinforce pride in the profession of internal medicine, which included a new definition of internal medicine physicians: specialists who apply scientific knowledge and clinical expertise to the diagnosis, treatment, and compassionate care of adults across the spectrum from health to complex illness.
---
American College of Physicians Unveils Tools to Improve Care for Patients with Rheumatoid Arthritis, Chronic Pain, Irritable Bowel Syndrome, and Exocrine Pancreatic Insufficiency
Many of us use the College's patient education materials Lose Weight, Diabetes, Living with COPD, and Caring for Your Heart Guides. The American College of Physicians (ACP) is releasing new guides to help patients and physicians manage rheumatoid arthritis, chronic pain, irritable bowel syndrome, and exocrine pancreatic insufficiency.
"Live Better with Rheumatoid Arthritis"
Designed with input from doctors, nurses, pharmacists, and patients, this guidebook provides valuable information to help patients live better with rheumatoid arthritis (RA). Patients will learn about RA medications and treatments, along with tips for healthy eating and exercise. This guidebook also gives advice on coping with feelings and how to make everyday activities easier.
"Live Better with Rheumatoid Arthritis" includes clear language and relatable photos so that patients can understand complex information and management tips. Funded in part by the Arthritis Foundation, this guidebook suggests small steps patients with RA can take to help improve their quality of life.
"Relief in Sight: Coping with Long-Lasting Pain"
Chronic pain can be frustrating and exhausting. It can become the focus of a patient's life, affecting work, play, and relationships. However, most chronic pain conditions can be managed with one of the many types of therapies available today.
This guidebook and accompanying DVD is designed to help patients learn about options for pain management and, along with their doctor, find treatments that work. Patients will learn that sometimes it can take time to find the right combination of treatments to relieve pain, but working closely with a health care team is a patient's best chance for managing pain.
"Irritable Bowel Syndrome HEALTH TiPS"
Irritable Bowel Syndrome (IBS) is a common condition with uncomfortable symptoms such as stomach pain, bloating, gas, constipation, and diarrhea. Patients can control IBS symptoms through healthy diet and exercise, managing stress, avoiding things that trigger symptoms, and taking medications to treat symptoms.
The Irritable Bowel Syndrome HEALTH TiPS are convenient two-sided 4"x6" sheets designed to help clinicians and patients to have more effective communication. The IBS HEALTH TiPS, funded by Forest Laboratories, identify key concepts that reinforce messages and are written to help patients understand what they need to know and do to manage their IBS.
"Exocrine Pancreatic Insufficiency: A Guide for Patients"
The pancreas has many jobs, one of which is to make substances called enzymes. Enzymes allow the body to digest food so that it can be used for nourishment. If the pancreas is diseased or damaged, it may not make enough of these important enzymes. This condition is called exocrine pancreatic insufficiency or EPI for short.
This guidebook and accompanying DVD is designed to help patients learn more about signs and symptoms, diagnosis, and management of EPI. Today, people with EPI can manage the condition, which can reduce their symptoms.
How to Order ACP's Patient Education Materials
These patient education materials are available and can be ordered online or by calling ACP Customer Service at 800-523-1546, extension 2600. "Relief in Sight: Coping with Long-Lasting Pain," "Exocrine Pancreatic Insufficiency: A Guide for Patients," and "Irritable Bowel Syndrome HEALTH TiPS" are available at no charge for all physicians and patients. ACP members can order up to two boxes (40 in each box) of the "Live Better with Rheumatoid Arthritis" guidebooks at no charge. Additional quantities are available for $64 per box.
---