You are here
GOVERNOR'S NEWSLETTER June 2015
GOVERNOR'S NEWSLETTER June 2015

---
---
From the Governor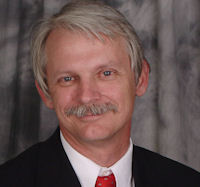 James F. Bush, MD, FACP, ACP Governor
While it is known as the Wyoming Medical Society's Annual Meeting, June 5-7 at Jackson Lake Lodge in Moran had a strong American College of Physicians flavor with the Wyoming Chapter hosting an ACP Governor's Advisory Board meeting, a SEP module, as well as a Town Hall Meeting over the weekend.
The highlight of the weekend for ACP members was the attendance of Dr. Robert Lohr, a national regent for ACP who offered presentations on Preoperative Testing and Excellence in Internal Medicine to the full membership at WMS on Friday, before taking part in the Town Hall Meeting where he offered an overview on the ACP's national priorities for the next year.
According to Lohr, the ACP has 141,000 members nationwide and is the largest specialty society in the world. He said the ACP's priorities for the upcoming year are: addressing physician burnout, practice satisfaction, MOC, and a program called patients vs. paperwork. On the lobbying side, the ACP will work towards reinstating the Medicaid vs. Medicare payment parity, extending the 10 percent primary care bonus, and continued work on decreasing administrative complexities of practicing medicine.
On Saturday morning of the Annual Meeting the current ACP Governor, Jim Bush, MD; and the incoming Governor, Mike Tracy, MD put on a SEP module for a room full of ACP members on patient safety and medical ethics. Each attendee received 18 MOC points.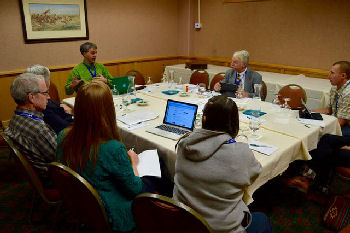 Incoming President Mike Tracy leading a SEP module
Bush was in Boston last month for the ACP's Board of Governor's Spring Meeting and suggested that ACP CEO Dr. Steven Weinberger offered an excellent report on recent changes at ABIM. Bush said the ACP has had a busy year including efforts to:
Developing more flexible, less burdensome ways to fulfill practice assessment requirement.
Set up a task force to explore redesigning the secure examination;
Decreased the cost of an exam re-take;
Agreed to one-year grace period to maintain certification after 10 year cycle if exam failed (provided all other MOC requirements are met).
He also pointed out there have been ongoing conversations between the two organizations, and the College will continue to represent the concerns of its members.
Bush reports there was then an update on the redesign of the ACP Online website during the Boston meeting, which has many useful features, but can be difficult to navigate, due to the extreme number of choices. After a four-year planning process the ACP is focusing on the members, and make it easier to navigate. The website will have a responsive interface, so it optimizes the view, whether in IPAD, phone or computer.
"We were reminded that resolution brought up through the chapters are a great way to bring the concerns of the members to the organization, and I encourage anyone with a topic they think would make a good resolution to email me, so we can help you research and draft your resolution," Bush said. "MKSAP continues to be very popular, and many are now accessing it entirely online. It is a great way to prepare for MOC.
Bush added that Bob Doherty's annual Washington update and offered SGR is finally dead, to be replaced by MIPS (Merit based Incentive Program) or APMs (Alternate Payment Models).
MIPS adjust traditional fee-for-service payments upward or downward based on new reporting program, replacing PQRS, Meaningful Use, and Value-Modifier. He said the measurement categories would be:
Clinical quality (by year three will be 30 percent of total composite score);
Meaningful use (25 percent--but could be adjusted down to 15 percent if 75 percent of eligible professionals are meaningful users);
Resource Use (10 percent in year one, 15 percent in year two, and 30 percent in year three and subsequent years
Practice improvement (15 percent)
Additional weighting will be applied based on achievement, improvement, and the applicability of each category to the type of Eligible Provider.
However, and the details are still being developed Physicians in a PCMH may also receive higher pay increases. As these details are worked out we will let you know. One thing Bush said he did was to ask both the ACP and CMS to recognize state Medicaid PCMH's as eligible for this program.
"What is very clear though is HHS is committed to moving towards 'Value Based Medicine,'" Bush said.
Among the highlights of the Board of Governors Meeting in Boston was the presentation of the Legacy Award to Dr. Donald Hunton, MD during a dinner of Wyoming ACP members. The Legacy Award celebrates ACP's centennial by recognizing one seminal chapter member whose service to the chapter had a significant impact on the chapter's viability. This individual should exemplify ACP's core values including leadership, excellence, respect, compassion, professionalism, and responsibility.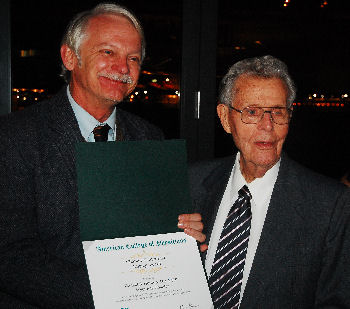 Dr. Hunton receiving the Legacy Award
In his acceptance speech, Hunton said, "This award is the keystone of my life in medicine. As it is defined, the keystone is the final stone in an arch… I can't think of anything more I could even ask for from the profession."
Hunton is a Wheatland (Wyo.) native who graduated from the University of Wyoming in 1950 before moving to Rochester (NY) for medical school, as well as an internship. A two-year stint in the Air Force brought him back to Cheyenne before he spent his residency in two different Rochester's (New York and Minn.) before he returned to Cheyenne. In July of 1961, Hunton said he joined Dr. David Flint and they formed the Internal Medicine Group, where he practiced until he retired on Dec. 1, 1992.
---
Transition Beginning for Chapter Leadership
CHEYENNE - With less than a year before the changing of the guard as State Governor, current State Governor Jim Bush, MD, and incoming State Governor Mike Tracy, MD, are beginning the transition of chapter leadership. Bush's term will end next April, making this year's Annual Meeting his final meeting as ACP Chapter Governor.
The Chapter Governor is responsible for making sure the functions of the state chapter are carried out. The Governor attends two annual national ACP meetings a year, as well. Bush, who is also the state's Medicaid Medical Officer, said he enjoyed his time at the head of the state's ACP chapter, especially the opportunities it allowed him to impact public policy.
"I enjoyed representing patients and internists through public policy committee," Bush said. "While the Medicaid expansion was going on I was the only one at that level who understood Medicaid to that extent."
Bush added that he was proud of his time as chapter Governor, specifically the work in helping shore up the Wyoming Chapter's ACP finances, as well as increasing both the chapter's overall membership as well as the number of fellows in the Wyoming Chapter. He also cited a willingness by other chapter members to be involved as one of his prouder achievements.
"I am proud that we have interest from the high quality internists interested in participating."
Dr. Mike Tracy comes into chapter leadership with a plan to meet with Bush and the ACP Governor's Advisory Council this June in Jackson to discuss chapter goals and the direction of the chapter going forward. He said he believes the ACP is ahead of the curve where board recertification is concerned and he hopes to continue that effort.
"The educational offerings of the ACP whether you go to the state meeting, the national meeting or in doing things through the medical knowledge self-assessment program, it is difficult to beat the value you get from the ACP," Tracy said. "It also gives you a venue to keep in touch with your colleagues."
Tracy said he will attend the Board of Governors Meeting with Dr. Bush in Palm Springs this fall and has looked through a very detailed checklist offered by the ACP's national office.
"It is good to try to keep in touch with fellow primary care and specialty internists in the state to try to make sure we are as organized a unit as we can be and the ACP is a good organization for internal medicine docs whether they are primary care of specialty."