You are here
GOVERNOR'S NEWSLETTER June 2015

---
---
From the Governor
Lisa Ellis, MD, FACP, ACP Governor

Dear ACP Colleagues
2015 has already been a whirlwind of activities for us in Virginia for ACP and in healthcare in general! With the recent changes in legislation regarding the SGR fix comes many opportunities for us to delve into new issues concerning reimbursement, payment reform, collaboration and quality reporting. May 20-21, ACP descended upon Washington, DC for our annual Leadership Day for lobbying and taking our voices up "the Hill". We work to continue to move forward the agendas that will be of benefit to all providers throughout the Commonwealth.

Leadership Day delegation with Cong. Robert Hurt
---
Highlights of 2015
White Coats on Call
We began our year with our work in collaboration with the Medical Society of Virginia and annual White Coats on Call at the Capitol in Richmond. We had many in attendance including: ACP members, MSV members from District 10 who are also ACP members, and 15 medical students and residents who were enrolled in a health policy course from Georgetown. They lobbied delegates discussing pertinent issues with our local/State representatives in the Commonwealth government. Below is a picture of those people participating on that day.
A huge thank you to Stuart Henochowitz, MD, FACP for his organizational efforts.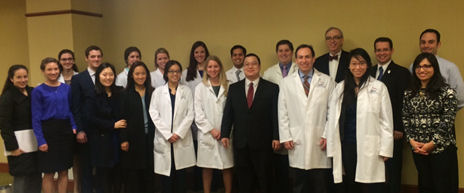 White Coats On Call" delegation
---
Annual Resident ACP Day combined with Annual State Conference
In March, amidst the snowiest March day I can remember, we had a combination of our ACP residency program/competition with our Virginia Annual Meeting and Clinical Update at the Short Pump Hilton in Richmond. We had five excellent residency programs competing in a research and clinical vignette competition as well as the infamous medical dilemma, (Medical Jeopardy). After much fierce competition and numerous excellent presentations and speakers, we announced our winners in both research and clinical vignettes at the awards program that evening. The EVMS Medical Jeopardy team will represent VA at the 2016 National ACP meeting in Washington, DC along with the winners from the competition. "Doctors Dilemma" (the national "Medical Jeopardy" competition) is one of the most popular venues at the national annual conference with great competition and attendance in each round of competition. This year we had a team of residents from Portsmouth Naval in Boston and we will be rooting for our team from EVMS next spring!
The Resident Awards dinner included announcements of all of the resident presenter winners and was hosted by the Governor's Council. During the evening, academic teaching awards for outstanding teachers from each Residency program were presented. The residents chose and presented the awards to their respective recipients. The awardees were:
Mark Flemmer, MBBcH, FACP -Eastern Virginia Medical School
Amanda Brooke Hooper, MD -Naval Medical Center Portsmouth
Molly Hughes, MD, FACP University of Virginia
Andy Pinson, MD, FACP -Virginia Commonwealth University
Michael Berry MD, FACP -Virginia Tech Carilion
The winners of the abstract competition were also announced and celebrated at the dinner.
Winners representing VA-ACP in Washington DC in 2016 will be:
First Place research- Sanah Christopher, MD from VCU "Effects of Prolastin C (Plasma Derived Alpha-1 Antitrypsin) on the Acute Inflammatory Response in Patients with ST-segment Elevation Myocardial Infarction (VCU-Alpha 1-RT Pilot Study).
2nd Place Research- Andrew Ebers, MD from UVA with "Preserving Integrase Inhibitors: Efficacy of Raltegravir, Etravirine and Dartunavir/Ritonavir for Treatment-Experienced HIV Patients from a Non-Urban Based Catchment Area in the United States".
First Place Room 1- Clinical Vignettes - David Klimp,l MD from Eastern Virginia Medical School. "Nacho Average Rash: Sweet's Syndrome Presenting with Oral and Cutaneous Pathergy" and First Place Room 2- Clinical Vignette-Bradley Icard, DO from Virginia Tech Carilion, "Stroke in the Young: Homozygous C677T Methylenetetrahydrofolate Reductase Gene"
Winning cash prizes for the day of competition included:
3rd Place Research - Adrian Loffler, MD from UVA, "Prevalence and Predictors of the Absence of Obstructive Epicardial Coronary Artery Disease in Patients Referred for Index Coronary Angiography".
2nd Place Clinical Vignettes- John McConnell, MD from UVA, "Detecting Grimontia Hollisae as a Causative Organism of Severe Gastroenteritis" and Karen Coffey, MD from UVA, "When Cellulitis is Not Cellulitis".
3rd Place Clinical Vignettes- Elise Siders, MD from VCU, "Multicentric Castleman Disease: A Rare Complication of HIV and HHV-8" and David Gibbons, MD from VA Tech Carilion with "The Heart of Carcinoid".
The presentations were fantastic and our judges had a difficult job choosing the top winners!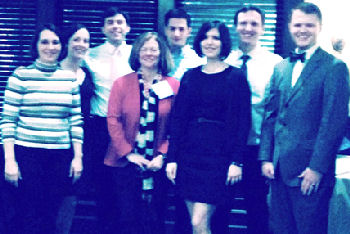 Resident Abstract Winners with Anke Hacker, MD, FACP and Lisa Ellis, MD, FACP
Our Annual Meeting and Clinical Update was chaired by Wendy Klein, MD, MACP (who also was honored with our 2015 Virginia Laureate Award this year). We had an array of fantastic topics and speakers giving us the opportunity to earn CME locally with excellent presentations and plenty of networking. We had over 210 in attendance despite the blizzard!
At our Annual Award Luncheon we presented the following awards for 2015:
Virginia Laureate 2015- Wendy Klein, MD, MACP
Young Internist - Anke Hacker, MD, FACP
Paul Florentino Volunteerism Award - Paul Dallas, MD, FACP
Community Teaching Award - Anne Rose Eapen, MD, FACP.
---
Centennial Celebration for National ACP Conference in Boston, MA
In late April we descended upon Boston, MA for our ACP Centennial Internal Medicine 2015 Scientific Program with the largest attendance in the history of ACP scientific programs. I had the distinct pleasure of chairing this meeting and was fortunate to have an incredible planning staff and committee working on this endeavor. While there are hundreds of speakers and presentations, we enjoyed over 14 presentations involving our own Virginia Commonwealth providers. Highly commendable was the honorary "Massachusetts's Award Lectureship". This lectureship was established in 1988 to honor a distinguished internist named by the Internal Medicine Scientific Program Committee. Richard Wenzel, MD, MACP from VA gave this honorary lecture on "Evidence-based Physical Diagnosis" and provided a wonderful presentation.
During ACP convocation we had 25 of the 105 new Virginia Fellows join us in Boston to march in full regalia. Virginia also had two new Masters celebrated in Boston: Wendy Klein, MD, MACP and Jerry Nadler, MD, MACP.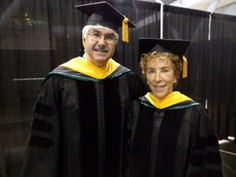 Jerry Nadler, MD, MACP and Wendy Klein, MD, MACP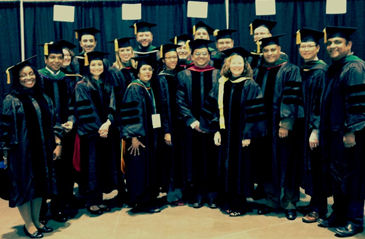 New Fellows at Convocation 2015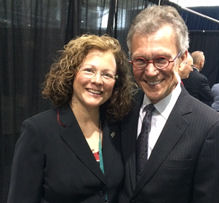 Lisa Ellis, MD, FACP and Sen. Tom Daschle, Keynote speaker at Opening Ceremony, Internal Medicine 2015
In celebration of the ACP Centennial we had the opportunity to submit a candidate for the distinguished ACP Centennial Legacy Award. This was bestowed upon our renowned leader, Jeffrey P. Harris, MD, MACP. Dr. Harris joined the stage party for Convocation and as always represented VA well.
Following convocation we joined the neighboring chapters of DC, Delaware and Maryland for our ACP reception. We had excellent attendance at a very fun upscale Mexican restaurant that evening with over 170 attendees.
A fantastic highlight for VA during this meeting was having our Virginia Chapter win a " John Tooker Evergreen Award" recognizing the incredible effort in planning and organization of our state student ACP Program day held in collaboration of our state annual meeting. The John Tooker Evergreen Awards provide an opportunity to recognize the valuable contributions of individual chapters as they strive to enrich, educate, and engage membership. Sixteen nominations were submitted this past year with two awards given in the category of Student Programming. Vignettes of all nominations will be posted on ACP's website over the next few weeks.
The goals of this program are to:
Recognize chapter achievements;
Clarify and incentivize desired activities at the chapter level;
Improve sharing of best practices between chapters; and
Encourage effort and innovation at the local level.
Well done Shaneke Weerakoon, Virginia Tech Carilion and Alan Dow, MD, FACP, Student rep mentor!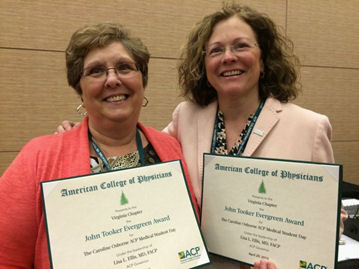 Ann Tennett, Executive Director, and Lisa Ellis, MD, FACP with the coveted Evergreen Award
---
"Steps to Success"
Our medical students went on to shine at the recent "Steps to Success" program at Washington Hospital Center. This program is sponsored by the Virginia Chapter along with the Army, Navy, Air Force, District of Columbia and Maryland ACP Chapters. It is a full day of educational activities including SIMS labs, "Iron Man" and abstract competitions, residency panels, lectures and culminating with a "Medical Jeopardy" competition. This year, the team from EVMS under the coaching expertise of Ronald Flenner, MD, FACP won the competition. The team included Kelly Johnson, Austin Baraki, Hitesh Patel, and Rollin Reeder. Congratulations!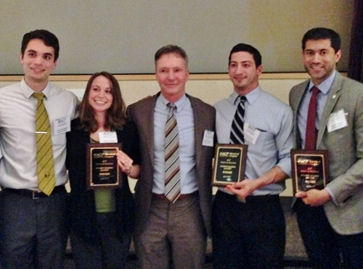 ---
Continued Efforts and Initiatives
Now we return after much pomp and circumstance from Boston to dig into our summer and fall work. Led by our national ACP efforts we spread the word to our members that MOC will continue to be a top initiative as our ACP leaders work tirelessly to make substantial changes with ABIM. We are also rolling out new programs to help providers enhance their professional satisfaction and decrease the national trend of increased "burn-out" factor in our work force. ACP also will be focusing on initiatives to facilitate the production of quality reporting as well as initiatives targeting the needs of hospitalists and early career physicians. More to come on each of these in the upcoming months.
The Governors Council will continue to meet twice a year and determine goals and projects that target your needs as an ACP provider in Virginia.
In May 2016, we will transition to a new Governor as Bill Fox, MD, FACP of Charlottesville takes the lead in Virginia. Bill will join me in this year of transition and learn the ropes to take over as Governor in May in Washington, DC. Dr Fox will do a fantastic job of leading us in Virginia from 2016-2020 and keep us abreast and afloat in this ever changing world of healthcare.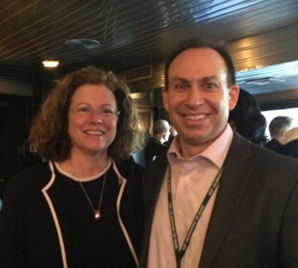 Governor Lisa Ellis, MD, FACP and Governor-Elect William Fox, MD, FACP
As always, please feel free to contact me with issues, comments or concerns. Mark your calendars for March 3, 2016 for our Resident ACP day and March 4-5 for our annual meeting in Charlottesville, VA. Also save the date for the National ACP Scientific Program-2016 in Washington, DC May 5-7, 2016. Enjoy your summer and watch for email blasts about new initiatives!
Warm regards,
Lisa