You are here
Tennessee Governor's Newsletter November 2017
Tennessee Governor's Newsletter November 2017

---
---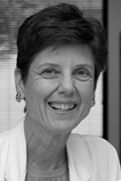 Tracey E. Doering, MD, FACP, ACP Governor
---
Governor's Message
I want to wish you and your families and friends a peaceful and happy holiday season. I hope everyone has some restorative downtime!
There continues to be a lot going on locally and nationally with ACP and I will provide the highlights below. Please email or call me for clarification, questions, concerns or ideas. Thanks for your continued membership and let me know how I can help serve you and your patients. (tracey.doering@gmail.com or my cell 615-347-9643).
---
September Board of Governors Meeting
Numerous resolutions were recommended for consideration to the Board of Regents. These included resolutions to try to help control drug costs for our patients, limit frequent formulary changes, and improve physician-patient communication in this era of texting and social media. Details can be read here.
---
Advocacy
We have been working locally on issues of MOC, Doctor of Medical Science proposed legislation and the episodes of care situation.
MOC
Dr. Lane recently testified on our behalf about the burdens and current problems of MOC for the practicing physician. His comments can be viewed here.
Doctor of Medical Science
Thanks to all of you who responded to our survey regarding this proposed legislation regarding independent practice of primary care by physician assistants. We have voiced your opinion at local Nashville Academy meeting and to the TMA Board of Trust. I have attached most recent letter regarding this situation. Please participate in any local meetings of your societies where this is being discussed.
Episodes of Care
Some members have participated in these discussions which are ongoing and you can read the current status below. ACP has agreed to participate in the coalition to improve this issue.
---
Tennessee ACP Chapter Meeting
We had an outstanding meeting this year and special thanks to Dr. Maria Tudor, who has been the chairman of three planning committees in a row and has agreed to one more year! (a big relief to me!)
We had outstanding speakers and great participation from our associates. There was a workshop on POC ultrasound and a fun session on mnemonics led by Dr. Jim Lewis. We had MOC available and will continue to do that for all future meetings.
The Laureate award was given to Dr. Catherine Womack. (pictured below with her husband)
The Volunteerism Award was given to Dr. John Thompson. He was not able to attend, but was blown away when I called him about it.
Please continue to nominate your colleagues for these awards. You can email me or Dr. Ken Olive (Chair of the Nominating Committee) olivek@mail.etsu.edu. We would also like to give a teaching award for those who mentor our physicians of the future.
See the criteria for these nominations.
Doctor's Dilemma was a fun event. The winner this year is ETSU, who will represent Tennessee at the National Competition in New Orleans in 2018.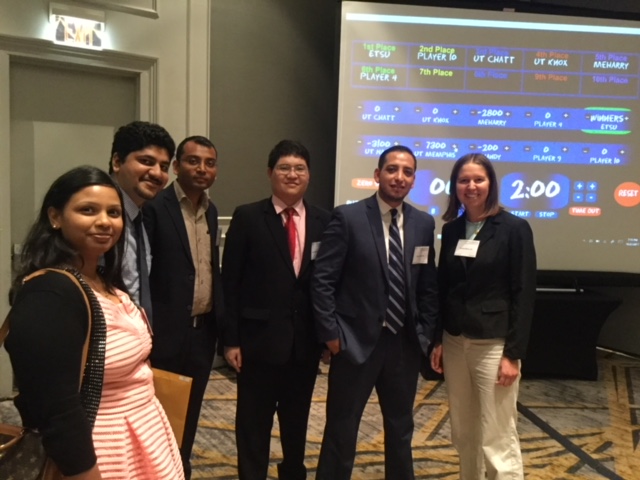 The oral presentation was won by Dr. Steven Russo from Chattanooga on a case of Moyamoya.
Winners of the poster competition:
Dr. Olufolahan Carrena from MeHarry-first place
Dr. Cherie Dahm from Vanderbilt-second place
Student poster winner was Hunter Bratton from ETSU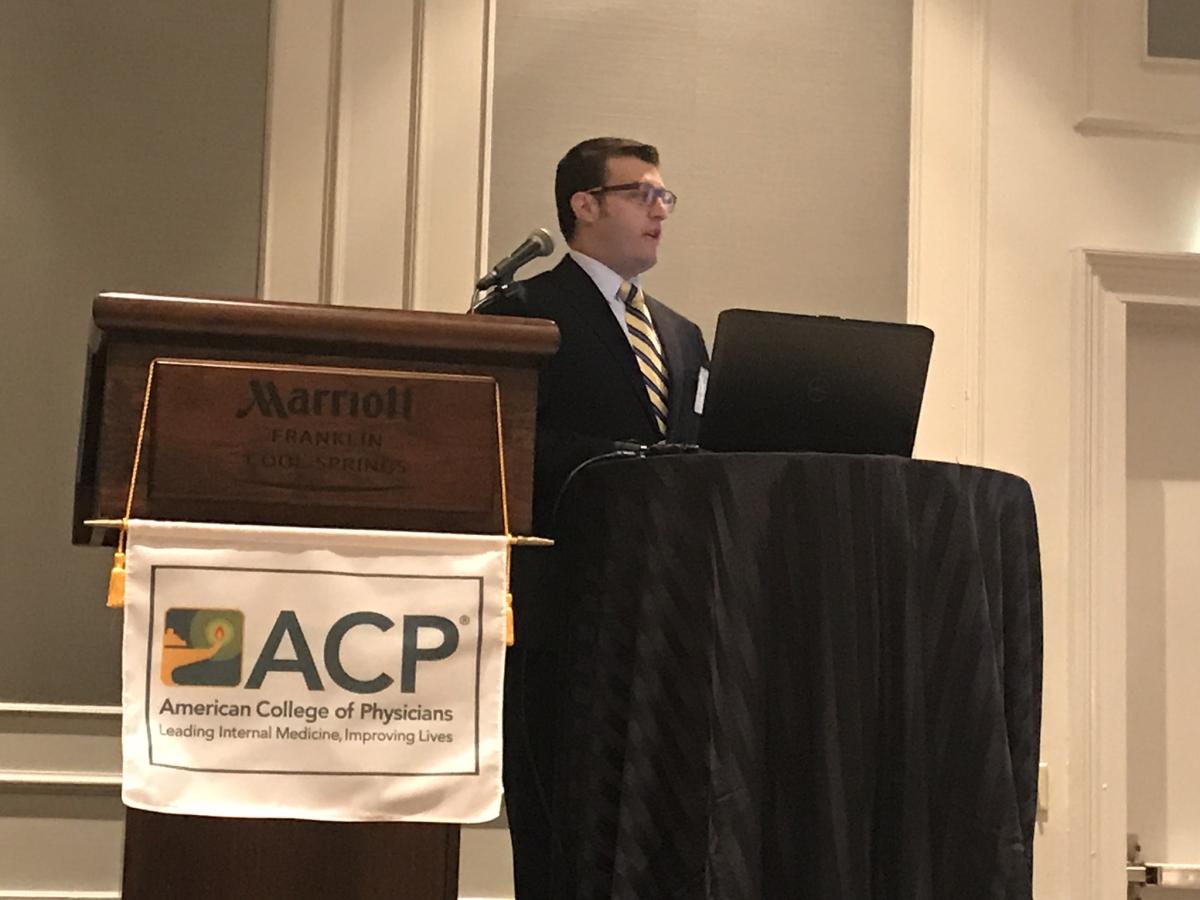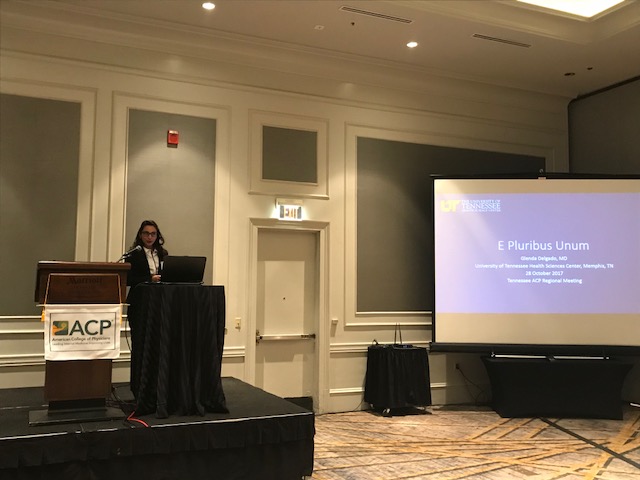 We were privileged to have Bob Doherty join us for the Town Hall.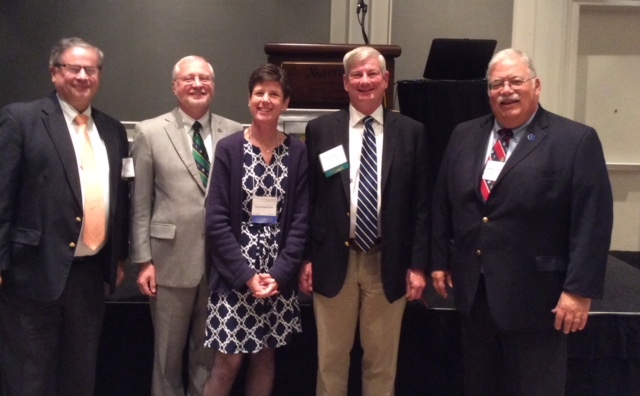 ---
Current Activities of Chapter
Wellness
This is a focus of national ACP, and numerous other medical organizations including ACGME. We have a Wellness Committee led by Dr. Mukta Panda and will be sending another survey shortly regarding this. The data from our initial survey was shared, showing about 40% burnout with emphasis on challenges with EMR and our control over our practices.
We would like to get local involvement from each region of the state to champion this for your local groups. Mukta Panda, Ben Maddox and Sonal Gupta from council will plan to attend national training session on wellness.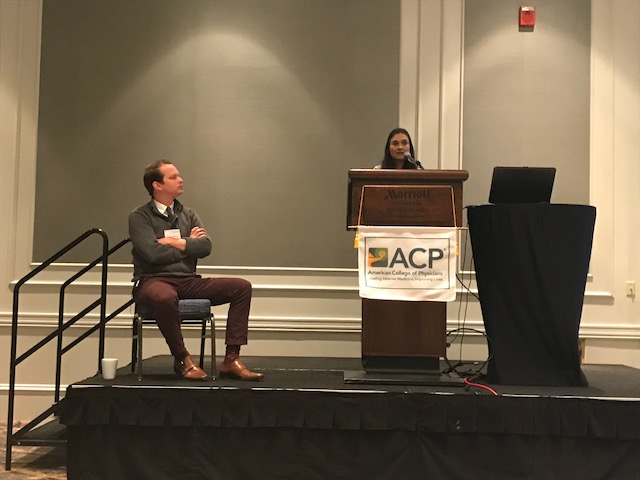 Communication
We need to keep younger members (who are the future of the organization) interested in our chapter. I am planning to start a Facebook page for our TN chapter and would love any input from members and would love to post items of interest to our members. If you have any interest in assisting in this, please email me. It is imperative that we post regularly to make this useful for all of us.
Early Career Physicians
We have a committee led by Dr. Mihir Patel (mhp0023@gmail.com) and want more involvement. Please email Dr. Patel if you are interested.
MOC
Dr. Jim Lewis and Dr. Catherine Womack are preparing a session for Feb. 17th in Memphis. For more information, follow this link.
---
National ACP Website
This has recently been updated and there is an excellent Online Learning Center - Please log-on and check it out.
---
Save the Date
ACP Internal Medicine Meeting 2018:
April 19-21, 2018
New Orleans, LA
Reading Retreat:
March 2-4, 2018
There may be an opening or two left for this popular event, please contact Renee at renee.arnott@tnmed.org.
Date of next TN Chapter Meeting:
Chattanooga, Oct. 26-27th, 2018
Again, have a great holiday season and peace to all!