You are here
THE WAVE: February 2017
THE WAVE: February 2017

---
---

THE WAVE
---
Annual Chapter Meeting May 3, 2017
Come one! Come all! We have a fabulous meeting planned at the Warren Alpert Medical School of Brown University on Wednesday, May 3, 2017. You can earn up to 6.25 CME credits, including 2.75 CME credits towards RI CME re-licensure requirements, on topics such as:
MOC SEP Module - Hospitalist Medicine
Controversies in Medicine: Stress Testing and Direct Oral Anticoagulants
Managing Confidentiality in Integrated Health Settings
Caring For The Patient With Dementia
If Not Opioids, Then What?
Resident/Fellow Forum Competition
We will also be honoring three of our colleagues with Chapter Laureate Awards:
The Irving Beck award will be presented to Dr. Harold Sanders.
The Milton Hamolsky award will be presented to Dr. Bernard Zimmerman.
The Governor's Award will be presented to Dr. Harlan Rich.
In addition to our usual research competition for residents, we have added a new event! There will be a poster competition with on site judging after the lectures and before the Podium Presentations, with cash prizes awarded.
Come join us and connect with peers, update your knowledge, support local Medical Residents and Students, and earn CME! Bring a friend, or a new colleague, and become involved with ACP.
Registration information will be posted shortly.
---
Advocacy
The Health and Public Policy Committee met on February 8 with the largest turnout for the committee's work in years! As discussed elsewhere, while not perfect the Affordable Care Act has brought affordable health care to millions over the past eight years, and much of its design and implementation accords with established ACP policies and position statements. Committee members will be working with residents involved in the Brown/Lifespan based residency programs to help to educate Rhode Islanders on the risks to those ACA-related gains in the current political environment.
Additionally, the Committee reviewed the current legislative agenda of the Rhode Island Medical Society's Public Laws Committee. Their focus this legislative season on streamlining credentialing, advocating for participation in an established interstate medical licensure compact that would facilitate licensure in Rhode Island for physicians already licensed and board certified in other states, and working toward legislation that would protect patients from "surprise billing" (i.e., receiving a bill of out of network care but not being notified that the provider was out of network until after the service was provided).
RI Senator Sheldon Whitehouse has recently proposed legislation advocating a "public option" for Medicare, allowing those under 62 to buy in to Medicare. That proposal is in accord with established College policy. Opportunities to collaborate were discussed, including arranging a meeting between Chapter members and the senator or his staff.
Finally, the committee discussed current work and opportunities for participation by chapter members in both the residency program's Advocacy in Action program and the medical school's "Advocacy in Action" elective.
If you are interested in participating in the Health and Public Policy committee, please let Tom Bledsoe know.
On the National scene, much work has been done since the election. All are encouraged to check out the Advocacy Section on ACPOnline. Consider signing up for Advocates for Internal Medicine Network.
Here are links to recent letters from the ACP including our own Dr. Nitin Damle, President of ACP.
---
2016 Post-Election Update
ACP President Nitin S. Damle, MD, MS, MACP, outlines ACP's advocacy priorities following the 2016 Presidential and Congressional election
ACP Statement on Immigration Policy
---
ACP Resolutions for Spring 2017
At each meeting of the Board of Governors, new Resolutions are discussed and voted on by the Governors acting as your representatives. I would like to request feedback on the upcoming resolutions for the next meeting to be held on March 28. The Resolutions can be found here.
Please send me your thoughts on these important issues. By providing feedback, you help shape College policy that impacts the practice of internal medicine.
---
Doctor's Dilemma
An exciting competition was held at the George Auditorium at RIH on November 16, 2016 going right down to the wire. Five teams competed from all of the Residency Training programs, and the Memorial Hospital team were the winners! They will compete at IM2017 in San Diego in April. Congratulations, and good luck in San Diego!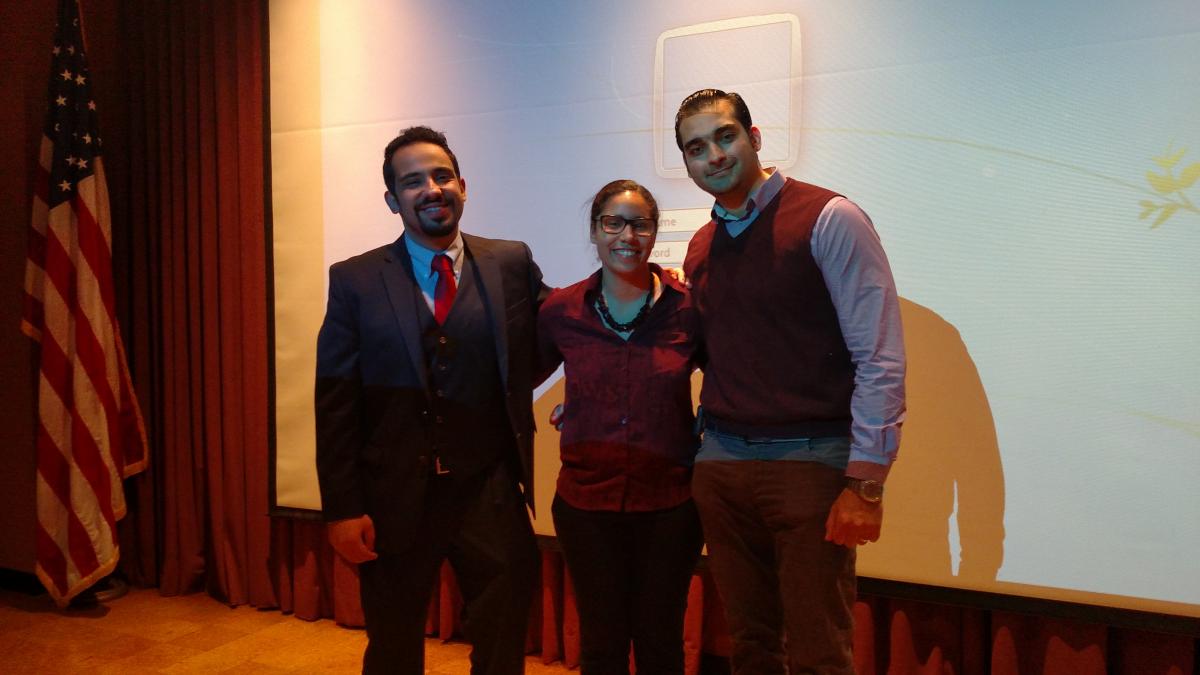 Drs. Faeq Kukhon, Anais Ovalle, and Firas Barbour
---
IMIG Panel
The Internal Medicine Interest Group at the Warren Alpert Medical School of Brown University sponsored a panel of physicians at different stages in their careers for first and second year students. This was held on November 3, 2016 at the school. The IMIG members were Nihaal Mehta, Fabian Vargas, Jyotsna Ghosh, and Dhairyasheel Ghosalkar. The panel discussed their different backgrounds, career paths, and interests and also showcased primary care as a major factor in all of internal medicine.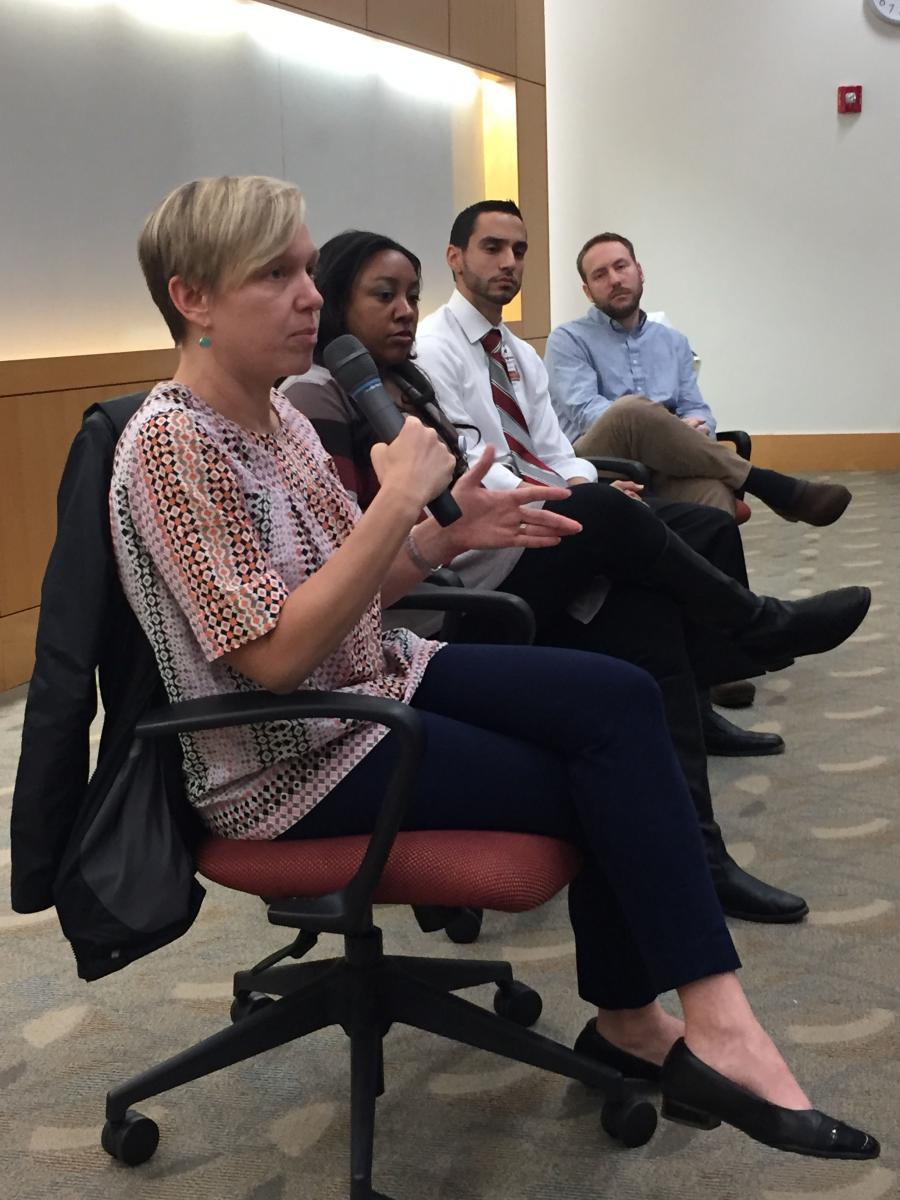 Drs. Emily Levine, Alisha Stevens, Jael Rodriguez, and Will Rafelson
---
Early Career Physician Mixer
A group of Early Career Physicians gathered at CAV on January 19 for drinks and nibbles, and to learn about MOC from Dr. Yul Ejnes. It was a fun time for folks to see colleagues and friends, and to meet new ones. Thanks to Drs. Will Rafelson and Jael Rodriguez for organizing this. They also have set up a Facebook website, Rhode Island Early Career Physicians, which now has 75 members. Please contact me if you are interested in joining.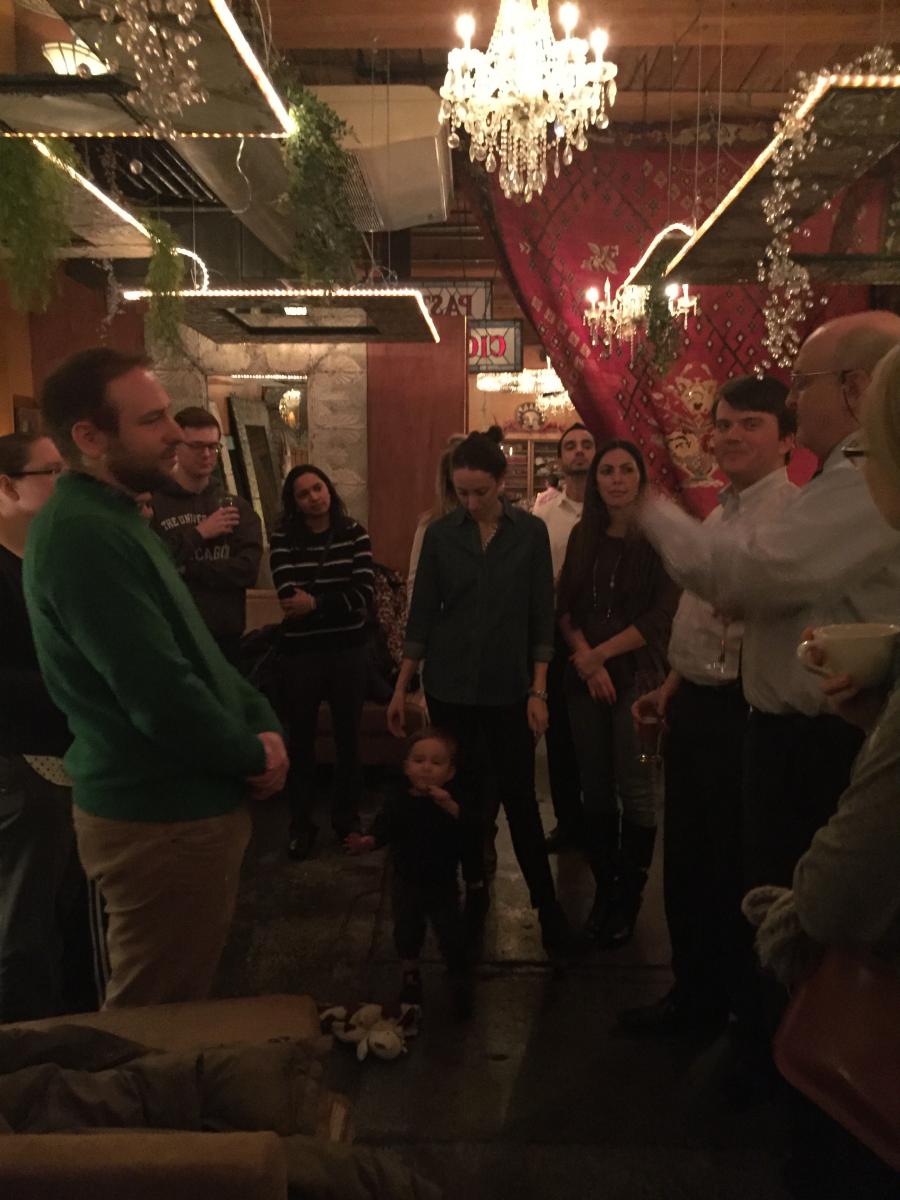 ---
Resident Event – Coming Soon
On March 8 there will be an event for all RI Residents called "Painting for Wellness". It is being held at the Muse PaintBar. We will have a brief presentation about the Wellness Committee and activities at RIH by Dr. Page Widick, one of the Chief Residents of the Lifespan program. This event is open to all doctors in residency programs in the four RI programs throughout the state. Please join us!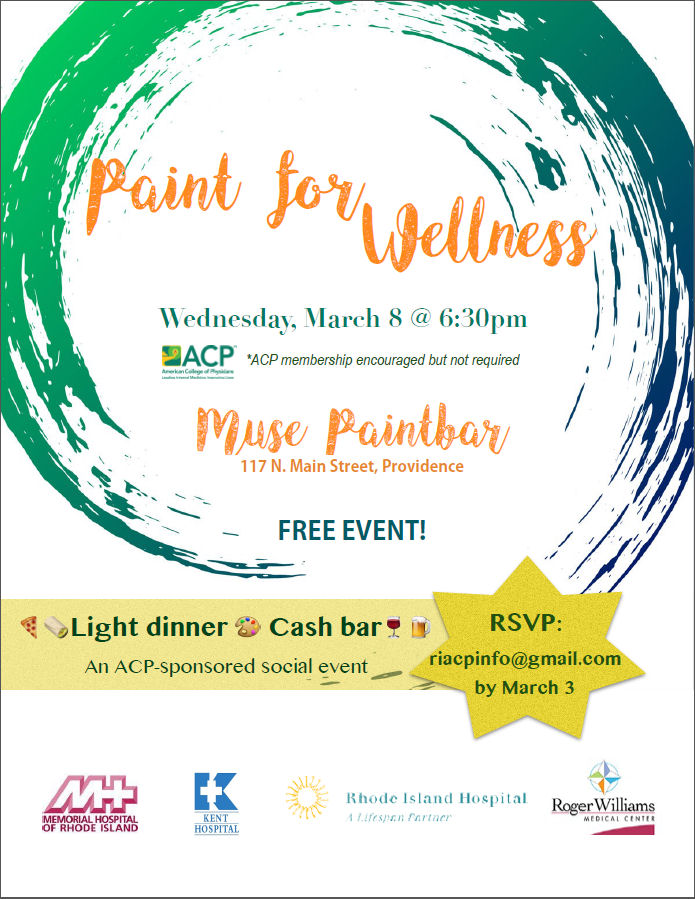 Poster created by Dr. Elizabeth Tanner
---
Hospitalist Dinner
The ACP is hosting a gathering for all RI Hospitalists on April 6 at Gregg's Restaurant in North Kingstown. Drs. Lou Rubenstein and Jennifer O'Brien have sent a letter to invite Hospitalists to meet colleagues from all of the hospitals and to "commiserate and reinvigorate".
The articles from the NEJM Sept 2016 celebrating the 20th anniversary of the Hospitalist will be a starting point for discussion. Hope those of you not working that night can join us!
---
Chapter Excellence Award
The Rhode Island Chapter of the ACP is one of 76 Chapters that was awarded a Chapter Excellence Award of $2000.
---
New Fellows in the Last 6 months
Purva Agarwal, MBBS, FACP
Charles L. Cronin III, DO, FACP
---
New Members in the Last 6 months
Josef Edrik Keith A. Bautista, MD
Stephanie A. Catanese, MD
Omosede Ighile, MD
Aftab Iqbal, MBBS
Afshin Nasseri, MD
Karen Noyes, MD
Teresa Schraeder, MD
Tovah Tripp, MD
Hope to see you all May 3 for the RI ACP Chapter Meeting!!
Audrey Kupchan, MD, FACP
Governor, Rhode Island Chapter