You are here
Governor's Newsletter Puerto Rico June 2013
Governor's Newsletter Puerto Rico June 2013

| | |
| --- | --- |
| June 2013 | Francisco J. Muniz, MD, FACP, ACP Governor |
---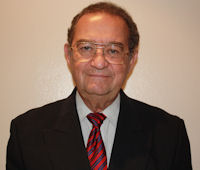 I am pleased to report that the Chapter is doing very well! The latest ACP Puerto Rico Chapter membership report shows that our membership has increased during this year to 931 members, getting us closer to the 2013 goal of our Chapter's Membership Committee to reach 1,000 members. Many thanks to Dr. Juan Aranda, Chair of the Chapter Membership Committee, and the members of his hard-working committee. This membership growth has taken us just slightly above the small to medium chapter category. Still, the ACP Chapters Subcommittee has agreed to grandfather several chapters, like ours, that recently moved into a medium size group to allow them to receive chapter staff support for one year. This is of great importance to us, as the chapter's scientific and academic activities do take a toll in our finances, and acquiring strong chapter staff support will allow us to move forward effectively on several initiatives.
Our chapter received the 2012 Chapter Excellence Award for the combined efforts of our previous and present administrations, and we are working hard toward attaining the 2013 award. Both our Vignettes presentations and annual meeting have been well attended and have been successful academic and collegial activities. For this we are very grateful to the original president of our Scientific Committee, Dr. Francisco Joglar, MACP, a former chapter Governor who, to our great pleasure, is now the designated Secretary of Health of P.R. We also thank Dr. Hector Gorbea, his industrious vice president, and Dr. Hilton Franqui, now acting as the committee's president.
Thanks to the initiative and efforts of Dr. Pedro Vargas, UPR School of Medicine IM Chief Resident, and with the assistance of other PR Internal Medicine Chief Residents, Dr. William Rodriguez, former Chapter Governor, and Dr. William Alicea, our Treasurer, we were able to present at the UPR Medical Sciences Campus an American Board of Internal Medicine (ABIM) 2013 Module Learning Session for the IM residents of the island's accredited training programs and other interested internists. This activity was very successful. Our Chapter thanks and congratulates the organizers.
To be an ACP Fellow is to be recognized as a dedicated physician characterized by personal integrity, superior competence in internal medicine, professional accomplishment, and demonstrated scholarship. We wish all members who are eligible to request this distinction. You can do so by contacting me at fjmuniz@prtc.net.
The Chapter recognizes and congratulates the Chapter physicians who were elected to Fellowship in the College in the past 6 months:
Hilton Franqui-Rivera, MD, FACP, Toa Alta
Belkliz Y. Torres, MD, FACP, Toa Alta
Noemi C. Varela-Rosario, MD, FACP, Aguada
We are very honored to welcome the new Members who have joined our chapter during the past 6 months:
Josely A. Carreras, MD, San Juan
Luzimar Conaway Mediavilla, MD, Guaynabo
Omar Garcia, MD, Gurabo
Samuel Melende, Jr., MD, Mayaguez
Juan A. Negron, MD, Aguadilla
Roque A. Nido, MD, Guayama
Nelida Maria Ortiz, Ponce
Lisanette M. Ramirez, MD, San Juan
Ferdinand Rivera, MD, San Juan
Ruben Jesus Santiago-Lugo, MD, Bayamon
Omar Segarra-Alonso, MD, Dorado
Finally, we are also most pleased by those members who participated in the Associate and Medical Student Abstract Competition held during Internal Medicine 2013 in San Francisco:
Carolina P. Collazo, MD, Associate Oral Presentation, QI/PS - HVCCC
Clary A. Montalvo, MD, Associate Poster, Basic Research
Angel M. Gonzalez, MD, Associate Poster, Clinical Vignette
Elvin Muniz-Ramirez, MD, Associate Poster, Clinical Vignette
Karely Cabrera, MD, Associate Poster, Clinical Vignette
Luis Hernandez, MD, Associate Poster, Clinical Vignette
Marielly Sierra, MD, Associate Poster, Clinical Vignette
Sixto G. Giusti-Torres, MD, Associate Poster, Clinical Vignette
We have been able to achieve a good year thanks to the solidarity and loyalty of our members. We hope that more join the chapter and work with us for the benefit of our patients and the continuous improvement of the practice of Internal Medicine in our island.
Thank you.
Francisco J. Muniz, MD, FACP
Governor
ACP Puerto Rico Chapter