You are here
Governor's Newsletter February 2016
Governor's Newsletter February 2016

| | |
| --- | --- |
| February 2016 | Eileen Barrett, MD, MPH, FACP, ACP Governor |
---
---
From the Governor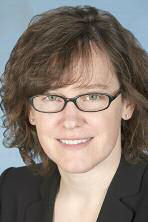 Dear Colleagues,
I hope this note finds you well and enjoying a lovely winter that is finally becoming warmer! There are many updates in the chapter and I'm so pleased to share them.
Since my last newsletter, we had an immensely successful Annual Scientific Meeting, held November 5-7th in Albuquerque. I remain grateful to Julio Munoz, MD, FACP, MAAHPM, who chaired the Scientific Meeting, as well as to our Program Planning Committee, including Cindy Arndell, MD, FACP Betty Chang, MDCM, PhD, FACP, Heather Brislen, MD, FACP, Sepehr Khashaei, MD, FACP, Alisha Parada, MD, FACP, Patrick Rendon, MD, FACP, Elizabeth Rodriguez, Rush Pierce, MD, MPH, FACP, and Dana Fotieo, MD, FACP.
Those who attended our meeting met Carolyn Brislen, who bravely signed on to be our Chapter Coordinator just two months before our 150-person meeting. She has had to step down due to family obligations, but I am so grateful for her critical assistance during this time. Please join me in welcoming Lisa Sullivan, who succeeds Carolyn as our Chapter Coordinator. Lisa may be reached at our chapter email address.
During our Business Meeting, we voted for new councilors and officers, and now warmly welcome:
Justin Roesch, MD - Councilor-At-Large
April Volk, MD, FACP - Councilor-At-Large
Eva Angeli, MD, FACP - Councilor-At-Large
Julio Munoz, MD, FACP, MAAHPM - Councilor-At-Large
Patrick Rendon, MD, FACP – Secretary
Alisha Parada, MD, FACP - President
Many thanks to Dana Fotieo, MD, FACP, Manish Pandya, MBBS, and Daniel Freese, DO, for serving as Councilors-at-Large and did not run for re-election, and to Julio Munoz, MD, FACP, FAAHPM for having served as our council President.
The chapter Business Meeting included recognizing chapter awardees:
Robert 'Reg' Strickland, MD, MACP – Chapter Legacy Awardee
Michelle Harkins, MD, FCCP, FACP – Chapter Laureate
David Scrase, MD, FACP – Excellence in Teaching Awardee
Christopher Gonzaga, MD, FACP – Community Service & Volunteerism Awardee
Alisha Parada, MD, FACP, and Patrick Rendon, MD, FACP – Early Career Physician Leadership Co-Awardees
And many thanks to Barbara McGuire, MD, MMM, FACP, who chaired the Centennial Art Exhibition Committee! Barbara did a fantastic job, and was joined in this effort by Heather Brislen, MD, FACP, and Elizabeth Rodriguez, MSIV. This was a resounding success, and artists who missed the deadline to submit this year should start preparing to submit their works for next year's meeting.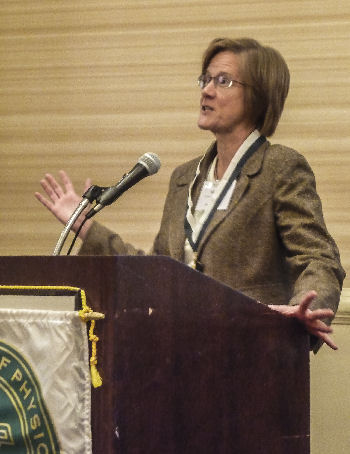 Michelle Harkins, MD, FCCP, FACP, Chapter Laureate Award Winner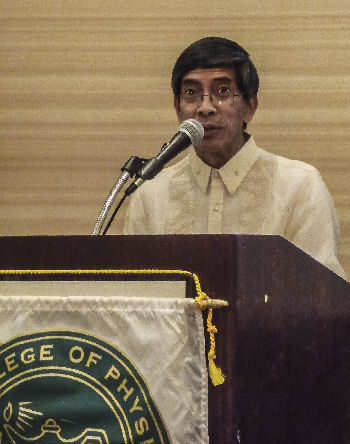 Christopher Gonzaga, MD, FACP, Community Service & Volunteerism Awardee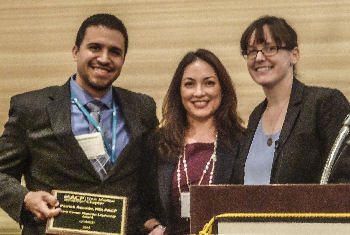 Patrick Rendon, MD, FACP and Alisha Parada, MD, FACP, Early Career Physician Leadership Co-Awardees

Robert 'Reg' Strickland, MD, MACP, Chapter Legacy Awardee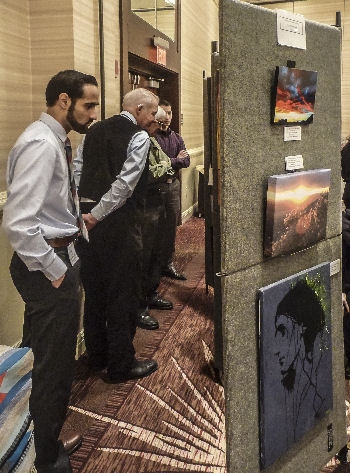 Centennial Art Exhibition
Congratulations to the winners of the art exhibition:
Poetry Category:
1st - Marion Cook for "Blood"
2nd - Phil Eaton for "Mosquitoes are Early this Year"
3rd - Umar Malik for "The Canvas"
2-Dimensional Category:
1st - Yasmin Qaseem for "Clouds Rolling in over Albuquerque"
2nd - Sara Matani for "The Vase"
3rd - James Jackson for "The Tetons"
3-Dimensional Category
1st - J Lunz for "Gestation"
2nd - Edmee Rodriguez for "Chaqueta con Estampado"
3rd - Edmee Rodriguez for "Alfombra de Pasillo"
Congratulations are also in order to the student and resident poster and oral vignette competition winners:
Medical student poster High Value Cost Conscious Care
Tomas Cordova - "Reducing Overutilization of Cardiac Telemetry Through Targeted Education"
Medical student poster Quality Improvement-Patient Safety
Karissa Vasquez - "An Intervention In the Assessment of Thrombophilia Decreases Inappropriate Testing"
Medical student poster clinical vignette
Arianna Pregenzer-Wenzler - "Refractory Hypophosphatemia in Sunny New Mexico"
Resident poster clinical vignette
Umar Malik, MD - "With a Heavy Heart"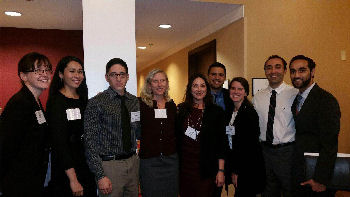 Students and Residents with Drs. Parada and Rendon after the competition
Prior to our Annual Meeting, our chapter's Physician Wellness Committee Chair Liz Lawrence, MD, FACP, championed a reflective writing experience for medical students returned from their 'Practical Immersion Experience' in the community, and our chapter supported this effort by underwriting snacks and refreshments.
With support from our chapter after receiving a chapter development funds grant from national ACP to promote mindfulness, Nicolette McDermott-Ketchum in Shiprock spearheaded a discussion about burnout by first reviewing slides from the Physician Wellness grand rounds series our chapter collaborated on with UNM, then discussing the key points. You may watch the grand rounds series.
In closing, it was a successful few months for our chapter, and I'm grateful to all of those who made the annual meeting and all of our other activities a great success. I'll close by including sage advice from Chris Gonzaga, MD, FACP, winner of our Community Service and Volunteerism Award, who noted in his acceptance speech:
I googled the terms "dopamine and volunteering". One of the articles I found, mentioned about the 7 benefits of volunteering which include: more happiness, reduce stress, relief from pain, longer life span, lower blood pressure, reduce mild depression and benefit your career. Aside from this, I think volunteering is one of the ways to combat burn out. I think somehow volunteering can be a selfish motive since it has been proven that when you volunteer, a lot of your happy neurotransmitters from the brain are being secreted. Thus, one of the happiest people you see are those who volunteer.
So to all of you, with thanks for all you do for your patients, partners, and colleagues, best wishes for a happy and healthy new year. Please keep in touch.
Sincerely,
Eileen Barrett, MD, MPH, FACP
NM Chapter Governor
---
Inaugural Juried Early Career Physicians Poster Competition
Our chapter collaborated with the NM Chapter of the Society of Hospital Medicine on a first ever Joint Providership CME and also a juried Early Career Physicians' Poster Competition. Thanks to Shadi Mayasy, MD, Rush Pierce, MD, MPH, FACP, and Keshab Paudel, MD, MBA, SFHM, FACP, especially for their efforts toward making this a success, and to David Yu, MD, FACP, Penny Israel, MD, FACP, and Sophia Rogers, CNP for serving as judges for the juried poster competition. Here are the winners.
---
Inaugural ACP Book Club
Many thanks to Heather Brislen, MD, FACP, who coordinated our chapter's inaugural book club. Attendees met in Albuquerque and discussed Atul Gawande's 'On Being Mortal.' Stay tuned for more information about the UNM Internal Medicine Interest Group's plans for a second book club meeting this fall.
---
Women In Medicine
Heather Brislen, MD, FACP, and Alisha Parada, MD, FACP, coordinated a successful (standing room only!) Women In Medicine breakout session during the Annual Meeting. "New Mexico Women in Medicine" was made an official subcommittee of NM ACP. If you know of other NM physicians that would want to be a part of the mailing list (not necessarily internists or ACP members), please email Heather Brislen.
NMWIM's next event is coming up! Barbara McGuire, MD, MMM, FACP will be giving a presentation on negotiation skills in Santa Fe on Saturday, Feb 27, at 5pm. Email Heather Brislen for details.
---
Medical Jeopardy
The chapter is hosting a resident medical jeopardy competition February 4th, and the winning team will compete at Internal Medicine 2016 in Washington, DC. Many thanks to Patrick Rendon, MD, FACP, and Alisha Parada, MD, FACP, who are championing this, and also to Mary Lacy, MD, Orwah Al-Khalili, MD, Houriyah Ayoubieh, MD, Kevin Rosenberg, MD, FACP, Joy Wortham, MD, Frank Marquez, MSIII, Ben Deaton, MD, and Alberto Aguayo, MD, who have contributed questions. Stay tuned for who is the winning team – and what happens when the team competes for the Golden Chile in Pueblo, CO, as is expected later this year.
---
Thank you to our Resident and Student Poster Competition Judges
Many thanks to our judges for the poster competition, as the event could not have been a success without their volunteer hours: Kevin Rosenberg, MD, FACP, Mary Lacy, MD, Jacob Imber, MD, Mitch Simson, MD, MPH, Justin Roesch, MD, Angela Dunn, DO, Rush Pierce, MD, MPH, FACP, Sepehr Khashaei, MD, FACP, Shadi Mayasy, MD, Mark Lee, MD, MS, FACP, Allen Adolphe, MD, PhD, FACP, Cindy Arndell, MD, MPH, FACP, Navneet Sidhu, MD, Lida Fatemi, DO, Justin T Miller, MD, Jackie Nemunaitis, MD, Jenny Jernigan, MD, FACP, Lenny Noronha, MD, Jens Langsjoen, MD, Seth Scott, MD, and Sam MacBride, MD.
---
Guest Column on Physician Wellness
I remember the nurse paging me to the medical ward my intern year to "pronounce a patient." I could not imagine what she was asking. She patiently explained to me that a patient had died, that I was being asked to certify that he was in fact dead, and, that, yes, interns did this all the time.
No one had oriented me to this particular job duty, nor did I know the steps required to determine if someone was officially dead. I remember climbing the stairs to the ward, still thinking I somehow had not correctly understood my phone conversation. But when I entered the room in question, I saw the nurse waiting for me with the chart, many distraught and tearful visitors, and a body lying immobile in the hospital bed.
I did not know the patient. I did not know the visitors. I did not know if this patient's death was peaceful or expected. I did not know what I was doing in this room. Yet seven pairs of eyes saw my white coat and stethoscope, respectfully stepped away from the bed so I could approach the patient, and looked to me to declare officially what they knew to be true. With the visitors anxiously watching me and the nurse guiding me ("I think you want to see if his pupils respond to light…and now you will want to check for heart sounds..."), I concluded that the patient had died.
My official pronouncement of death was greeted with new bursts of sobs and wails. And in the noisy grief, I found a place of quiet. I rested my hand on the dead man's hand and silently offered him my hopes that he had died without pain, that his had been a life well lived, and that he "go in peace." More composed after this silent moment, I was able to turn to the grieving visitors to offer sympathy, to listen to their grief, and to give them time alone with their loved one.
Although these events happened more than 20 years ago, I share this story as an example of the unexpected, unimagined, and highly charged situations we find ourselves in everyday as physicians. Our wellness is directly impacted by the unpredictability of our days, our intimate relationships with those who are ill or dying or traumatized, a system that does not train us how to respond to the emotions generated by clinical encounters, and a culture that does not support the open expression of those emotions.
We do experience intense emotions of joy, helplessness, hope, frustration, powerlessness, fear, exhilaration, anger, grief, and love in our interactions with our patients. These emotions – and what we choose to do with them – impact the medical care we provide our patients and our own well-being. Debriefing with colleagues, joining a physician discussion group, writing about our experiences, establishing rituals, practicing mindfulness - there are many possible ways we can identify, acknowledge, and express our intense emotions.
I will write more about these support strategies in my next column. For now, I want to start our conversation by acknowledging the emotional nature of our work. Please feel free to e-mail me your stories about the intense emotions you have felt practicing medicine.
Dr. Lawrence is a general internist practicing at La Familia Medical Center in Santa Fe and the Director of Physician Wellness for the UNM School of Medicine.
---
Rural Healthcare Provider Tax Credit
Physicians in rural areas should check to see if they quality for the Department of Health's Rural Healthcare Practitioner Tax Credit.
---
Practice Redesign and Other Tools To Reduce Burnout
Many thanks to Damien Bello, MD, Carolyn Brislen, and Kim Benavidez, who worked hard on our Practice Redesign and Other Tools To Reduce Burnout CME held in collaboration and with support of Rehoboth McKinley Christian Healthcare Services, Presbyterian Hospital, Native Health Initiative, UNM, and the NM Medical Society. There were approximately 40 attendees who received 2.5 hours of CME lectures from Carrie Horwitch, MD, MPH, FACP, and Bruce Bagley, MD, FAAFP; those unable to attend can view slides.
---
News from the College
ACP Issues Advice for Prescribing Antibiotics for Acute Respiratory Tract Infections
In a paper recently published in Annals of Internal Medicine, ACP and the Centers for Disease Control and Prevention issued advice for prescribing antibiotics for acute respiratory tract infections in adults.
ACP Issues Advice for Hematuria as a Sign of Cancer
In a paper published in Annals of Internal Medicine, the American College of Physicians (ACP) issued High Value Care advice for the evaluation of hematuria as a sign of urinary tract cancer and to help physicians make decisions about referral of patients for urological assessment.
New Online Opioid Education Modules, Video Now Available
ACP developed online training modules, with Pri-Med, to educate clinicians about best practices when prescribing opioids to patients and to help prescribers manage risk for abuse and inappropriate use.
Access the online modules for additional information. These do count town NM state requirements.
DynaMed Plus: A New Benefit for ACP Members
We are excited to announce that ACP and EBSCO Health are collaborating to provide ACP members with free access to the most current, evidence-based clinical decision support tool – DynaMed Plus™ as a benefit of ACP membership. Get started today using this powerful new tool.
Screening for Cancer: Advice for High-Value Care From the American College of Physicians
Cancer screening is one approach to reducing cancer-related morbidity and mortality rates. Screening strategies vary in intensity but higher-intensity strategies are not necessarily higher value. Learn more.