You are here
Maine Governor's Newsletter February 2018
Maine Governor's Newsletter February 2018

---
---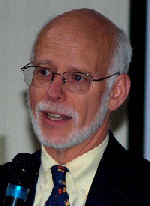 John Erickson, MD, FACP, MD, FACP, ACP Governor
---
Governor's Message
By the time you read this, the GAC (Governor's Advisory Council) will have met for a day long retreat at the home of Laureate and GAC member, Cathy Cadigan, with a focus on membership, recruitment and retention. Although virtually all organizations these days are challenged by the difficulty of attracting new members, the ACP, and specifically the Maine Chapter, provides unparalleled value for today's internists. The paradox of working in practice environments that allow amazing things to happen with a click (or 10!) of a key, is the subtle erosion of professional relationships and wellbeing. The ACP is a remarkable antidote with "go to" materials for lifelong learning and recertification, advocacy at both state and national level to help internists provide the best care for our patients as well as abundant opportunities to nurture collegial interactions. We urge you to talk to your colleagues that are not currently members and encourage them to join you in the ACP. Like our best work as internists, nothing beats face to face!
Who are we? – Over the past 2 years, we have experienced modest growth in the Chapter's membership. Of the 1277 Internists in Maine, 487 Internists are ACP member and of these 29% are female.
Membership Summary for Maine as of 1/29/18:
Masters – 9
Fellows – 144
Members – 282
Residents/Fellows – 57
Medical Students – 96
Affiliates – 8
Physicians Affiliates – 5
Total – 601
---
Our newest Master – Nancy Hasenfus, MD MACP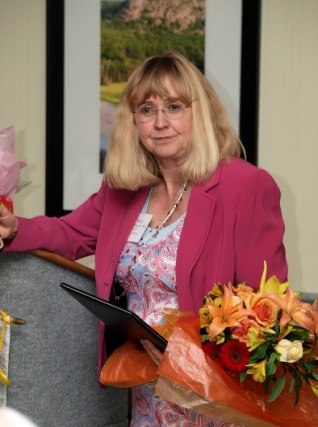 The Awards Committee and the Board of Regents approved the Mastership of former Maine Chapter Governor and long-time ACP member, Nancy Hasenfus at the fall meeting. Dr. Hasenfus is our first female Master, joining her distinguished fellow Masters, Doug Couper, Ed Gilmore, Bob Hillman, Richie Kahn, Mike LaCombe, Ted Sussman and Bob Lawrence as previous honorees.
The first Mastership in the College was presented in 1923 to Dr. James M. Anders, who served the College as President for two terms. He was recognized for his extraordinary service to the College and for being one of the most outstanding internists and medical teachers of his day.
ACP Bylaws state that Masters shall be Fellows who have been selected because of "integrity, positions of honor, eminence in practice or in medical research, or other attainments in science or in the art of medicine." Masters must be highly accomplished persons demonstrating eminence in practice, leadership, or in medical research. Evidence of their achievements can come from many types of endeavors such as notoriety within their field and/or ACP chapter, research, education, health care initiatives, volunteerism, and administrative positions. The Master must be distinguished by the excellence and significance of his or her contributions to the field of medicine.
Dr. Hasenfus will formally receive her Mastership during the 2018 Internal Medicine Meeting in New Orleans.
---
Maine Chapter Laureate 2017 – Christopher A. Wellins, MD FACP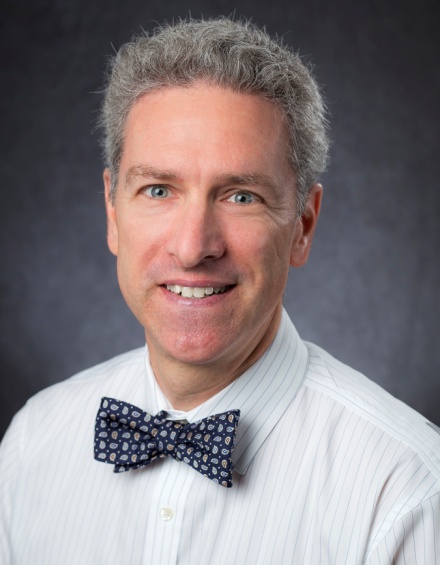 The Chapter awarded the 2017 Laureate Award to Christopher A. Wellins, MD, FACP at the Maine Chapter Annual Scientific Meeting in September. The Laureate Award honors Fellows and Masters of the College who have demonstrated by their example and conduct an abiding commitment to excellence in medical care, education, or research and in service to their community, their Chapter, and the American College of Physicians. Dr. Wellins earned his BS at Duke University, an MS at Dartmouth College, and his medical degree from University of Vermont. He completed his internship and residency at the Maine Medical Center. Dr. Wellins is currently Clinical Instructor University of Vermont College of Medicine and Clinical Instructor Dept. of Medicine, Tufts University - MMC School of Medicine. In October 2017 Dr. Wellins will become the Senior Director of Utilization Review at MMC, working to expand Physician Advisor services to other Maine Health Institutions.
---
Maine Chapter Annual Scientific Meeting September 2017
Thanks to the amazing ongoing leadership of Doug Couper, MD and Education Committee colleagues, Laura Trask MD and Rick LeMay, MD, the weekend of September 15 -17 was a banner one for the Maine Chapter with 85 attendees, up nearly 8 % from last year, and an outstanding array of presenters and presentations. For the first time in Maine, thanks to a pilot collaboration with MMC (led by Sue Rose and Bruce Cahill), we were able to generate added value for attendees by providing MOC credit as well as CME for more than half of the educational sessions! Our commitment is to continue to provide MOC and CME for the majority of the meeting in years going forward as this becomes increasingly important as physicians choose between the myriad of CME options.
Our Friday sessions kicked off with a legislative update from Gordon Smith, Esq, Executive Director for the MMA and Hani Jarawan, MD, Chair of the Maine Chapter HPPC and hospitalist at MMC followed by Cutaneous Manifestations of Internal Disease by Ken Galeckas, MD, dermatologist and MOHS specialist at InterMed. Concurrent workshops featuring Chris Hein, MD, Wellness Program Director and ER attending at MMC, focusing on Physician Mindfulness/Physician Burnout; Motivational Interviewing with Andie Wishman, LSW, CSS; Lumps and Bumps: What's Benign and Malignant; and a well subscribed, hands-on Biopsy and Suturing also led by Ken Galeckas, MD.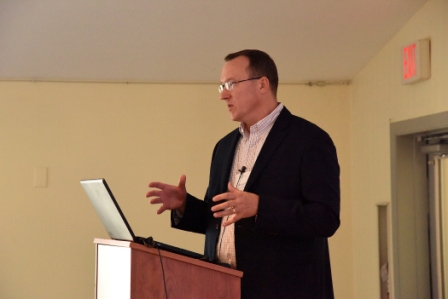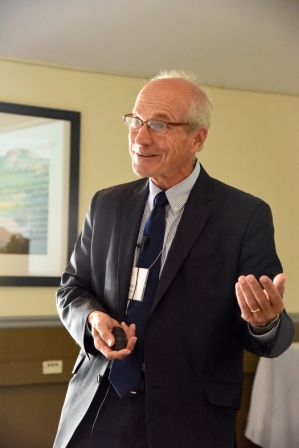 The day's wrap up included a poster session, organized by Emily Zarookian, MD and conducted By Christina Kapala, DO. Presenters included Mack Hofford, MD, Katherine M. Rizzolo, MD, Eric K. Min, MD, Hassan M. Mahmoud, MD, Christopher P. Hjorth, MD, Ryan N. Best, MD, Dr. Pierre Daou, and med students Laura Director and Aaron Blau. Dr. Hjorth received the judges' nod for best poster.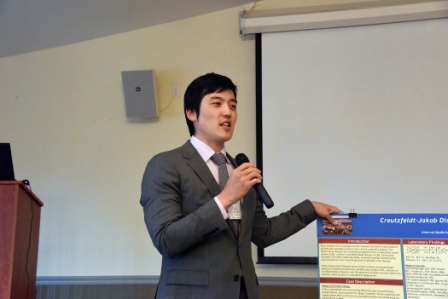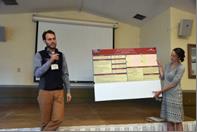 Pizza, craft beer and wine were plentiful along with great conversation at the Willows during the Early Career Physicians, Students and Resident's gathering Friday evening while other attendees enjoyed a variety of Bar Harbor cuisine.
Governor John Erickson, MD, led off Saturday morning's presentations with a Chapter and ACP update, he was joined by Peter Bates, MD, Tom Gearan, MD, Brian Nolan MD, former Governor, Bill Medd, MD and Sam Ferguson, MD with an update on the MMC's new and exciting Rural Internal Medicine Residency Track.
Diana Wilson, MD, pulmonologist and sleep medicine specialist, gave a terrific presentation on the Respiratory Effects of Obesity, followed by an outstanding series of resident vignettes ably organized and mentored by Steve Hayes, MD. Katherine Keller, DO, edged Amber Lautzenheiser, DO, Ann Longtine, MD and Kiera McElrone, DO for the judges' top prize, but all attending agreed that each individual vignette was superb.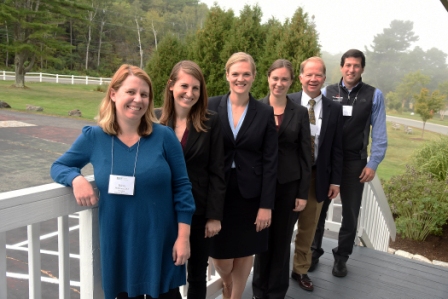 The afternoon provided abundant opportunities to hike, bike and shop in and about Bar Harbor and Acadia National Park, before returning for a reception, delicious banquet and award ceremony honoring Laureate Chris Wellins, MD, our longtime friend and advocate, Gordon Smith, recognition for the Chapter of Excellence Award and Evergreen Award. The Len Keilson Memorial Presentation, with a focus on professional well-being and service, was outstanding this year, thanks to Cathy Cadigan, MD, Tim Carnes, MD and Ted Sussman, MD, who provided an audiovisual tour of their world travel and mission experiences.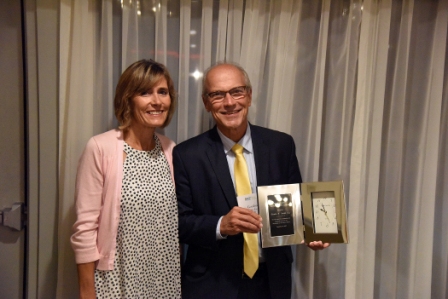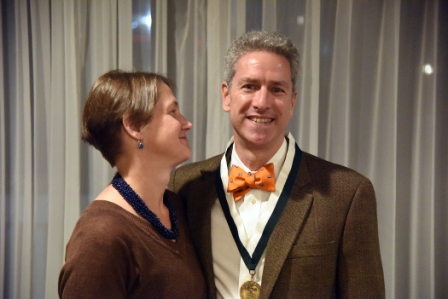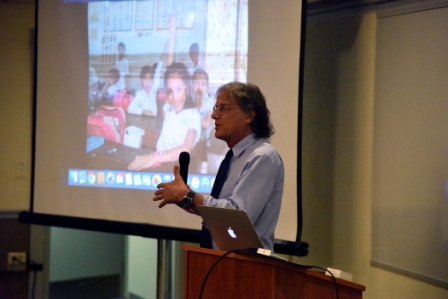 Sunday morning's focus returned to practical approaches to the management of obesity, with keynote speaker, nationally noted Scott Kahan, MD, discussing Evidence-based Obesity Treatment in Primary Care, and the dynamic trio of Michelle LaBotz, MD, Sports Medicine Specialist at InterMed, Stephanie Nichols, PharmD, Husson University, and Paul Blakeslee, RDN, MMC, who discussed respectively Exercise Counseling, Nutritional Counseling and Nutritional Supplements. A spirited and useful Q and A session closed the annual meeting.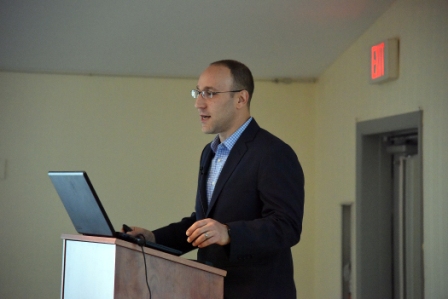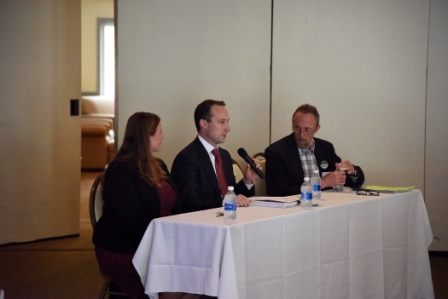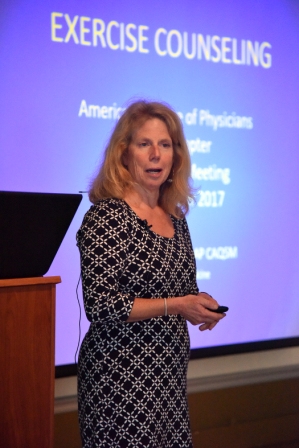 Surveys suggest that the meeting remains high yield and a great value, we're well into planning for next year!
To review the presentations on-line from this year's meeting, click on the address below:
https://www.acponline.org/node/300292
---
Update from the Health and Public Policy Committee – (Hani)
Fall 2017 was a busy time for healthcare policy. Despite Mainers speaking out this summer and pressuring Senator Susan Collins to vote against repeal, the battle to save Obamacare rages on.
Most recently, Senate Republicans included a provision in their tax bill last month to repeal the individual mandate of the Affordable Care Act. The Maine chapter and National ACP lobbied Senator Collins by phone, email, and hand-delivered letter to vote against the tax bill.
Unfortunately, she voted in favor of the legislation, which would cause 13 million Americans (50,000 Mainers) to lose their health insurance and cause premiums to rise for everyone else. According to the Congressional Budget Office, the concessions the senator was promised in exchange from her vote—assuming they overcome resistance in the House—would not prevent this devastation to the insurance marketplace. The bill has moved through conference committee between the House and Senate and with some additional concessions stands likely to for a final vote as early as this week. There is still time to make the ACP's position known as of this writing! More information on tax reform: https://www.acponline.org/advocacy/acp-advocate/issue/article/728887
Meanwhile, the ACP continues to fight to reinstate the Children's Health Insurance Program (CHIP) whose funding expired in September, to relieve critical physician shortages, and to protect student loan repayment programs and tax deductions. Our comprehensive health care reform agenda can be found here: https://www.acponline.org/acp_policy/policies/forward_looking_policy_agenda_2017.pdf
In addition to a busy policy calendar, 2018 is an election year! The American College of Physicians is carefully monitoring the elections in the second Congressional district and for the open governor's seat, and hope to hear directly from all candidates in the coming months. Senator King has generally voted in line with ACP policies and will be up for re-election as well.
The Health and Public Policy Committee is looking to engage Maine ACP members in state and national advocacy. If you'd like to be more engaged in direct advocacy with the HPPC, especially for members outside of Southern Maine, please email HaniJarawan@gmail.com for more information. Also stay tuned for upcoming email advocacy alerts.
You can find more advocacy updates here: https://www.acponline.org/node/29027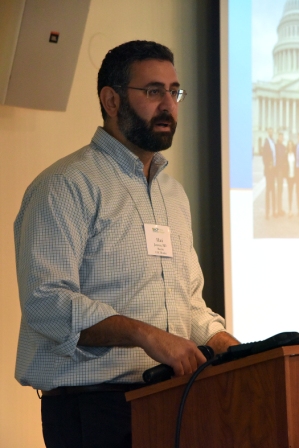 ---
Maine IMIG (TUSM and UNECOM)
The Maine Internal Medicine Interest Group has had a busy year, joining together first, second, third, and fourth year medical students from both University of New England College of Osteopathic Medicine and Tufts University School of Medicine Maine Track. We've even had some interest from the University of Vermont students completing their clerkships in Bangor! We were able to get a group together in Portland for a "Stump the Professor" event with Bob Trowbridge MD FACP and cases by the MMC Internal Medicine residents. Later in the summer, Tom Gearan MD FACP, the MMC Internal Medicine Residency Program Director, and another group of current residents joined the third and fourth years to prepare our medical students for the then upcoming application and interview process. We were also able to livestream that event to students completing "away" rotations across the country. We're now preparing for spring events, planning an IM night at UNE to invite students to explore the variety of careers that come out of internal medicine. If you're interested in helping out with this or any other future events, please reach out at MaineIMIG@gmail.com Thanks!
Anna Carmack TUSMIV, Mike Madaio, UNECOMSIV, Ali Robertson TUSM IV, Cashel O'Brien, UNECOMSIII
---
Save the Date!
Spring 2018 – New Orleans – watch for announcements of our Maine Chapter get-together
Fall MEACP September 21-23, 2018 at the Atlantic Oceanside – Focus on Cardiovascular Medicine
John Erickson MD FACP