You are here
Governor's Newsletter January 2014
Governor's Newsletter January 2014

| | |
| --- | --- |
| January 2014 | William E. Davis, MD, FACP, ACP Governor |
---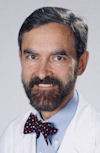 It is once again a pleasure to provide an update on the activities the American College of Physicians and our Louisiana Chapter.
As you start the new year, please take a moment to scan the following information highlighted in this newsletter:
Louisiana Associates 2014 - Dr. Lee Engel, Chair of the Associates Committee, gives us an update on preparations. Students and residents from around the state have submitted their abstracts and will soon compete at the meeting in January.
LA Chapter Membership Activity - This educational activity will feature 2 MOC modules, a keynote presentation, as well as associate presentations and Medical Jeopardy
LA/MS Annual Chapter Meeting - We hope to see you all in September!
Internal Medicine Excellence Award - Congratulation to Sherif Michael from the Ochsner Cinical School!
Edgar Hull Society Internal Medicine Interest Group "Taste of New Orleans" promotes internal medicine with fellowship and fun
Medical Student Essay Contest submissions due by January 30, 2014
Internal Medicine 2014 - April 10-12 in Orlando, FL!
I look forward to seeing you at these and other exciting events in 2014!
William E. Davis, MD, FACP
Governor, ACP Louisiana Chapter
---
Louisiana Associates Meeting 2013
Plans are underway for the 2014 Annual Associates Meeting for the Louisiana Chapter of the American College of Physicians. This year's meeting will be hosted by the Department of Internal Medicine at LSU - Shreveport On January 21, 2014. This is the first time that Shreveport will host this great event. As of this time, 122 abstracts have been submitted from 7 of the residency programs in Louisiana. These abstracts will be evaluated by three judges and the top 26 abstracts will be selected for presentation at this meeting. Furthermore, the 26 abstracts that are presented at the meeting will be published in the Journal of the Louisiana Medical Society. Further meeting details will be available soon. We hope that you will be able to attend and participate in this educational event.
---
Louisiana Chapter Spring Meeting
The Louisiana Chapter of the ACP will meet on March 7, 2014 at the Royal Sonesta Hotel. The morning session will feature 2 Maintenance of Certification modules, followed by a lunch keynote speaker, and then an associate session featuring abstracts, podium presentations, posters, and medical jeopardy. We hope you are able to join us for this activity!
For additional information, please contact Kristin Tschirn.
---
Early Career Physicians
The national ACP created a council of Early Career Physicians several years ago as a way to better engage the member demographic in their early years post-training. An "Early Career Physician" is defined as those ACP members who are within 16 years of graduation, but have completed residency/fellowship training. Each state ACP chapter has been encouraged to foster the development of a state chapter ECP council.
Dr. Angela Davis is seeking recommendations for young internists, either as academic faculty members or those in private practice, who might be interested in serving on this new council. The state chapter council's mission will be to grow the membership of the early career physicians in the ACP, to develop programming at the local and state level of value and interest to early career physicians, and to start a network for communication and collaboration moving forward.
If you have anyone to recommend, please e-mail Dr. Angela Johnson.
---
Louisiana-Mississippi Chapters Scientific Meeting 2014
MS/LA Scientific Meeting 2014
September 4-6, 2014
Marriott Grand Hotel
Mississippi/Louisiana regional meeting will take place in Point Clear, Alabama, at The Marriott Grand Hotel & Resort September 4-6, 2014. The MS Chapter has started on an exciting group of speakers that will include ACP Senior Vice President for Medical Education Patrick Alguire, MD and Board of Regents Member Bob Centor, MD. Additionally, we plan to have a course on handheld ultrasound use as well as several other educational speakers and an Associates abstract competition and the very popular Jeopardy Competition. There will be much more for early career physicians and internists of every stage in their careers. The meeting will be 3 half days starting on Thursday, Sep 4th at noon, followed by Friday Sep 5th - 7 to noon, and concluding on Saturday, Sep 6th - 7 to noon. The Laureate Emeritus Dinner will be Saturday night Sep 6th. Mark your calendars and make plans now to attend!
For additional information contact Nancy Youngblood, Mississippi Chapter Executive Director.
---
Internal Medicine Excellence Award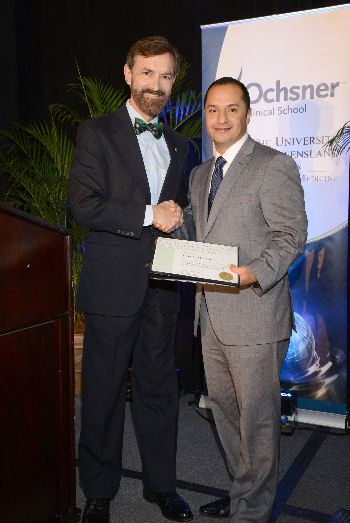 Dr. Davis presenting the Internal Medicine Excellence Award to Dr. Michael
Sherif Michael was born in Los Angeles, California. He graduated from the University of California, Riverside, with a Bachelor of Arts degree in neuroscience. Prior to his matriculation at the University of Queensland School of Medicine, he pursued a Masters of Science at California Polytechnic Institute in Pomona and completed a year of post-baccalaureate work at Georgetown School of Medicine in Washington, D.C. He has engaged in a number of research projects while at the Ochsner Clinical School and has interviewed for residency training in Internal Medicine programs across the country from California to Pennsylvania. Sherif earned the ACP Internal Medicine Award of Excellence with the highest combined grade point average in the core rotations of General Practice and Medicine.
---
Taste of New Orleans Party
One of the highlights of the year for the Louisiana State University's Edgar Hull Society Internal Medicine Interest Group is the annual Taste of New Orleans party. Believing that an informal get together would help encourage students to meet the medicine faculty and consider a career in primary care, Dr. Charles "Bo" Sanders, Chairman of the LSU Department of Medicine, and his wife, Julia hosted the first Taste of New Orleans party more than ten years ago. Since then the event has grown every year. This event brings together third- and fourth-year medical students from the LSU School of Medicine who are interested in internal medicine and provides a forum for them to interact with residents and faculty members in the specialty. The event fulfills all three missions of the Edgar Hull Society by (1.) providing medical students with information about internal medicine and its subspecialties, (2.) exposing students to several members of the faculty and residents of the LSU Department of Medicine who can provide them with a sense of what it's like to be a general internist or subspecialist, and (3.) providing an opportunity for students to learn, network, and relax together in a casual social environment.
Dr. Sanders will concur that the underlying purpose of the event is to boost recruitment for the Internal Medicine, Medicine-Pediatrics, and Medicine-Emergency Medicine Residency Programs. Clearly, the students enjoyed the opportunity to talk and learn about internal medicine with residents and especially faculty in a festive atmosphere. One third year medical student commented that she wished they could meet more often.
This year's Taste of New Orleans was held at the uptown home of Bo and Julia Sanders on November 1, 2013. It was attended by 18 Medicine faculty, 17 residents, and 32 students.
The Edgar Hull Society is a highly active and involved student interest group. The Society recently updated their website to be more useful for students including a new section with student anecdotes with regards to resources for the clerkship. They continue to look for ways to promote primary care as a wonderful career choice.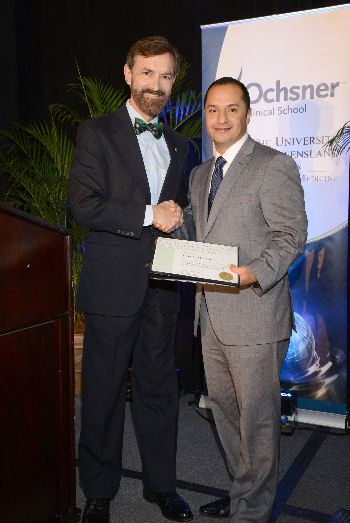 Taste of New Orleans Party
---
Medical Student Essay Contest
Attention all LSU-NO, LSU-Shreveport, Tulane, and Queensland University Medical Students!
The Louisiana Chapter of the American College of Physicians (ACP) is launching its first annual medical student essay contest. The contest is for students who have an interest in a career in internal medicine. We want to know about your experiences as medical students training in Louisiana!
The ACP is a national organization of internists - physician specialists who apply scientific knowledge and clinical expertise to the diagnosis, treatment, and compassionate care of adults across the spectrum from health to complex illness. It is the 2nd largest physician organization in the United States.
How to enter: Submit an essay between 800-1000 words via a word document or PDF to Kristin Tschirn, by January 30th, 2014. Include your name, email, institution, and year in medical school on the document. Be sure your essay is free from grammatical and punctuation errors.
Choose from one of the following topics for your essay:
What single characteristic of your internal medicine mentors do you want to emulate most and why? (Please do NOT inclue actual names). <

or

What was the most important thing you learned from your patients during your internal medicine clerkship?
First prize is $500, second prize is $250, and third prize is $100! The essay from first prizewinner will be published in the Journal of the Louisiana State Medical Society! All medical students currently attending medical school in Louisiana are eligible to participate. A panel of experts from the Louisiana ACP will judge your essays.
If you have any questions regarding the contest, please contact Dr. Chad S. Miller, MD, FACP or (504) 988-7814.
---
Internal Medicine 2014
Internal Medicine 2014 will be held April 10-12 in Orlando, FL. Choose from more than 200 CME courses in internal medicine and the subspecialties presented by distinguished faculty. Network with colleagues, and earn up to 30 MOC points.
Register for Internal Medicine 2014 today to save on your registration fee. You won't want to miss the very best in scientific sessions, special events and much more. There is truly something for every internist at Internal Medicine 2014 in Orlando.
---
ACP Resources
Introducing ACP Smart Medicine: ACP's new web-based, mobile-optimized clinical decision support tool
The American College of Physicians has released ACP Smart Medicine, a web-based clinical decision support tool developed specifically for internal medicine physicians containing 500 modules that provide guidance and information on a broad range of diseases and conditions.
Integrated with content from Annals of Internal Medicine, ACP JournalWise, and ACP's clinical practice guidelines with a display that automatically adjusts to desktops, smartphones, and tablets, the clinical recommendations in ACP Smart Medicine are evidence-based and rated based on the quality of the underlying evidence. Information is continually updated through triggered updates with new, relevant content and guidelines. Additionally, ACP High Value Care recommendations identify care activities that offer little benefit to patients.
ACP Smart Medicine also offers easy access to submit for CME credit. Physicians can select modules from the list of content areas they have reviewed, answer a question, and submit for CME credit.
ACP Smart Medicine is available as a free benefit to ACP members and can be purchased by non-members.
Follow us on Twitter
Like us on Facebook