You are here
Indiana Governor's Newsletter January 2018
Indiana Governor's Newsletter January 2018

---
---
Bradley L. Allen, MD, FACP, ACP Governor
---
November – 2017 Indiana Chapter Meeting Review
This year's Indiana Chapter Meeting was held November 2nd - 4th at the Renaissance North Hotel in Carmel. This was our third year at the facility, which again served as an excellent host for our statewide event.
Over 160 members registered for the Annual Meeting, a recent high-water mark for the Chapter! We started the Member's Reception on Thursday night followed by the resident-student poster competition, which also featured a record number of abstract submission and featured a new category for Early Career Physicians. The main scientific sessions and Awards luncheon followed on Friday and we ended on Saturday with delivery of two ABIM Self-Assessment Modules with Update in Internal Medicine and Update in Hospital Medicine. A workshop on Bedside Ultrasonography for the Internist ran concurrently on Saturday morning and was well-attended.
New this year was the Doctor's Dilemma Competition on Saturday afternoon following a lunch with presentations from the winning poster competitions. The afternoon was capped off with a panel discussion entitled "Should I Pursue a Career in Primary Care, Hospitalist, or Specialize? ", that allowed students, residents and early career physicians to hear commentary about factors that influence career choices as primary ambulatory, hospitalist, and specialty medicine training pathways.
A huge thanks to our Program Chair, Kapil Mehta, MD, FACP, as well as our Past-Governors, Matt Neal, MD, FACP, Dr. Michael Sha, and Donna Seawards, our Executive Director for their planning and hard work in delivering this meeting. Thanks also goes to our Program Committee of Brandon Dickey, Tony Saliba, Duane Allen, Heidi Lakanen, Randy Lee, and Michael Sha.
The Chapter Reception involved excellent opportunities to socialize with other members and trainees from around the state, while background music on the mandolin was provided by Emily Ann Thompson, an accomplished local fiddler.
This year had a record 80 poster abstract submissions, with a new high of 27 selected for presentation. Six presentations were in the newly created Early Career Physician category. Congratulations to those trainees who were chosen to present posters, which included: Emily Aeschliman, Samantha Armstrong, Crystal Azu, Deep & Tanvi Desai, Philip Forys, Keionna Grant, Steven Green, Emma Hegwood, Ashley Jancuska, Kameel Kassab, Chase King, Issa KutKut, Joann Mathew, Maxia McEachron, Ryan Nguyen, Gloria Ong, Stephen Scheller, Brittany Shepherd, Sydney Spagna, and Samuel Tytler.
Early Career Physician presentors included: Natthapon Angsubhakorn, Shristi Upadhyay, Harishankar Gopakumar, Matthew Miles, Siva Parcha, and Michelle Solik.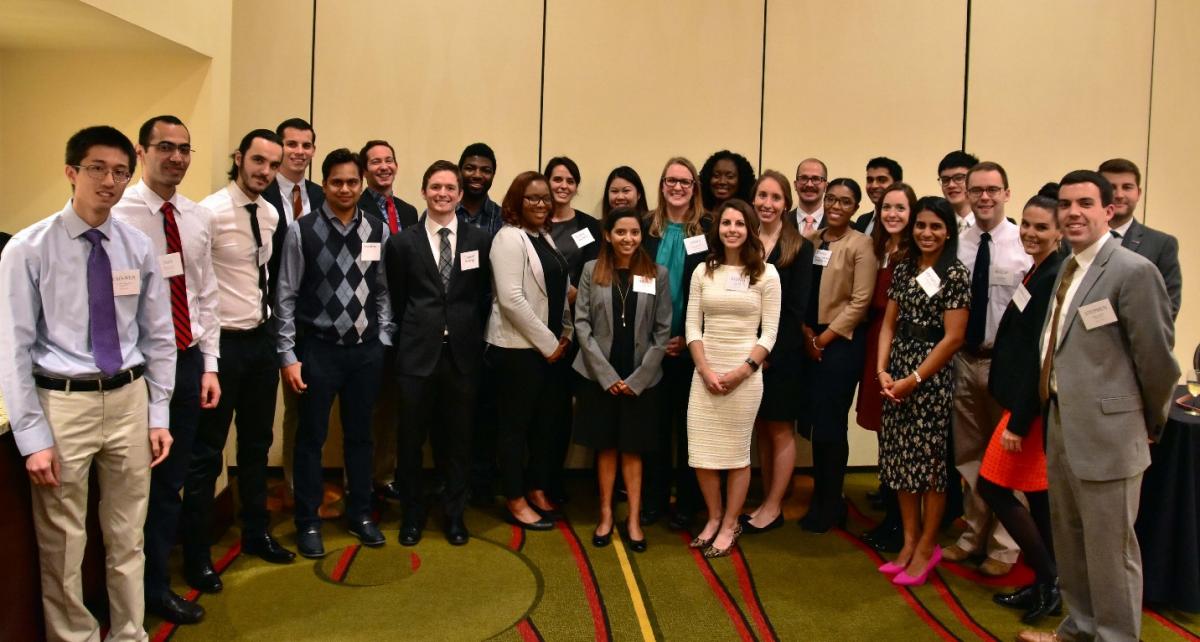 First place winner in the Clinical Vignette category was Deep & Tanvi Desai with the poster "Atrial Myxoma: A Not So Benign Cause of Toe Gangrene."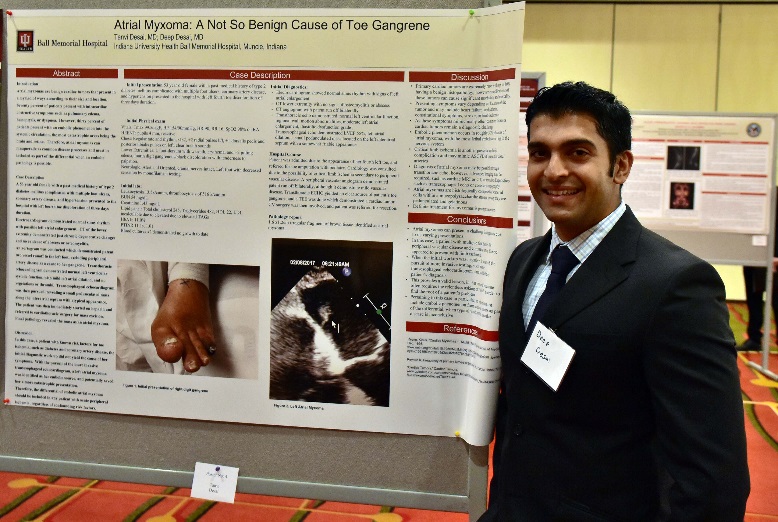 Second place in the Clinical Vignette category went to Chase King for his poster "Not All Headaches are Created Equal." The third-place winner in the Clinical Vignette category was Ashley Jancuska, who presenter her poster "Visceral Kaposi's Sarcoma Presenting as Acute on Chronic Hypoxic Respiratory Failure".
First place winner in the Research category was Issa Kutkut with his poster "Skin Sympathetic Nerve Activity During Therapeutic Hypothermia Predicts Neurological Recovery."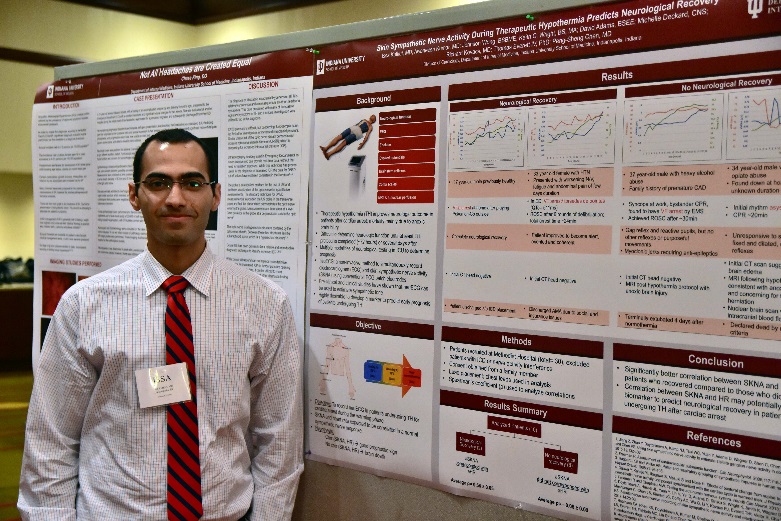 Second place in the Research category went to Samantha Armstrong for her poster "Demographic, Clinical and Outcomes Characteristics Associated with Screening Colonoscopy in Colorectal Cancer Patients." The third-place winner in the Research category was Crystal Azu, who presenter her poster "Readiness to Perform Cervical Cancer Screening Among Health Workers in Ibadan, Nigeria"
First place in the High Value Care category went to Ryan Nguyen, for the poster "Physician Knowledge and Beliefs of Prescription Drug Costs."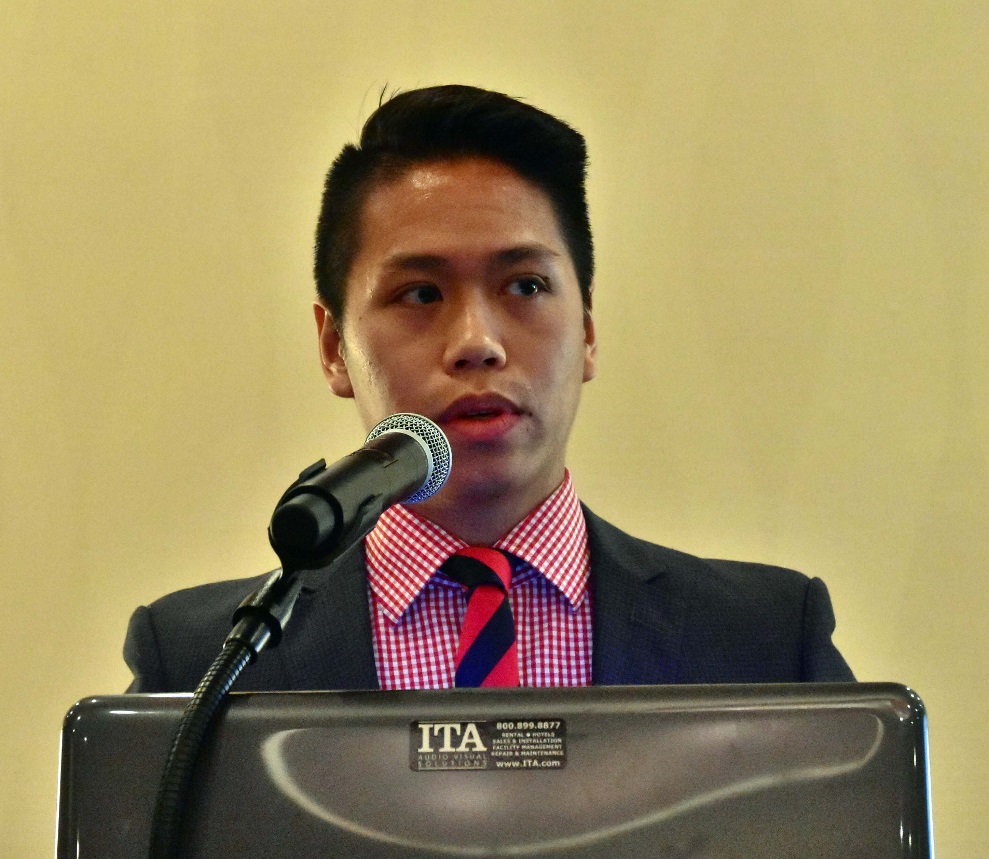 Second place in the High Value Care category went to Steven Scheller for his poster "When Less Is More: The Harms of Duplicate Laboratory Orders." The third-place winner in the High Value Care category was Emma Hedgwood, who presenter the poster "Differentiating True Refractory Hypothyroidism from Pseudomalabsorption and the Under-Recognized Utility of the Levothyroxine A."
First place in the Quality Improvement category went to Maxia McEachron, for the poster "Safe handoff of high risk patients at the completion of residency."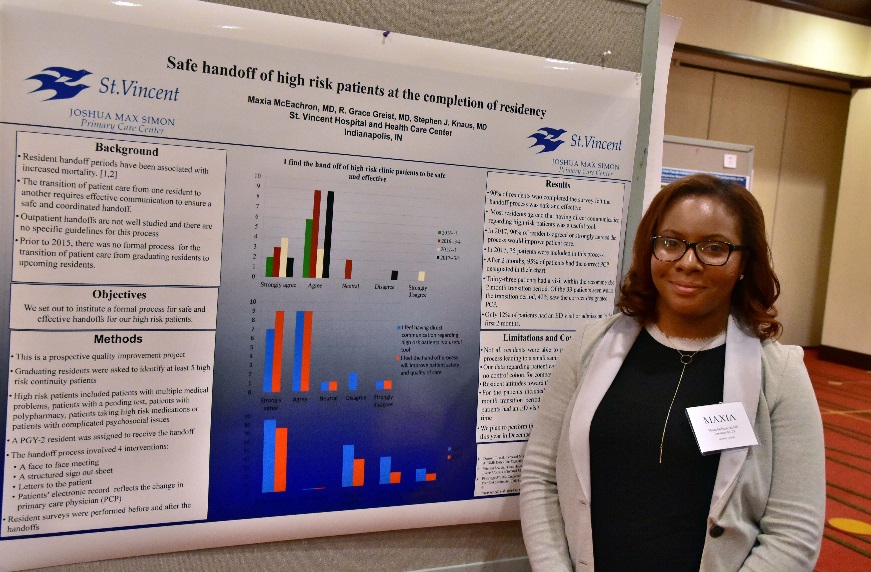 First place in the Early Career Physician category went to Matthew Miles, for the poster "Cutaneous Blastomycosis in an Immunocompetent Patient."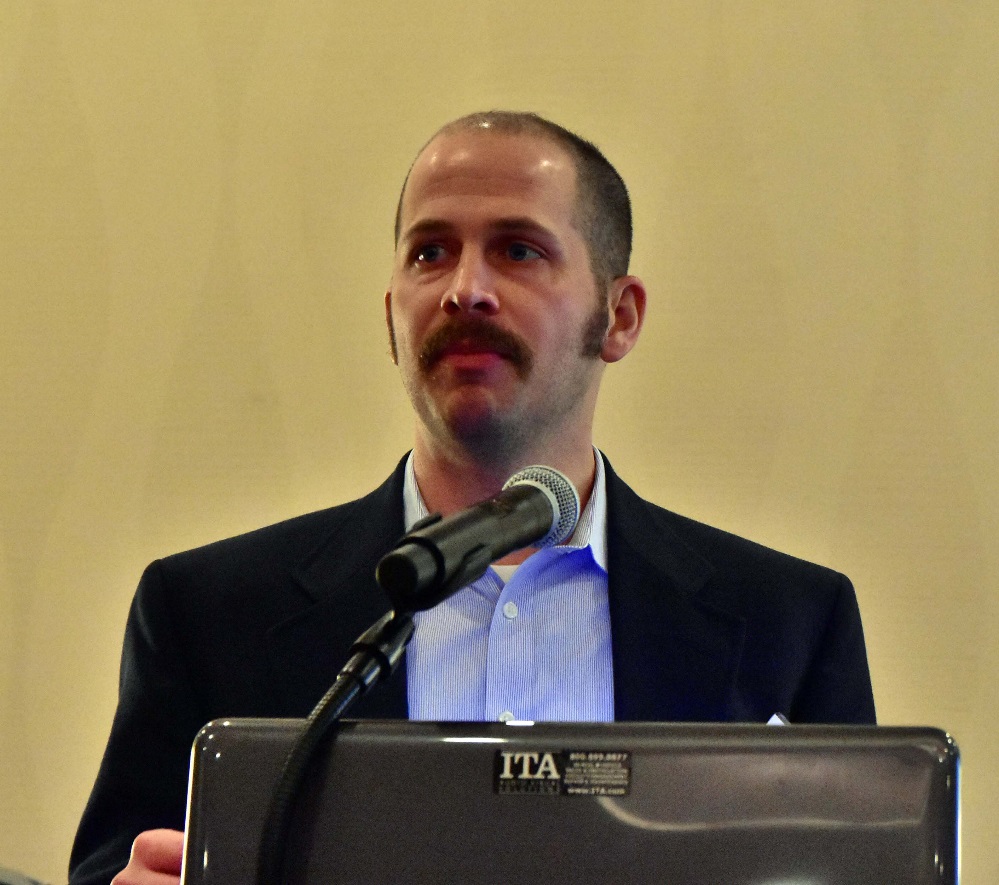 Second place in the High Value Care category went to Michelle Solik for her poster "CONN you recognize it? A Case of Previously Undiagnosed Primary Hyperaldosteronism?" The third-place winner in the High Value Care category was Siva Parcha, who presenter the poster "Extreme weight loss causing bowel obstruction - A case of Wilkie's syndrome."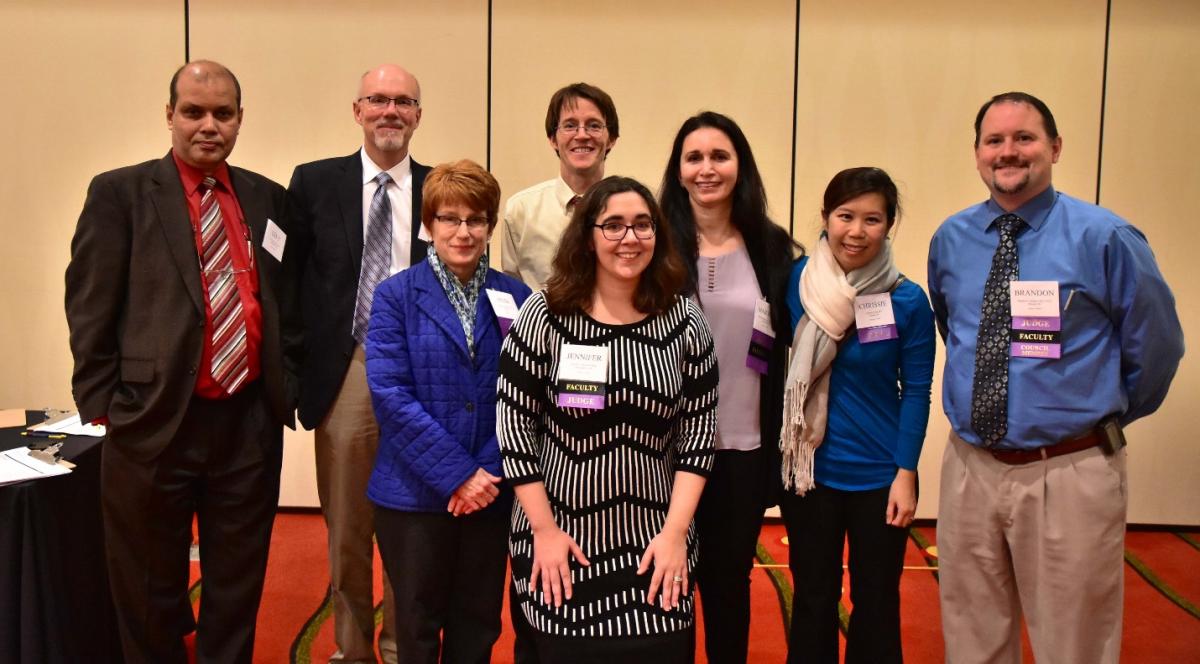 Thanks to our five poster judges! Drs. James Hotz, Areeba Kara, Chrissy Tran, Jennifer Mundell, Brandon Dickey, Maryam Massoumi, Brad Sutter, and Leny Philip.
Friday featured two presentations:
The Power of Stories: A Wellness Movement
Adam B. Hill, MD
Clinical Empathy
Jennifer S. Mundell, MD
Concurrent morning sessions featured:
Session A: Cervical Cancer Screening: What's Old and What's New
Sukhpreet Multani, MD
Session B: Pulmonary Embolism: Same Old Disease—New Options for Diagnosis and Management
Daryl G. Morrical, MD, FACP, FCCP
Session C: Radiology for the General Internist
Jessi Smith, MD
At the Awards Presentation at noon, this year's Laureate Award winner was J. Matthew Neal, MD, MACP, (presented by Dr. William Fischer). In addition, the Indiana Chapter received the ACP Chapter Excellence Award, which was presented by past ACP President, Dr. Nitin Damle.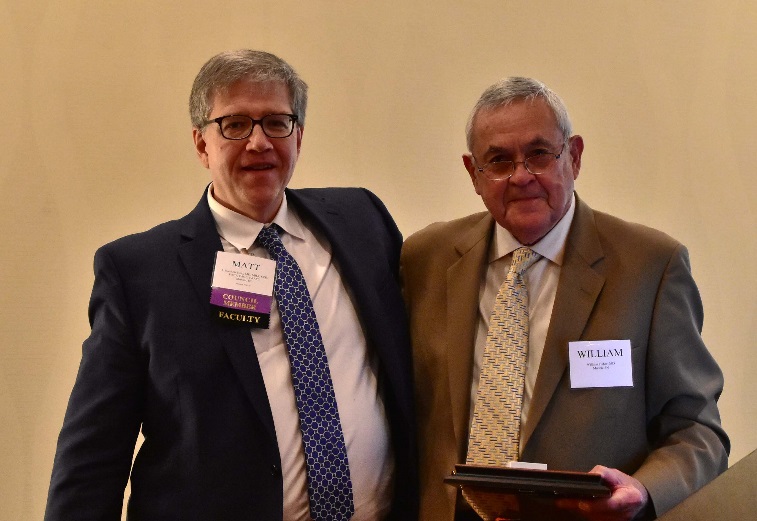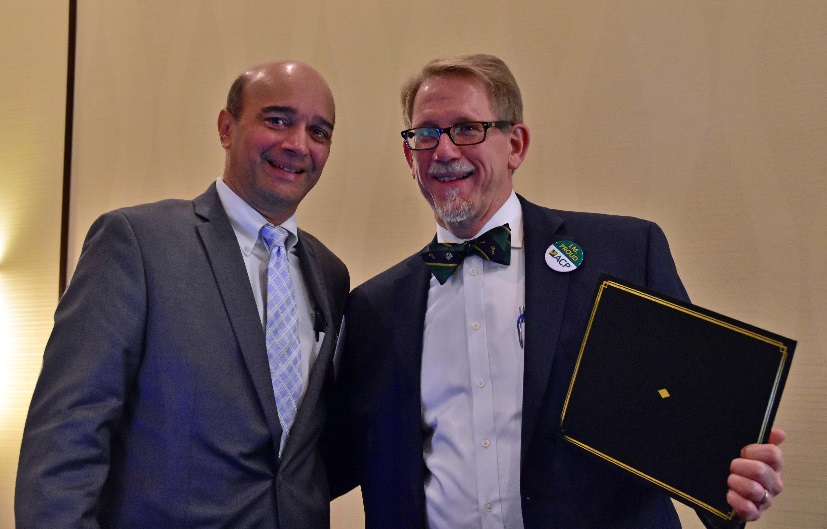 Drs. Tony Saliba and Duane Allen (not pictured) were recognized as the 2017 Resident-Fellow Member Council Co-Chairs. Matthew Glick was recognized as the 2016-17 IU School of Medicine Student Interest Group Chair, while Greg Rothchild was recognized for leadership of the Student Interest Group at Marian University College of Osteopathic Medicine.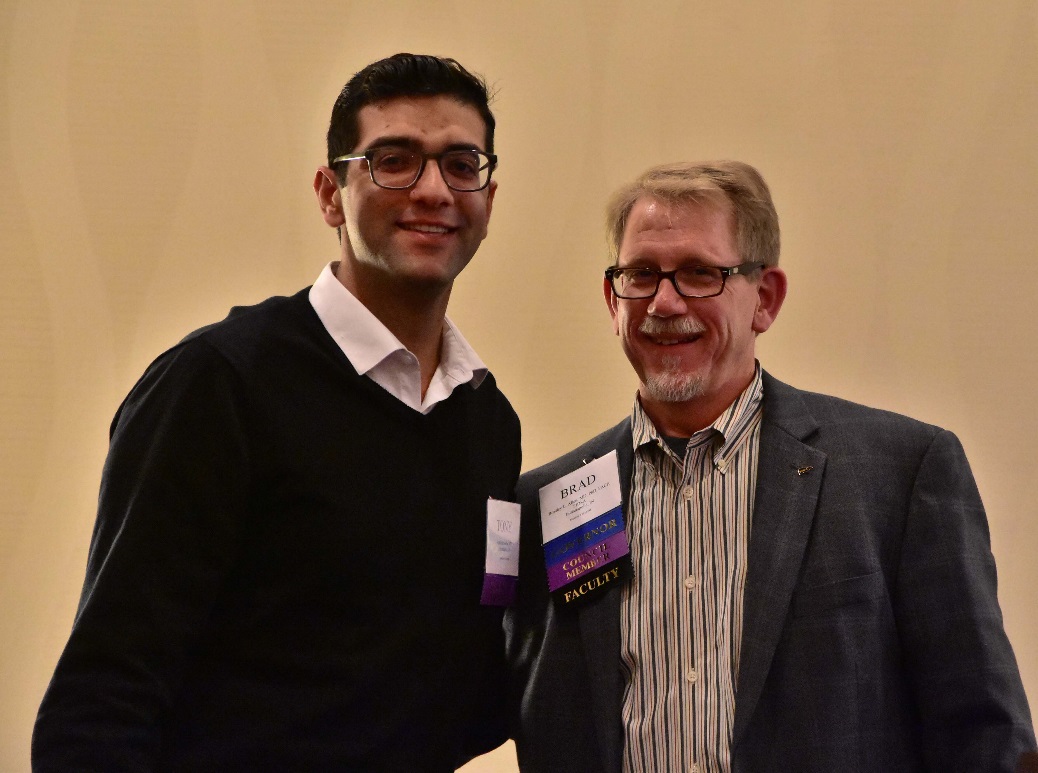 Dr. Glen Bingle, MACP, was joined by Cara Dresbold to deliver" The Internist and Genetic Counseling for High-Risk Cancer Patients" to highlight the awards luncheon.
The afternoon session featured numerous interesting sessions on many important topics.
1:15 Concurrent Sessions
Session A: Update in Ambulatory Medicine
Brandon S. Dickey, MD, FACP
Session B: Update in Inpatient Medicine
Amy Marie Munchhof, MD
Session C: Update in Tuberculosis
Bradley L. Allen, MD, PhD, FACP, FIDSA
2:30 Concurrent Sessions
Session A: Fostering Excellence and Professionalism in Internal Medicine: A 2017–18 ACP Update
Nitin S. Damle, MD, MS, MACP, Past President ACP
Session B: Transition of Care
Robert Fick, MD, FACP
3:30 Concurrent Sessions
Session A: Update in Geriatrics
Michael Sha, MD, FACP
Session B: Understanding and Negotiating
Physician Employment Contracts
Stacy L. Cook, JD, LLM
Session C: Faculty Development
T. Robert Vu, MD, FACP
Julie A. Vannerson, MD, FACP
Handouts from the presentations can be found here .
The Friday meeting concluded with the Governor's presentation of the annual business and town hall meeting, and Dr. Dickey's update on ACP Services.
Saturday consisted of two ABIM Self-Assessment modules. The first was the Update in Internal Medicine module presented by Drs. Stephen Knaus, and Randy Lee. Next up was the Update in Hospital Medicine module presented by Drs. Maryam Massoumi, Areeba Kara, and Naasha Gheyara.
A workshop on Bedside Ultrasonography for the Internist ran concurrently on Saturday morning, with a great attendance and interest level from trainees and practitioners alike. The session was chaired by Dr. Emily Cochard.
The annual Doctors' Dilemma competition (medical Jeopardy), between resident teams from IU School of Medicine (the defending champion), St. Vincent, and IU Health Ball Memorial, competed for the traveling trophy. After a spirited competition, IU School of Medicine prevailed with the winning team of: Anthony Wood, Fatima Ezzeddine, and Antoine Saliba.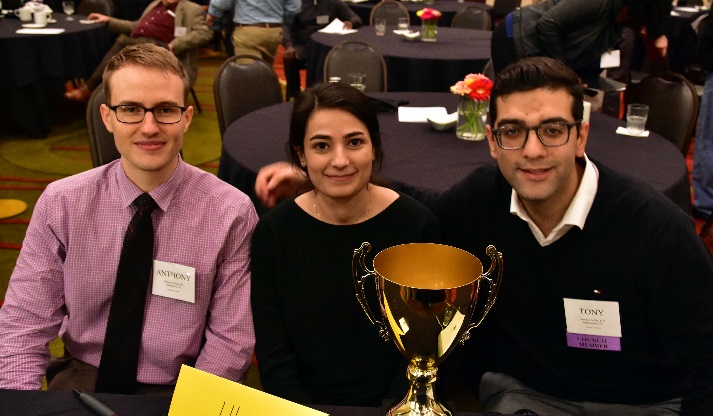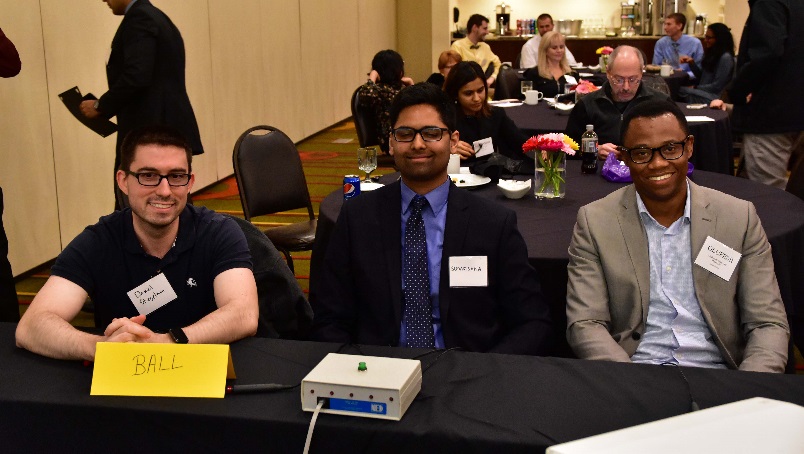 IUSM's team will represent Indiana in the National Doctor's Dilemma Competition at the National Meeting in New Orleans in the spring of 2018, a competition in which they finished in the top 5 nationally each of the last two years! Good luck and represent Indiana well!
In the exhibition round, the Marian University students dominated the Program Director team.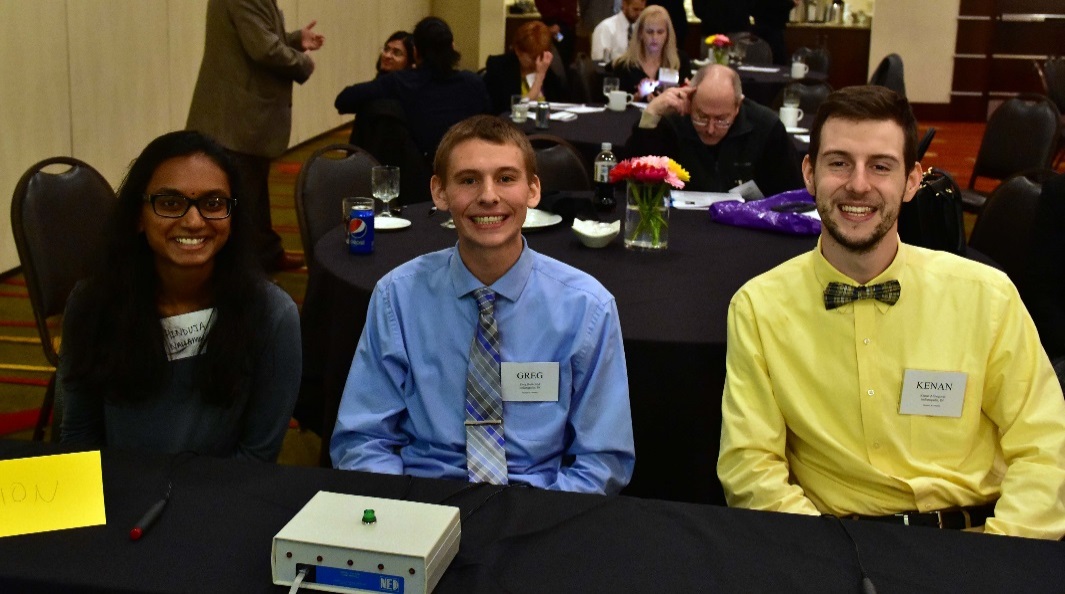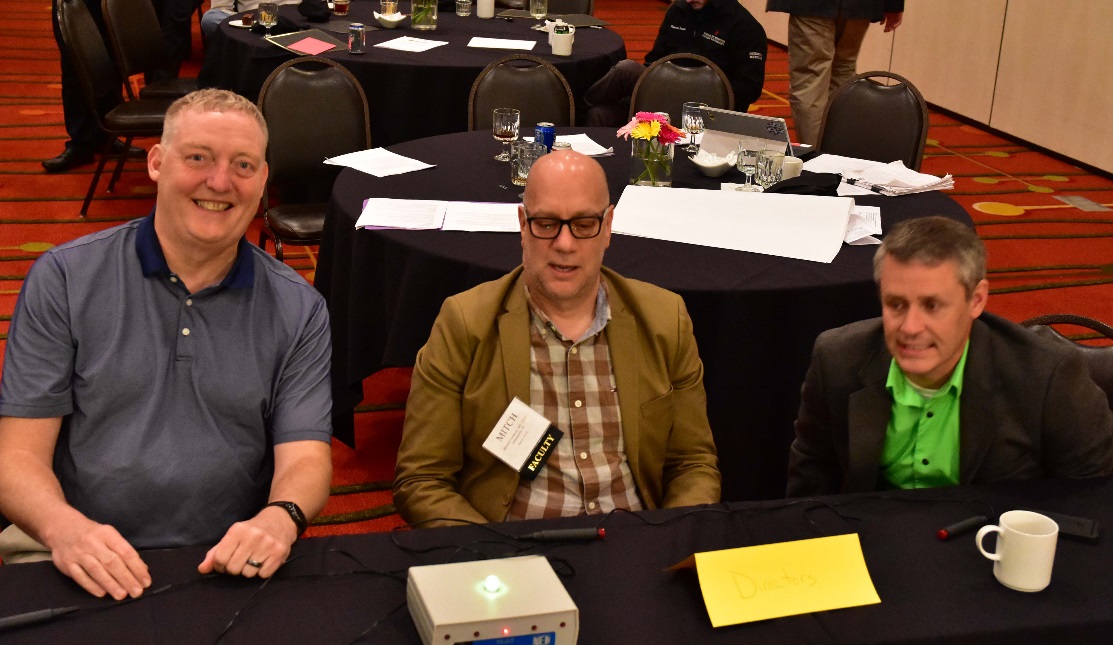 The meeting ended with the Panel discussion on career choices between primary care, hospitalist, and specialty medicine careers.
Thanks to all who attended the meeting this year and gave us feedback regarding topics you would like to see at future Chapter Meetings!
---
Indiana Chapter Meeting 2018
The date for next year's meeting has not been set yet but will likely occur in November 2018.
---
Kapil Mehta Selected for Advisory Board and Visit from Dr. Scott Litin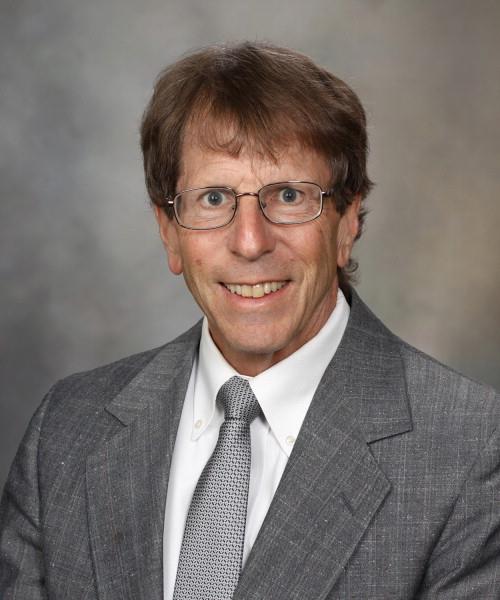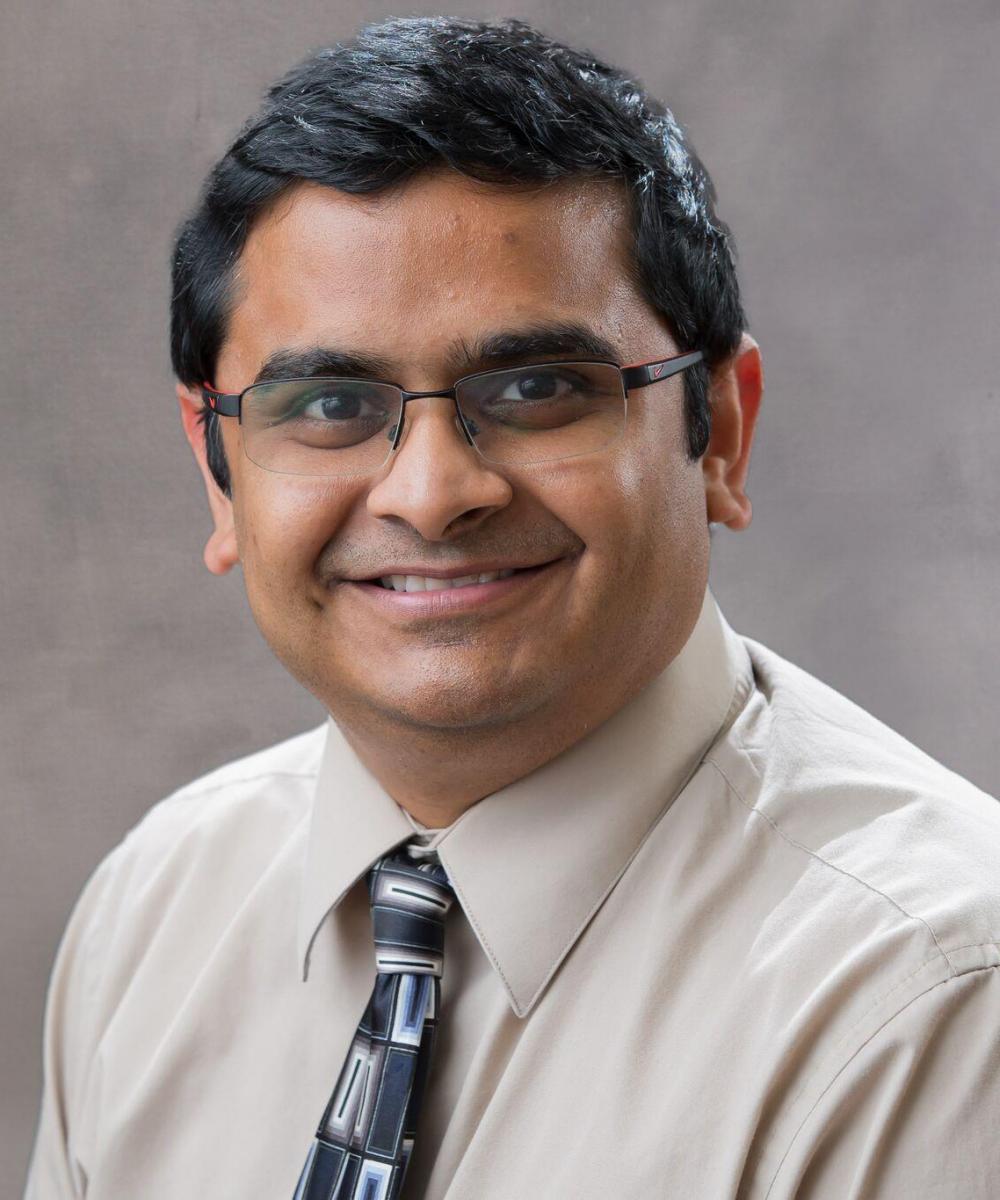 Left: Scott Litin, MD, MACP; Right: Kapil Mehta, MD, FACP
Over the last year, Kapil Mehta, MD, FACP, was selected and has served on the ACP Academic Advisory Board, sponsored by Dr. Matt Neal. As part of this training program, Dr. Mehta has arranged for numerous professional development activities for our chapter members. One of these events was a visit from Scott Litin, MD, MACP, who delivered programs at both IUSM and St. Vincent's for students, residents, and members on "How to Give an Effective Presentation". We appreciate Dr. Mehta making this visit possible and good crowds experienced Dr. Litin's engaging and informative presentation.
---
Save the Date – Internal Medicine 2018 in New Orleans
The most comprehensive meeting in Internal Medicine is taking place April 19 – 21, 2018. Come to the meeting early and take advantage of ACP pre-courses for focused, intense learning on a variety of internal medicine subjects. Visit the website for more information.
---
Indiana University School of Medicine Receives Maximal Accreditation Rating by LCME
IUSM had its routine site visit by the Liaison Committee on Medical Education in April 2017 of this year. This fall the LCME contacted IU President McRobbie and IUSM Dean Jay Hess to inform them that the school had received the maximal, full-term accreditation rating by LCME. As part of the current LCME expectations, IUSM will engage in a continuous quality improvement process leading up to the next LCME visit in 2025-2025.
Congratulations to IUSM and all the statewide teaching faculty that have contributed to a high-quality education environment within the state of Indiana.
---
ACP Membership Recruit-a-Colleague Chapter Rewards Program 2017-2018
As an expansion of the national Recruit-a-Colleague program, rewards are given to chapters that encourage local level peer-to-peer recruitment. This program is an excellent opportunity for chapters to build membership while earning chapter revenue and helping members earn dues credits.
The national Recruit-a-Colleague program rewards successful recruiters with dues credits for each new full Member or Physician Affiliate member recruited (up to the amount of annual dues) and a chance to win a trip to the annual Internal Medicine meeting. The program runs each year from April 1 through March 1. Applications must be received by March 1, 2018.
The chapter program still rewards the individual recruiter as stated above, but it also:
Provides a $100 reward to the recruiter's chapter for each new member recruited
Provides one free registration to Internal Medicine 2019 for the chapter per every 10 new members recruited
Provides an additional $25 reward to chapters for each of the first two years that a new member who is recruited through this program renews his/her membership
---
ACP Advocacy: ACP and Other Physician Groups Send Letter Expressing Alarm over Reports of Banned Words
According to media reports, the CDC and other public health agencies have been asked to discontinue the use of certain terms and terminology in budgets and program analysis documents common to public health. As a result, ACP and other physician groups are sending a letter expressing alarm over reports of banned words to the US Department of Health and Human Services.
---
New Fellows – Last Six Months
The Chapter recognizes and congratulates the following physicians who were elected to Fellowship in the College in the past 6 months:
Allison Burke, MD, FACP
Kevin Caruana, MD, FACP
Bradley Guill, MD, FACP
Kevin Helms, MD, FACP
Neil Jairath, MD, FACP
Unnikrishnan P K Pillai, MD, FACP
---
New Members – Last Six Months
Welcome to the new members who have joined our chapter in the last six months:
| | | |
| --- | --- | --- |
| Smith H Aaron | Meenu Jain, MD | Unnikrishnan P K Pillai, MD |
| Hamzah Abduljabar | Neil Jairath | Charmi Patel |
| Zain Abedali | Bilal Jawed | Michael Peng |
| Ammar Ahmad | Jessica Jeffries, MD | Louis Perkins |
| Adeel Ahmed | Hannah Jennings | Andrew M Peseski, MD |
| Afsa Ali, MD | Ok Ji | Derek Pinkerton, MD |
| Hayden Alstott, MD | Ilse Jimenez-Segovia | Christina Pogue |
| Asma Bahrami | Divya Kaminedi, MD | Eesha Purohit, MD |
| Stephen Benzinger | Olivia C Kammegne-Simo | Mahmoud Rahal, MD |
| Joe Bondi | Sara Kanoun | Jeremy Renz |
| David Bonnin | Harmanjot Kaur, MD | Thomas Riley |
| Hannah Brinkman | Jennifer Keen, MD | Brandon D Roberts |
| Samuel Brooks | Noah Kersey, MD | Kameron S Salings |
| Allison Burke, MD | Ariba Khalid | Lauren K Salisbury |
| Christopher Burns | Katherine Krause | Jasleen K Sandhu |
| Kevin Caruana | Alexandra Kreiselman, MD | Stephen Scheller |
| Monica Cheng | Margo Lannan, MD | Nathan Schleinkofer |
| Arefin Chowdhury | Kyle Lewellen | Collin Schmidt |
| Nihanth Damera | Alexa Loncharich | Jacquelyn Spring |
| Travis Dams, MD | Harbir Mandair | Sudarsana Srivangipuram, MBBS |
| Ashley Detzner | Aaron Mang | Ben Stivers |
| Sindhu Priya Devarashetty, MBBS | David Manring | Austen Stoelting |
| Kiril Dimitrov | Morgan McLuckey | Victoria E Thomas, MD |
| Amanda Dobbins | Stephanie Meade | Jacob Tilmon |
| Stephen Donnelly | Upney Mehta Maniar, MD | Gloria Tran, MD |
| Alison Embalabala | Marco Mendezona, MD | Thuong Tran, DO |
| Fatima Ezzeddine | Meagan Miller, MD | Joshua Varghese |
| Morgan Farley | Tara Mojtahed | Christopher M Vincent |
| Kenzie L Glassburn | Yejin No | Mattie White |
| Kevin Helms, MD | Haris Noorani | Beatrice Wood |
| Rachel M Hernandez | Gregory Nowak | Audrey D York |
| Jacob Hess, MD | Daniel E Nwankwo, MBBS | Lena Yu |
| Andrew Huck, MD | Scott O'Brien | Liezl Zeeman |
| Courtney Jackson | Chizelle Onochie | Nida Zia |
---
Happy Holidays and Welcome 2018
I hope you have had a wonderful close to 2017! Please contact us with ideas you have on how we can improve our ACP Chapter services.
Contact information:
Bradley L. Allen, MD, PhD, FACP, FIDSA
Indiana Chapter Governor
Email: bradalle@iupui.edu
Ph: 317-278-7788
Fax: 317-278-8165
Donna Seawards
Executive Director
Email: donnaseawards@gmail.com
Ph: 623-225-5527
Chapter Address
49 Boone Village, Box 290
Zionsville, IN 46077