You are here
Colorado Governor's Newsletter November 2016
Colorado Governor's Newsletter November 2016

---
---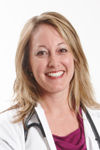 Christina Reimer, MD, FACP, ACP Governor
---
Governor's Letter
November is always so crazy as the holidays appear on the horizon. And this year we also get to look forward to the MACRA transition! Watch this video (click on "ACP Updates" and then "MACRA Alphabet Soup")! It does a great job of summing up how we internist ACP members may be actually feeling. Dr. Mignoli and I recently returned from Washington, DC for a Medical Practice and Quality Committee meeting where we delved into some of the details of what was formally known as MACRA and is now QPP (Quality Payment Program). Pretty trendy, huh? We have learned that, in the final rule published October 14th, several of ACP's asks have been incorporated: "Pick your Pace" allows flexibible options for reporting in the 2017 transition year. The resource use (cost) metric will be adjusted down to 0% for 2017, we will just get feedback on our costs of care. Low-volume thresholds for participation in MIPS have been raised which allows a safety net for some small practices. There are expanded options for PCMH's to get credit for Certified Quality Improvement activities in MIPS. And, an additional MSSP ACO track will be added for 2018 for current Medicare track 1 ACO's that will help slow the transition to two-sided risk. So, there are some wins! It is also still so complicated.
We are all looking at this transition through different lenses. While many of us are employed and our larger organizations are making many decisions for us, others of us are the people in those leadership roles making the decisions for out groups. Some of us own smaller private practices and have to choose a pathway, and some of us are looking at this from a trainee standpoint hoping that everything will be crystal clear by the time we are ready to practice. For those of us at any of those vantage points, it is helpful to know that the ACP has developed quite a few reliable resources. We all need to know at least the basics. If you haven't visited the MACRA homepage , please do. I'm going to point out a couple of highlights: The "Making Sense of MACRA" powerpoint presentation is a good place to start. In addition there will be a "Quality Payment Advisor" available soon – it walks us step-by-step through an algorithm based on an answers to questions, and then leads to specific resources and education.
We are lucky to have really knowledgeable and fantastic staff who always want feedback about how the organization can be more helpful. Please be in touch if you have thoughts!
---
ACP Supports Joint Statement on Outpatient Antibiotic Stewardship
ACP is one of 12 national health organizations partnering with the Centers for Disease Control and Prevention (CDC) and the Pew Charitable Trusts in a joint statement on the importance of outpatient antibiotic stewardship.
All antibiotic use carries a risk of contributing to the development of antibiotic resistance. In the U.S. alone, at least two million Americans acquire a serious antibiotic-resistant infection each year, with an estimated 23,000 deaths as a direct result.
In 2015, the White House released a goal to reduce inappropriate antibiotic use in outpatient settings by 50 percent by the year 2020.
ACP is committed to supporting these national targets by working in partnership with our members to expand current antibiotic stewardship efforts and helping our members use antibiotics appropriately in outpatient settings.
For more information, visit.
Forest For The Trees Project winners.
---
SAVE the DATE!!
American College of Physicians Colorado Chapter Presents:
2017 ACP Colorado Chapter Meeting!!
Place: Broadmoor Hotel, Colorado Springs, Colorado
Date: February 2, 2017 thru February 4, 2017
Please make your reservation.
The brochure will be available soon!!
---
Introducing the ACP Travel Grants Program
Respond by: Monday, November 14, 2016
TO: ACP Board of Governors
FROM: Rebecca Moore, Director, Membership Development
SUBJECT: Introducing the ACP Travel Grants Program
I am writing to let you know that the College will be testing an ACP Travel Grants Program to provide a limited number of $2,000 travel grants to domestic early career physician Members and Fellows who apply to attend Internal Medicine 2017.
The Travel Grants Program is sponsored by the ACP Early Career Physicians Council (CECP) with the funding to be provided by donations from the ACP Leaders Circle (the annual contributions campaign geared towards current/past Officers, Regents, and Governors (ORGs)).
The program will provide travel support of $2,000 for up to 20 domestic early career Members and Fellows of the College to attend the ACP Internal Medicine Meeting 2017. Although the grants will be available to all early career full members of the College, special consideration will be given to first-time attendees, physicians who serve rural or under-served populations, physicians of diverse backgrounds, and those without a significant source for CME funding.
Recipients will be required to attend certain functions such as Opening Ceremony, Early Career Luncheon, their individual Chapter receptions, and the Young Achievers reception. In addition, we will urge them to participate in other activities such as a certain number of scientific sessions, the Waxman Center, judging resident or student posters, etc. We are still finalizing the activities to include in this program.
We plan to integrate the recipients into ACP's social media outreach led by our Communications department, charging them with posting to various sites throughout the meeting. Post meeting, we will survey grantees about their meeting experience, connect them to their chapter to encourage local participation, and if appropriate, highlight their story in IMPact for medical students.
The application will be short, asking no more than contact information, a brief bio noting any aspect of their background the selection committee should consider, and completion of a 500-word essay answering the question, "Tell us why you wish to attend the ACP meeting and how you will use what you learn in caring for your patients."
My purpose in writing is to share that we will move forward in a test mode for IM17, and to ask for your help in letting early career members in your chapter know of this opportunity. We are finalizing an application that we will provide to you and to the Early Career Council for distribution. We hope that these efforts will garner interest and that we will receive a sufficient number of applications for the selection process. If we lag in applicants, we have also held a date at the end of October to send an email to our early career domestic members if needed.
The applications are due back to ACP on November 14. Staff physicians will quickly review them internally and select the top 30 candidates. We will then send them to the CECP to review between December 2 and December 9 to make the final selection. We will inform the recipients by December 16 via a communication from the Chair of the CECP.
We are excited to be offering this opportunity to a select number of our early career physicians and hope that you will support it both through the Leaders Circle and through communicating the opportunity to early career members of your chapter.
Please contact me directly with any questions or concerns. My office number is (215) 351-2693 or send me an email.
---
Transforming Clinical Practices Initiative


Enroll in the Transforming Clinical Practices Initiative (TCPi) today and access a free support network designed to help your practice deliver patient-centered care and navigate compensation changes driven by the Medicare Quality Payment Program (also known as MACRA) that will also affect commercial carriers.
Learn More and enroll today!
Data collected beginning January 2017, will affect your future compensation. The earlier you enroll, the sooner TCPi can help you evaluate, plan, measure and transform your practice.
This grant-funded program can provide you with the support, sound explanations and guidance you need to succeed. Benefits include:
A free, expert network of support and mentorship through the Colorado Practice Transformation Network (Colorado PTN)
A higher quality, lower cost patient experience
Renewed provider and care team vitality
Increased revenue through greater workflow efficiencies and electronic health record (EHR) optimization
Access to high value referral networks for more effective care coordination
Access to national registries and tools to assist with reporting
How the three-year program works:
Practices will designate two practice champions to receive training in leadership, quality improvement methodology, and data analysis to drive practice improvements
Practice professionals will work with their practice facilitators, coaches provided through the Colorado PTN, to:

Address priorities and pain points
Establish benchmarks
Develop an action plan
Help your team implement changes

Consistently review clinical, cost and utilization measures
Participate in a virtual learning network to learn and share best practices
Achieve your goals and thrive in new payment models
Want a snapshot of what your provider compensation changes might look like? Use this calculator tool to enter your practice data. You can also view a three-year transformation timeline for more details on what to expect during the TCPi program.
The project described was supported by Funding Opportunity Number CMS-1L1-15-002 from the U.S. Department of Health & Human Services, Centers for Medicare & Medicaid Services. The contents provided are solely the responsibility of the authors and do not necessarily represent the official views of HHS or any of its agencies.
---
2016 CECP Meeting
"The CECP hosted an educational dinner at St. Joseph Hospital on November 3 entitled, "The Hitchhiker's Guide to Colorado Medicine: What you (may not even know you) need to know to practice medicine in Colorado." Juan Lessing, MD; Manny Diaz, MD; and Craig McFarland, MD discussed common legal questions that healthcare providers in this state may encounter, as well as numerous clinical conditions that are unique to or different in Colorado. The event was well-attended, with a mix of medical students, residents, attending physicians, NP/PAs, nurses, and pharmacists from along the front range."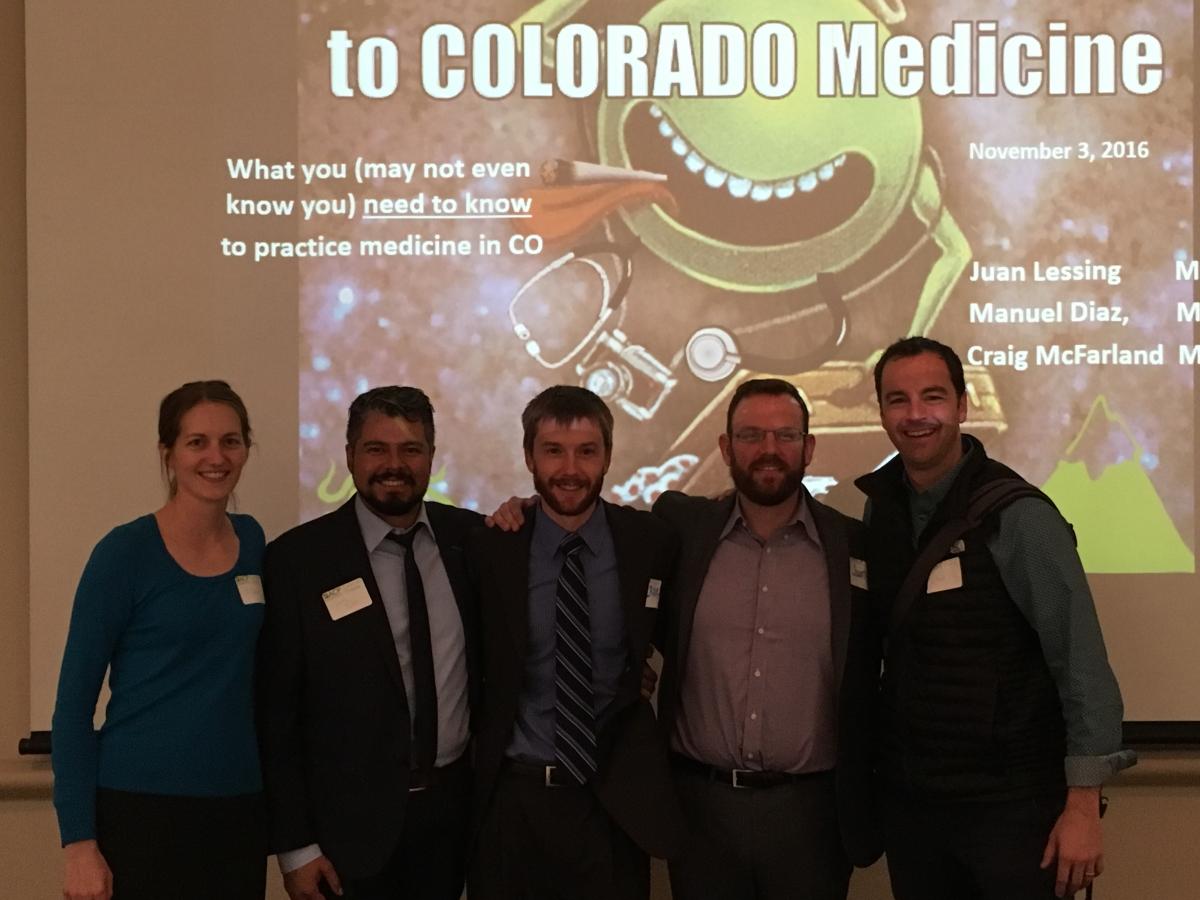 Mary Anderson, Manuel Diaz, Craig McFarland, Juan Lessing and Chad Stickrath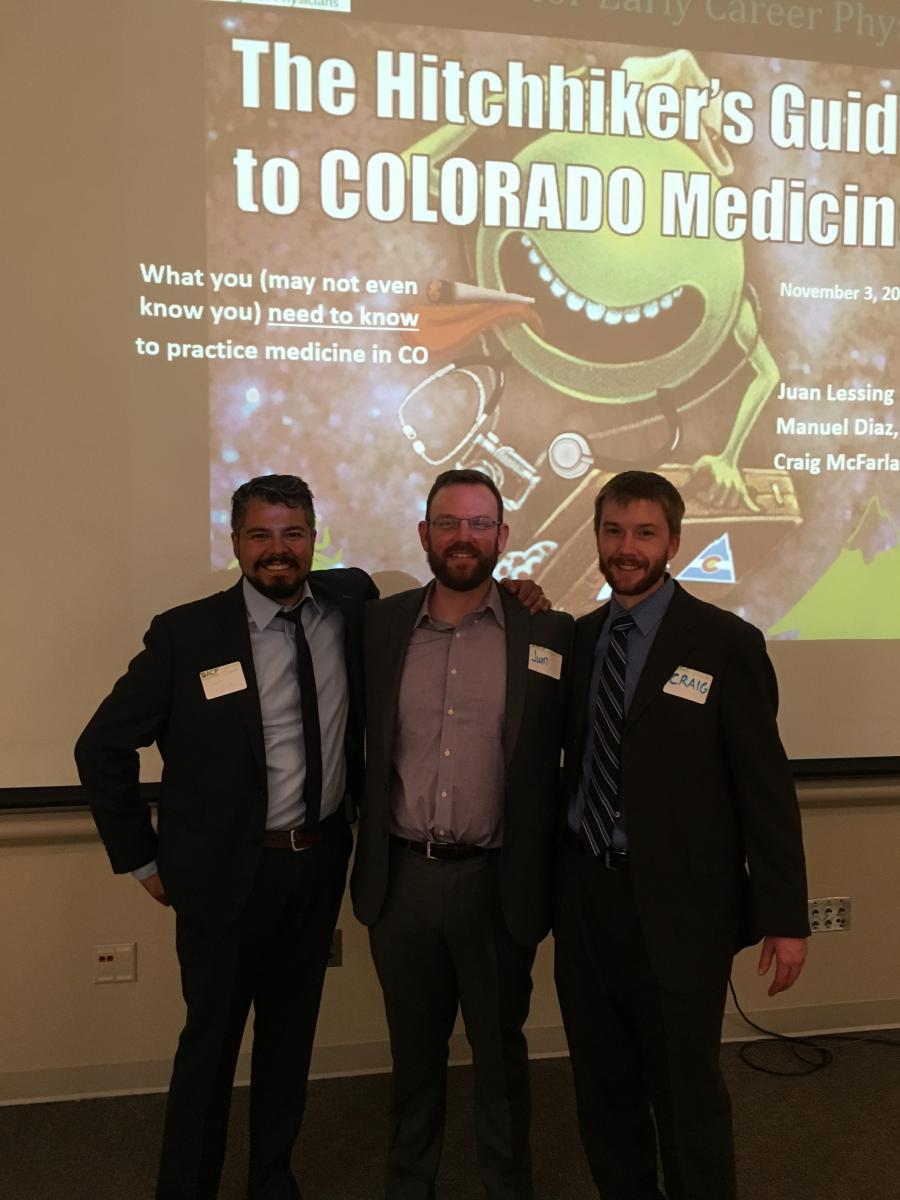 Manny Diaz, Craig McFarland and Juan Lessing
---
ACP Dragon's Lair Competition: Breathing Fire into Health Care Transformation
Dear Early Career Physicians Activities Chapter Leaders:
ACP Internal Medicine Meeting 2017, being held March 30-April 1 in San Diego, CA, will be hosting the Dragon's Lair Competition—the second "Shark Tank"- themed competition where finalists will present their projects to a distinguished panel of judges in front of a live audience. Project ideas may be submitted by physicians or medical students and should focus on transforming clinical practice. A Grand Prize winner will receive $7,500 in funding for project development and an Audience Choice prize of $2,500 will also be awarded. All finalists are eligible to receive complimentary meeting registration and travel funds to attend ACP Internal Medicine Meeting 2017.
Go here for additional information and to submit an application by the December 30, 2016 deadline .
Please feel free to distribute the attached flyer to anyone who may have a project eligible for submission.
For questions regarding this event, contact Joanne Ey .
Sincerely,
Patty Moore
Governance Relations Coordinator