You are here
GOVERNOR'S NEWSLETTER California Southern II July 2014
GOVERNOR'S NEWSLETTER California Southern II July 2014

---
---
Letter from the Governor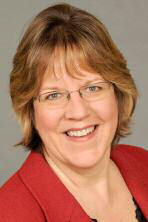 Debra L. Stottlemyer, MD, MBA, FACP, ACP Governor
Dear Colleagues,
Much has happened since our last newsletter-including Internal Medicine Week in Florida and Washington Leadership Day in DC. I want to especially welcome our new Fellows to Region II (see below). If you any of them personally, give them a well-deserved congratulations. Some of you have acquired fellowship but have yet to attend the Convocation Ceremony-I encourage you to plan to come to Boston in the spring of 2015 for that event. It is a high moment in one's career.
The Board of Governors met in Orlando just before Internal Medicine Week, and one of the most discussed issues was the American Board of Internal Medicine's Maintenance of Certification (MOC). As governors, we sent a clear message to the leadership of ACP, including a resolution that summarized the level of discontent we have heard from the membership of ACP about the new MOC requirements. One of the outcomes of our work there was the email you all received from ACP's CEO Steve Weinberger on June 4, 2014. If you skipped reading that email, I strongly recommend you go back and read it. His email includes a link to the Annals editorial yet to be published entitled "Maintenance of Certification: Beauty Is in the Eyes of the Beholder" which, in my opinion, nicely represents the concerns that I have been hearing from you.
Let me give a shout out to Dr. Prashanth Gowda who came with me to Washington Leadership Day and wrote about our experience for the newsletter. I have also asked him to represent the Early Career Physicians for our Region (ECP defined as within 16 years of graduation from medical school). If you are an ECP and would like to contact Dr. Gowda, please contact him through our Executive Director, Gus Chavez.
We all benefit from the tireless efforts of Dr. Jeremiah Tilles who continues his decades-long commitment to advocacy. He once again, at age 82, organized and coordinated the California statewide team (almost 2 dozen of us) who traveled to Washington for Leadership Day. Dr. Tilles volunteers his time and spends countless hours setting up the meetings with our congressmembers and senators as well as developing relationships with our elected leaders and their staff. His work has had a direct impact on issues that affect physicians. Thank-you Jerry. We salute you!
As I close, let me congratulate all who may be graduating or have family member who are graduating from kindergarten through graduate school. And my thanks to all of you who are committed through continuing education to remain current in your field so as to continue to deliver outstanding care to your patients.
Looking forward to seeing you in Anaheim in October!
Debra L. Stottlemyer, MD, MBA, FACP
Governor, ACP Southern California Region II
---
2014 ACP National Meeting in Orlando, Florida
This year's ACP 2014 Annual Meeting took place in Orlando, Florida. Southern California was well represented. In addition, numerous posters were submitted and several members were elevated Fellow of ACP status. Next year's meeting will be held April 30 May 2, 2015 in Boston. We hope to see you there!
Dr. Debra L. Stottlemyer (2nd from left), with colleagues at ACP Convocation Ceremony.
---
New ACP Fellows
We are happy to announce that the following people have been advanced to ACP Fellow in our region within the last 6 months. Congratulations on this well-deserved honor!
Region II
Thomas D Amankonah, MD, FACP
Derek J. Li, MD, FACP
James I. McMillan, MD, FACP
Hamid Moradi, MD, FACP
Randa Serag, MD, FACP
Gary R. Stier, MD, FACP
---
2014 Chapter Excellence Award
I am pleased to announce that our chapter is in receipt of the 2014 Chapter Excellence Award! The award recognizes chapters which successfully meet the standards for managing a chapter. In order to achieve the Chapter Excellence Award, chapters must meet all basic criteria and seven optional criteria. Criteria include such activities as formulating an effective Governor's Council and committees, communicating frequently with membership, providing educational opportunities, recruiting and advancing members and celebrating membership through local awards. I would like to extend a special thanks to those chapter members who assisted me in all of these endeavors! For their hard work and dedication, we received this award.
---
2014 ACP Leadership Day on Capitol Hill
By: Prashanth G. Gowda, MD, MS, and FACP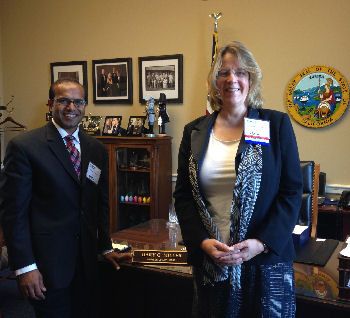 Drs. Debra Stottlemyer & Prashanth Gowda
Each spring, ACP provides its members opportunity to share their patient experiences with members of congress and senate representing their constituents. It is through these stories that we play a role in influencing legislations being developed in the congress and the senate. This opportunity comes by participating in an annual advocacy day on Capitol Hill called Leadership Day. This year, Leadership Day was held on May 21st and 22nd.
Our Chapter Governor, Dr. Debra L. Stottlemyer, MD, MBA, FACP and I along with our esteemed colleague, Dr. Jerry Tilles, represented Southern California Region II. On the first day, we were given a comprehensive orientation and briefing on ACPs top legislative priorities. The day began with briefings for Medical Students and Residents/Fellow-in- Training. This was followed by Advocacy Workshop and briefings from ACP staff at Washington DC. A couple of panel discussions ensued. The first, was about congressional initiatives on medical liability reform and the second, was about health care payment and delivery systems in a post-SGR environment. The day concluded with a "Happy Hour" reception for medical students, residents/fellows-in-training members. California chapter ACP hosted a dinner reception for ACP representatives from California. This was a great opportunity to meet and share with fellow members of our state. Here each of us was assigned responsibilities to meet our respective members of congress, representing the area we reside or work.
The second day began with briefings from Members of Congress following which representatives from each state dispersed to meet their representatives and/or their staff at the Capitol Hill. ACP had prepared us to share with our congressional representatives the key priorities that have direct and immediate impact on members and patients. Those were to:
Enact Legislation to Eliminate Medicare's Physician Payment System, as agreed Upon by Medicare Committees.
Extend Expiring Medicaid Payment Policy for Primary Care Services through at least 2016
Enact Bipartisan Medical Liability "Safe harbor" Legislation and Initiate a Pilot on Health Courts
Reform and Sustain Graduate Medical Education (GME) Financing; Re-align the Program with the Nation's Workforce Needs
Ensure Sufficient Funding for Federal Health Care Workforce Programs
Legislators want to hear our voices. We need to realize that legislation will affect us. We can be the resource that helps them learn about issues pertaining to Internal Medicine. Hence, it's more important than ever to be an advocate for our patient and our peers.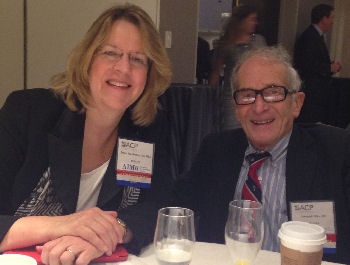 Dr. Debra L. Stottlemyer with Dr. Jeremiah Tilles.
---
Mark Your Calendars!: Southern California Regions I, II & III Scientific Meeting
We are happy to announce that this year's ACP Regions I, II and III, Scientific Meeting will take place on October 18-19, 2014 at the DoubleTree by Hilton Anaheim-Orange County in Orange, California. We have an outstanding program that includes experts from throughout the region speaking on topics including Update on GIM, Managing Medicare in 2014, Improved Patient Care through Lawsuit Protection & Prevention, Office Spirometry for the Internist, Update on HRT/Testosterone, and Improving Hospital Survival from an Endocrinogist's Perspective. In addition, the meeting will include a poster competition and a medical jeopardy competition (Doctor's Dilemma).
Registration and lodging information will be forthcoming in the next few weeks. We hope to see you there!