Physician Voices: The Importance of Communication in Medicine
After an unprecedented year for internists, the AZ Chapter is pleased to offer a safe meeting space to learn, recharge, and facilitate face-to-face discussion with your peers, chapter leaders, and guest speakers!
Join your internal medicine colleagues at the next AZ Chapter scientific meeting October 28 - 29, 2022:
Earn CME credits and MOC points and connect with other internists who know your challenges and can help you find solutions.
Experience top-notch education from expert faculty, meet new people and connect with old friends, and learn about ways to get involved with our Chapter.
This meeting will help you meet your needs as a physician and help you provide the best care for your patients using the latest information.
We look forward to seeing you in DoubleTree by Hilton Tucson - Reid Park!

Priya Radhakrishnan, MD, FACP
Governor, Arizona Chapter
---
Meeting Highlights
Learn different effective modalities in patient communication
Hands-on Ultrasound Session
Physician Wellness/Avoiding Burnout
Updates in management of diabetic patients
Awareness of health equity disparities and ways to combat them with health promotion activities
Apply up-to-date treatments in addiction medicine
Doctor's Dilemma and Posters LIVE!
Program Committee
Dalia Mikhael, MD – Committee Chair
Robert M. Aaronson, MD, MACP
Constantia Abarikwu, MD, FACP
Joy Bulger Beck, MD
Nancy Casanova, MD
Viet D. Do, DO, FACP
Timothy Fagan, MD, FACP
James Keane, DO, FACP
Rajesh Kotagiri, MD, FACP
Gurusharavanan Kutti Sridhjaran, MD, FACP
Helene Labonte, DO, FACP
Josh Malo, MD
Allan Markus, MD, FACP
Laura Meinke, MD, FACP
Indu Partha, MD, FACP
Jayne Peterson, MD, FACP
Anil Potharaju, MD
Vinita Puri, MD
Alejandro Recio Boiles, MD, FACP
Krystal Renszel, DO, FACP
Perminder Sanghera, MD, FACP
Serena Scott, MD
Umesh Sharma, MD, FACP
Amy Sussman, MD
Bijin Thajudeen, MD, FACP
Ijeoma Uche, MD, FACP, PharmD
Rupal Vora, MD, FACP
Anthony Witten, DO
Tirdad Zangeneh, DO, FACP
Mark Zubriski, MD, PhD, FACP
---
12.25 CME/MOC Available
Release Date: October 29, 2022
Termination Date: October 29, 2023
The American College of Physicians is accredited by the Accreditation Council for Continuing Medical Education (ACCME) to provide continuing medical education for physicians.
The American College of Physicians designates this live activity for a maximum of 12.25 AMA PRA Category 1 Credit(s) TM. Physicians should claim only the credit commensurate with the extent of their participation in the activity.
Successful completion of this CME activity, which includes participation in the evaluation component, enables the participant to earn up to 12.25medical knowledge MOC points in the American Board of Internal Medicine's (ABIM) Maintenance of Certification (MOC) program. Participants will earn MOC points equivalent to the amount of CME credit claimed for the activity. It is the CME activity provider's responsibility to submit participant completion information to ACCME for the purpose of granting ABIM MOC credit.
Agenda
October 28, 2022
Time
Session
10:00-11:00 AM

Doctor's Dilemma - Medical Student Round (Boojum Room)

Mayo Clinic Arizona
ATSU – KCOM
Creighton
UACOM – Tucson

11:00-Noon
Ultrasound Hands-On Session (Ballroom Foyer)


Ian Coe, MD




Anthony Witten, DO




Robert Aaronson, MD, MACP

12:00-12:30 PM

Buffet Lunch (Ballroom Salons ABC)

12:15-12:30 PM
Welcome & Introductions (Ballroom Salons EFGH)
Priya Radhakrishnan, MD, FACP
Dalia Mikhael, MD
12:30-1:30 PM
Keynote Speaker 1 - Integrative Medicine (Ballroom Salons EFGH)


Victoria H. Maizes, MD

1:30-2:00 PM
Oral Vignettes 1 (Ballroom Salons EFGH)

Dr. Chandresh Nandani HonorHealth
A Confusing Case of Confusion – An Abnormal Finding in Encephalopathy

Dr. Chelsea Takamatsu UACOM – Tucson
Multiorgan Dysfunction: Is it Sepsis?

2:00-2:30 PM
The Arizona Health Improvement Plan (AzHIP): Improving the Health of Arizona (Ballroom Salons EFGH)


Shradha Gupta, MD

Medical Student Lecture 1: Recognizing and Managing Burnout (Cottonwood)


Mark Shoukry, MD


Medical Student Lecture 2: The Medical Team: The Anatomy of the Internal Medicine Team (Cottonwood)


Samantha Luois, MD

2:30-3:00 PM
Updates in General Internal Medicine


Nathan Delafield, MD

3:00-3:30 PM
Treatment of Hyperglycemia in Type 2 Diabetes (Ballroom Salons EFGH)


Merri L Pendergrass, MD, PhD, FACP

3:30-4:00 PM
Break
3:45-5:00 PM
Poster Judging Session 1 (Ballroom salon D)
4:00-4:45 PM

Doctor's Dilemma - Resident Preliminary Round 1 (Boojum Room)

Mayo Clinic Arizona
Midwestern Canyon Vista
UA Tucson

5:00-5:30 PM
How to Create a Miracle: Discussing Prognosis in Serious Illness (Ballroom Salons EFGH)


Amy Klein, MD

5:30-6:00 PM
Addiction Medicine – How to Start a Conversation and Make Small Changes (Ballroom Salons EFGH)


Elisa Gumm, DO

6:30-7:30 PM
Governor's Reception and Ignite Presentations: Updates in COVID 19, CVD Telecommunication and Renal Issues (Ballroom Salons EFGH and patio)


Tirad Zangeneh, DO, MA, FACP, FIDSA, FAST




Michel Corban, MD




Amy Sussman, MD
October 29, 2022
Time
Session
8:30-9:00 AM

Oral Vignettes 2 (Ballroom salons EFGH)

Dr. Simran Gupta
She Said It All with Her Words
Dr. Abdul Halawa
An ATTRactive Case of Cardiomyopathy
Dr. Jake Hillyer
Pseudohyperkalmia in Chronic Lymphocytic Leukemia

9:00-10:00 AM
Keynote Speaker 2: Health Equity- The Haves and the Have Nots (Ballroom salons EFGH)


Ryan Mire, MD, FACP


ACP President
10:00-10:30 AM
Telemedicine (Ballroom salons EFGH)


Rustan Sharer, MD, FACP

Medical Student Lecture: Emotional Intelligence and Delivering Bad News (Cottonwood)


Mario Jaramillo, MD

10:30-11:00 AM
Wellbeing (Ballroom salons EFGH)


Shradha Gupta, MD

Medical Student Lecture: You Made a Mistake. What Now? (Cottonwood)


Chandresh Nandani, DO

11:30-12:15 PM

Doctor's Dilemma Residents Preliminary Round 2

Creighton
HonorHealth
UA Phoenix

Noon-1:00 PM
Lunch/Exhibits/Review Posters (Ballroom Salons ABC)
Resident Luncheon (Ballroom Foyer)
12:30-1:30 PM
Poster Session 2 (Ballroom Salon D)
1:30-2:00 PM
Modern Diagnosis of GERD: For General Internists and Beyond (Ballroom Salons EFGH)


Avin Aggarwal, MBBS

Medical Student Lecture 5: Meet the Resident Directors (Cottonwood)

Dr. Jane Peterson – UA Phoenix
Dr. Donna Holland – UA Phoenix
Dr. Sarah Umar – Mayo Clinic AZ
Dr. Perminder Sanghera – Abrazo
Dr. Indu Partha – UA Tucson
Dr. Rustan Sharer - HonorHealth

2:00-3:00 PM

Doctor's Dilemma Residents Final Round (Boojum room)

Medical Student Round winner
Resident Round 1 winner
Resident Round 2 winner
Second highest scoring team

3:00-3:30 PM

Awards/Concluding Remarks
Priya Radhakrishnan, MD, FACP
Dalia Mikhael, MD
ACP's Career Connection Virtual Career Fair - Thursday, October 27 | 6-9:00 PM EST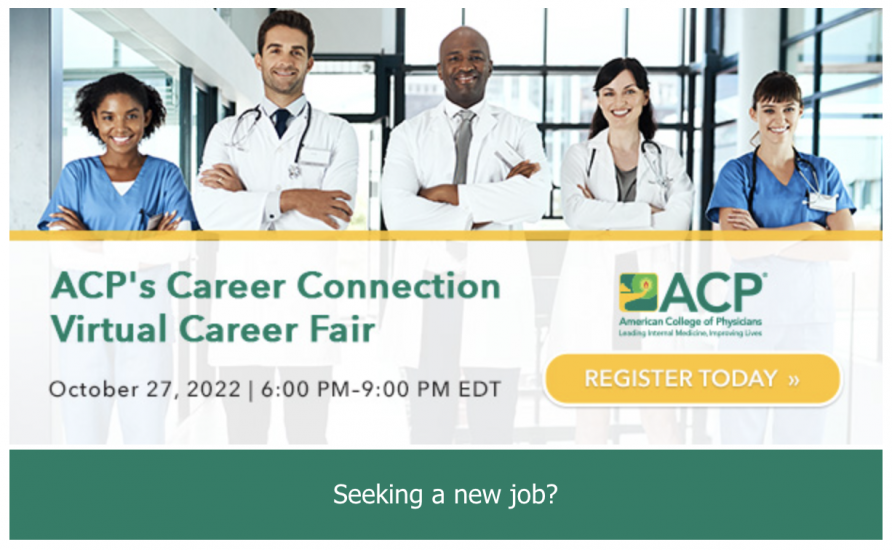 The American College of Physicians is delighted to provide you with this unique, free opportunity on October 27. Register today for ACP's Career Connection Virtual Career Fair and connect directly with employers in private, one-on-one conversations.
How it Works:
Register for the event and enter background information, such as your CV, experience, education, and job preferences for employers to review.
During the live event, browse employers' virtual booths and learn more about their opportunities, culture, benefits, and more.
Engage in private text-based chats with company recruiters.
Rate your chats and leave yourself notes to follow up with employers you had great conversations with.
Top Reasons to Attend:
Registration is FREE and easy!
You can attend from your home, office, or school; all your need is an internet-connected device.
Explore career advancement or entry-level opportunities and ask more in-depth questions to recruiters.
Make connections and broaden your network.
Don't miss this chance for personal growth!
Arizona Chapter Registration
| Categories | By September 18, 2022 | After September 18, 2022 |
| --- | --- | --- |
| ACP Member | $225 | $275 |
| ACP Resident/Fellow Member | $25 | $25 |
| ACP Medical Student Member | $0 | $0 |
| ACP Affiliate Member | $225 | $275 |
| Nonmember Physician | $225 | $275 |
| Nonmember Resident* | $25 | $25 |
| Nonmember Medical Student* | $0 | $0 |
| Nonmember Allied Health Professional* | $225 | $275 |
Members whose dues were not paid for the current fiscal year will receive the nonmember registration rate. Questions? If you have trouble registering online, please contact Member and Product Support at 800-ACP-1915 or direct at 215-351-2600 (M-F, 9 a.m. - 5 p.m. ET).
*Nonmember Residents, Medical Students, and Allied Health Professionals cannot register online and must register by contacting Customer Service at 800-523-1546, ext. 2600 in order to get the correct registration rate.
FAQs
Find answers to commonly asked questions here.
Can I follow along on social media?
Yes, follow/like the AZ Chapter through the meeting on social media! Use the hashtag #IMProud.
Hotel Accommodations
We have reserved a block of rooms at the following rates until September 27, 2022. When making your reservation, please use the following booking link or call 800-222-8733 and use the code ACP to book your room. The rooms are available on a first-come, first-served basis, so make your reservation as early as possible by calling the hotel directly at 800-222-8733.

Single/Double: $149.00
DoubleTree by Hilton Tucson - Reid Park
445 S. Alvernon Way
Tucson, AZ 85711
Participant Photography
As a participant in the chapter meeting, your photograph may to taken as a focus or background subject, to be used in chapter communications. If you would not like your photo taken, please inform chapter staff.
ACP Chapters Meeting Code of Conduct
ACP is a community that values collegiality, respect for patents and each other, and medicine's standards of ethics and professionalism. ACP members are guided by the content and spirit of the ACP Pledge and by their commitment to the ethics of medicine, including those in the ACP Ethics Manual. "Physicians' conduct as professionals and as individuals should merit the respect of the community."
ACP expects members, staff, and others who participate in events and activities involving ACP to treat others as you would like to be treated - with courtesy, respect for differences, and in ways that appropriately represent the profession of internal medicine. As set forth in ACP's An-Harassment Policy, ACP does not tolerate any form of harassment, including intimidation, hostility, or other unwelcome and offensive communication or treatment.
If you experience or observe harassing, inappropriate or otherwise unprofessional behavior, or you have concerns about how you have been treated by an ACP member or staff or anyone else at an ACP meeting or event, you may report the incident to Chapter Staff.
The chapter reserves the right to take any action deemed necessary and appropriate; including immediate removal from the meeting without warning or refund, in response to any incident of unacceptable behavior, and the chapter reserves the right to prohibit attendance at any future meeting, virtually or in person.
If you have questions about the chapter, the meeting program, or have a disability or any special dietary needs, please contact Debbie Webber at 602-347-6916 or dwebber@azmed.org