You are here
Central Retinal Vein Occlusion (CRVO)
Central Retinal Vein Occlusion (CRVO)
ILLUSTRATION: Extensive superficial splinter and blot hemorrhages surround the disc and extend into all quadrants of the retina. Considerable retinal edema is present. The disc is edematous with blurred margins but the central cup can still be visualized. The veins are engorged and tortuous. Several small cotton wool spots (micro infarctions) can be seen adjacent to the disc.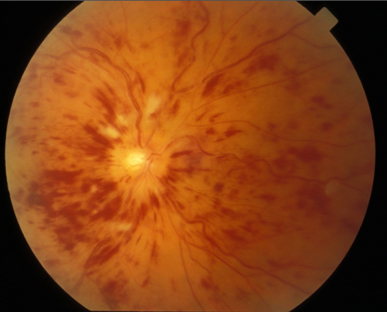 DISCUSSION: "Blood and Thunder" has been used to describe the CRVO. There is a sudden, painless decrease in vision although vision may be better than that of an arterial occlusion. Fundus exam reveals multiple striate and round hemorrhages scattered throughout the retina. The veins are dilated and tortuous and cotton wool spots are usually present. The disc and retina are edematous.
There are two forms of CRVO, a milder, non-ischemic form, often seen in younger patients and a more age related ischemic form. The latter is characterized by multiple areas of capillary nonperfusion as demonstrated by fluorescein angiography and carries a much worse prognosis for return of good vision.
The most common cause of CRVO is a thrombosis of the central vein within the disc area. Associated risk factors include over age 50 years, hypertension, diabetes mellitus and open angle glaucoma. Oral contraceptives, diuretics and a wide variety of systemic diseases that alter the clotting mechanisms and blood viscosity have been implicated as contributing factors.
Visual prognosis is poor in the ischemic variety with residual macular edema often limiting visual recovery. Laser photocoagulation is sometimes used as treatment with varying success. Importantly, the incidence of neovascular glaucoma developing is high (60% in the very ischemic eyes) usually within 3-5 months.1
---
AM Acad Ophtho Basic and Clinical Science Series. Section 12, Retina and Vitreous, 2008-2009, pp 154-159.