You are here
Age Related Macular Degeneration (ARMD) Dry Form
Age Related Macular Degeneration (ARMD) Dry Form
ILLUSTRATION: There are yellowish-white discrete and confluent deposits of varying sizes in this macula. These formations are known as drusen and are considered to be one of the early signs of macular degeneration. Clinically, drusen are defined as "hard" as opposed to "soft" drusen. Hard drusen are smaller, more sharply defined and are less clinically significant. Soft drusen, such as these are larger, irregular and are more significant as a harbinger of ARMD. There is some pigment clumping in this macula indicating partial atrophy of the retinal pigment epithelial layer.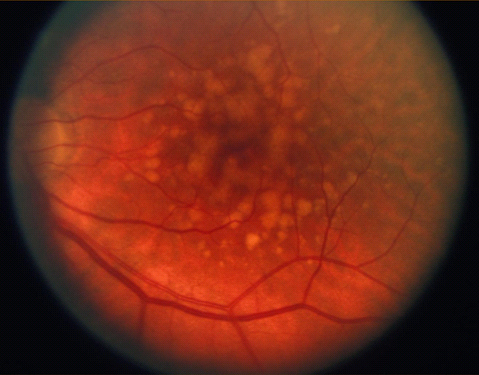 DISCUSSION: This is an example of the "dry form" of ARMD, most likely with some degree of visual loss. A self testing device known as "The Amsler Grid" is used to aid in diagnosis and is essential in following the course of ARMD. This is a card with multiple perpendicular lines that form a grid. The patient focuses on the center of the grid with one eye and notes any distortion in the lines or absence of any squares. Such abnormalities may indicate a change to the more abrupt onset and more severe "wet form" of ARMD.
There is no "cure" for the disease. However, a formulated combination of antioxidants, vitamins and zinc has been shown to reduce severe visual loss by 25% over a six year period. While reading and driving vision may become compromised, it is important that patients know that they will not be completely blind but will retain peripheral vision. Smoking and a hereditary history are risk factors for ARMD. Low vision aids will help with reading.
While considerable strides have been made in treatment, particularly in the wet form, ARMD remains the most common cause of legal blindness in the United States.