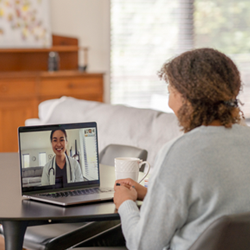 Issue: Support policies that preserve access to telehealth services, including mental and behavioral health, and support Medicaid beneficiaries' ability to enroll in an affordable insurance plan.
Why Action is Needed
The federal government took important action to preserve access to vital health care services during the COVID-19 public health emergency (PHE). This includes grants to support state Medicaid programs as well as policy waivers and enhanced flexibilities so that health care services for many types of care could be delivered virtually, including those for mental and behavioral health.
During the PHE, the federal government eased rules permitting physicians to prescribe buprenorphine to treat opioid use disorder through telemedicine. Patients have also been able to receive a broader range of clinical services and corresponding prescriptions because of these waivers. ACP appreciates Congress extending many telehealth flexibilities through December 2024 and removing barriers to prescribing treatments to treat opioid disorders as part of the FY 2023 omnibus appropriations bill. However, the pandemic waivers that have allowed individuals with substance use disorders and mental health needs to receive virtual care, including prescription medications, will expire with the end of the PHE.
COVID-19 has also shown us how essential Medicaid is as a safety net program. Medicaid continues to serve as a lifeline for millions of low-income Americans, from children to older adults. Continuing to provide federal funding that supports Medicaid coverage without restricting eligibility or health care coverage is critical to maintaining health and well-being for many of our most vulnerable populations, especially now that states are beginning to unwind and/or discharge beneficiaries from continuous coverage provided during the pandemic.
ACP's Position
The federal government should continue to provide dedicated funding to states that have requested federal support for their efforts to redesign their health care delivery programs to achieve measurable expansions of health insurance coverage, and to redesign health care financing and delivery systems to emphasize prevention, care coordination, quality, and the use of health information technology. All states should fully expand Medicaid eligibility and should not apply financially burdensome premiums or cost-sharing requirements, lock-out periods, benefit cuts, or mandatory work or community engagement policies.
ACP recommends that public and private health insurance payers, policymakers, and primary care and behavioral health care professionals work to remove barriers that impede behavioral health and primary care integration, including through virtual mediums. Substance use disorders are treatable chronic medical conditions that should be addressed through expansion of evidence-based public and individual health initiatives to prevent, treat, and promote recovery. ACP policy calls for lifting barriers that impede access to medications to treat opioid use disorder (methadone, buprenorphine and naltrexone) and to medications for overdose prevention (naloxone).
Call to Action
Telehealth: Support telehealth bills that are in alignment with ACP policy, including S.2016/H.R.4189, the CONNECT for Health Act of 2023 and S. 1636/H.R. 3440, the Protecting Rural Telehealth Access Act.
Medicaid: Support H.R. 952, The Kids Access to Primary Care Act. Continue to monitor states' activities related to Medicaid unwinding and update ACP members through ACP's communication channels. Continue to seek opportunities to address procedural disenrollments as they arise.
Short-term Insurance: Continue to monitor progress on the short-term limited duration insurance proposed rule.