You are here
U.S. Air Force Governor's Newsletter June 2016

---
---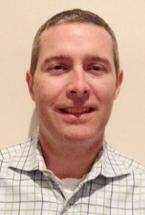 William N. Hannah, Jr, MC USAF, ACP Governor
---
From The Governor
Greetings from San Antonio! I am writing to you having just returned from Internal Medicine 2016 in Washington, D.C. We had a large number of Air Force chapter members in attendance, and it was great to see everyone and catch up.
Since my last Newsletter, quite a few things have happened, which are very positive steps for the chapter.
First and foremost, Col Matt Carroll was elected by our chapter membership as our next Governor. Matt's tenure starts now as Governor-elect, and he will be attending the Fall Board of Governor's meeting with me in Austin, TX to aid in the transition process. Matt will take over full time duties after the national meeting next year in April 2017. To learn more about Matt, please click this link: Meet our Governor-Elect, Matthew B. Carroll, MD, FACP
Second, we partnered with the Ohio Chapter to co-host an annual meeting. We had several members attend, most of whom were from Wright-Patterson Air Force Base as well as the local Dayton and Columbus Ohio area. I had the opportunity to attend, and I can attest to the quality of this meeting. The Ohio chapter and their Governor, Michael Tan, have agreed to co-host with us next year as we continue to build on this success. Please mark your calendars for October 13-14, 2016 in Columbus Ohio at the Greater Columbus Convention Center. I know this will be another quality meeting.
Speaking of Ohio chapter, we we able to co-host a tri-service reception at Internal Medicine 2016. This was a major accomplishment to again be able to get our military colleagues together for some networking and socializing with our Ohio chapter friends. I cannot thank the Ohio chapter enough for their willingness to partner with us over the last year in these wonderful activities.
Speaking of chapter meetings, we are projecting a combined Army-Air Force meeting in San Antonio on September 8-10, 2016. We have made quite a bit of progress toward this goal of restoring our own annual chapter meeting, and I am pleased to be partnering with the Army again. While this meeting will be a little scaled back since it is our initial meeting in the era of travel restrictions and non-federal entity conferences, please put these dates on your calendar and look for future communications with updates.
Lastly, we had a tremendously successful showing at Internal Medicine 2016. I am pleased to announce that we had 3 residents accepted for poster presentations as well as 2 medical students (2Lt Jenn Bauer and 2Lt Gyan Das) from our chapter. It is especially worth noting that Capt Christopher Smith won our chapter's Arthur Grollman award for best scientific presentation for his study "Short-Term Application of Tocilizumab During Myocardial Infarction (STAT-MI)." Our Doctor's Dilemma team had a strong showing and represented the chapter well. We also had a new ACP fellow, Lt Col Lisa Pathak, walk at convocation. Please see the pictures of all of our poster presenters and some of our attendees at the bottom of this newsletter.
---
ACP Launches New ACPOnline.org Website
ACP has launched a newly rebuilt and redesigned https://www.acponline.org. The site features a contemporary design that incorporates task-based navigation and provides quicker access to features that ACP members use most.
Whether members want to find ACP's clinical or policy recommendations, access CME and MOC resources, renew their membership, or register for an event, the content they need to find is just a few clicks away. Additionally, as part of this project, the ACP chapter websites hosted by the College (>60) have also been redesigned and better integrated into the overall site.
The new site is also mobile- and touch-friendly, with a responsive interface that automatically optimizes for all devices (e.g., desktop, smartphone, tablet). We will continue to update and refine our new site to fully leverage these new technologies and opportunities. We're already planning many additional enhancements, including a more personalized experience for members.
---
ACP Issues Advice for Prescribing Antibiotics for Acute Respiratory Tract Infections
In a paper recently published in Annals of Internal Medicine, ACP and the Centers for Disease Control and Prevention (CDC) issued advice for prescribing antibiotics for acute respiratory tract infections (ARTIs) in adults. Acute respiratory tract infections are the most common reason for outpatient antibiotic prescriptions for adults.
---
Complete Your Internal Medicine Meeting 2016 MOC Modules
Earn up to 30 points toward ABIM's requirement for Maintenance of Certification (MOC) by completing one, two or three multiple-choice question modules.
Visit http://im2016.acponline.org/educational-program/moc-modules to answer the question modules. Sign in with your ACP Online user name (restricted to registered attendees). Complete the questions, check your answers, enter your ABIM MOC candidate number, and click to submit. Successful completion of an MOC module - score of 60% or higher - qualifies for 10 ABIM MOC points. Earn up to a total of 30 MOC points. Modules must be completed by April 30, 2017.
---
New Online Opioid Education Modules, Video Now Available
ACP developed online training modules, with Pri-Med, to educate clinicians about best practices when prescribing opioids to patients and to help prescribers manage risk for abuse and inappropriate use. With approximately 100 million adults in the U.S. suffering from chronic pain, the nonmedical use of prescription opioids has become a public health issue, and prompted the U.S. Food and Drug Administration to establish the Risk Evaluation and Mitigation Strategy (REMS) mandate. A total of 26 Continuing Medical Education (CME) and Continuing Education providers, including ACP, have created educational initiatives to help prescribers ensures that the benefits of a drug outweigh the risks for patients receiving extended release and long acting opioids.
The REMS training modules provide comprehensive educational information for primary care clinicians, and can be completed for CME credit. Access the online modules for additional information.
---
New ACP Patient Education Materials
ACP has a wide variety of high quality patient education materials, including educational DVDs, self-management guides, and our new Patient FACTS series. The Patient FACTS series helps newly diagnosed patients and their caregivers increase their understanding of common health conditions.
These patient-tested resources were developed in partnership with physicians, using only credible, evidence-based research.
Many available free of charge
Many available in both English and Spanish
Easy to understand
Cover a wide variety of common health conditions like heart health, asthma, HIV, COPD, diabetes
To order these and ACP's other patient education materials contact Member and Customer Service at 800-523-1546 ext. 2600, or visit here.
---
Internal Medicine Board Review and Maintenance of Certification Courses
---
Internal Medicine 2016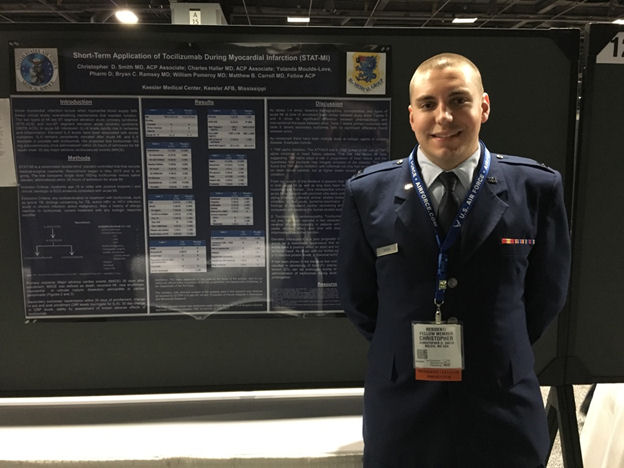 Capt Christopher Smith – Winner of the 2015 Arthur Grollman award for best scientific presentation "Short-Term Application of Tocilizumab During Myocardial Infarction (STAT-MI)"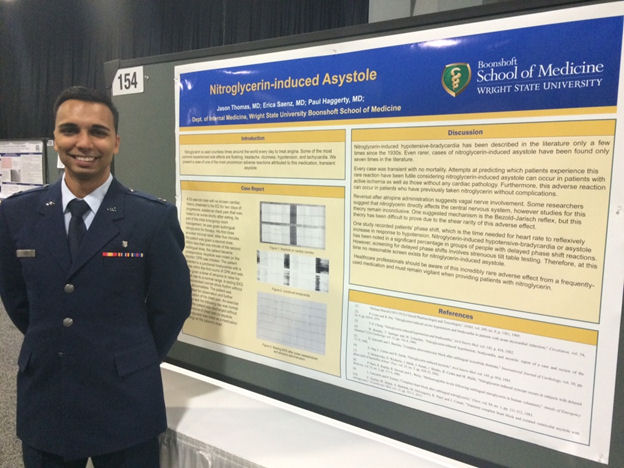 Capt Jason Thomas – Nitroglycerin Induced Asystole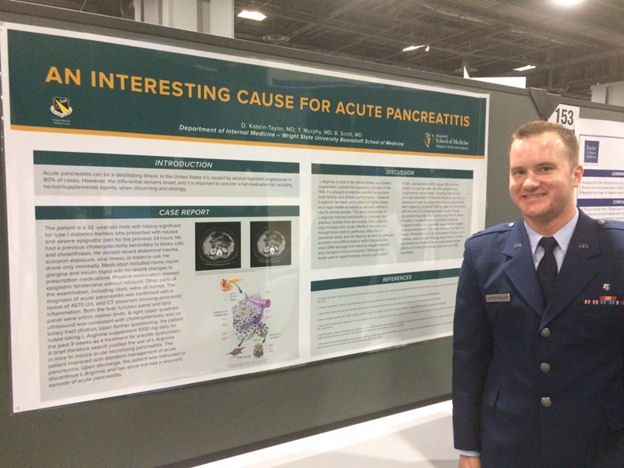 Capt Douglas Katein-Taylor – An Interesting Case for Acute Pancreatitis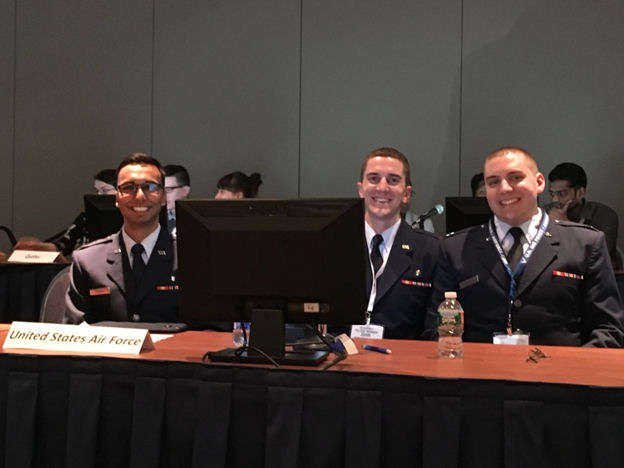 Air Force Chapter Doctor's Dilemma team – Capt Jason Thomas (WPAFB), Capt John Hunninghake (SAUSHEC), and Capt Christopher Smith (Keesler)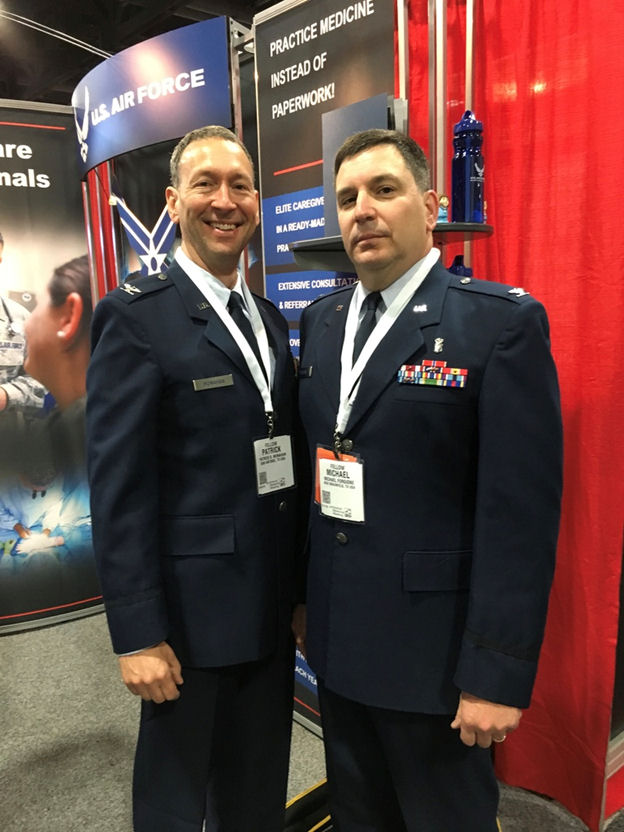 Col Pat Monahan and Col Michael Forgione – representing the USAF at the recruiting booth.