You are here
Governor's Desk April 2013
Governor's Desk April 2013

| | |
| --- | --- |
| April 2013 | CAPT Mark L. Dick, MD, FACP |
---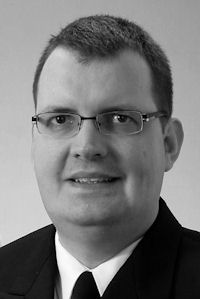 Governor's Desk
Those members of the chapter who are still in uniform can appreciate the fiscal roller coaster of the past few months. Most of us could not have predicted many of these challenges. I appreciate Navy Medicine leadership's adaptability and flexibility in helping us and other organizations host their meetings. I would like to congratulate LCDR Lynn Byars, her committee, and Walter Reed National Military Medical Center on hosting a highly successful 2013 Tri-Service Meeting.
I know many of you wanted to attend Internal Medicine 2013, but between the conference approval process and sequestration impact it is impossible to get funded a TAD to almost any conference. The number of our pre-registrants is down by about a 1/3 with most attendees being non-active duty. If you registered but were unable to attended, but cancelled after the deadline please email me and I will see what I can do about a full refund.
The Governor's Council felt strongly that we needed to recognize the achievements of our Associate members. Consequently, we are funded the winning clinical vignette and research podium presentation and Doctor's Dilemma team to attend and compete at IM 2013. Part of the offset for this funding was the cancellation of the customary Tri-Service reception at the meeting. The Air Force and Army Chapters are also funding their winners. Congratulations to Walter Reed National Military Medical Center's team who not only won the Navy competition, but also the recent Maryland Chapter competition. The winning Army team also came from Walter Reed National Military Medical Center.
These meeting uncertainties have also made planning for this year's chapter meeting very difficult. The Governor's Council has discussed the impact of these uncertainties and decided to host a virtual meeting by video teleconference for the 2013 Navy meeting. Likewise, the Air Force/Army Councils decided to pursue similar courses of action. It is hoped that the 2014 meeting will be another tri-service meeting in Washington, DC. The planning efforts for this year's meeting will be coordinated by LCDR Kristina Kratovil and LT A. Brooke Hooper.
Congratulations to CAPT Michael McGinnis on his slating for XO of Naval Hospital Guam. Congratulations are also in order for CDR Daniel Seidensticker who relieves CAPT McGinnis as the Internal Medicine Specialty Leader.
Recently, US Naval Hospital Okinawa moved into its new facility. The old facility at Camp Lester held its closure ceremony on March 26. Here is a link from AFN Okinawa.
The Council is accepting applications from the chapter's fellows to succeed me as Governor. Please email me for detail further details about this opportunity or other chapter opportunities.
---
2012 Chapter Excellence Award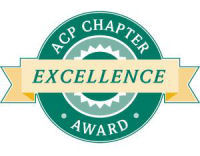 I am pleased to announce that our chapter is in receipt of the 2012 Chapter Excellence Award! The award recognizes chapters which successfully meet the standards for managing a chapter. In order to achieve the Chapter Excellence Award, chapters must meet all basic criteria and seven optional criteria. Criteria include such activities as formulating an effective Governor's Council and committees, communicating frequently with membership, providing educational opportunities, recruiting and advancing members and celebrating membership through local awards. I would like to extend a special thanks to those chapter members who assisted me in all of these endeavors! For their hard work and dedication, we received this award.
---
New Fellows
Congratulations on the Chapters new Fellows who were advanced July, September, and November 2012:
CAPT Alan Douglass
CDR Steven J. Escobar
CDR Antonio Rodriguez
LCDR Steven Bernick
LCDR Robert J. Carpenter
LCDR Lynn A. Byars
LCDR Kenneth O. Bonaparte
LCDR Ruben Acosta
LCDR Marisela M. Noorhasan
LT Alicia L. Warnock
Thanks to CAPT(ret) Angeline A. Lazarus, MD MACP, CAPT(ret) Lisa S. Inouye, CAPT(ret) John D. Malone, CAPT Mary F. Bavaro, CAPT John S. Hammes, CAPT William M. Hall, LCDR Alissa Speziale, CDR John T. Bassett, CAPT A. F. Shwayhat, CAPT Patrick W. Clyde, CDR Daniel F Seidensticker, MAJ Fouad J. Moawad, MC USA FACP, CDR Jeffrey Bulva, CAPT Richard R. Dobhan, and Megan B. McGavern, FACP for sponsoring these new Fellows.
---
Tri-Service ACP Meeting
The chapter's annual meeting was held at the Bethesda Hyatt from November 1-3. This year's format was a Tri-Service meeting. This was first time all 3 military chapters had come together to host a meeting. The meeting's keynote speaker was VADM Matthew Nathan.
A total of 465 individuals registered with only 75 no show despite travel snafus from Hurricane Sandy and TAD funding. Even with these challenges, the chapter nearly broke even on the meeting. I heard a lot of very positive feedback and desire to pursue this format in the future. The Army and Air Force were very impressed by the Awards Dinner at the Army Navy Club and plan on adding this event to their program.
Congratulations to the winners from the Associate competition. LTs Chace and Campbell who advanced to the National ACP Associate Competition.
Doctor's Dilemma Team Winner:
Walter Reed National Military Medical Center
Resident Podium Winners
1st LT Wes Campbell, WRNMMC
2nd LT Sarah Rice, NMCSD
Resident Research Poster Winners
1st LT Luke Oakley, NMCSD
Resident Clinical Vignette Poster Winners
1st LT Hillary Chace, NMCSD
2nd LT Jamie Piercey, NMCSD
Fellow Research Poster Winners
1st LCDR Steve Armbruster, WRNMMC
---
Chapter Awards
At the Awards Banquet, the chapter presented the following awards:
Chapter Laureate Award was present to CAPT(ret) Gerald Dodd Denton
Master Teacher Recipient CAPT(ret) Lisa Inouye.
Congratulations to the other nominees: Captains Brooks Cash and Mary Bavarro
Sparks Award for Outstanding Internist recipient: CDR Carolyn Rice
Congratulations to the other nominees: Drs. Michael McGinnis, Susanne Francis, Kimberly Broom, Jim Prahl, and Marc Calestini
Resident Teacher of the Year:
Naval Medical Center Portsmouth: LT Nikunj Bhatt
Naval Medical Center San Diego: LT Catherine Berjohn
Walter Reed National Military Medical Center: LT Geoffrey Cole
Staff Teacher of the Year:
Naval Medical Center Portsmouth: CAPT Jeffrey Cole and CAPT Lisa Inouye
Naval Medical Center San Diego: CDR Tri Lac
Walter Reed National Military Medical Center: CDR Joel Anthony Nations
---
Photo Gallery