You are here
GOVERNOR'S NEWSLETTER July 2014
GOVERNOR'S NEWSLETTER July 2014

---
---
From the Governor
Hello fellow Army Internists! I hope your summer is going well. For those of you who are graduating from residency, congratulations! Enjoy your time before you start work. For those of you separating or retiring, best of luck and you are always welcome in the Army ACP Chapter family. Safe travels for those PCSing. For those you are staying put, we all know the summer "underlap" is challenging. Keep the faith, the replacements arrive soon! Lastly, but most importantly, for those that are deployed, stay safe and thanks for your tireless service.
Next Chapter Meeting
Mark your calendars! Our next chapter meeting will be Friday, 5 Dec 14. It will be a virtual (online) meeting, starting at 1300 EST and lasting approximately four hours. Unfortunately, the current DoD travel restrictions make it too difficult to have robust attendance for an in-person meeting, hence the virtual meeting. The format will be similar to last year, with a CME lecture, resident presentations, award presentations, and finally, the Doctor's Dilemma competition.
2013 Chapter Meeting
Thanks to all of those who helped make the 1st ever virtual Army Chapter ACP meeting a success. We were treated with a lecture, "Interesting Topics in Global Tuberculosis", by COL(ret) Matthew J. Dolan, MD, MACP and an update on Army General Medicine by COL Jeanne Tofferi, MD, MPH, FACP. Four residents then presented their research, followed by the awards presentation (see below), which was chaired by LTC Ramey Wilson, MD FACP. Finally, through incredible tenacity and a "Never Quit!" attitude, COL William Kelly, MD, FACP, organized an outstanding Doctor's Dilemma competition.
2013 Award Winners
Please join me in congratulating the following internists:
Master Teacher Award: COL(Ret.) James L. Furgerson, MD FACP
William Crosby Superiority in Research Award: LTC Todd C. Villines, MD FACP
Colonel Robert H. Moser Award: MAJ Joshua Mitchell, MD
Excellence in Operational Medicine Award: MAJ Jason Reese, DO FACP
Doctor's Dilemma Competition: ....from William Beaumont Army Medical Center

CPT Michael Switzer
CPT Ryan Burkhart
CPT Benjamin Morang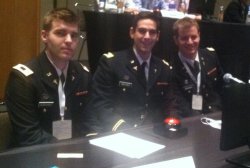 Clinical Vignette Competition:

1st: CPT Mario Morales, SAMMC
2nd place: CPT Evelyn Slaughter, MAMC
3rd place: CPT Brian Pomerantz, MAMC
Resident Research Competition:

1st place: CPT Evelyn Slaughter, MAMC
2nd place: Dr. Christina Dunn, WBAMC
3rd place: CPT Gadiel Alvarado, DDEAMC
Medical Student 2LT (now CPT) Elizabeth Marx wins first place at the National ACP Meeting
2LT Elizabeth Marx, USU School of Medicine class of 2014, won first prize for overall best clinical research poster at the national meeting of the American College of Physicians (ACP) Medical Student Clinical Research Competition. One of the WRNMMC's pulmonary fellows, CPT David Hostler, MD, helped Liz with the project and accompanied her to the meeting. The project, "Validation of the IMPROVE Bleeding Risk score for medical inpatients", was mentored by WRNNMC's LTC Aaron Holley, MD FACP.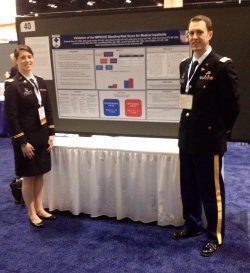 Our Chapter won an Evergreen Award!
Our Chapter won a John Tooker Evergreen Award! The ACP establishes awards for chapters for particularly outstanding efforts. Our chapter, together with the Navy and Air Force ACP chapters, won a John Tooker Evergreen Award for collaboration for our 2012 Tri-service Chapter Meeting. While the work of many, many ACP members was needed to make that meeting a success, I would like to recognize the meeting planners, LTC Christopher Letttieri, MD, and LCDR Lynn A. Byars, MD FACP, as well as COL(Ret.) Lisa Zacher, MD FACP, for their outstanding leadership.
News from the College
ACP has a new logo and tagline! "Leading Internal Medicine, Improving Lives". Please see the full story on the ACP's website and links to videos of ACP members who embody excellence.
Smart Medicine
Have you tried ACP's SmartMedicine? It's a great point of care reference. Give it a try the next time you have a question in clinic. I use it regularly. In fact, I just now claimed 1 hour of CME, as I had used SmartMedicine for clinical questions ADHD and carpal tunnel syndrome this month. And it's FREE as part of your ACP benefit.
Army Chapter Member featured
Sometimes the ACP asks our members for interviews, which I would strongly encourage you to do if asked. Make sure you get clearance from your public affairs office in advance, as the subject of this interview did: (fair warning--you're probably sick of hearing about this individual. Particularly if you work at Walter Reed)
See you (virtually) in December!
LTC Kent J. DeZee, MD MPH FACP
U.S. Army ACP Chapter Governor