You are here
GOVERNOR'S NEWSLETTER January 2015

---
---
Greetings and Notes from Your Governor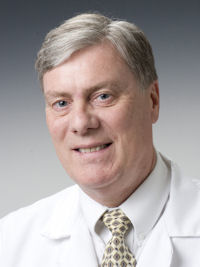 G. Alan Yeasted, MD, FACP, Governor
In Western Pennsylvania the date of January 1, 2015 has much more significance than simply a time to wish our colleagues Happy New Year! The split between UPMC and AHN (Allegheny Health Network owned by Highmark) became official on that date. The consequences of this split by the health care giants are still, at the time of this writing, far from clear for physicians and their patients. Unfortunately, many of our colleagues in the ACP have been forced to take sides, though I am certain that most physicians would prefer to avoid interruption or discontinuance of long standing relationships with their patients. Hopefully, these insurance issues will soon be resolved and we can all get back to practicing our profession without undue interference.
On a more positive note, the Pennsylvania ACP held its Awards Night at the Hershey Country Club on December 6, 2014. Two extremely well deserving physicians received awards. Dr. James (Joe) Reilly, Vice Chair of the Department of Medicine and former program director of the Internal Medicine Residency at AHN, received the Laureate Award and Dr. Jennifer Gonzalez McComb, a Pulmonologist/CCM Specialist and chair of our annual regional Medical Jeopardy Competition, was honored with the Clinical Practice Award. What made the evening even more special were the physicians chosen to introduce the awardees. Dr. Reilly was introduced by his son, Dr. James (Jim) Reilly, the new program director at AHN, and Dr. McComb was introduced by her father, Dr. Alex Gonzalez, the former Governor for our PA-ACP's Western Region.
In closing, I wish all of you a successful and happy new year. This year will be an eventful one, I am sure. Following the April, 2015 ACP meeting in Boston, Dr. Thomas Grau will begin his year as Governor-elect for our chapter. Dr. Dan Kimball, the ACP PA Eastern governor will complete his term of office and will be succeeded by David George, MD, FACP, from Reading. During the final 1 ½ years of my term, I hope to continue the outreach to the more remote areas in our Western Pennsylvania Region. If any of you are interested in hosting a dinner with the governor, please email me or call me at 412-942-1140. I would be happy to make the trip to any area of Western Pennsylvania. Finally, I hope to meet with all of the residents in Internal Medicine this year to encourage them to continue to be active in the ACP following their academic training.
Have a safe and fruitful 2015!
G. Alan Yeasted, MD, FACP
Governor, Western Region
---
Have You Heard?
Register now for Maintenance of Certification Sessions in Hospital Medicine and Internal Medicine. Both MOC modules will be reviewed in two cities: Saturday, January 31, 2015 in Philadelphia, and Saturday, March 7, 2015 in Hershey.
Congratulations to Dr. Charles Cutler, who was selected as the recipient for the Centennial Award for the Pennsylvania Chapter! Dr. Cutler serves as the Immediate Past Chair of the Board of Regents of the American College of Physicians (ACP), is a board-certified in internal medicine, and is a full-time practicing internist in Norristown, PA.
Dr. Alan Yeasted was featured in Pittsburgh Business Times in December.
The Pennsylvania Chapter's Facebook page contains a variety of photos of friends and colleagues, as well as information on the accomplishments of our members and of Chapter activities.
Remember to "like" our Facebook page.
The ACP invites you to try JournalWise, a free, timesaving member benefit. It is a mobile-optimized service that screens over 120 internal medicine journals for the highest quality, clinically relevant and newsworthy articles with custom criteria that you determine. This means that the articles you want are delivered when and how you want them. For more information and to sign-up, ACP Members register your FREE account now!
---
Capitol Update by John Nikoloff

PA ACP Advocacy
PA-ACP finished 2014's advocacy campaign with passage of four bills sought by the PA Chapter. Governor Corbett signed legislation (Act 198) that establishes a Patient Centered Medical Home Advisory Board, and includes a representative of the Chapter. Also passed into law were creation of a statewide drug database (Act 191), mandates for patient notification of outpatient status (Act 169), and legislation providing immunity for reporting drug overdoses (Act 139.)
2015 ACP Priorities Set
PA-ACP approved several priorities for legislative and regulatory action in 2015 during its December Governing Council meeting held in Hershey. ACP will support legislation to assure fair contracting, including a prohibition of noncompeting clauses in physician employment contracts. The Chapter will also work with the Wolf Administration to ensure patient safety and access to physician care in implementing the statewide Medicaid expansion. In reaction to expected legislative proposals, PA-ACP supports physician-led care teams, and opposes legislation that eliminates collaborative agreements or grants independent practice for CRNPs and other Specialist APNs.
Harrisburg Transitions
The 2014 elections in Pennsylvania signaled many change are on the way in Harrisburg. On January 20, Pennsylvania welcomed Governor Tom Wolf of York. He has promised several major changes in state health care plans, increase funding for education, and a host of revisions to existing policies.
At the same time, Republicans increased their majorities in the state House and Senate, and elected new leadership. Rep. Mike Turzai of Allegheny County becomes Speaker of the House, and Rep. David Reed of Indiana County becomes the new Majority Leader. In the Senate, Sen. Joe Scarnati of Jefferson County will be President Pro Tempore, and Sen. Jake Corman of Centre County will become the new Majority Leader.
Governor Wolf has had hundreds of Pennsylvanians from across the state working through the transition of power on an agency-by-agency and program-by-program basis. He has named several of his senior staff, including former DEP Secretary Katie McGinty as his Chief of Staff. He named another former DEP Secretary, John Hanger, as his Secretary for Policy and Planning, and more recently named Denis Smyler, a Philadelphia attorney, as General Counsel. Cabinet selections are announced on a daily basis, and inaugural events are planned for Tuesday, January 20.
Wolf has repeatedly said among his first acts will be to seek approval from HHS to switch Pennsylvania's Medicaid programs to the fully funded federal option. Estelle Richman, Gov. Ed Rendell's DPW Secretary, has served as Governor Wolf's transition team's Medicaid advisor. She is responsible for overseeing efforts to fully expand Medicaid and to undo the changes in HealthyPA that are not in sync with that expansion.
Governor Wolf has said he will nominate Teresa Miller, the former Administrator of the State of Oregon's Insurance Division to be Insurance Commissioner. She has also served as acting director of the State Exchanges Group, the Oversight Group, and the Insurance Programs Group at the Centers for Medicare and Medicaid Services within the federal Department of Health and Human Services.
Wolf and the legislature face many issues right from the start, and the largest may be finding a way to balance the state budget. The state's Independent Fiscal Office has projected the budget deficit to be at least $1.85 billion.
The PA Chapter will work with legislative leaders and the Wolf Administration to ensure funding is available for graduate medical education, patient safety, and quality health care programs.
---
2014 Pennsylvania Chapter Awards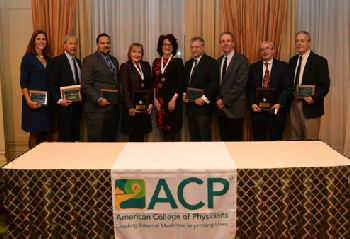 Standing (L to R) are Drs. Jennifer McComb, Yehia Mishriki, Ziad Dimachkie, Darilyn Moyer, Linda Thomas-Hemak, Ed Ruby, Robert Cato, James "Joe" Reilly, and Bryan Hollinger.
Nine outstanding physicians were recognized during the Chapter's annual awards dinner for achievements in medicine, research, medical education, advocacy, service to their community and service to PA-ACP.
Dr. Linda Thomas Hemak, Eastern Region, Dr. James J. Reilly, Western Region and Dr. Darilyn Moyer, Southeast Region were presented Laureates, the highest honor offered by the ACP. It is presented to Fellows and Masters of the College who demonstrate an abiding commitment to excellence in medical care, education, research, service to their community and their Chapter.
Drs. Yehia John Mishriki, MD, FACP (East), Jennifer McComb, MD, MPH, FACP (West), and Bryan Hollinger, MD (Southeast) received Clinical Practice Awards for their on-going commitments to excellence in medical care, education, research and service.
The Herbert S. Waxman Voluntary Faculty Teaching Award recognizes the most effective and committed internist who has distinguished himself or herself as a member of the voluntary faculty at a teaching hospital or medical school in Pennsylvania. It was presented to Ed Ruby, MD, FACP, FACE of Philadelphia. He teaches IM residents and medical students at Thomas Jefferson University and Mercy Catholic Medical Center.
Robert K. Cato, MD of Merion Station received the Pressman Award for Distinguished Service to Internal Medicine. This award signifies an internist who best demonstrates commitment to his patients and his community through advocacy.
Ziad Dimachkie, MD of Philadelphia received Special Recognition for chairing the Student Health Policy Symposium and participating with the Chapter's Council and Strategic Planning Session.
---
Congratulations to Our New Governor-Elect

It is our pleasure to announce that Thomas C. Grau, MD, FACP is the new Governor-elect Designee for the Western Region. He will do a year of training as a Governor-elect and will then start his four year term as Governor in the Spring of 2016. He will succeed Dr. Alan Yeasted, the current Governor.
Dr. Grau is Associate Program Director, Internal Medicine Resident Program, UPMC, Pittsburgh, PA. He has been active with the ACP and Pennsylvania Chapter, serving as 2013, 2014 and 2015 Program Chair of the West's regional poster competition. He received a Laureate from the Air Force ACP chapter in 2013, and was President, Society of Air Force Physicians (ACP Chapter0 2007 -2008.
Welcome, Tom!
---
PA Chapter Announces New Masters and Awardees for 2014-2015
American College of Physicians Award for Outstanding Work in Science as Related to Medicine
Beatrice H. Hahn, MD, Wallingford, PA
*********************************
Joseph E. Johnson Leadership Award
Mohan Ashok Kumar, MBBS, Danville, PA
*********************************
New Masters
Richard S. Eisenstaedt, MD, MACP, Abington, PA
Eric S. Holmboe, MC USNR, MACP, Phoenixville, PA
Melissa A. McNeil, MD, MACP, Pittsburgh, PA
Ronald N. Rubin, MD, MACP, Philadelphia, PA
Awards and Masterships will be received at Internal Medicine 2015 in Boston.
Congratulation to all!
---
Top Regional Medical Jeopardy Teams Competed in PA Tournament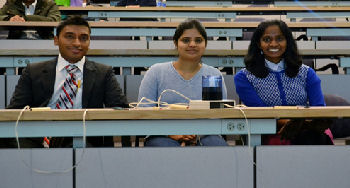 PAW regional champion Medical Jeopardy players from Alleghany Health Network: from the left; Nisarg Shah, Deepika Abbadi and Pavithra Indramohan. Alekhya Potluri, the alternate, is not pictured.>
The Allegheny Health Network Medical Jeopardy team waiting for the competition to begin.
The PA-ACP held its annual state Medical Jeopardy competition at Hershey Medical Center on Dec. 6. The top teams from the West, East, and Southeast: Allegheny Health Network, Pittsburgh, Guthrie, Sayre, and Einstein Medical Center, Philadelphia competed for the opportunity to represent Pennsylvania at the ACP National Competition during IM-2015.
Congratulations to everyone for making it to the state finals, and to the Einstein team which won in final jeopardy! We wish them another national title at the IM 15 in Boston.
---
Congratulations Western Region Poster Winners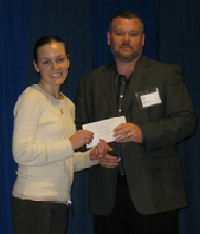 Alyce Anderson (medical student) placed first in both research and student categories. She is pictured with chairman Andy Adams, MD, FACP, at UPMC Shadyside Hospital. This was the eighth year Dr. Adams chaired the Abstract and Poster Competition. He is turning over the chairmanship to Ibrahim Ghobrial, MD, FACP, program director at McKeesport.
The Pennsylvania Chapter invited three winners to present their posters at the IM 15 in Boston: Dr. Deepak Kumar Pasupala from McKeesport for Research, Dr. Devalkumar Rajyaguru from Mercy for QI, and Dr. Krithika Krishnarao from AGH for Clinical Vignette. Best of luck!
A sincere thank you to our three volunteer chairs: Andy Adams (abstracts and posters), Jen McComb (medical jeopardy) and Tom Grau (program).They organized a fantastic competition. Many thanks also to the 16 volunteer Abstract Reviewers and Poster Judges. Without them, there is no competition. Many thanks for another fantastic competition in our Western Region of the PA-ACP.
---
Recruit-a-Colleague
Thank you to the following members for recruiting their colleagues as part of ACP's Recruit a Colleague Campaign.
Adam J. Albert, MD
Elmer J. Holzinger, MD, MACP
Gregory C. Kane, MD, FACP
Leo J. Motter, MD
Nina Mingioni, MD, FACP
Seth M. Quartey, MD, FACP
Sunjeet Kaur, MBBS
---
Photo Gallery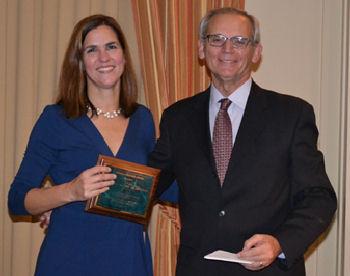 Dr. Alex Gonzalez, past Governor, Western Region presented the Clinical Practice Award to his daughter Dr. Jennifer McComb during the Chapter's Annual Awards Dinner.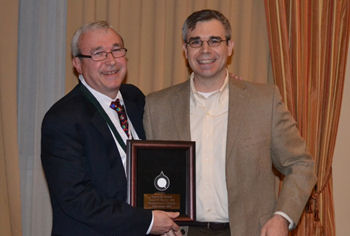 James (Joe) Reilly, MD, FACP, of Mt. Lebanon, (left) was presented with the laureate by his son, Dr. James (Jim) Reilly, during the Awards Dinner. Dr. Joe Reilly joined Allegheny General Hospital in 1983, and has served as Vice Chairman of Medicine and General Medicine Division Chief since 2010.
---
Calendar of Events
| Date | Event | Place |
| --- | --- | --- |
| January 31 | MOC Sessions | Jefferson |
| February 18 | Penn Student Dinner | Philadelphia |
| February | CRFT Dinner | Philadelphia |
| March 7 | MOC Sessions | Hershey |
| March 21 | Council Meeting | Harrisburg |
| March | Student Health Policy Symposium | Temple |
| May 1 | PA Reception at IM | Boston |
| May 21-22 | Leadership Day | Washington, DC |
| June (date TBA) | Council Webinar | n/a |
| July 14 | Dinner with area internists, hosted by Dr. Alan Yeasted and Dr. Tony Maniglia | Altoona |
| TBA | IMIG dinners - East & SE | TBA |
| TBA | CCYP event | Philadelphia |
| TBA | IMG Interest Group Dinner | Philadelphia |
| TBA | FACP dinners (East, SE, West) | TBA |