You are here
Montana Governor's Newsletter August 2016

---
---

Pam Hiebert, MD, FACP, ACP Governor
---
Governor's Newsletter
It is a priority of ACP to advocate for reforms to the ABIM's MOC process that increase the value and decrease the burden.
On June 29, 2016 some ACP members met with ABIM board member Roger Bush and staff members Eric McKeeby and Marni Grambau to discuss ideas for alternative MOC assessment. They listened to our concerns and feedback. We discussed alternative approaches including take at home test, shorter assessments more frequently and more detailed feedback. Also discussed was the possibility of access to online resources as in real life and immediate results. Cycles considered were 5-year or 2-year cycles. ABIM and ACP are interested in feedback. Please keep us posted.
Here is Eric's contact information .
Thanks
Pam Hiebert, MD, FACP
ACP Governor, Montana Chapter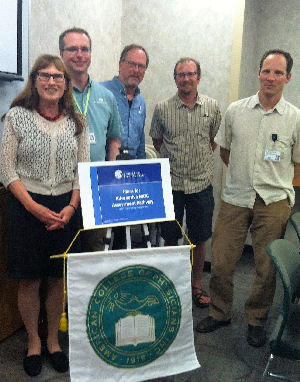 ---
Burnout Prevention-Patients Before Paperwork
As you have probably read some level of burnout is affecting over 50% of physicians nationwide.
ACP has long identified reducing administrative burdens as a priority. Please click on this link to read about this initiative and to see what ACP is doing. Please consider joining this special interest group.
We would appreciate your feedback and suggestions.
Go here to view this discussion.
---
Special Interest Groups (SIGs)
ACP has about 20 SIGs. Please check out the list on the website and see if there are any of interest to you. I am interested in the new SIG on Geriatrics and Palliative Care.
We have a state wide task force "The Montana Palliative Care Initiative". We are collaborating with the American Cancer Society and the MMA to enhance hospice and palliative care to underserved communities in Montana. Please let me know if you want more information or are interested.
---
Chapter Subcommittee in Philadelphia
I am on the ACP chapters subcommittee. We met at ACP headquarters in June to discuss chapter functions and development. There are 87 chapters located in the US, Canada, Central and South America, Bangladesh, Caribbean, Gulf, India, Japan, SE Asia, and Saudi Arabia. There are also three armed services chapters (Airforce, Army and Navy).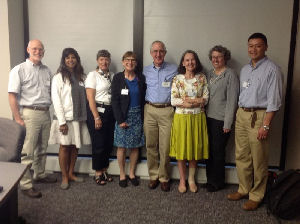 The American College of Physicians and the Montana Chapter encourages all members to help strengthen our chapter by recommending ACP membership to colleagues. By joining the College, your colleagues will enrich their clinical knowledge and skills and have access to all of the ACP member benefits that you enjoy.
To thank you for your dedication to our organization, ACP offers incentives to members and their chapters that recruit new members through the Recruit-a-Colleague Chapter (RACC) Rewards Program.
As with the national Recruit-a-Colleague Program, the RACC Program rewards successful individual recruiters with dues credits for each new full Member or Physician Affiliate member recruited and a chance to win a trip to the annual Internal Medicine meeting. In addition, the RACC Program also provides rewards to the recruiters' chapters, including funding for chapter activities and complimentary registrations to the annual Internal Medicine meeting.
The 2016-17 Recruit-a-Colleague Chapter Rewards Program runs until March 1, 2017.
To participate, simply forward to your colleagues a membership application. . To qualify for the program, your name must be listed on the recruiter line of the application, and the form must include the code RACC.
Thank you for your help in strengthening our chapter!
---
New Members
Patrick B. Gaylor, DO
Tauqeer Rahat, MBBS
---
New Fellows
Kathryn Borgenicht, MD, FACP
David J. Crites, MD, FACP
Katherine L. Dietrich, DO, FACP
David Jinich, MD, FACP
Charlotte R. Nelson, MD FACP
---
Montana Chapter Meeting
If you haven't already registered, I invite you to register for our upcoming Montana Chapter Meeting, taking place on September 8-10, 2016 at the Great Northern Hotel in Helena. In addition to the networking and collegiality offered by our meeting, it is also a valuable learning opportunity.
Meeting Highlights:
-Endorcrine, Nephrology and Cardiology Cases
-Presentations on Suicide Prevention, Palliative Care, Opiate Therapy, Physician Wellness and Sepsis
-Stump the Professor: Infectious Disease Case
Friday Awards Dinner – Presentation by Katie Woods, MD
The Syrian Refugee Crisis in Europe: Perspectives of a Montana physician
Katie Woods, MD, will share her personal experience working with Syrian refugees in Greece. Dr. Woods is a Montana WWAMI graduate and a Bozeman-based family physician at the Montana State University student health service. Over the past year, she has worked on Lesvos, Greece, providing medical care to refugees crossing the Aegean Sea by boat. She later returned to mainland Greece to the Ritsona refugee camp, where she worked with refugee families unable to travel due to closure of the European Union borders. Dr. Woods will discuss her work and the perspective of the refugees she met in this humanitarian crisis.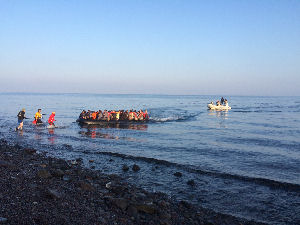 ---
Meeting Agenda and Registration Information
Click here for information.
I look forward to seeing you in Helena in a few weeks!